Baked custard was one of those dishes that I disfavored as a child. I never liked the look of it; it had the appearance of sweet scrambled eggs to me and whenever my mom made it for us, I'd pass and go for a scoop of ice cream instead. As an adult, it has become one of my favorite desserts. Why? I'm not sure I have the answer to that. Perhaps it has something to do with moving away from home and having a desire to eat foods that remind me of my childhood? It could be because my taste buds have come to their senses, ha! Regardless of the reason, I can tell you that once my momma sees that I've made this custard all on my own and plastered it all over the internet, she'll be more than proud.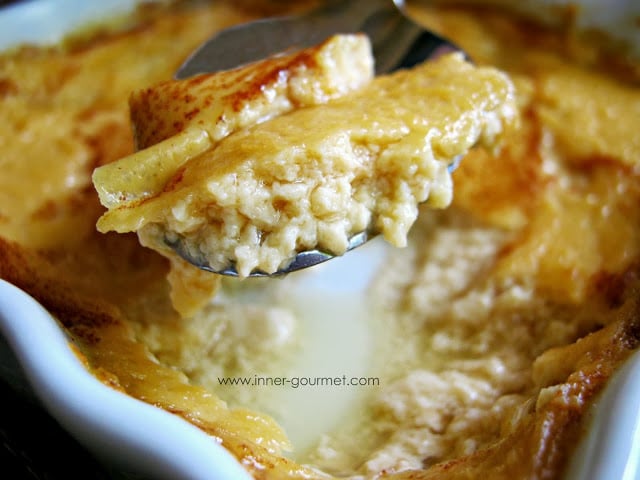 Custards always contain some form of milk, cream, and eggs as the main ingredients; it's the foundation of the custard's texture and flavor. They're typically cooked on very low heat in either dry or moist heat such as a water bath. Since custards are usually smooth and creamy, the low heat helps to keep the eggs in the mixture from curdling. Inversely, cooking any custard on a high temperature result in the egg-milk emulsion separating and turning into "curds." In the case of this custard, we want a little bit of curdling- it's sort of iconic for Guyanese-style custard (a variation of British baked custard). If it's smooth, it will resemble more of a creme brulee, but if that's how you like it then hey, I'm not judgin'.
My brother and his girlfriend visited a few weeks ago and requested that I cook a bunch of American dishes throughout the weekend, but they wanted this custard for dessert.
You'll need custard powder. Even though we are using eggs as the thickening agent, you'll need a little bit of custard powder for flavor and additional coagulation.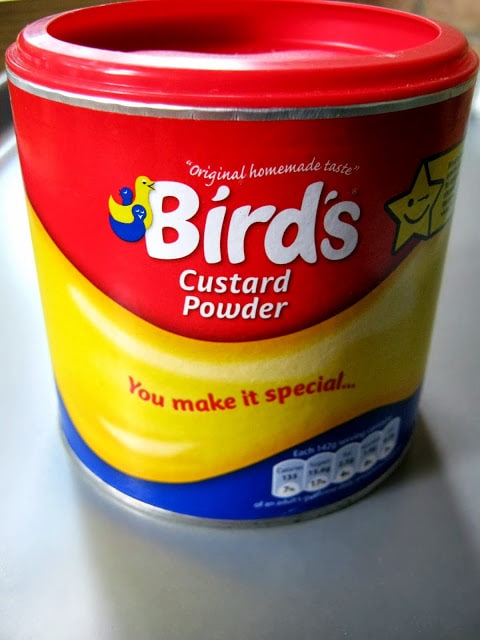 Baked Custard
Whisk all these ingredients together.
After whisking, slowly pour in evaporated milk and stir thoroughly.
Pour into the desired dish. I used an 8-inch dish.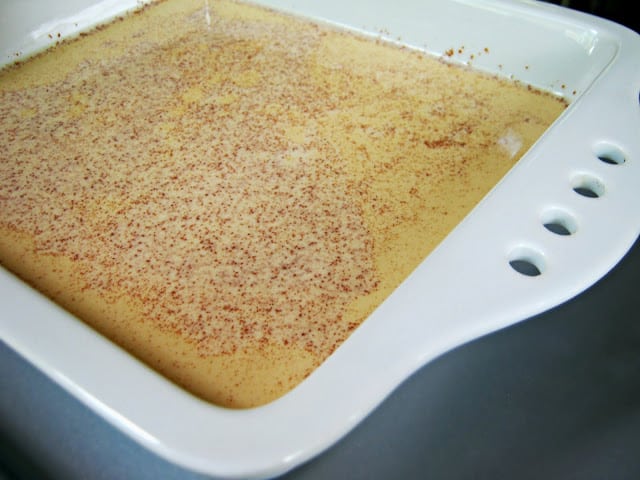 You can even pour it into ramekins if you're having a dinner party. The individual dishes are great for single portions and make these look a little extra fancy. See? Who said Guyanese food can't look and feel gourmet? If using ramekins, pour halfway up the dish.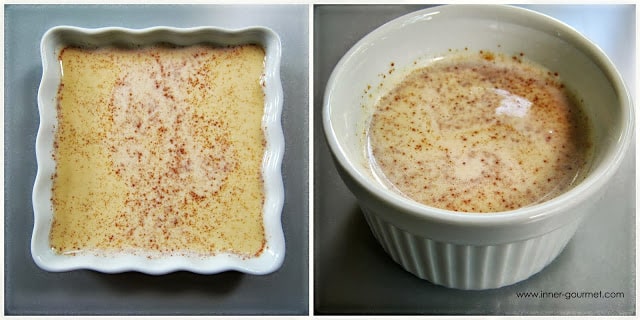 Cover with aluminum foil and bake for 45-50min. For the last 5 minutes, remove the foil so the top can get golden brown.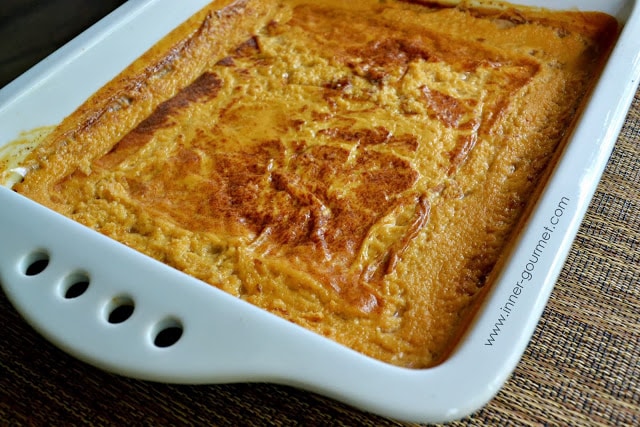 Serve warm or cold.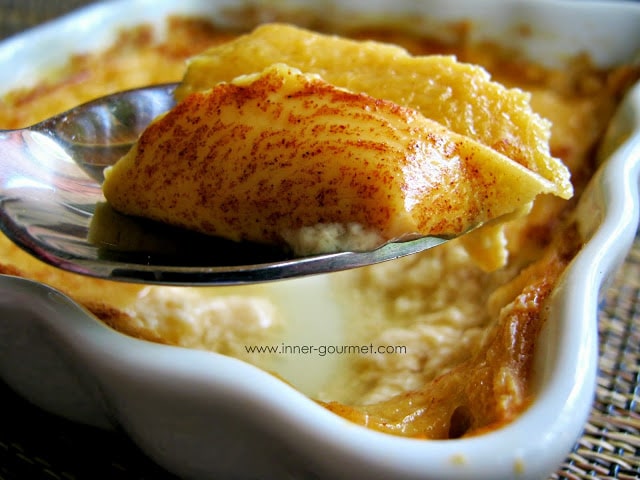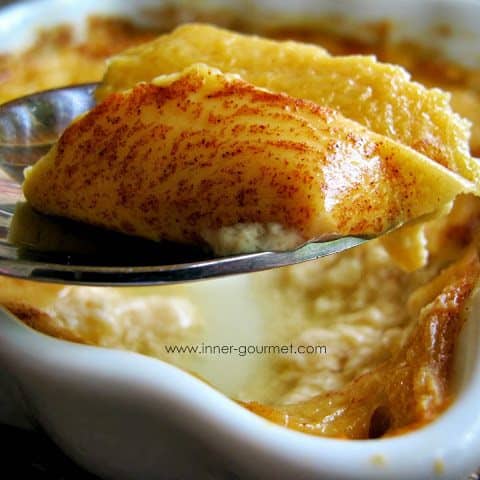 Baked Custard
Yield:
Makes one 8-inch pan
Ingredients
1 egg
1 tsp vanilla extract
½ tsp ground cinnamon
¼ tsp ground nutmeg (optional)
2 tsp custard powder
¼ cup brown demerara sugar or turbinado sugar 
24oz evaporated milk (2 12oz tins)
Instructions
Heat oven to 350 degrees.Whisk first six ingredients together in a bowl, slowly pour in evaporated milk. Stir to thoroughly combine.
Pour mixture into desired pan or individual ramekins. Cover with aluminum foil. Bake at 350 degrees for 40-45min. Remove foil for the last five minutes to allow top to get slightly golden brown.
Custard is done when center is slightly jiggly. Serve warm or cold.
Notes
Additional Info:
White granulated sugar can also be substituted, 5-6 tbsp should suffice. 
Place baking dish in hot oven then pour mixture into dish.  This alleviates having to carry the filled dish to the oven and spilling. 
Size of pan will determine thickness of custard.  A 9-inch pan will result in a thinner custard. Do what you prefer.