Carrot cake is a popular dessert during Easter, but in my family we make it at any time and especially for my dad's birthday. Each year we celebrate with his two favorite cakes. The first one is a Carvel ice cream cake. This is the one we stick candles in gather around and sing him happy birthday! The second is a homemade carrot cake. He absolutely loves this cake and I'm always so delighted to see him enjoy it with a cup of tea.
Since carrot cake is popularly topped with cream cheese frosting, this cake might look bare. I don't mind frosting, but my dad can't stand the stuff! Even if we bought carrot cake from a bakery, he would scrape off the frosting and push it to the side. So anytime I make carrot cake for him, I never frost it. The only cake I remember having any kind of topping was black cake and it was iced with royal icing and silver sugar beads.
I really wanted to share this recipe the way we truly enjoy it and that's all by itself. However, if you are a frosting person, I've included my favorite cream cheese frosting recipe at the end of this post.

This is not a recipe I created on my own nor is it a family recipe. There are so many great recipes on the internet that sometimes there's no need to start from scratch. I found the base recipe on Allrecipes and altered it until it was truly perfect for us. The original recipe can be found here. What I love about this recipe is how easy it is. All you need is a whisk, a spatula, and two bowls. Combine all the dry ingredients and mix into all the wet ingredients. Pour into a pan and bake!
Alternative ingredients & Tips
I have made this cake countless times and with many alternative ingredients. Here are some options:
use different type of fats- coconut, avocado, or grapeseed oils work well
use melted butter instead of oil
replace oil with applesauce using a 1:1 ratio
I like to mince the raisins so they aren't large chunks
Drain pineapple in a mesh strainer. Use a spoon to gently press excess liquid
Grate carrots on the fine side of box grater. If you like a chunky cake, use the regular side for shredding
5 medium carrots should give you enough for this cake.
Grate the carrots on the finer side of the box grater. The finer the shred the lighter the cake will be.
I don't usually sift my flour, but for this cake I always do. It yields a very fine crumb and folds beautifully into the batter. Add all the spices and leavening agents and whisk to combine. `
Line a 9x13 light-colored metal pan with parchment paper.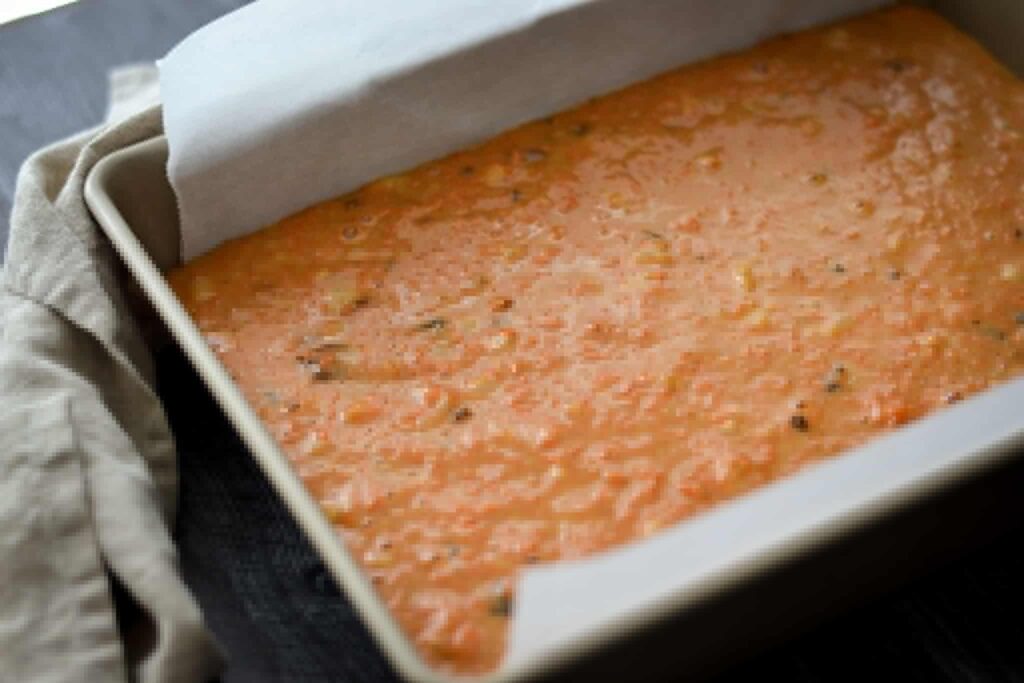 Bake at 350 degrees F for 40-45 minutes.
Look at that beautiful brown color!
And all those delicious raisin and pineapple bits.
But if you really want some cream cheese frosting...
When I lived in Rochester, NY I loved going to Cheesy Eddie's for a slice of carrot cake. They had THEE best cream cheese frosting in town! This recipe is the closest thing I've found to it. My tip is to always use salted butter, it gives the frosting a nice tang!
Easy Carrot Cake
Ingredients
Wet ingredients
1 cup oil (see notes for options)
3 eggs
2 tsp vanilla extract
½ cup light brown sugar
1 cup white sugar
Dry ingredients
2 cups all-purpose flour
1 tsp baking soda
1 tsp baking powder
½ tsp salt
2 tsp cinnamon
¼ tsp allspice
½ tsp nutmeg
Fold in
2 cups carrots, finely shredded
½ cup raisins
8oz crushed pineapple, drained
½ cup pecans, chopped
Cream cheese frosting (optional)
1 8oz pkg cream cheese
1 tsp vanilla extract
¼ cup salted butter, softened
1 ½ cups confectioner's sugar
Instructions
Pre-heat oven to 350 degrees F.
Combine dry ingredients. Sift or whisk to together.
In another bowl, beat eggs, add sugar and vanilla. Whisk in oil. Mix until fully combined.
Slowly add dry ingredients to wet. Use a spatula to gently mix in all the flour.
Drain pineapple in a mesh strainer. Use a spoon to press out some liquid.
Add carrots, raisins, pineapple, and nuts to the batter. Fold in with a spatula.
Line a 9x13 pan with parchment paper, or butter and flour the pan.
Pour batter in and bake for 40-45 minutes.
Allow cake to cool completely before frosting.
Frosting
In a medium bowl, cream together all ingredients. Use right away on cake or chill in refrigerator 30 minutes.
Notes
Other options for oil - coconut, avocado, grapeseed, melted butter, or applesauce.
2 cups of carrots is about 5 medium carrots or ½lb.