If you have never tasted cassava, then you need to find it, cook it, and eat it. It is a root vegetable and it is silky smooth with a slightly sweet and bitter taste. To be honest, there is nothing else that tastes like it. It has the texture of a baked potato and is very fibrous. It is also the main ingredient in one of Guyana's popular baked goods, cassava pone, you can find a picture
here
. I am a huge cassava lover so when the idea popped into my head to make these cassava fries, I couldn't wait to share the recipe with you.
I first had these delicious fries at a Cuban restaurant back in New York City near where I was living at the time. I think it was called Cabana, in Forest Hills, Queens. I fell in love with them instantly. We never cooked cassava this way growing up, it was either boiled, sauteed, or made in cassava pone. Nowadays I roast these on a baking sheet to cut out the frying, but the fried version is still my preference haha!
Chop cassava with skin on, into 3-inch widths, make a shallow cut into the skin and gradually work your knife under the pink layer of skin to remove it. Or you could just buy the pre-peeled frozen cassava in the freezer section of your grocery store.
I had to boil this cassava for about 30 minutes, pierce cassava with a fork to check for tenderness. You want the cassava to have a slight give to it when pierced with a fork, if it is too soft, it will fall apart when cutting it into shapes for the fries. Once boiled, remove each piece with a slotted spoon and place on a thick layer of paper towels to dry. Remove the thick fibrous part in the center of the cassava.
For softer fries, cut them slightly thicker. For crunchier fries, cut them thinner.
You do not need to deep fry here. A shallow fry will work just fine. This simply means not having as much oil in the pan as you would for deep frying. Heat to 325 degrees and fry till golden brown, season immediately so that seasonings can stick well to the fries.
Tender and soft on the inside, crisp and crunchy on the outside!
Cassava / Yuca Fries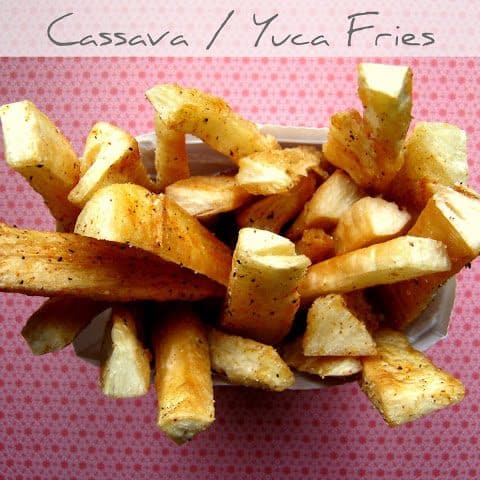 Cassava / Yuca Fries
Ingredients
3lbs cassava/yuca root (you can also buy the frozen kind to save peeling time)
Vegetable or canola oil for frying
Salt and your choice of seasoning: black pepper, cayenne pepper, garlic powder
Instructions
Chop cassava with skin on, into 2-3in widths, 3inches is good for longer fries.
Make a shallow cut in the cassava skin and insert knife underneath to lift the skin off all the way around.
Rinse cassava and set aside.
Bring a pot with enough water to a boil, add cassava and boil for 20-30 minutes, until cassava is soft, but still, has a give when pierced with a fork. You don't want the cassava to be too soft, otherwise, it will be hard to cut into sticks.
Using a slotted spoon, remove each piece of cassava from water and place on a thick layer of tissue to dry out (about 8-10min).
Cut into the desired size, for crunchier fries, cut them thinner, and for softer fries cut them slightly thicker.
Heat oil to 325 degrees and fry in batches until golden brown.
Season with your desired spices. I served mine with ketchup, but a friend of mine recommended it with mango sour. Delicious!