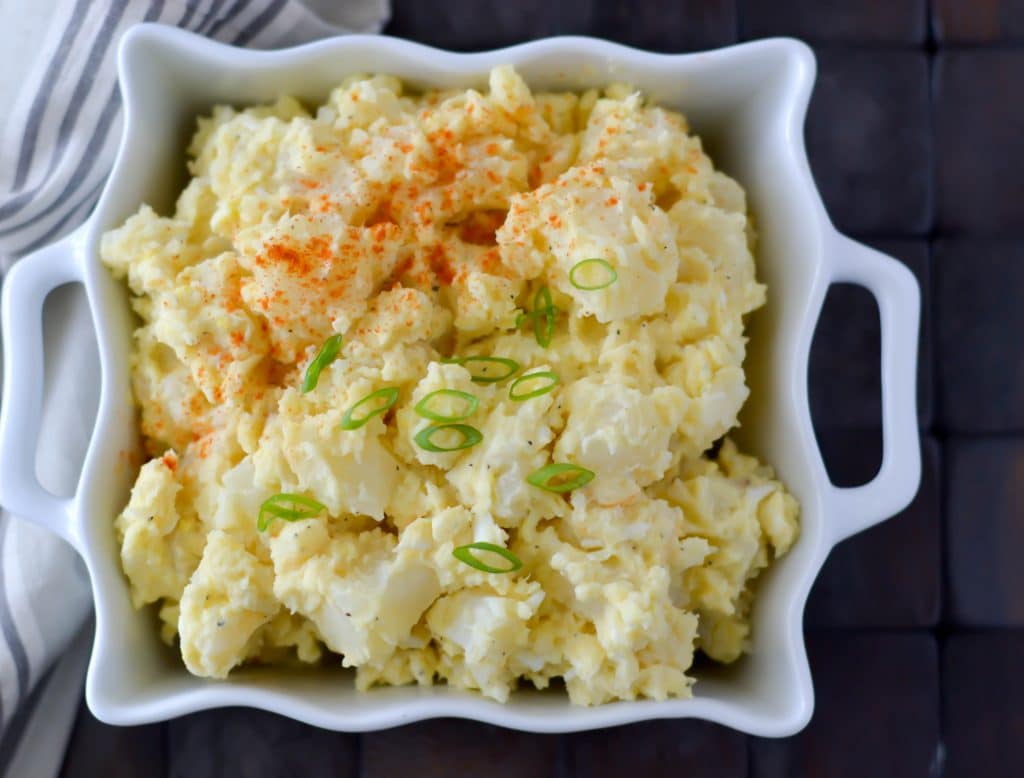 There's one person in my family who everyone knows makes the best potato salad. That person is my aunt, Mala. You may remember her from her macaroni pie recipe. She's not a big cook, but the few things she does make are really, really tasty. I recall many times aunty Mala has been summoned to make this potato salad for get-togethers and potlucks for its perfectly creamy and flavorful nature. She includes grated egg in her version along with onions and some non-traditional seasonings. You guys, it's so good, you have to give it a try, especially if these type of cold salads are your thing.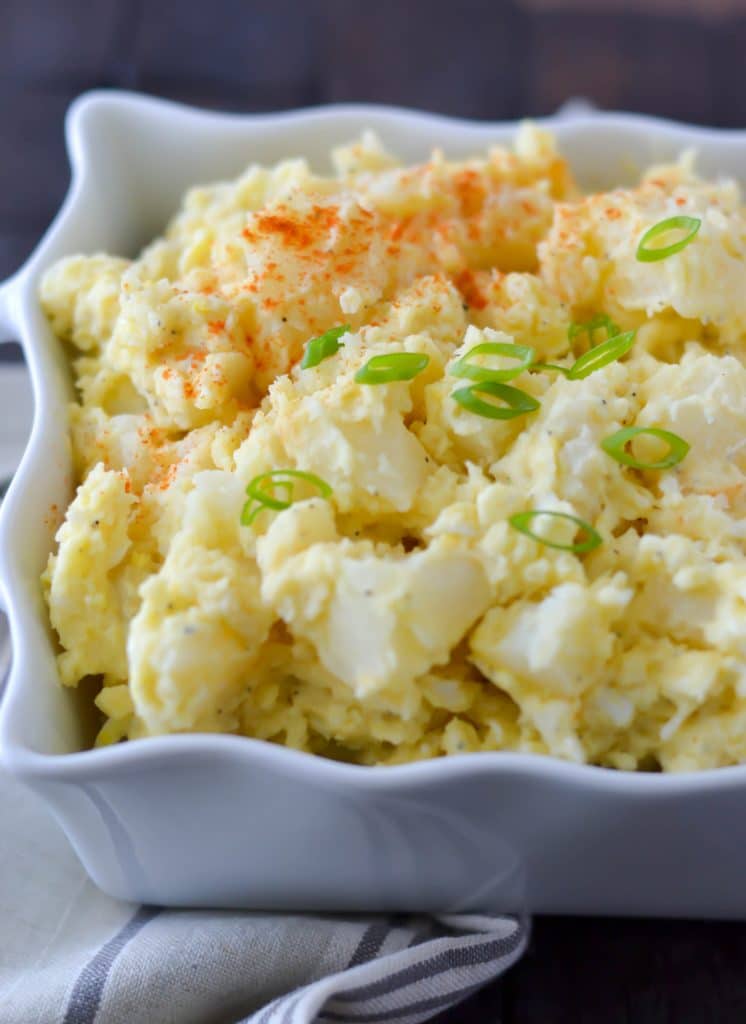 Okay, so the trick to this recipe is in the method. Here are two crucial tips in making a good potato salad:
Do not overcook the potatoes. Sounds easy, but you'll have to remember that even after you remove the potatoes from the boiling water, it will continue to cook from the remaining heat and steam.
Wait until potatoes have completely cooled off before assembling salad. No, seriously. Warm potatoes will very quickly turn into mashed potatoes.
Method
Peel and chop potatoes. I used 4lbs russet potatoes here. To get potatoes to cook evenly, chop into 2in pieces.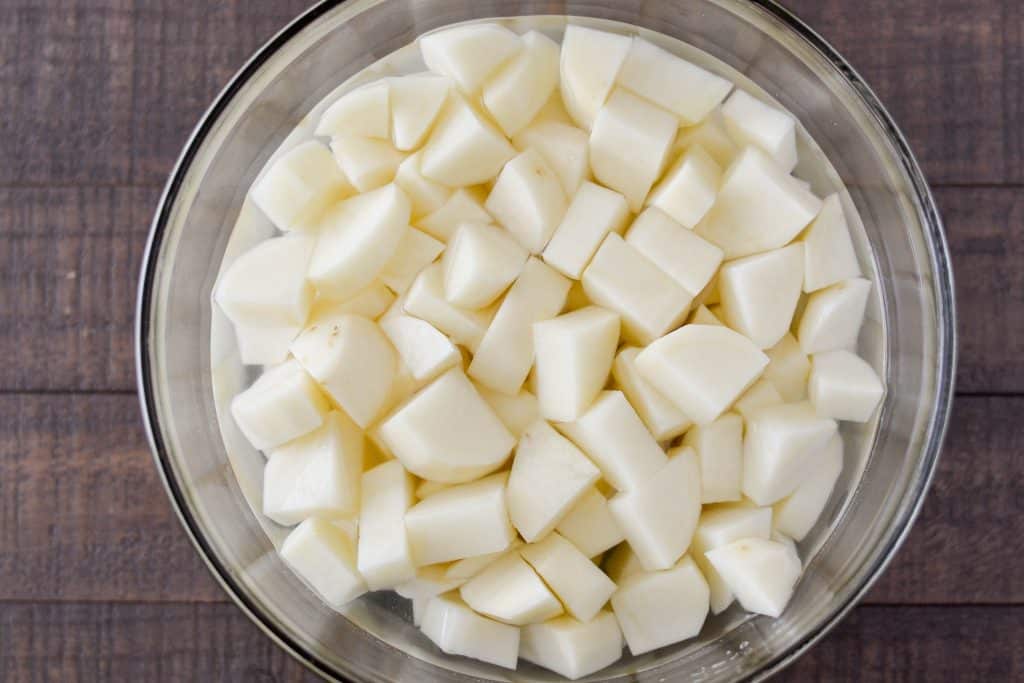 Boil, strain, and let cool, completely.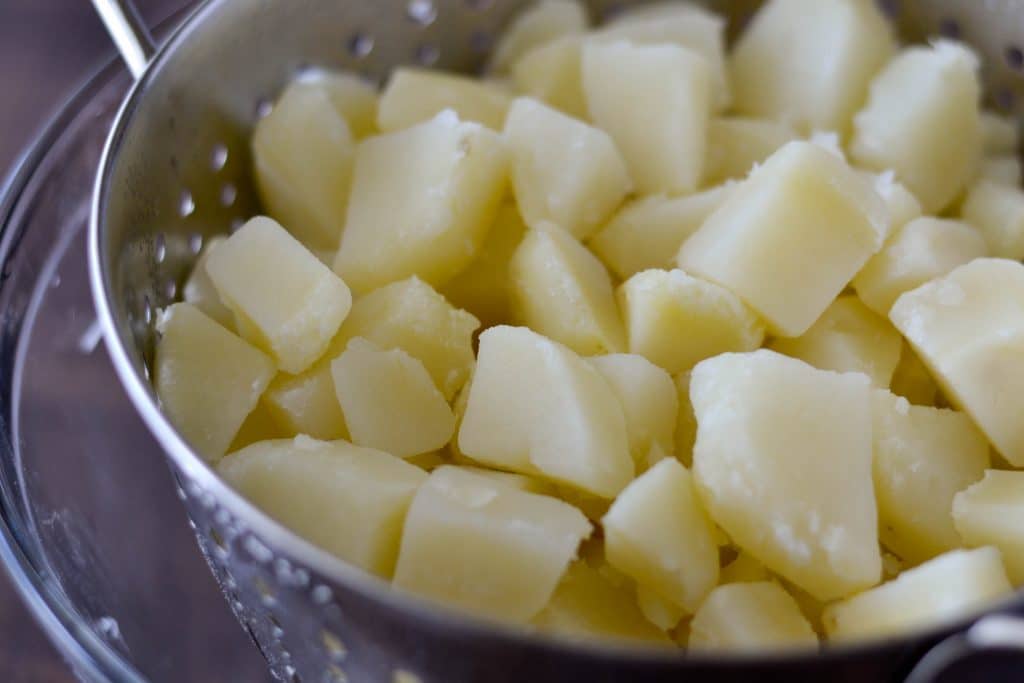 My aunt grates the eggs for this recipe. It's a personal preference, but the eggs can be chopped instead, if you choose. White vinegar is poured over the egg- it adds a tangy taste and also reduces any rank smell from the egg. Finely chop the onions and set aside.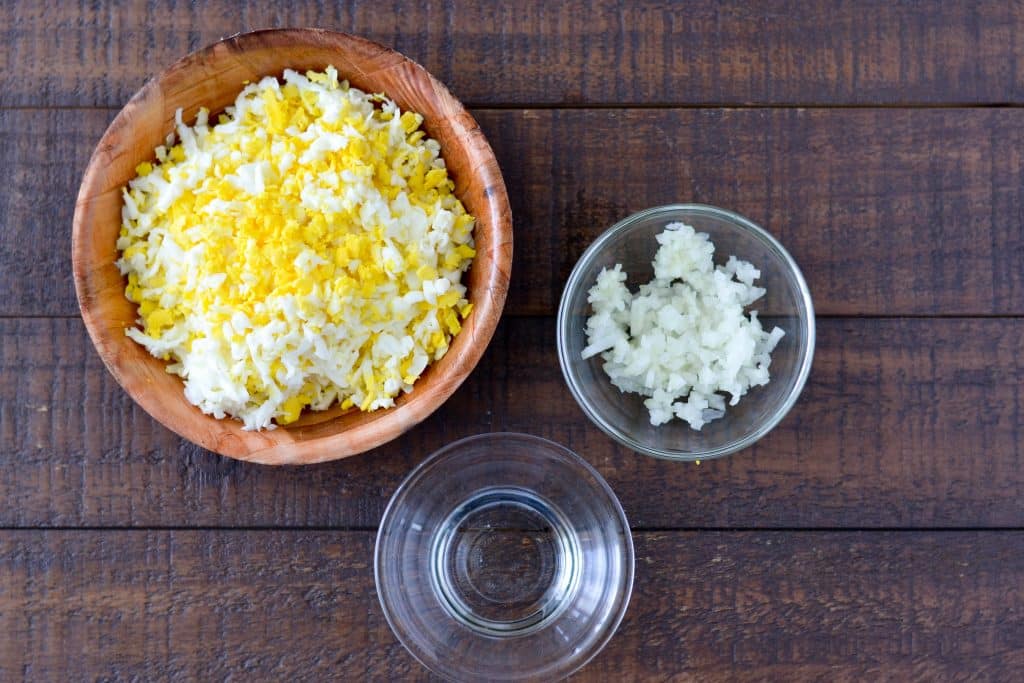 There is a trick to how this is mixed. The eggs and vinegar go in the bowl first, add cooled potatoes, seasonings, and onions, then toss it all, gently.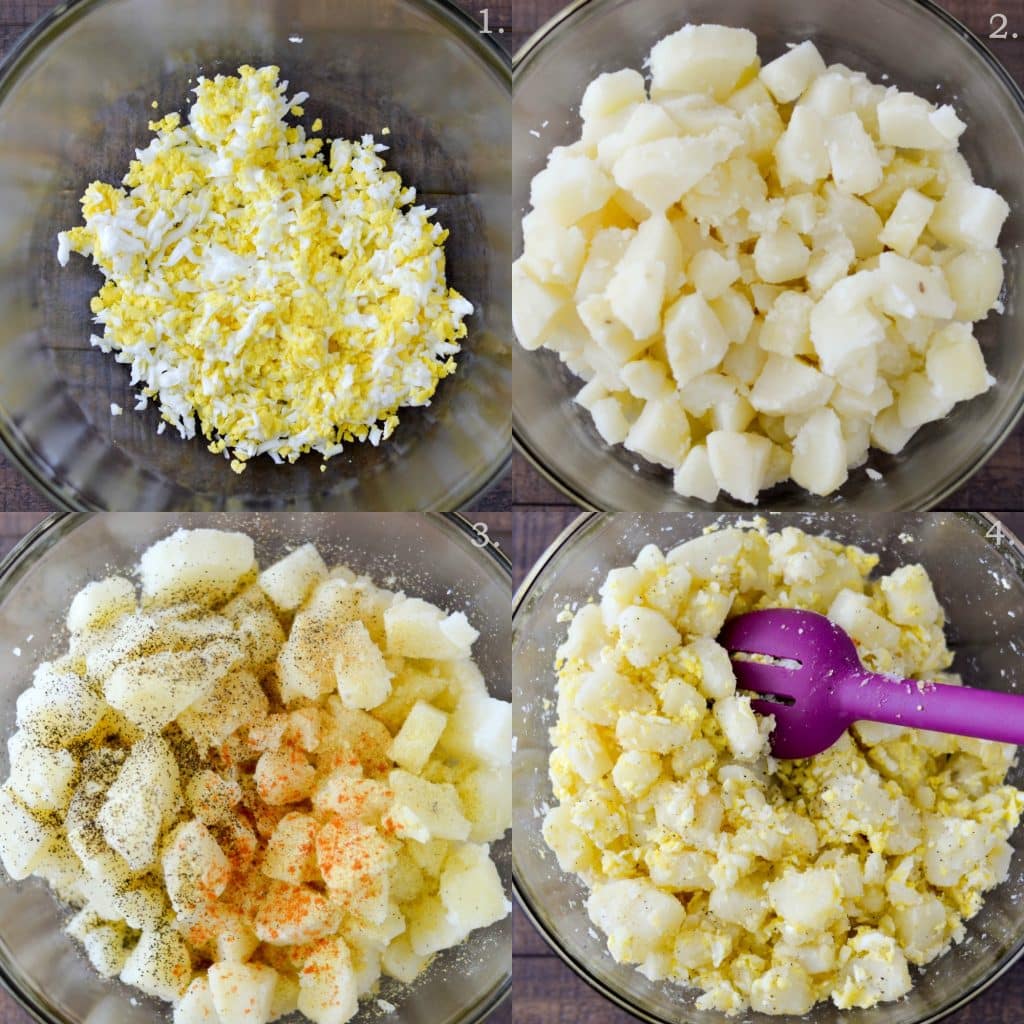 Make it Your Own
Before adding mayonnaise and mustard, feel free to throw in any additions you prefer. Here are some options for variations:
Sweet peas
Scallions
Carrots
Relish or pickles
Celery
Capers
Radish
Red onions
Add mayonnaise and mustard. Gently toss until fully incorporated.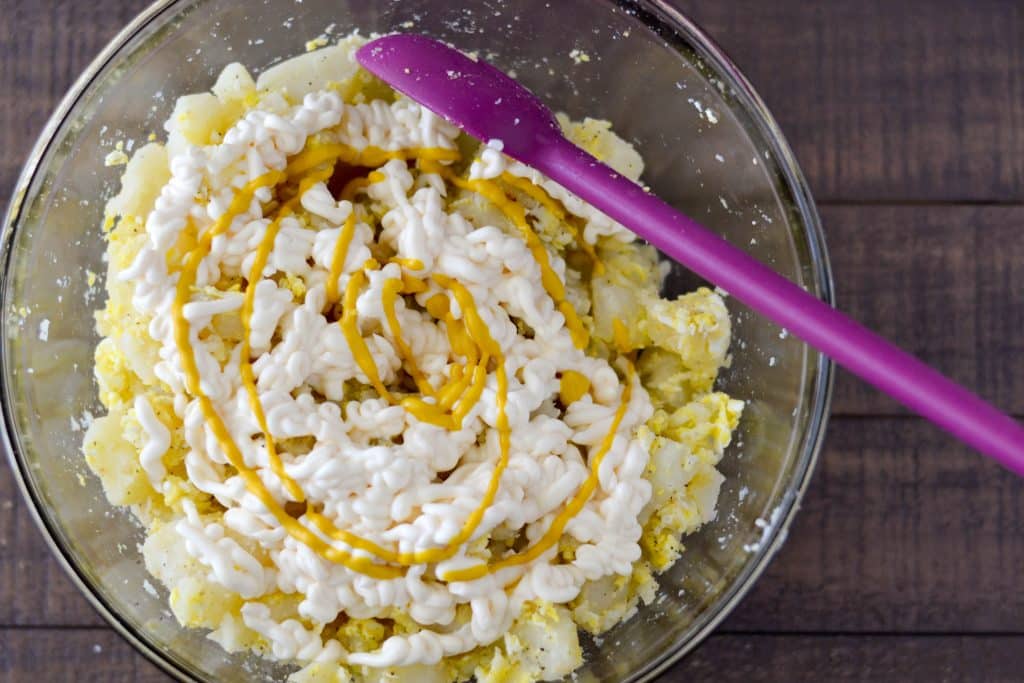 Refrigerate for a few hours or overnight.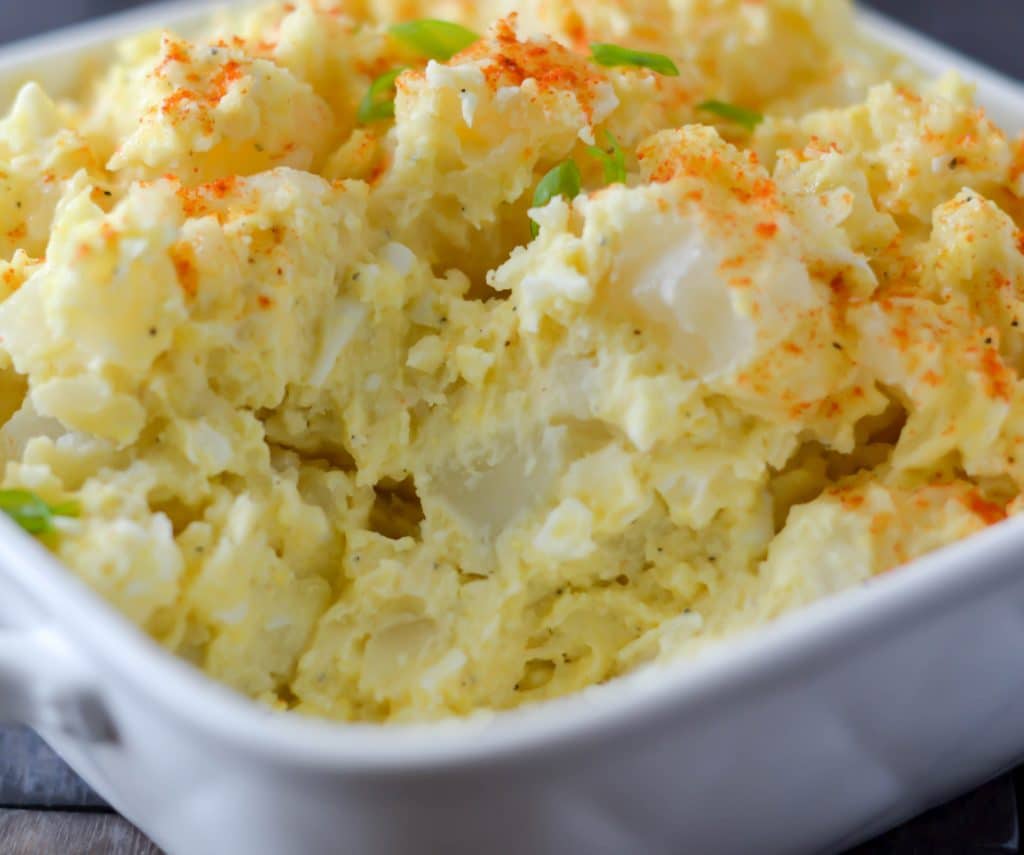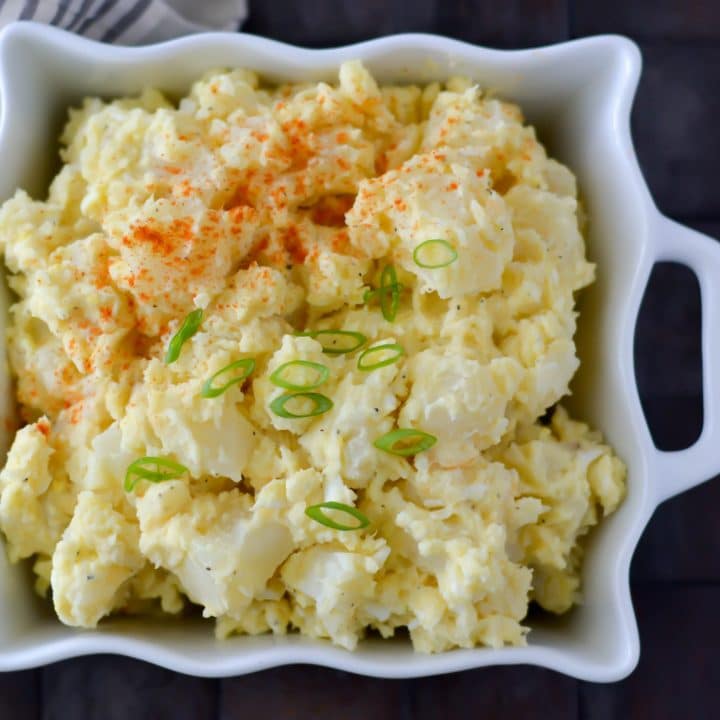 Creamy Potato Salad
Ingredients
4lbs potatoes
8 hard boiled eggs, grated
1 tbsp white vinegar
½ tsp ground black pepper
2 tsp seasoned salt or adobo
½ tsp garlic powder
¼ tsp cayenne pepper
¼ tsp sugar
¼ cup onion, finely diced
1 ½ cup mayonnaise
1-2 tsp yellow mustard
Instructions
Peel and chop potatoes into small 2in pieces. Boil 15+ minutes until cooked, but still firm. Drain and let cool completely
Boil eggs for about 18 minutes. Let cool. Peel, and grate egg, set aside.
Add egg to a deep bowl, pour vinegar over and gently stir. Add cooled potato on top of egg, Add onions and seasonings. Toss gently. Taste and adjust seasonings.
Add mayonnaise and yellow mustard.Toss to coat completely.
Spoon into a dish and refrigerate a few hours or overnight.
Garnish with paprika or cayenne pepper before serving.
Notes
Eggs may be chopped instead of grated.
Hellmann's brand mayonnaise is preferred for this recipe.
Red potatoes are creamier and will work well in this recipe, even though russet potatoes were used.