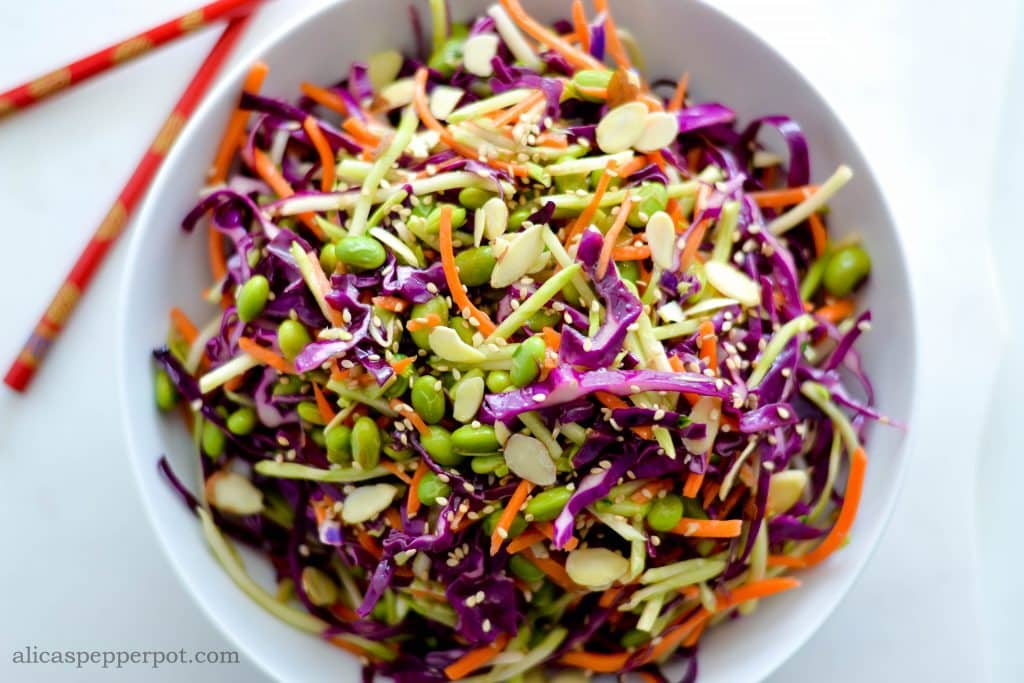 BBQ season is upon us and all I can think of is refreshing drinks and salads. It's quite hot here in Florida during the summer months, in fact, it's scorching. The mornings start out hot and humid and it just gets worse as the day progresses. Since I moved here three years ago, I find myself making light and refreshing foods during this time of year. One of my favorite summer salads is this Asian slaw. It's crunchy, flavorful, and bright. I take a few shortcuts to put this together and it always is a hit at any summer get together.
The only thing that's cooked in this Asian slaw is the edamame beans. You can buy them shelled and frozen in the freezer aisle of your local grocer. I also add a bag of broccoli slaw and pre-shredded carrots. I have two toddlers at home so there's no way I could spend time shredding all these vegetables without having to stop to feed someone, break up a fight, or clean up a mess! So I'm all about taking a shortcut to save time and especially when it doesn't alter the taste of the dish too much.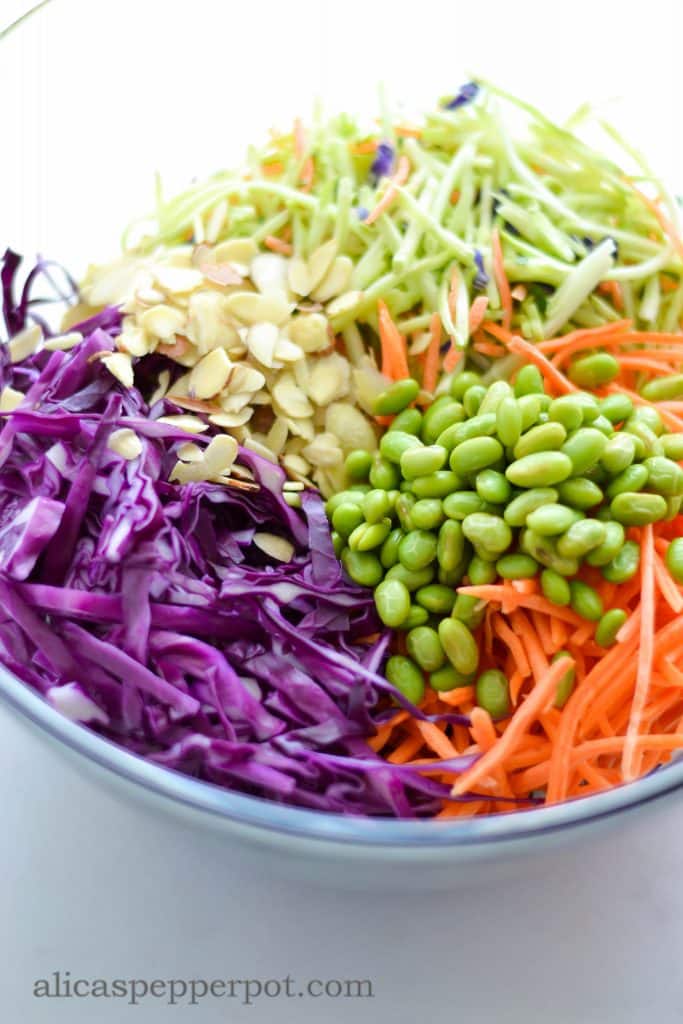 Make The Dressing
The dressing is what bring this salad together. It's tangy and slightly sweet with a nice bite. Most of the tang comes from the rice vinegar. You'll see two options at your grocer; seasoned and unseasoned. I like the seasoned version. I think it adds a nice layer to the dressing as it is seasoned with a little sugar and salt. The peanut butter and ginger flavors are superb against the neutral taste of the cabbage and broccoli. You can play around with the flavors here. If there are concerns about peanut allergies, then leave it out. The dressing will still taste amazing. This is a great side to make along fried rice or chow mein.
Toss vegetables together, then pour dressing over bowl. Toss again. Garnish with toasted sesame seeds.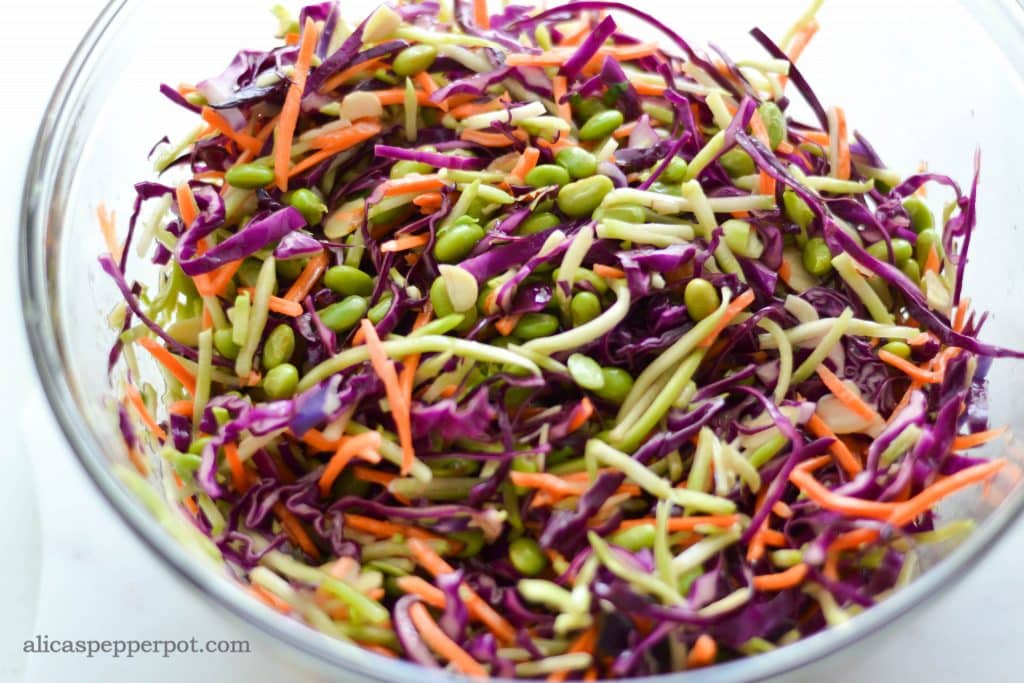 Asian Slaw with Ginger Dressing
Adapted from [Alton Brown|http://www.foodnetwork.com/recipes/alton-brown/asian-slaw-recipe-1913307]
Ingredients
For Slaw
2 cups thinly sliced red cabbage
2 cups broccoli slaw
1 cups shredded carrots
1 cup shelled edamame beans, cooked
½ cup sliced almonds or peanuts
Toasted sesame seeds for garnish
For Dressing
¼ cup honey
¼ cup olive or canola oil
¼ cup rice vinegar, seasoned
1 tbsp soy sauce
2 tsp sesame oil
3 inch piece ginger, grated
1 tbsp smooth peanut butter
1 lemon, juiced
Sesame seeds for garnish
Instructions
Steam edamame beans for 5 minutes. Let cool. Set aside.
Add all ingredients to a mixing bowl, including cooled edamame beans.
Make the dressing. Whisk together all liquids. Add grated ginger and peanut butter. Whisk until fully incorporated.
Pour dressing over vegetables. Toss to coat. Garnish with toasted sesame seeds.
Notes
Add as much or as little cabbage, broccoli slaw, or carrots as you prefer. Shredded vegetables can be chopped smaller if you like.
If you cannot find broccoli slaw, napa cabbage can be substituted.