One of the easiest and tastiest desserts you could make for a holiday menu is Tres Leches Cake. The name Tres Leches in Spanish translates to "three milks." A golden sponge cake is soaked with a sweet and creamy three-milk mixture, then topped with whipped cream and left overnight to soak and meld together. This cake is not sickeningly sweet which is one of the reasons I love it. The versatility is also endless. I've made a pineapple version, cremesicle, and dulce de leche. It's one of my favorite desserts and one that I receive a lot of requests to make for holidays or family get-togethers. I think this cake would be perfect for your Easter table this weekend or any other gathering!
Other crowd pleasing recipes - Classic Tiramisu, Guava Cheesecake, Creamy Baked Ziti
I found the base recipe for this cake from All Recipes. There are tons of recipes for tres leches so I'm not trying to reinvent the wheel here, but after making the recipe (from All Recipes) as is, I felt it needed a few tweaks. This post is "tip heavy" because there are alterations to the recipe that I've made which I feel yields a tastier end product.
The batter for this cake needs to be dense and firm to hold up all the liquid, otherwise it can turn into a soggy, goopy mess.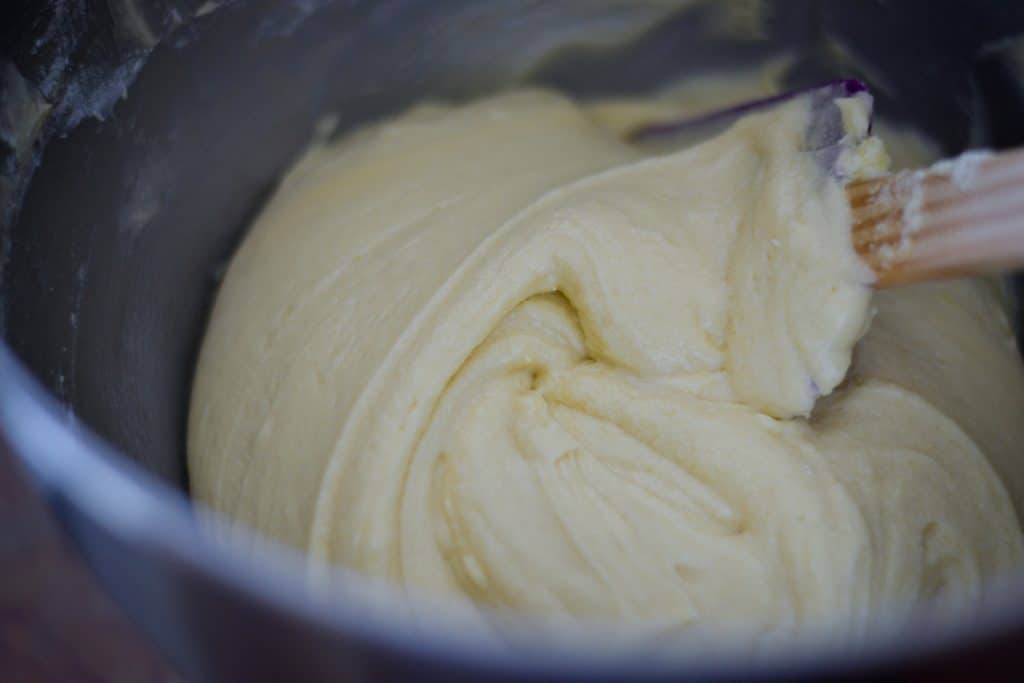 After cake comes out of oven, poke lots of holes using a toothpick or chopsticks.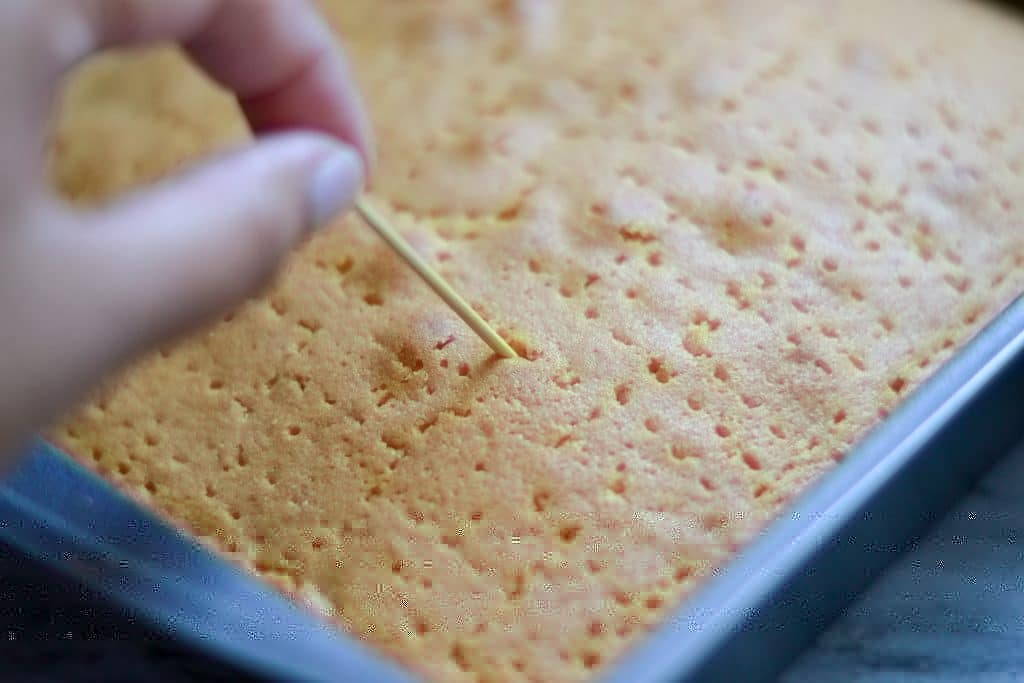 Pour milk mixture over cake.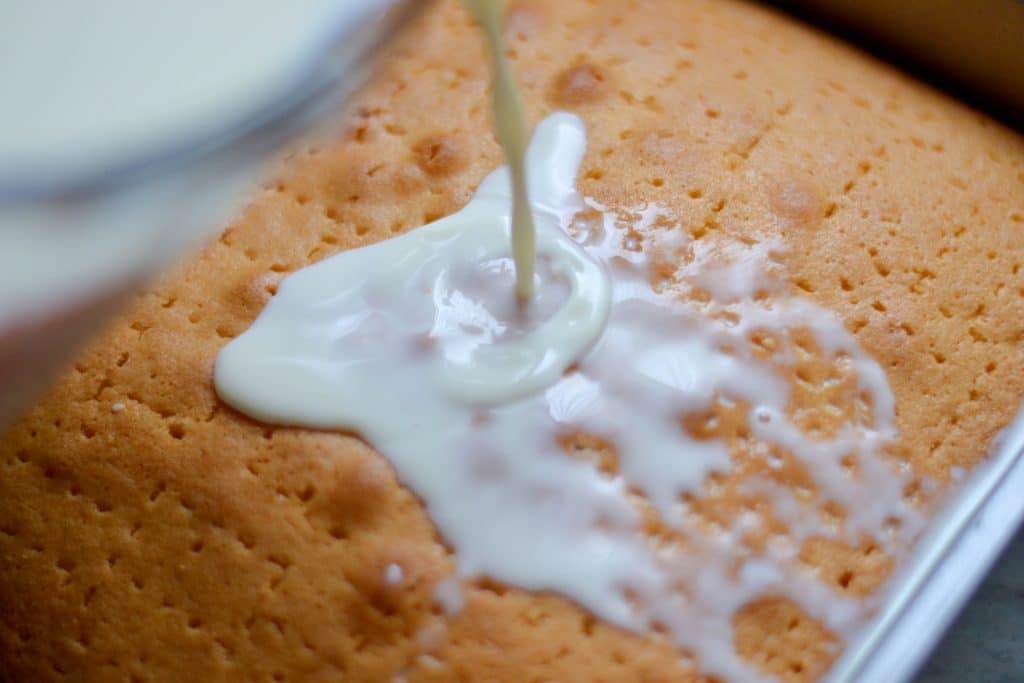 Spread whipped topping over cake after soaking. Refrigerate at least 6 hours before serving.
Tips 
If you'd like to take a shortcut on the cake portion of the recipe, try using white boxed cake mix, not butter or yellow cake.
You can make your own whipped cream, but I prefer coolwhip for the topping. Make sure to let coolwhip thaw before spreading over cake.
For optimal taste, make recipe 2 days ahead. All the flavors meld together and it's just so good!
Add ¼ -½ cup rum to the milk mixture to make this a boozy brunch dessert.
The original recipe calls for whole milk as one of the three milks, but I prefer using heavy cream or half and half. The milk mixture is thicker this way. Whole milk makes this cake too soggy for me.
There is no need to butter and flour your baking dish if you're serving right out of the dish. The cake sticking to the pan doesn't matter because it will be soaked in milk anyway making it easy to scoop out.
Change it up!
Instead of the traditional version, try one of these options to jazz things up.
Coconut Tres Leches - Use coconut milk and a vegan condensed milk in place of dairy milks. Top with coconut.
Vegan Tres Leches - Check out these recipes if you do not eat dairy: Yup It's Vegan, Thyme and Love.
Cremesicle - Add mandarin oranges to the whipped cream and orange zest to the batter and milk mixture.
Pineapple coconut- Add crushed pineapple on cake after pouring milk over cake. Then top with whipped cream or cool whip. Make sure to drain liquid  from pineapple well. I like to press the crushed pineapple through a strainer. If there is too much pineapple liquid, the cake will get soggy.
Dulce de leche - After pouring milks over cake, drizzle caramel, then spread whipped topping. Drizzle more caramel when ready to serve cake.
Flipping cake onto a serving dish
If you'd like to serve this cake in a nice serving platter vs. the pan the cake was baked in, you'll have to flip the cake out of the pan and onto your serving platter before adding the milk. Make sure to butter and flour your pan before baking. Flip cake onto serving platter then soak cake with milk mixture. Add whipped cream or coolwhip for topping. Make sure serving platter has enough depth to hold extra milk from cake.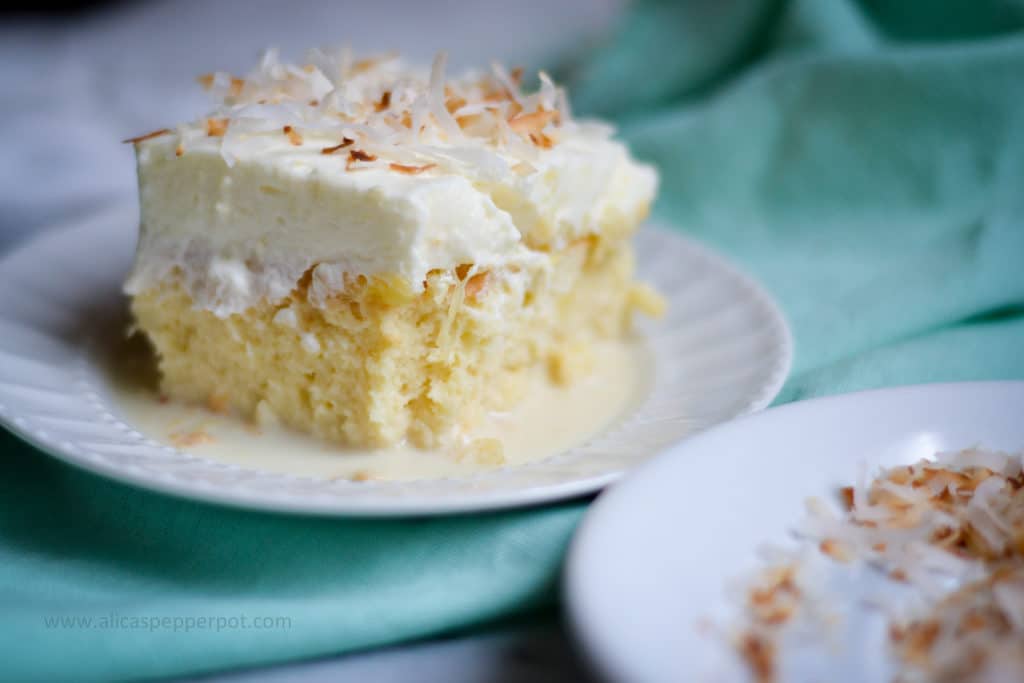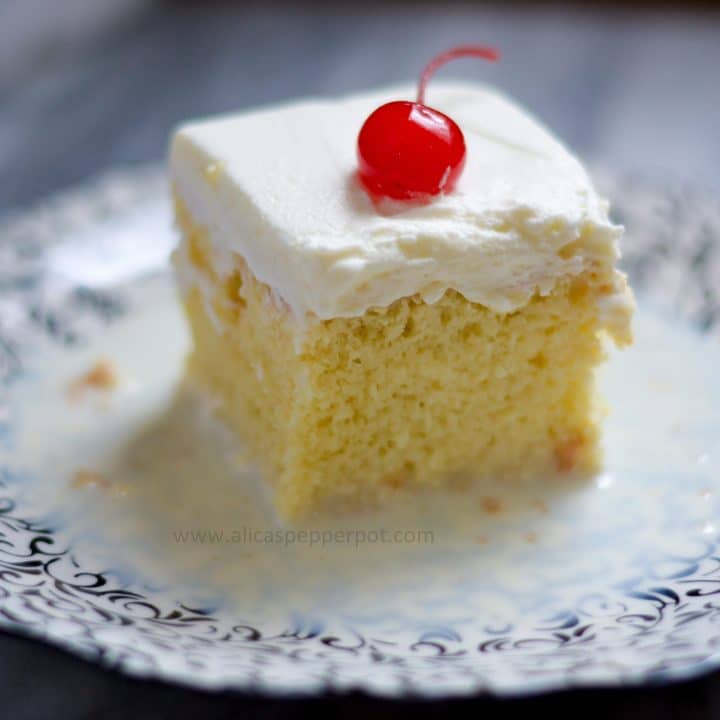 Tres Leches Cake
Yield:
One 9x13 glass dish or two 8x8 baking pans
Ingredients
1 ½ cups all-purpose flour
1 tsp baking powder
½ cup unsalted butter, softened
1 cup white granulated sugar
5 eggs, white membrane removed from yolks
1 tsp vanilla extract
Milk Mixture
2 cups half & half milk or heavy cream
1 14oz can condensed milk
1 12oz can evaporated milk
1 tsp vanilla extract
Topping
8oz tub cool whip, thawed
OR
1 ½ cups heavy cream
½ cup white granulated sugar
1 tsp vanilla extract
Instructions
Preheat oven to 350 degrees F (175 degrees C). Grease and flour one 9x13 inch baking pan OR two 8x8 square pans.
Sift flour and baking powder together and set aside.
Cream butter and the 1 cup sugar together until fluffy. Crack eggs into a separate bowl one at a time. Remove white membrane from each egg yolk. Add eggs to creamed butter mixture one at a time and the 1 teaspoon vanilla extract; beat well.
Add the flour mixture to the butter mixture 2 tablespoons at a time; mix until well blended. Pour batter into prepared pan or divide between two 8x8 pans.
Bake at 350 degrees F (175 degrees C) for 30 minutes. Pierce cake several times with a fork.
Combine the vanilla, half & half milk, condensed milk, and evaporated milk together. Pour over the top of the cooled cake. Place cake with liquid in it, back into warm oven. Leave door cracked and let cake cool while making the topping.
Place a mixing bowl over a bag of frozen vegetables or over another bowl filled with ice cubes. Pour in heavy cream, sugar, and 1 teaspoon vanilla. Whip together until stiff peaks form. Spread over the top of cake. and refrigerate overnight. Best results after 2 days.
Notes
Recipe adapted from All Recipes