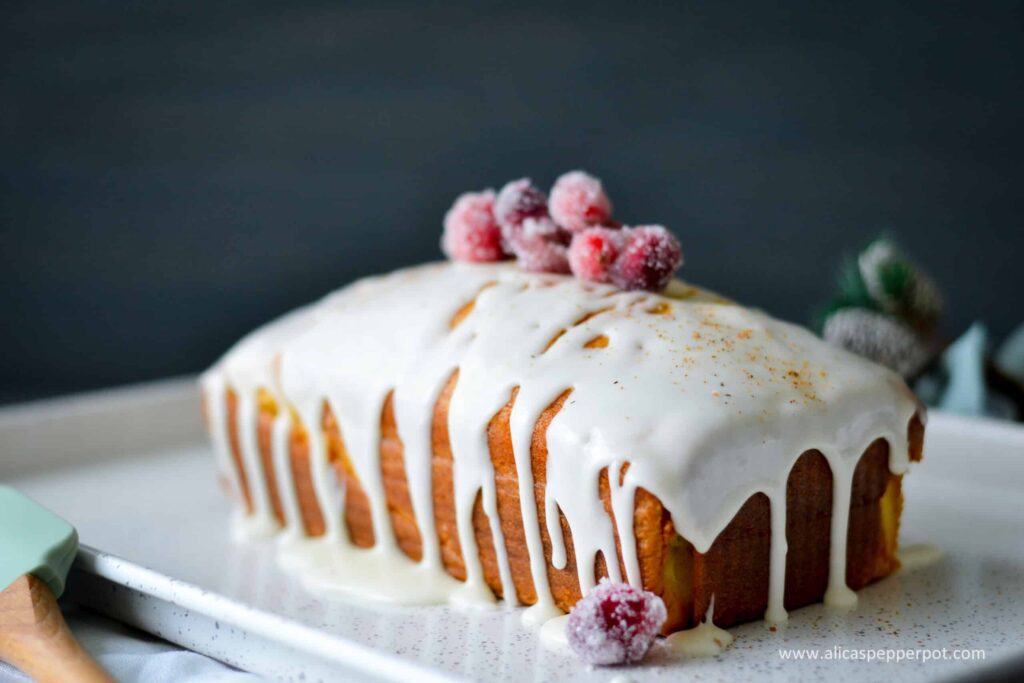 Nothing says Christmas like spiced drinks and decadent cakes. Every year around this time I look forward to having a glass of of my favorite eggnog alongside a slice of West Indian fruit cake. The flavors of the season give me the warm and fuzzies. Last year for Christmas I made this delicious eggnog pound cake and everyone raved about it, but little did they know- it wasn't a from-scratch cake. This is the perfect recipe for someone who wants to make a pretty dessert without all the work. Not to mention it's also a stunner in a cake stand or dessert table. Take it to your company's holiday party to seal in that promotion ;).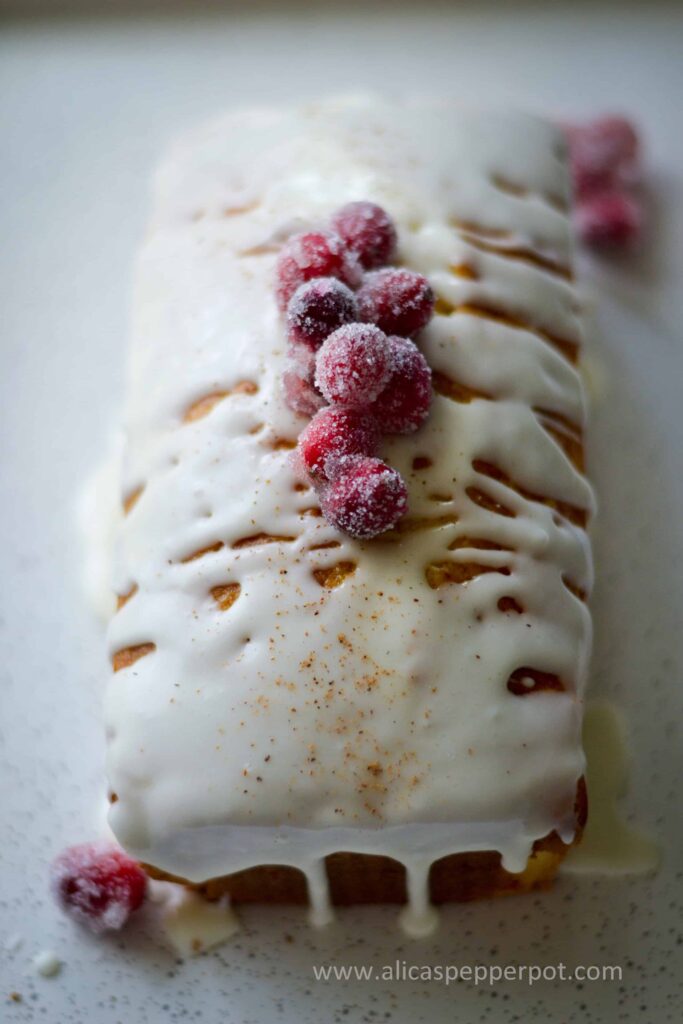 This eggnog pound cake is loosely adapted from
Taste of Home
. I add less nutmeg to the batter. Personally two teaspoons (what the originally recipe calls for) is too overwhelming. I include a little bit of lemon zest to help bring out all the flavors and use boxed pound cake mix instead of yellow cake mix- pound cake mix results in a firmer texture. The batter will fit perfectly in a standard size loaf pan (9x5x2). You could also use a smaller loaf pan and make the remaining batter into little cupcakes.
I posted a sneak peek of this cake on
my instagram
stories and one follower mentioned this cake could work well with
Trinidadian ponche de creme
instead. I thought that was a great suggestion. You could even replace the eggnog with
coquito
. I would add a splash of coconut extract to bring out the flavor if you go that route.
The hardest part of this recipe is making the crystallized cranberries- if you choose to add them. Find the recipe
here
. The icing drizzle is perfect and pours up beautifully. It hardens up just enough so the icing doesn't break. Although I used it pound cake mix I didn't compromise the quality of the other ingredients I used a good butter from
Kerrygold
and real vanilla extract. Good quality ingredients help make this cake taste like it was from scratch.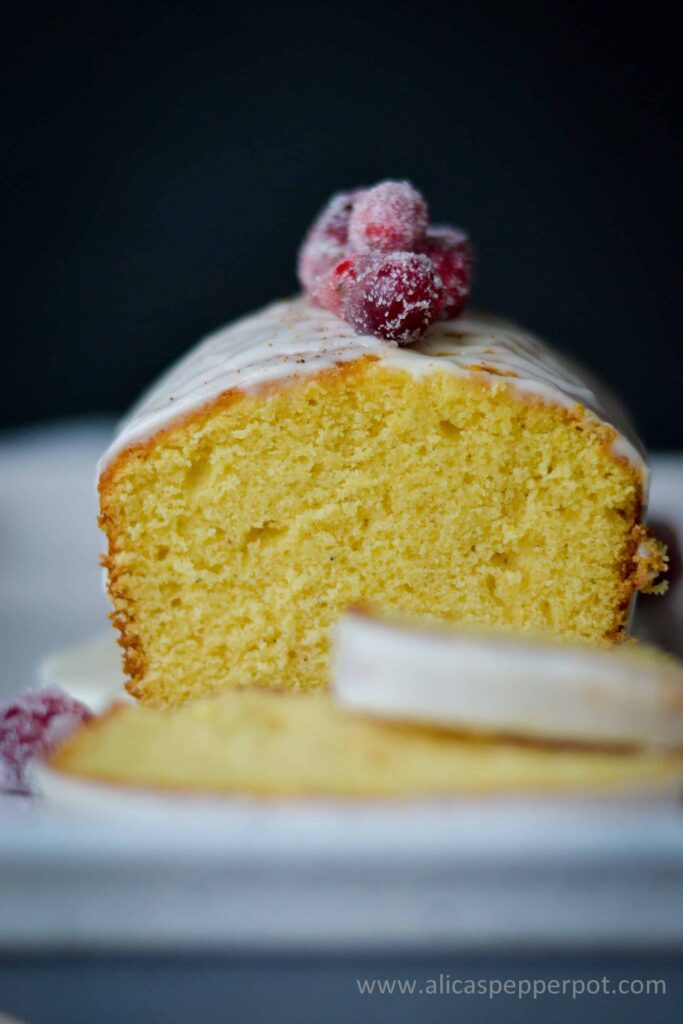 Looking for a from scratch recipe? Try these!
If you're in the mood to cream some butter and sugar I have three other yellow cake recipes for you to try, or if you want a from scratch eggnog pound cake give this
recipe
a go.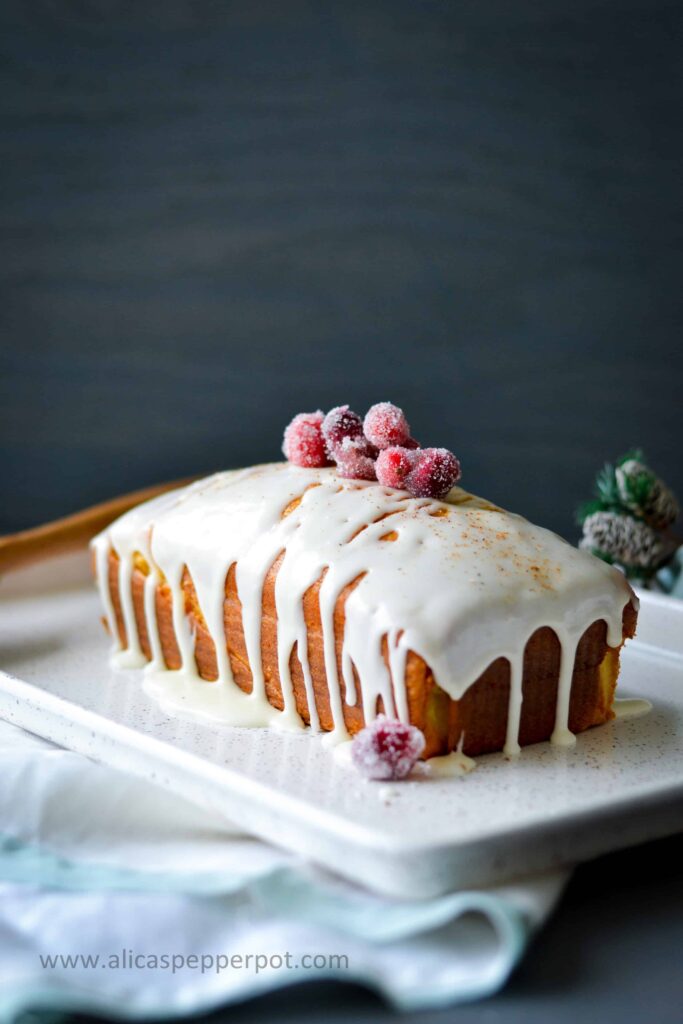 You can omit the cranberries and icing all together and simply serve this by itself or with a side of whipped cream and fresh berries.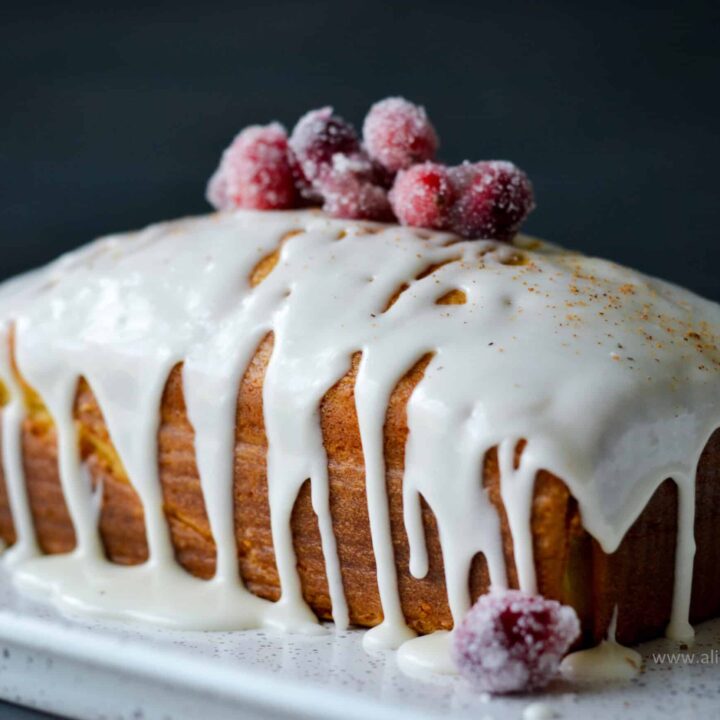 Easy Eggnog Pound Cake
Ingredients
Pound cake
1 16oz box pound cake mix
1 ¼ cups egg nog
3 large eggs
¼ cup softened butter, unsalted
½ tsp nutmeg
1 tsp vanilla extract
½ lemon zest
Icing
1 ½ cups confectioner's sugar
pinch of salt
¼ tsp vanilla extract
1 tsp unsalted butter, melted
7-8 teaspoons milk
Instructions
Preheat oven to 350 degrees F.
In a mixing bowl, empty boxed cake mix. Add nutmeg, mix.
In a separate bowl mix together all other ingredients then add to bowl with cake mix. Blend until smooth.
Line loaf pan with parchment paper or butter and flour your pans. Pour batter in and shake slightly to level batter.
Bake 40 min (or more) until toothpick inserted comes out clean.
Let cake cool completely before icing.
Icing
In a small mixing bowl, combine sugar, salt, and butter, and vanilla.
Add milk 2 teaspoons at a time until consistency is where it can be drizzled.
Notes
Zest only a ¼ or ½ half of a lemon. Anything more will turn this into lemon pound cake.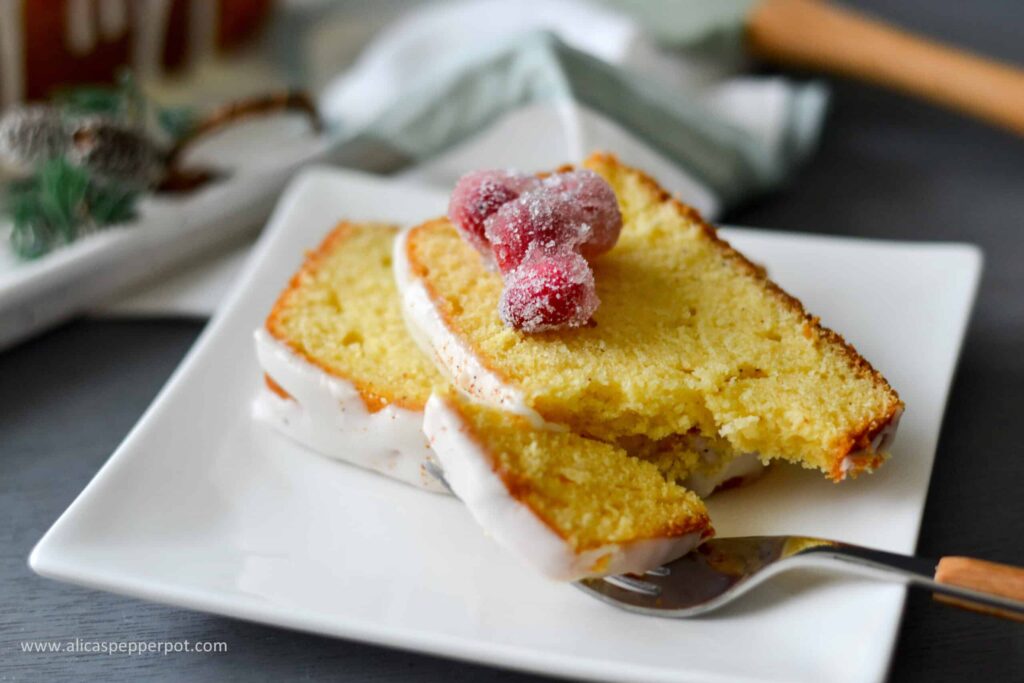 Here is the link for the loaf pan I used. You can see the imprint from the pan was left on the cake. No big deal, but if the imprint bothers you, I recommend using a smooth pan. And here's the link for the pound cake mix I used.