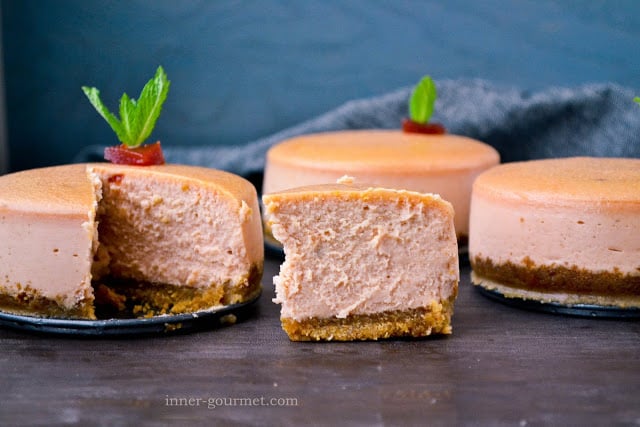 A few days ago we celebrated my friend Kim's 30th birthday. She came over for dinner and drinks after work. Kim is a great friend of ours and I really wanted to cook a nice meal for her to show her how much we appreciate her friendship. I made a delicious warm brussels sprout salad with broiled flounder and scalloped potatoes. For dessert, we had these decadent and smooth mini guava cheesecakes. I love sharing the flavors of my culture with my non-Caribbean friends, especially those who are excited to try something new. It gives them a chance to get to know me in a different way. We couldn't stop licking out fingers with this one. The cheesecake was so good. I wanted to share this recipe because I thought it would also be perfect for Valentine's Day.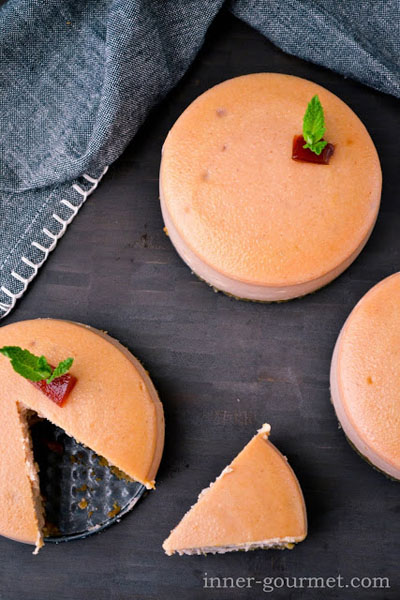 The night turned out great, especially ending with this guava cheesecake and a bottle of rosé.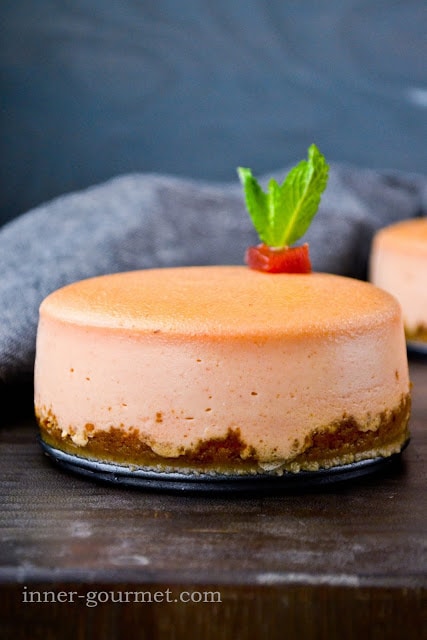 I have a rule about cheesecake. It has to have a certain texture for me to enjoy it. It has to be smooth with no eggy taste and not overly sweet. I have a base recipe that I've been using since the beginning of time which I customize with different additions. This is the same base recipe I use in my Pineapple + Coconut Cheesecake. I used guava paste for the flavor and melted it slightly in the microwave. Then I added some of the cheesecake batter to the guava paste and blended until it was completely smooth. I divided the batter into three 4-inch springform pans. I had a little batter left over and used it to make a few cheesecake cups.
You can certainly pour the entire batter into a prepared store bought crust- just be sure to buy the crust that says "2 extra servings" otherwise you'll have left over batter. If you can't find that particular crust, get a regular size and use the leftover batter to make cheesecake cups. These are perfect for Valentine's day or anytime. It's not overly sweet and the guava gives it such a nice flavor. Give it a go and let me know how you liked it.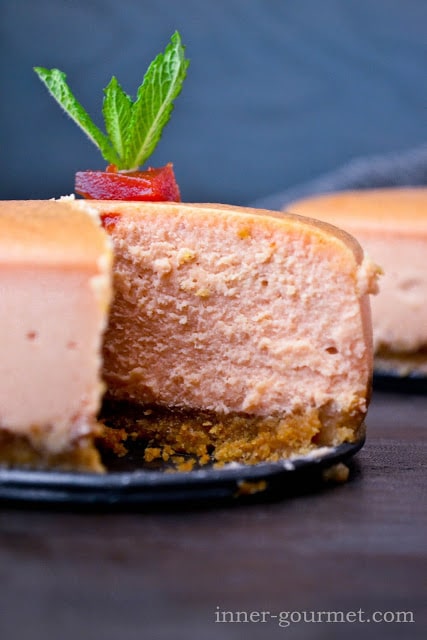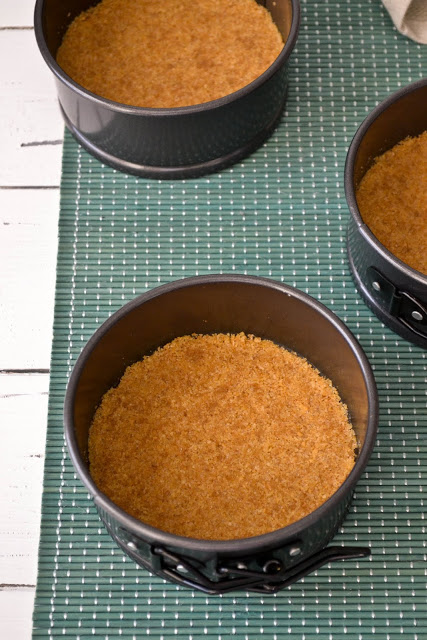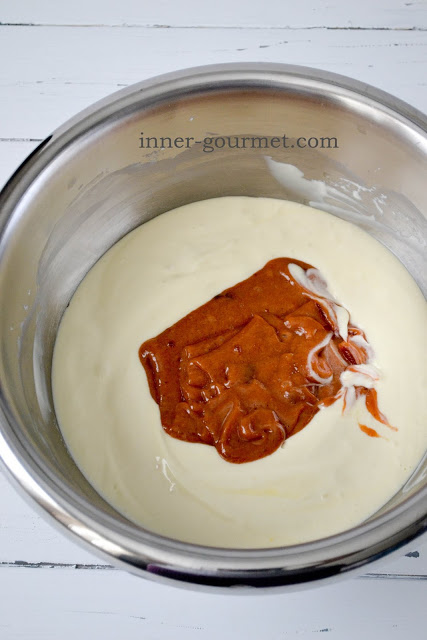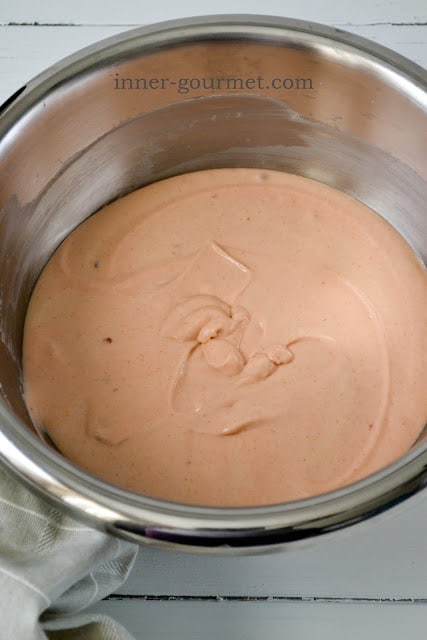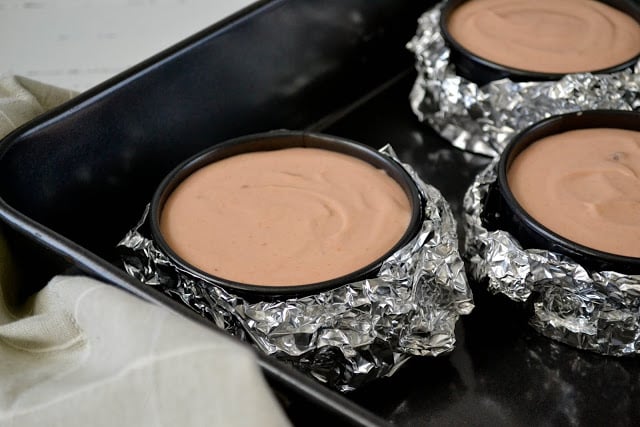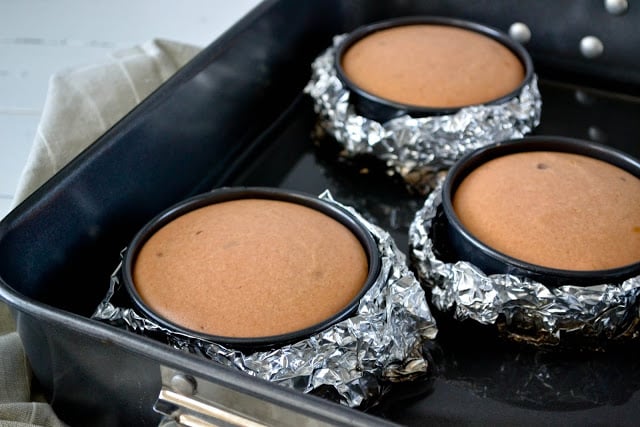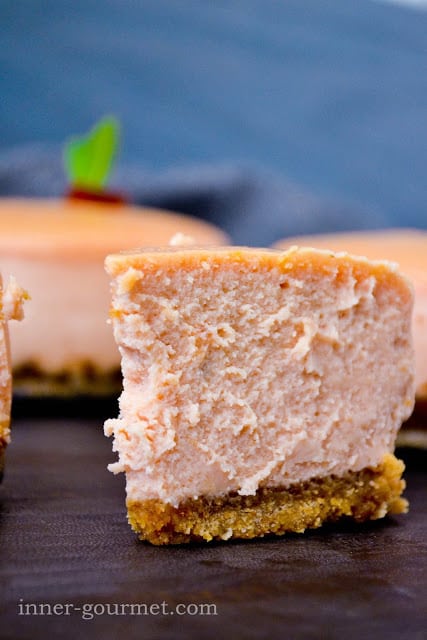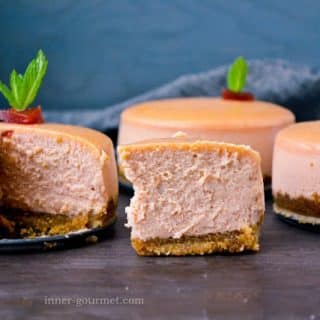 Guava Cheesecake
Yield:
Three, 4inch mini springform pans or One 9oz ready made crust
This rich and smooth cheesecake batter flavored with guava paste will make your tastebuds want to come back for more. Add as much or as little guava as you like.
Ingredients
Crust- if making your own
1 ½ cups crushed graham cracker
6 tbsp melted butter
4 tbsp white granulated sugar
Dash of cinnamon
Batter
Two 8oz packages cream cheese, room temperature
½ cup plus 3 tbsp white granulated sugar
½ cup sour cream
1 tsp vanilla extract
¼ tsp lemon or orange zest
2 eggs, room temperature
1 tbsp all-purpose flour
8 tbsp guava paste, slightly melted
1 drop red food coloring
Instructions
Bring eggs and cream cheese to room temperature.
Mix graham cracker, sugar, and cinnamon together. Add melted butter, stir to combine.
Press graham cracker mixture into mini springform pans or one 8in springform pan. Use a round glass to press graham cracker into and around the side of the pan.
Bake crust for 8-10 minutes at 375 degrees until edges are golden brown, crust will begin to smell fragrant. Remove from oven and set aside to cool.
Cream sugar and cream cheese until smooth and no lumps remain. Add sour cream, vanilla, and lemon zest, blend to incorporate. Add eggs, blend on low speed.
Slightly melt 8 tbsp of guava paste in microwave. In a separate bowl remove about ¼ cup of batter and blend together with guava paste. Blend until completely smooth. Add guava mixture to remaining cheesecake batter and blend then mix in 1 tbsp flour.
Set oven temperature to 325 degrees.
Line springform pan with foil. Pour batter into crust. Place springform pan in a deep baking pan and place on baking rack in oven. Fill larger pan halfway with water.
Bake for 45 minutes at 325 degrees
Center of cheesecake should jiggle slightly when shaken. Turn heat off and leave cheesecake to rest for about 10 minutes in oven. Remove from oven and leave cheesecake to rest for an additional 30-40 minutes to cool slowly. Place in refrigerator for at least 3-4 hours or overnight.
Notes
I purchased the pans used in this recipe from Target for about $10.
A 9-inch spring-form pan may be used, but will yield a thinner cheesecake. I prefer using an 8in spring-form pan for good height.
Baking cheesecake in a pan of water is what is known as a water-bath. The cheesecake is steamed this way and the steam keeps it from drying out.
If using store-bought crust, be sure to buy the one that says, "2 extra servings" otherwise, you will have left over batter. You do not need to place store bought crust in a water-bath, but you can add a pan of water at the very bottom of the oven to create steam.
Cheesecakes have a tendency to shrink and sink in the middle when cooling, so you will want to use a knife to run along the outside of the crust immediately after the cheesecake is done. Otherwise as it cools, the outer part of the cheesecake will stick to the pan leaving a circular crack in the center. This only applies if you are using a spring-form pan.
If making cheesecake cups, baking time should be about 25-30 minutes.
One drop of red food coloring will help to bring out the color of the cheesecake batter.