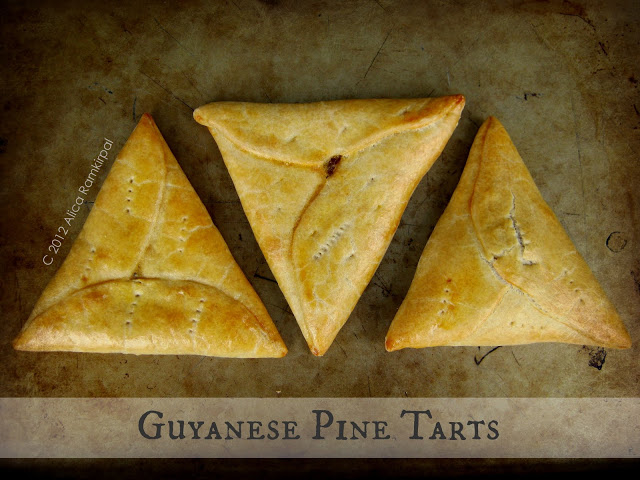 Saturdays or Sundays marked my family's routine visit to Liberty avenue in Queens, NY. This is where we did our weekly shopping for our vegetables, meat, and Guyanese bakery goods for the rest of the work/school week. My favorite stop was at Sybil's bakery. My father would buy Guyanese plait bread and a host of other pastries including one of my favorites, pineapple tarts, commonly called, pine tart, (not to be confused with South East Asian pineapple tarts). Sometimes I'd even go inside with him to make sure he didn't forget to buy me a cream soda to go with it.
I also remember that before we got home, at least one pine tart or cheese roll would have already been devoured from the bag, the crumbs as evidence in the backseat of the car. Yes, these are my childhood memories of Guyanese pine tarts.
Although Sybil's pine tarts are ingrained in my memory and taste buds, there was another bakery that made a pine tart I would never forget, Hack's bakery near Stabroek market in Georgetown, Guyana.
From the moment I laid eyes on it, I couldn't wait to take the first bite. I remember it from beginning to end; tangy, sweet, tart and tasty, just how I imagined it to be. I had never been so in love with a pine tart as much as I was at Hack's.
I assumed it had to be the fact that nothing compares to a baked good made with fresh everything, including the pineapple filling. The filling tasted so different from any other I've had before, it tasted like it was made with fresh pineapple and I had to find a way to taste it again. Now thousands of miles away from Hack's bakery, I have made my own version, just as tasty and just as fresh, thank you Hack's for the inspiration. I give you the jewel of my eye, the ever so glorious and outstanding, pine tart.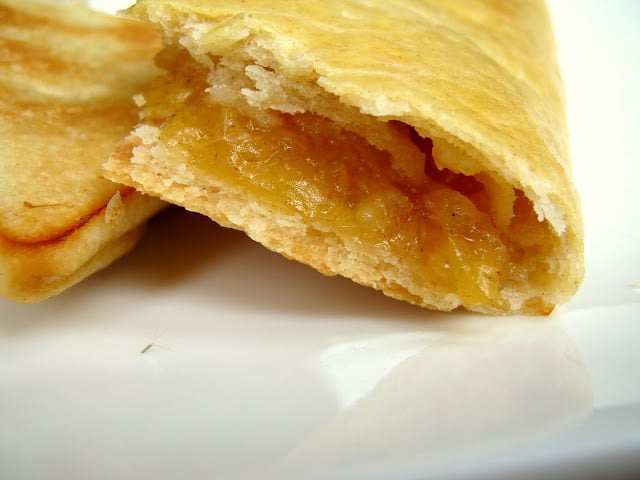 You'll need a ripe, medium sized pineapple. If you are not sure if your pineapple is ripe as yet, read this. Peel and chop into large chunks, make sure you remove any seeds that are stuck in the pineapple. Pulse in food processor until small lumps remain.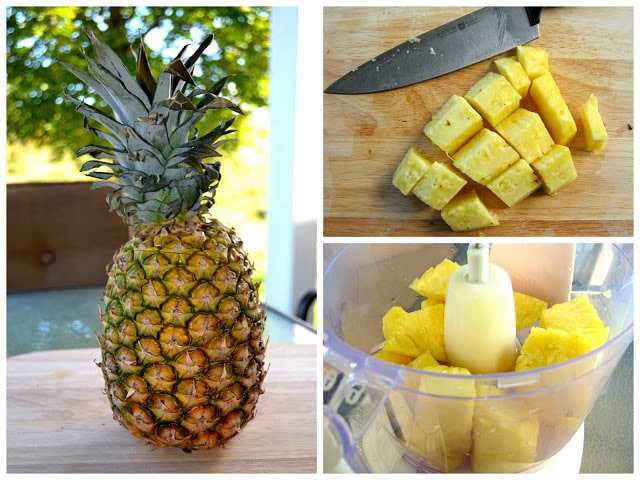 A medium sized pineapple gave me 3 cups crushed pineapple. I only used 2 ½ cups (20oz) and used the remaining ½ cup for a few pina coladas 😉 I drink while I cook, don't you? Well if you don't then you can place any left over crushed pineapple in a freezer bag and freeze for up to three months 🙂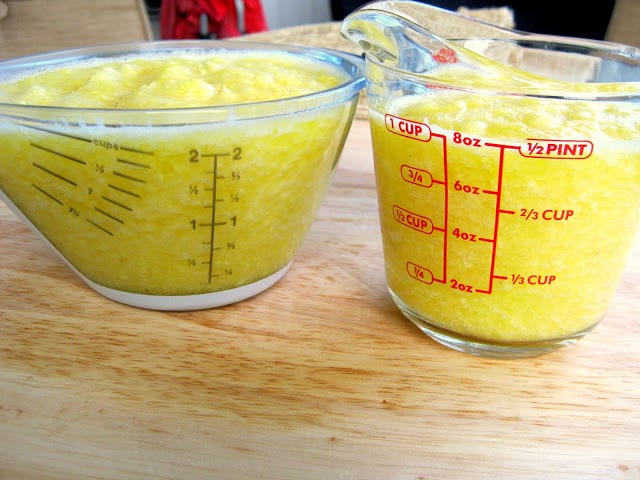 Place in a medium sized sauce pan that you will use to simmer the pineapple.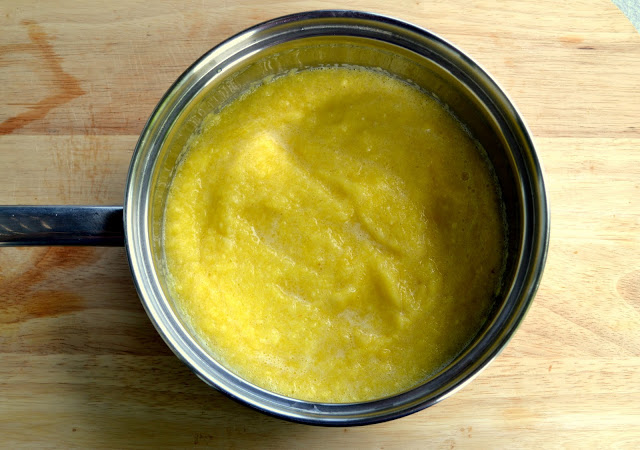 Add all the spices and sugars...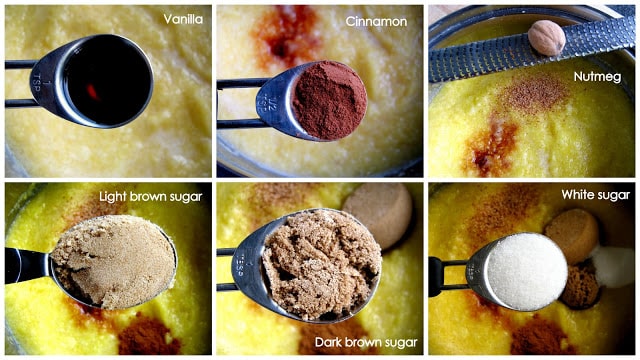 Some may enjoy making their pineapple jam with just pineapple and sugar, I prefer to add some kick with all these spices. The dark and light brown sugar also really adds a nice molasses taste to the jam, this is my way, but you can flavor the filling however you like 🙂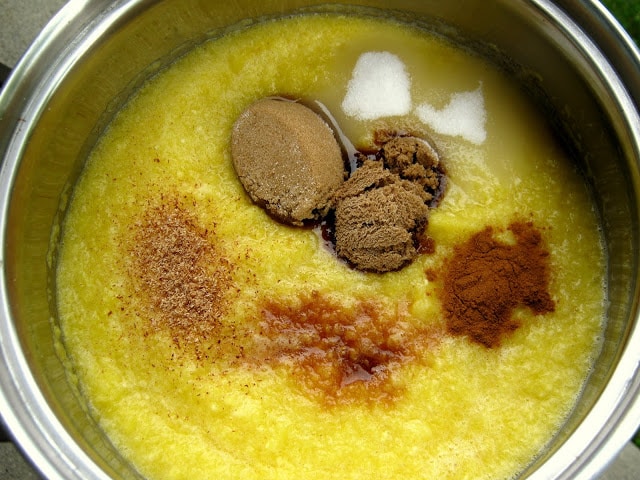 Simmer the pineapple mixture for about 45 minutes on low heat until it becomes thick and most of the juices have evaporated. Once it is done, set aside to cool completely before use. If you'd like to speed up the process a little, you can add some cornstarch to help thicken the mixture. See my "Tips" section below to learn how to add the cornstarch.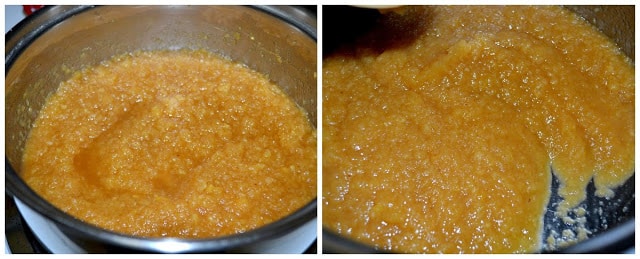 You'll need this utensil, it's a pastry cutter or dough blender. It helps to cut the butter and shortening into the dough. I like it to use this when making any crust recipe. You can also put all the dough ingredients into a food processor instead of using a manual instrument like this one. If you don't have a food processor, you may use a fork to work the fats into the flour. You've got lots of options here, no excuses when it comes to pine tarts 😉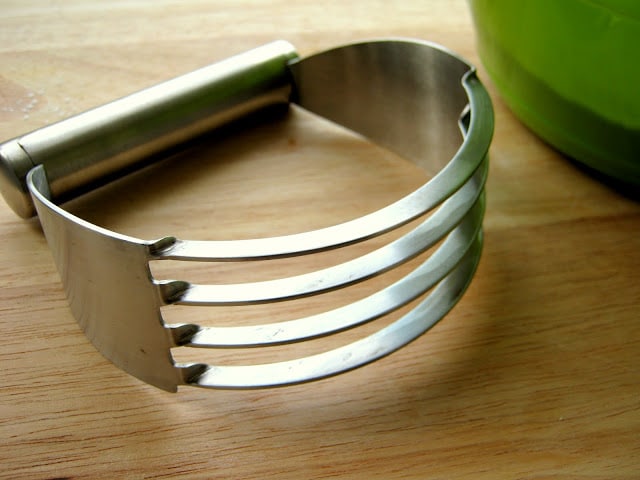 Cut the fats into the dough until pea size lumps form, then add ice cold water a little at a time to bring it all together.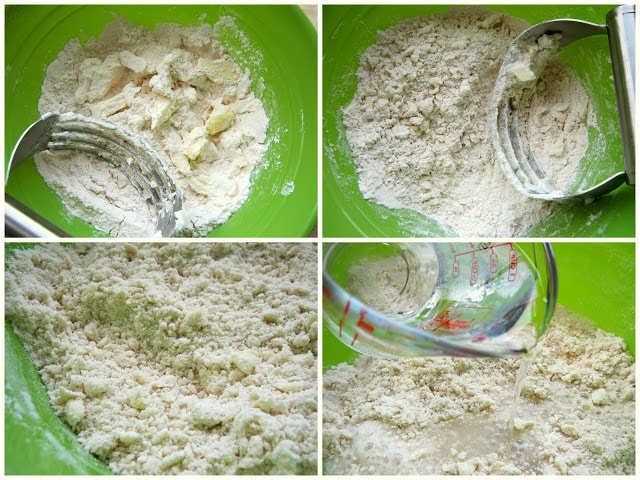 Give the dough a slight knead to bring it all together, you can work your hands in here a little unlike some other crust recipes where handling the dough less yields flakier results, with a pine tart crust, you want a slightly stiffer dough so don't be afraid to knead a little. Form dough into a small log.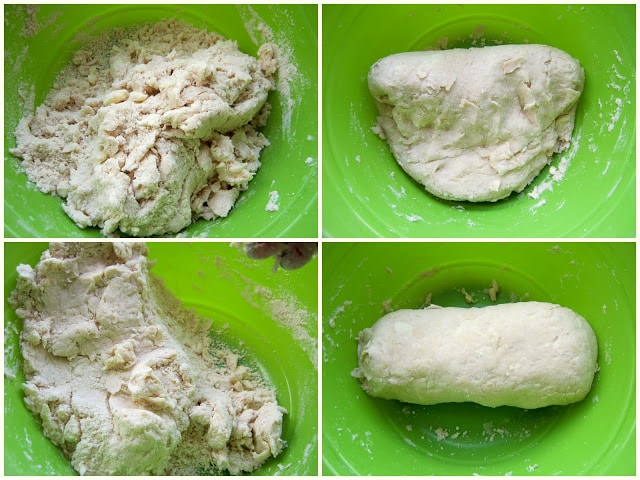 Roll with your hands until log is about a foot long.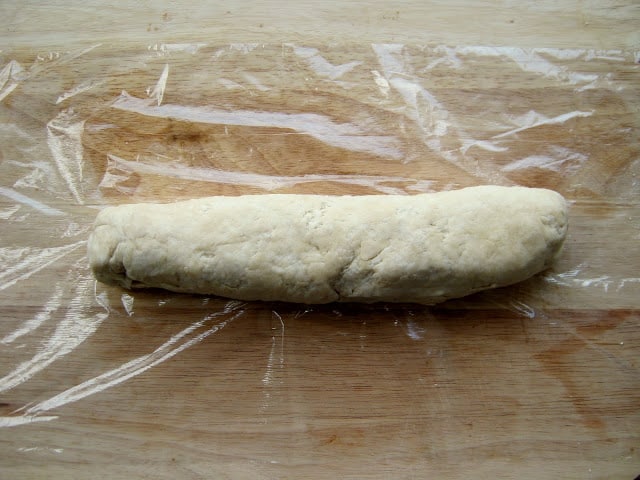 Wrap in plastic and refrigerate for up to 4 hours before use.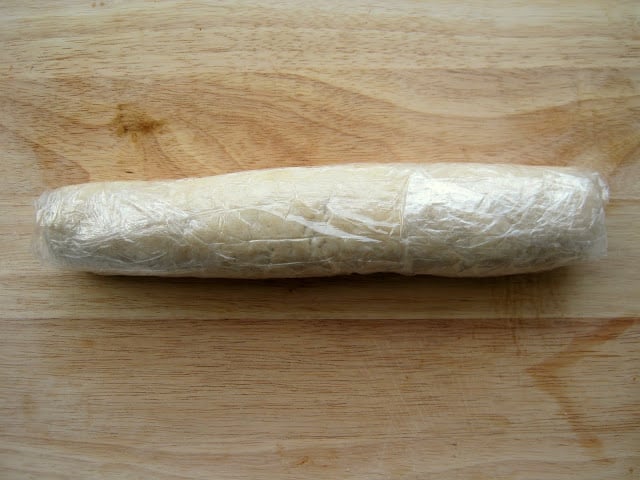 ASSEMBLY
Grab a cutting board, the dough log, some flour for dusting, egg wash, egg whites. Oh! Don't forget the rolling pin!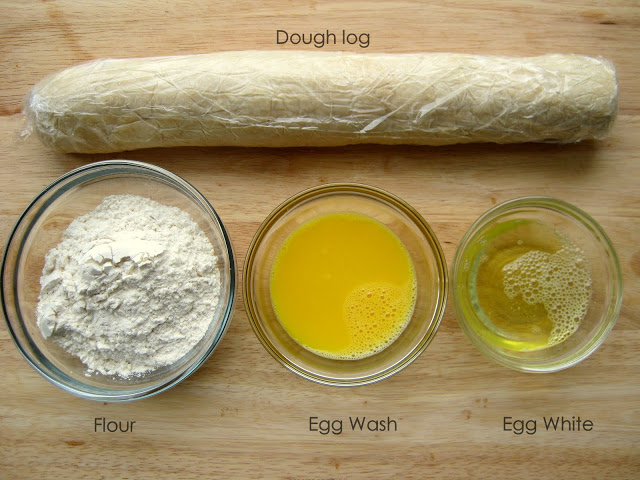 Also grab the pineapple filling, a knife or pastry chopper, a tablespoon, and brush for egg whites.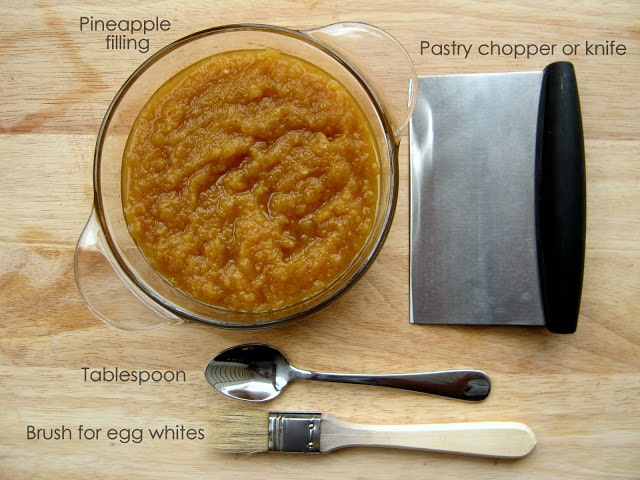 Chop a few circles off the dough log, few at a time, flatten with your palm then roll to about 7-71/2 inches in diameter and ¼ inch thickness.

Sorry, I just like this photo, so here it is again. Okay you may proceed.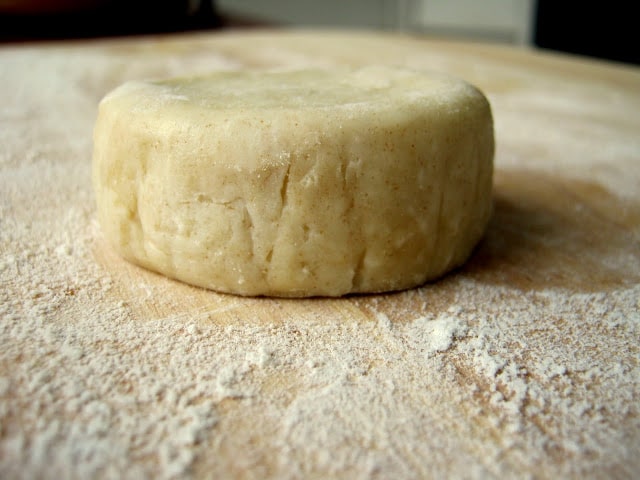 Brush the edges with egg whites, really get some on there, we want these babies to be sealed up well and good before putting into the oven!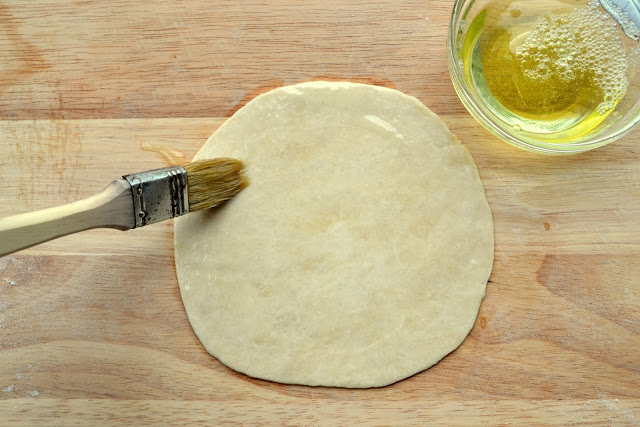 Place desired amount of pineapple filling (about a heaping tablespoon) in the center about an inch from the edge. Fold edges into the center to form a triangle.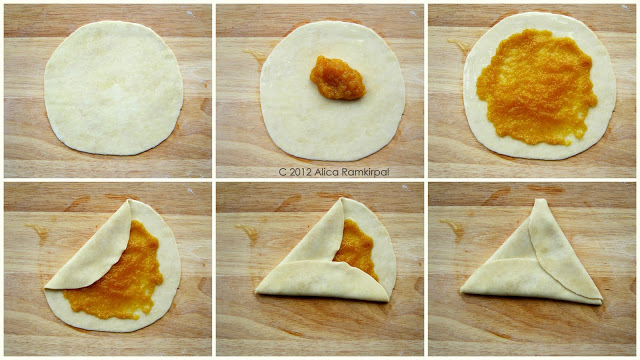 As you make each tart, place them on a baking sheet. I've lined my baking sheet with a non-stick silicone silpat mat. Silicone mats are awesome because they prevent burning and help with even baking 🙂 You can certainly use parchment paper here as well if you don't have a silicone mat.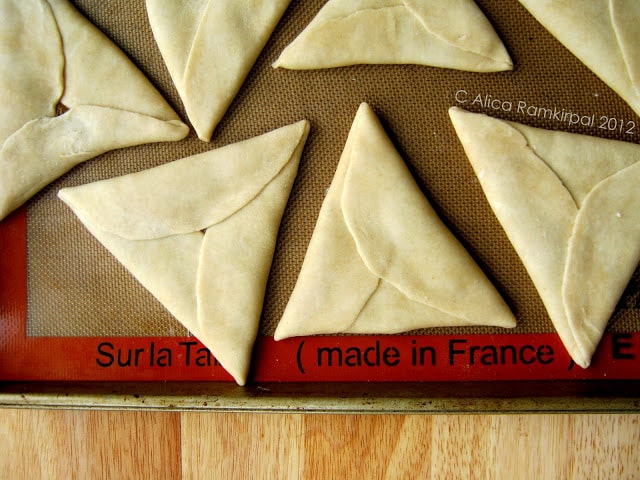 Brush each tart with egg wash then pierce with a knife or fork so any steam can be released while baking.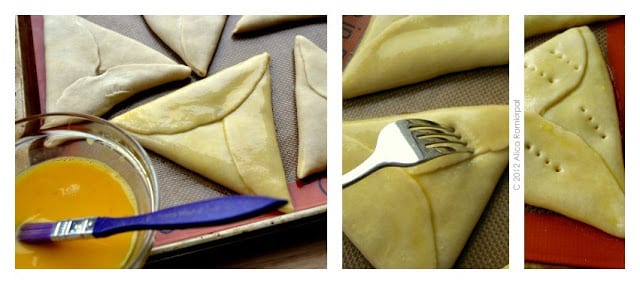 Voila!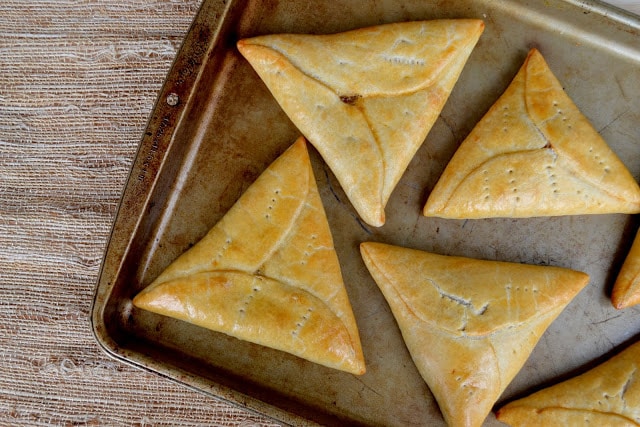 Options for Substitutes
There are times when we all need shortcuts due to time constraints. If you find yourself in a hurry but still want to enjoy home baked pine tarts you can use pre-made or boxed pie crust (add ½ cup flour to the mix) for the pine tart crust and a 20oz can of crushed pineapple for the filling or ready-made pineapple jam. I have used both boxed pie crust and canned pineapple and ended up with a really tasty pine tart.
Guyanese Pine Tarts
Guyanese Pine Tarts
Yield:
Yield: about 15-18
Ingredients
For Crust
⅓ cup salted butter (1 stick)
⅓ cup vegetable shortening (such as Crisco)
3 ½ cups all-purpose flour
2 tsp sugar
dash of salt
¾ cup ice cold water
1 egg white
egg wash: 1 egg + 1 tbsp water
For Filling
20oz freshly crushed pineapple or One 20oz can (2 ½ cups)
¼ tsp ground nutmeg
½ tsp ground cinnamon or 1 cinnamon stick
1 tsp vanilla extract
2 tbsp dark brown sugar
3 tbsp white sugar
½ cup light brown sugar
Instructions
If using fresh pineapple, peel and chop pineapple into large chunks and pulse in a food processor a few times until pineapple has small lumps. Measure 2 ½ cups and reserve for use. Any extra pineapple may be frozen for up to three months.
If using canned crushed pineapple, place entire contents into a medium size saucepan (including juice). Add all spices and sugars and bring to a slow simmer for 45 minutes on low heat or until mixture looks thick and has a jam-like consistency. Stir frequently to prevent from burning. Remove from heat and set aside to cool thoroughly.
Place flour in a mixing bowl, add sugar and salt, sift together. Add butter and shortening. With a pastry cutter, cut shortening and butter into the flour until it forms pea sized lumps. Add cold water a little at a time, knead slightly, form into a log. Place log on plastic wrap and continue to roll until it is about a foot long. Wrap in plastic ad refrigerates for up to 4 hours before use.
For assembly:
Cut the log into 1 inch thick rounds, flatten with your palm then roll dough to about 7-71/2 inches in diameter. If you like a thicker crust, roll to about 6 inches diameter, about ¼ inch thick.
Brush edges with egg whites.
Place a heaping tablespoon of pineapple jam in center 1 inch from the edge.
Fold corners into center to form a triangle.
Brush tops with egg wash then pierce with a fork.
Bake at 350 for about 25 minutes on top or middle rack in oven until golden brown.
Notes
Tips:
Dough and pineapple filling can be made a few days ahead and stored in the refrigerator until ready for use.
A food processor may also be used to mix the dough.
Let the dough log come to room temperature slightly before use, working with it cold will cause the edges to break when you roll the dough.
How thick or thin you want your crust will depend on how thin you roll the dough. Do not cut the dough log into pieces all at once, if you want a thicker crust you will have to cut a thicker round from the log, make sense?
If you don't eat eggs, you can still achieve the yellow color on the pine tart by adding a drop of yellow food coloring to 2 tbsp of melted butter. Brush on each pine tart before baking.
If you would like to use the Betty Crocker boxed pie crust mix, add ½ cup ice cold water instead of the amount indicated on the box. Add ½ cup all-purpose flour to the mix and knead it till it forms a dough ball. Add more or less water as needed.
If you are short on time, you may add a little cornstarch to the pineapple filling to help it thicken up a bit. Add 1 tbsp of cornstarch to a separate bowl and mix in 2 tbsp of cold water. Stir until the cornstarch dissolves, then add cornstarch mixture to pineapple mixture while it is still simmering.
If you don't have to shorten, you may use unsalted butter instead.