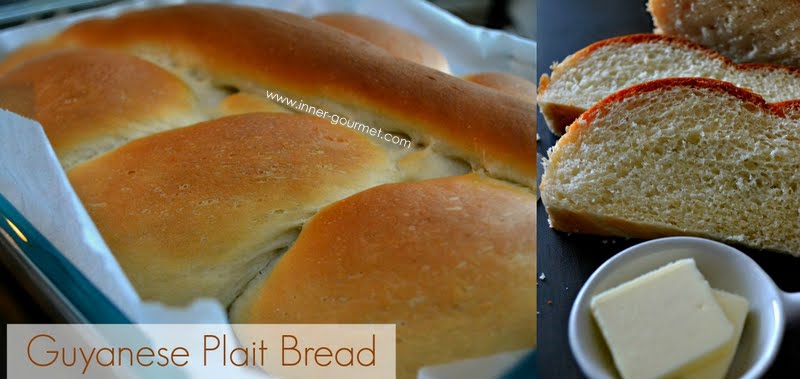 Plait bread is a type of braided bread (plait, meaning to braid or interweave) and is the most popular bread in Guyanese cuisine. It can be eaten for breakfast with various spreads, dipped in tea, toasted with butter, and completes a wonderful pepperpot meal on Christmas morning. Many might compare this bread to challah bread because it looks similar in appearance, but the main difference is plait bread does not usually contain any eggs.
This was the bread I grew up eating instead of grocery store shelf bread, so naturally after moving away from home and not having access to Little Guyana Bake Shop or Sybil's Bakery in Queens, I had to figure out a way to bake this on my own. This recipe has been quite a while in the making and I am sure I'll continue to learn new methods and techniques over the years which I promise to share with you.
About the appearance of the bread
Guyanese plait bread has no eggs in it but may be used for flavor and to aid in rising
It is a simple white bread recipe; the making of it consists more of technique
It has an overall oval shape
About the ingredients/mix
Salt works against yeast; too much won't allow the bread to rise properly
Powdered milk is a good substitute instead of liquid milk to add moisture to the bread
Vegetable or olive oil, vegetable shortening, lard, or unsalted softened/melted butter can be used as the fats in this bread.
About the proofing/baking/structure
For the first proof, covering the bowl tightly with plastic wrap, not a towel, helps to seal in the humidity for the yeast to develop. It also keeps the dough from forming a crust, which can end up as lumps in the bread later on.
Greasing/oiling the bowl that the dough will be put in is important because the oil helps the dough move upwards in the bowl as it rises.
Weighing the entire dough ball on a kitchen scale then dividing it by three tends to give a more even plait and even bread. But homemade bread doesn't need to look perfect.
By the end of the second proof, if the braid starts to pull away from seams then the bread has over proofed. It will probably get a little flat while baking.
For the second proofing, I've found doing a cool rise instead of a warm one with steam works best, as too much heat kills the yeast and makes the bread fall flat when baking. Although I've seen some of you have success with adding steaming water.
Rubbing butter or egg wash on bread loaf before baking will give the bread a hard crust and make it overly browned when baking. If that's how you enjoy it, then go for it.
When the bread comes out of the oven, immediately rub butter and cover with a towel for a few minutes.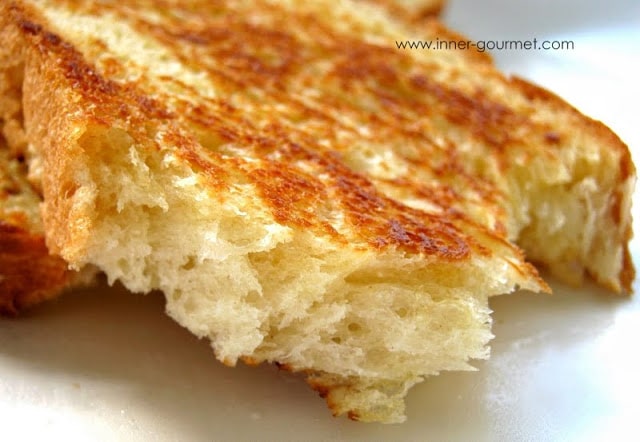 Proof the yeast in warm water, if you don't have a thermometer, just make sure the water is lukewarm. Add 1 tsp sugar, give it a stir and let it bloom for 6-8 minutes.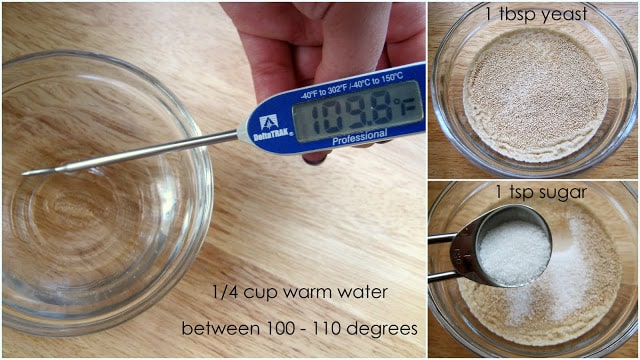 This is how it will look after blooming.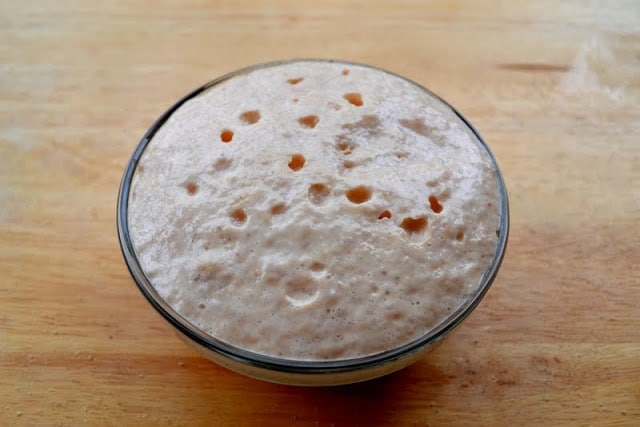 In a mixing bowl, add sugar, flour, salt. Mix all ingredients by hand or with a whisk to combine. Add all the liquid ingredients at once. Knead to form a pliable dough.
After kneading, place the dough ball in a well-greased bowl. Allow to rise about 1 hour. This is known as the first proof.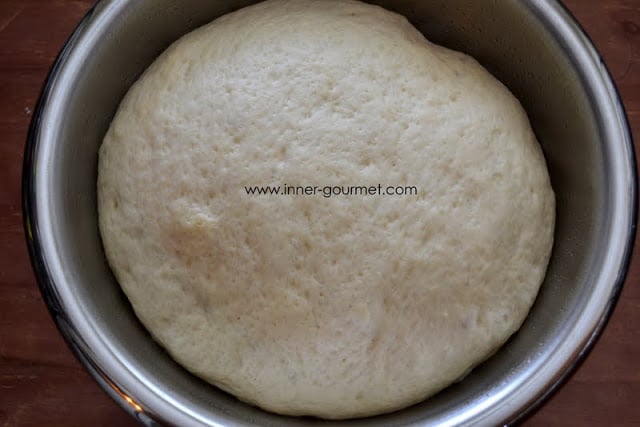 Gently poke it down to deflate.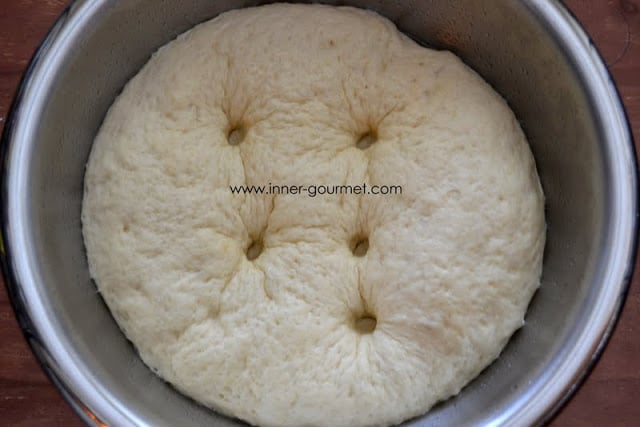 Knead by hand for a couple of minutes or return to stand mixer to knead.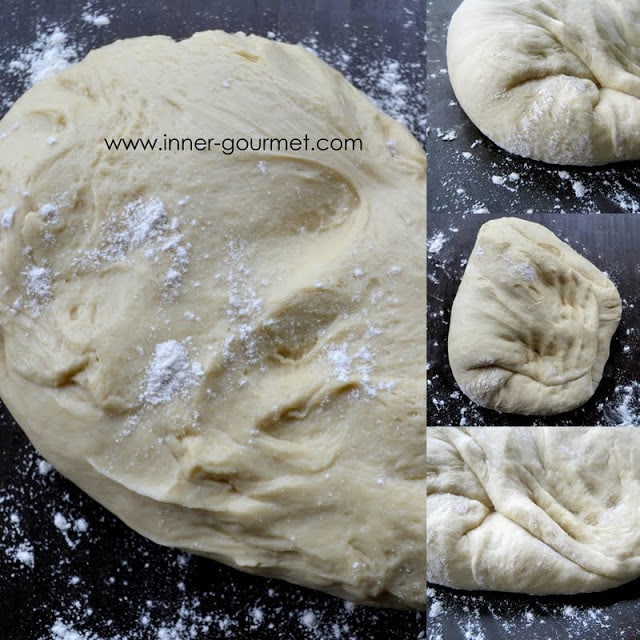 Cut a small piece of dough to be added on top of bread- this is optional. You can also just cut the dough into three equal parts.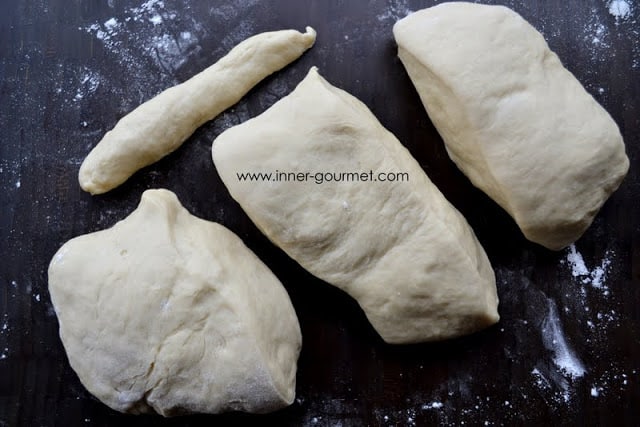 Roll each dough ball in between your palms, leaving the middle a little "fat."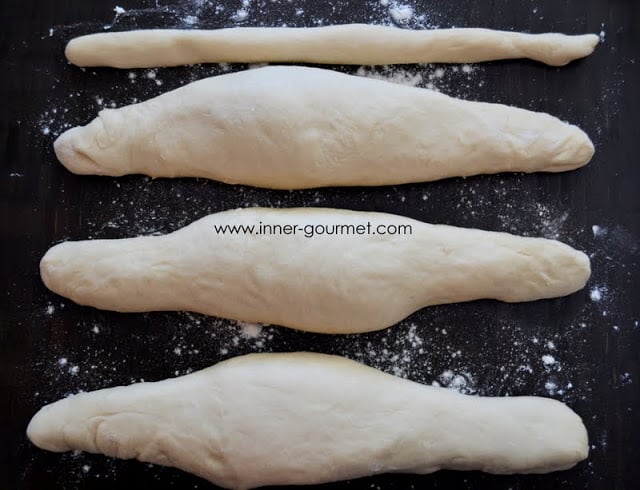 Begin to braid.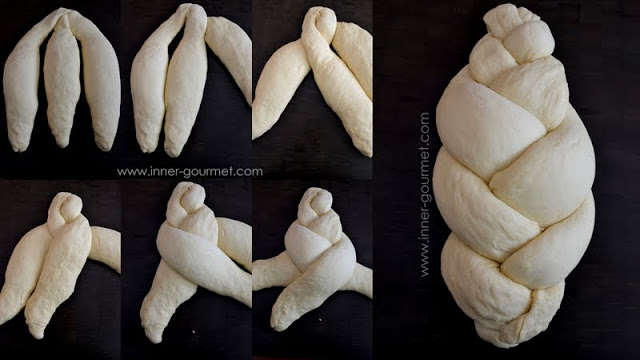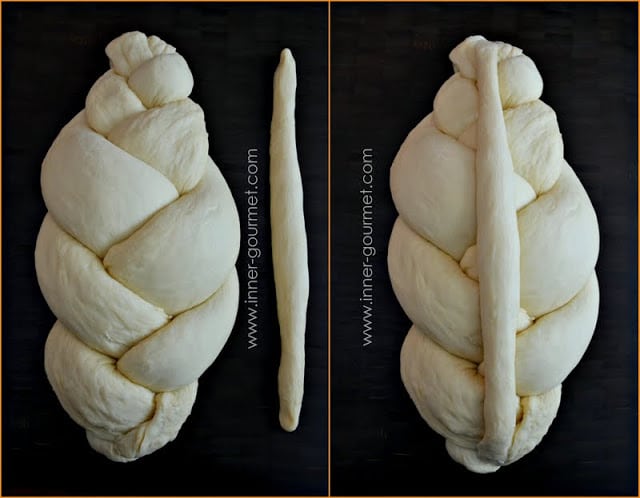 Place bread in desired baking dish lined with parchment paper.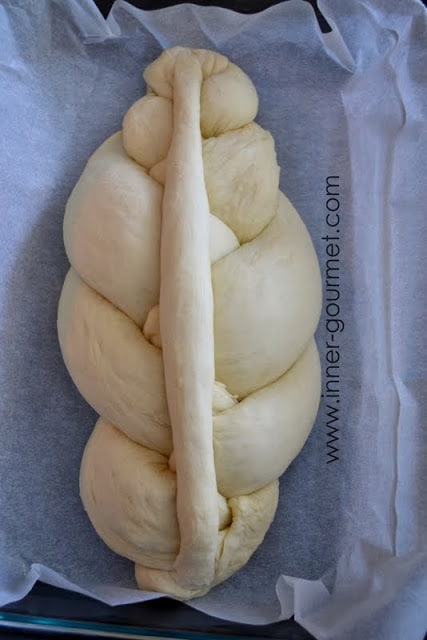 Allow rising in a cool oven or microwave until double in size, about 35-40 min. This is known as the second proof.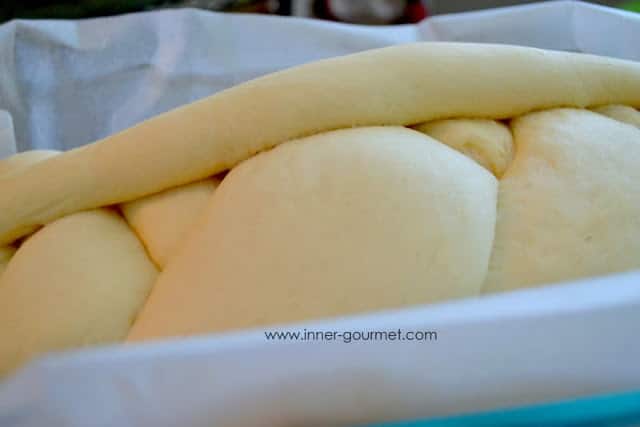 Bake at 350 degrees for 22-25 minutes. After removing from oven, rub some melted butter on top.
And cover with a towel and leave it for a few minutes.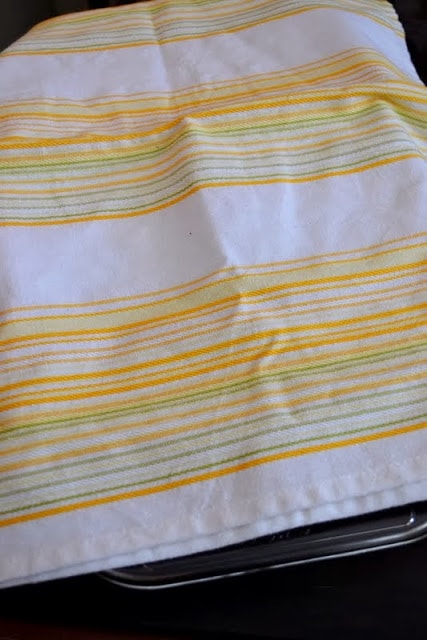 Then you can slice it up...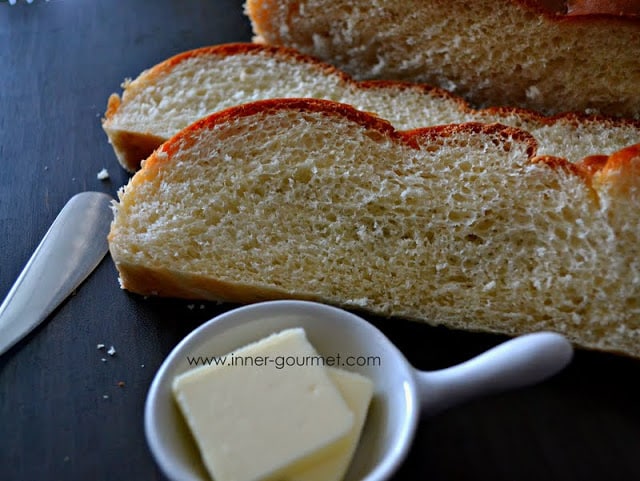 And toast it!
Guyanese Plait Bread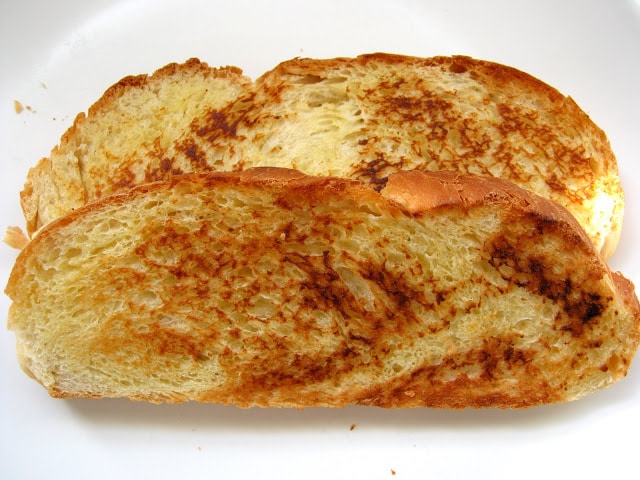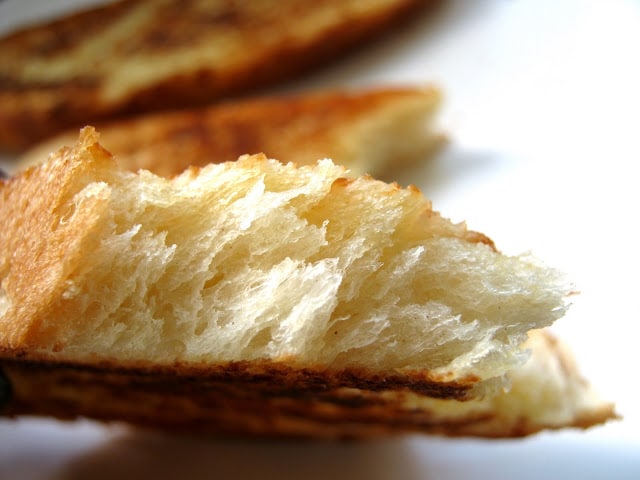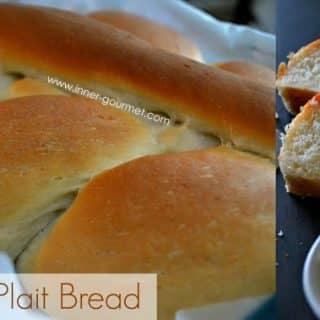 Guyanese Plait Bread
Ingredients
Yeast starter
1 packet rapid rise or active dry yeast (equal to about 2 ½ tsp)
1 tsp sugar
¼ cup warm water
Dough ingredients
3 ¼ cup flour (regular all-purpose or unbleached all-purpose)
½ tsp salt
⅓ cup white or brown sugar
¼ cup melted butter, vegetable oil, or shortening
¾ cup warm milk or water
Melted butter to brush on top after baking
Instructions
Place yeast and ¼ tsp sugar in a deep bowl. Add warm water, stir and allow to bloom for 6-8 minutes.
In a mixing bowl, add flour, sugar, and salt, mix to combine. Make a well in the center. Pour in melted butter, yeast mixture and warm milk all at once. Knead by hand or place in a stand mixer using the dough hook. Knead until a pliable dough ball forms.
First proof:
Transfer dough to a well-oiled bowl, cover tightly with plastic wrap. Place on the counter or in cold oven. Allow to rise about 1 hour.
After one hour, gently deflate dough, knead by hand again on a floured surface for a couple of minutes.
After second kneading you may cut a small piece of dough to be added on top of bread, this is optional. Then cut the remainder of the dough into 3 equal parts.
Roll on counter top or between palms of hands to shape logs, leaving the middle a little "fat."
Braid dough and place on a baking sheet lined with parchment paper. Set it aside on counter top or in cold oven or microwave.
Second proof
Allow to proof about 35-40 minutes. Gently poke the side, if it feels airy and bounces back, then it is ready to bake.
Heat oven to 350 degrees, bake for about 25 minutes, until golden brown.
When the bread is done, brush with melted butter. Cover with plastic wrap or towel for no longer than a few minutes to keep the crust soft.
After bread is cool, it can be stored in a zip-loc bag or wrapped tightly in plastic wrap.