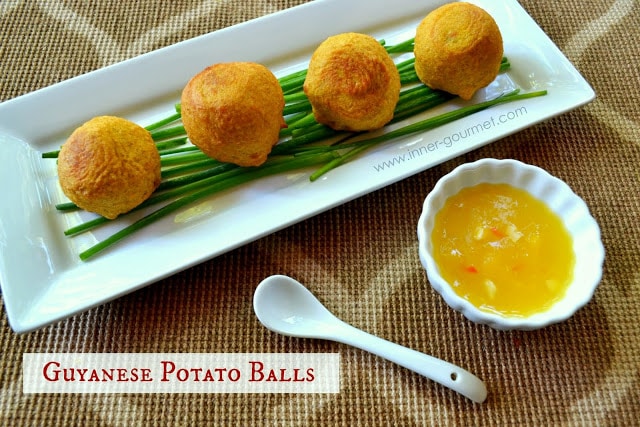 I think potatoes speak a universal language. If a potato dish is around, regardless of the cuisine, you at least know what you're in for and that brings a whole lot of comfort to your taste buds. The other day I had a conversation about food culture with my new Russian neighbor, Yulia. We talked all about how different our food is and how we both loved the appetizers in our cuisines rather than the big meals. She told me about how Russians love cold meats and pickled vegetables for appetizers. I explained how Guyanese enjoy savory appetizers such as meat patties, plantain chips, fish cakes, and potato balls. "Potato balls?" It's like she heard nothing else I said. She immediately asked how it was made and served since a popular Russian appetizer she loves is made simply with boiled potatoes mixed with onions and pickles.
We decided we'd make our respective potato dishes and share it with each other. This was so exciting for me because I knew since she already loved potatoes, she'd gobble up these Guyanese potato balls in no time, which she did, and I only had one left back for Sean, which he was upset about. Long story. I'll tell you another time. My conversation with Yulia couldn't have come at a better time because potato ball was the most requested recipe within the last two months.
After reading your requests, I was positive there must have been a potato ball shortage somewhere in the world. The other conclusion I came up with is since it's still summer here in the states, people are having parties and gatherings, which means potato balls need to be present. I still think it's the first reason though. This is the perfect appetizer for any Guyanese get-together for a number of reasons.
Potato balls are an easy finger food to eat, they sit out well, and are super filling and quite delicious. One is usually enough for me because of how big they are. The recipe consists of slightly mashed potatoes that have been seasoned, rolled into balls, and coated with pholourie batter, then fried golden. It is commonly served with mango sour, mango achar, or tamarind chutney which adds another layer of spiciness and flavor- typical of Guyanese condiments. My mom used to make these all the time whenever we had friends or family coming over. She'd make a fresh batch of mango sour to go with it, too. She never seasoned the potato too much because there was a lot of flavor coming in from the batter and the mango sour.
It's all about balance in life you know. Many people feel these are difficult to make, but the steps are actually quite easy. I believe the challenge is that they are a little time consuming, so you might want to do these ahead of time and reheat them later since they do a great job at keeping their shape. And don't forget the mango sour. Let's get started. Before doing anything else, make the pholourie batter and set aside while you work on the potato, it will need time to set. Here is the recipe for the pholourie batter.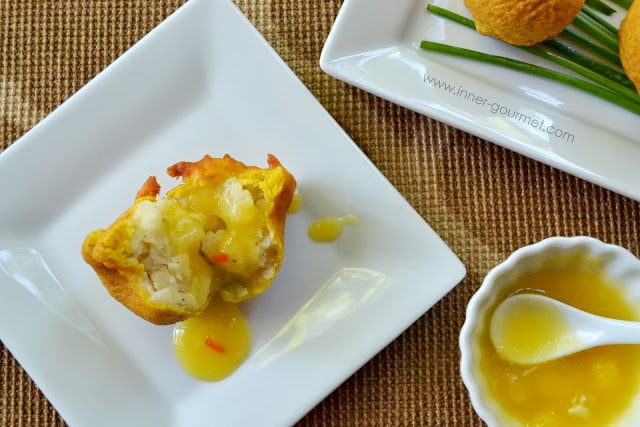 Get working on the potatoes. I used russet potatoes because that's what I had on hand. They are pretty large so three russet potatoes were enough. If you have smaller potatoes, use 4-5 instead for this recipe. The most important part of this recipe is getting the potato just right. If you over cook the potatoes the texture will turn into that of a smooth mashed potato. We need the texture to be more like potato salad; stiff with a little give to it. Chopping the potatoes into large chunks (quarters) before boiling will help it not overcook. Boil in salted water and drain. Let the potato cool for 5-6 minutes, then mash. Leave some chunks since you will be mashing it more when you add the spices.

I know I talk over and over again about the onion/pepper/garlic seasoning, it's used pretty widely in Guyanese cooking so I always have a batch in my refrigerator. If you have green seasoning, you can use that if you like. Add about 5 tbsp of the seasoning, ½ tsp salt, ½ tsp geera and 1-2 finely sliced scallions. I use this blended seasoning because I really don't like to chew on pieces of onion in my potato mix. It's somewhat of a turn off for me. If you don't mind this then add ¼ cup finely chopped yellow onions, minced wiri wiri pepper, and 1 minced garlic clove. Mash it into the potato and taste it afterward to see if you'd like to add any other seasonings. Remember it will be coated in a pholourie batter so be careful not to over season the potato.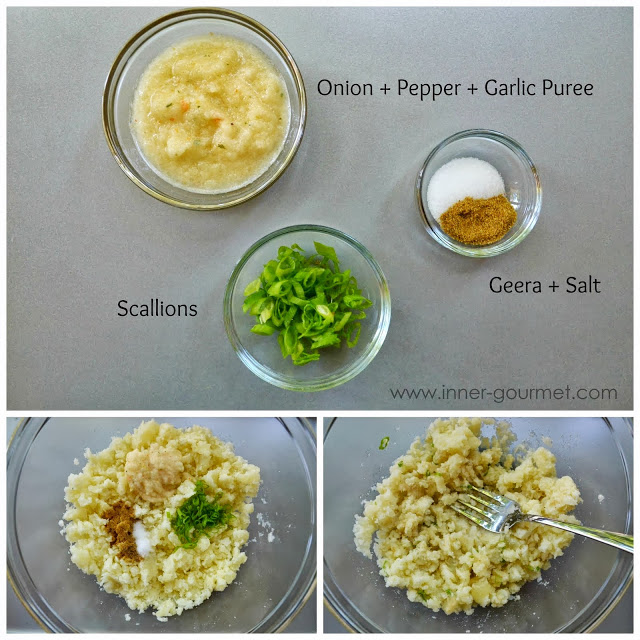 Roll the potato into small balls. Place on a baking sheet and refrigerate for about half hour. Refrigerating the potato before placing in the pholourie batter will help keep its shape when frying.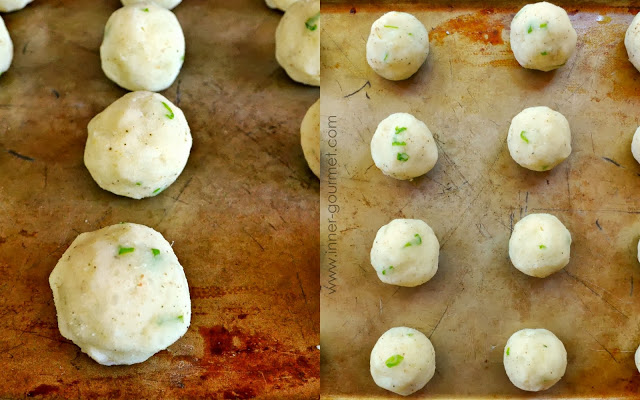 Heat oil for deep frying. Coat potato balls with pholourie batter, use spoon to drop into hot oil, turn frequently for even browning. I didn't get a photo of the potato balls frying, but you guys are smart cookies, who needs a pic of that ;). CLICK HERE FOR PHOLOURIE BATTER RECIPE.
Guyanese Potato Balls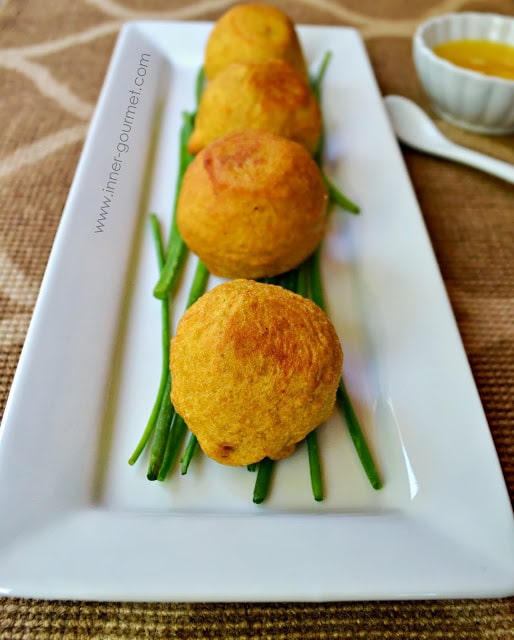 Ingredients
Onion/garlic seasoning
1 small yellow onion
1 head of garlic, peeled
3-4 fresh or dried thyme leaves
3-4 wiri wiri peppers
¼ cup water
Potato mixture
3 large potatoes
5 tbsp onion/garlic/pepper seasoning
½ tsp ground geera (cumin)
½ tsp salt
1-2 scallions, thinly sliced
black pepper to taste
Pholourie batter
Instructions
Make pholourie batter and set aside.
Peel and chop potato into quarters. If using smaller potatoes, chop in half.
Boil in salted water. Drain when potato feel cooked through, but still has a give to it.
Let potato sit for 5-6 minutes. Mash slightly then add salt, geera, scallions and blended seasoning. Or add chopped onions, pepper, and garlic, in place of the blended seasoning, based on your preference. Mix in well without over-mashing.
Roll potato mixture into balls and refrigerate for half hour.
Heat oil in deep pot for frying.
Drop potato balls a few at a time into pholourie batter, coating with a spoon.
Use spoon to drop into hot oil, fry until golden brown.
Notes
Tips:
If you have trouble with the batter sticking to the potato ball, roll the potato ball in flour then coat with the pholourie batter.
You will probably have extra batter left over. It is hard to determine how much batter you would actually need for the potato ball, so either make more potato, or use the extra batter to make some pholourie.
If you notice the potato seeping through the batter when frying, it is most likely because the potato was too soft and smooth.
Test batter by frying one pholourie first. See if it has enough seasonings to your liking. Also use this as a test to see if the oil is ready.
Use a pot deep enough so potato balls can swim around, if the oil is too shallow, the potato balls may turn flat and unevenly browned.
I usually use my hands to fry the pholourie, but using a spoon works best for potato balls in particular because it keeps the balls coated. Using your hands to drop it into the oil might result in some batter coming off the ball.