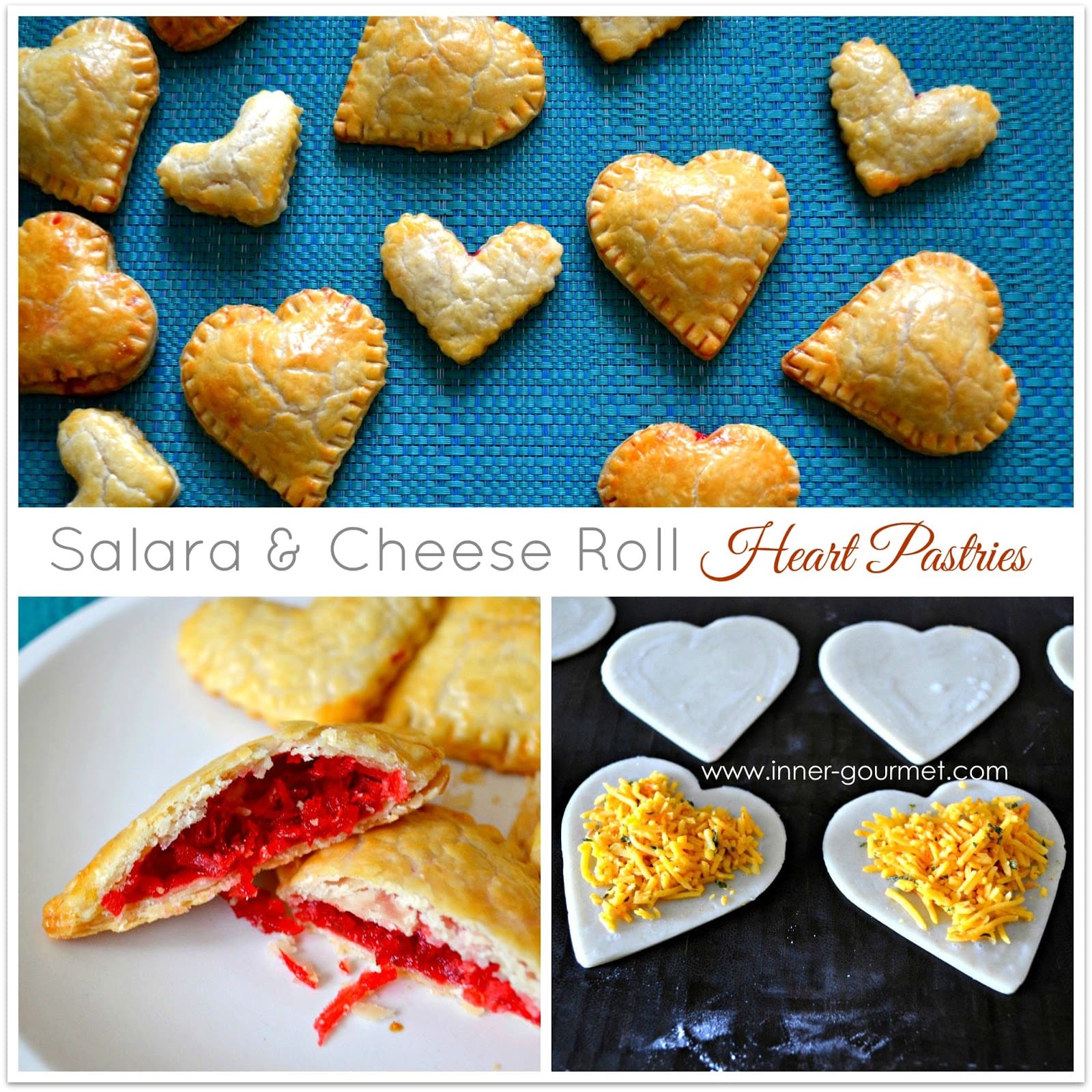 This year for Valentine's day I decided I wanted to make something close to home. Something that had familiar flavors to the Guyanese pastries I love eating. But I didn't want to spend too much time pulling it together. Usually all the chocolate desserts available during this time of year are too sweet and overwhelming for me so I was on the hunt for something a little more subtle. I was also searching for a savory option for those who don't have much of a sweet tooth.
I ran a test batch of an idea I had; heart-shaped pastry dough stuffed with the fillings from salara (a red coconut roll) and another popular Guyanese pastry, cheese rolls. I used puff pastry and store-bought pie crust instead of making the crust, this really made quick work of these tiny little pastries. Once they came out the oven they were gone within 15 minutes, especially the cheese ones; melted spicy cheese wrapped in a flaky buttery crust, mmm hmm it was so good! I think it was safe to say they were a total hit and it was just what I was looking for; simple, quick, and familiar.
I knew you all would love them so I couldn't wait to share the recipe/method with you. My only one criticism was that the store-bought pie crust was a bit too salty for the salara-filled ones. Ready-made pie crusts tend to have a lot of sodium in them so I made another batch using a sweet pastry crust and it turned out much better. See the recipe section below for that pastry crust recipe. These pastries are more about the assembly rather than recipe, so I'd recommend having everything in place before you start the process. Also feel free to adjust the fillings to your liking, there is no real recipe here, it's just about what you prefer.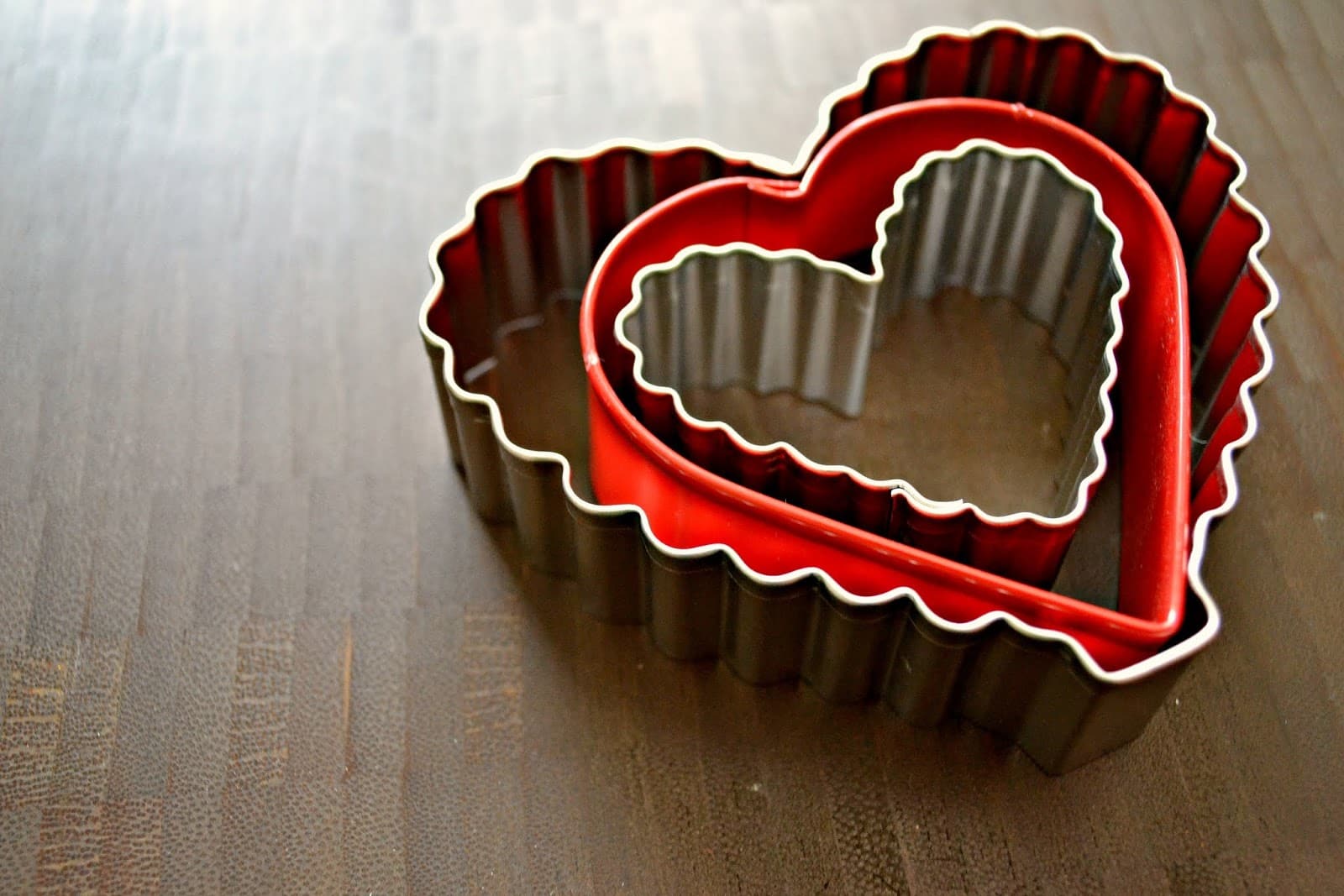 Season the coconut with sugar, cinnamon, vanilla, water, and melted butter (not pictured b/c it sank to the bottom of the bowl). Give it a quick stir, add drops of red food coloring until desired color is reached. Add more sugar or cinnamon to suit your taste.

For the cheese-filled ones, I used a sharp cheddar cheese. You can buy the cheese already shredded for an added shortcut if you like. Add mustard, hot pepper sauce or cayenne pepper and some parsley flakes. Mix and set aside.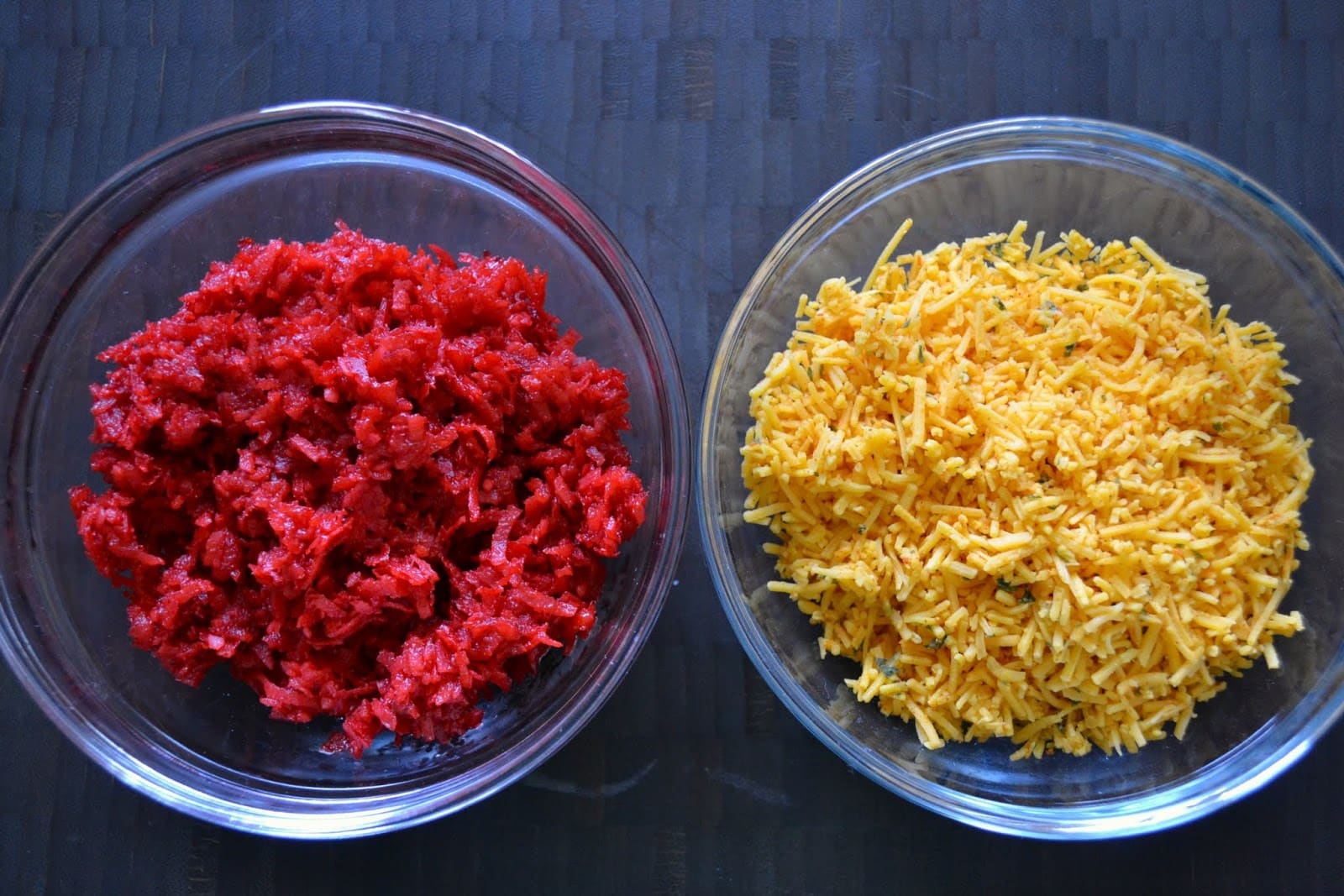 Thaw and roll out the pie crusts or puff pastry and cut equal amounts of heart shapes. I used 2-inch and 3-inch cookie cutters for these pies.

Brush the inside edges of the hearts with egg whites (you can't tell this step from the picture). Then place desired amount of filling in the center, leaving space on the edges so they can be sealed.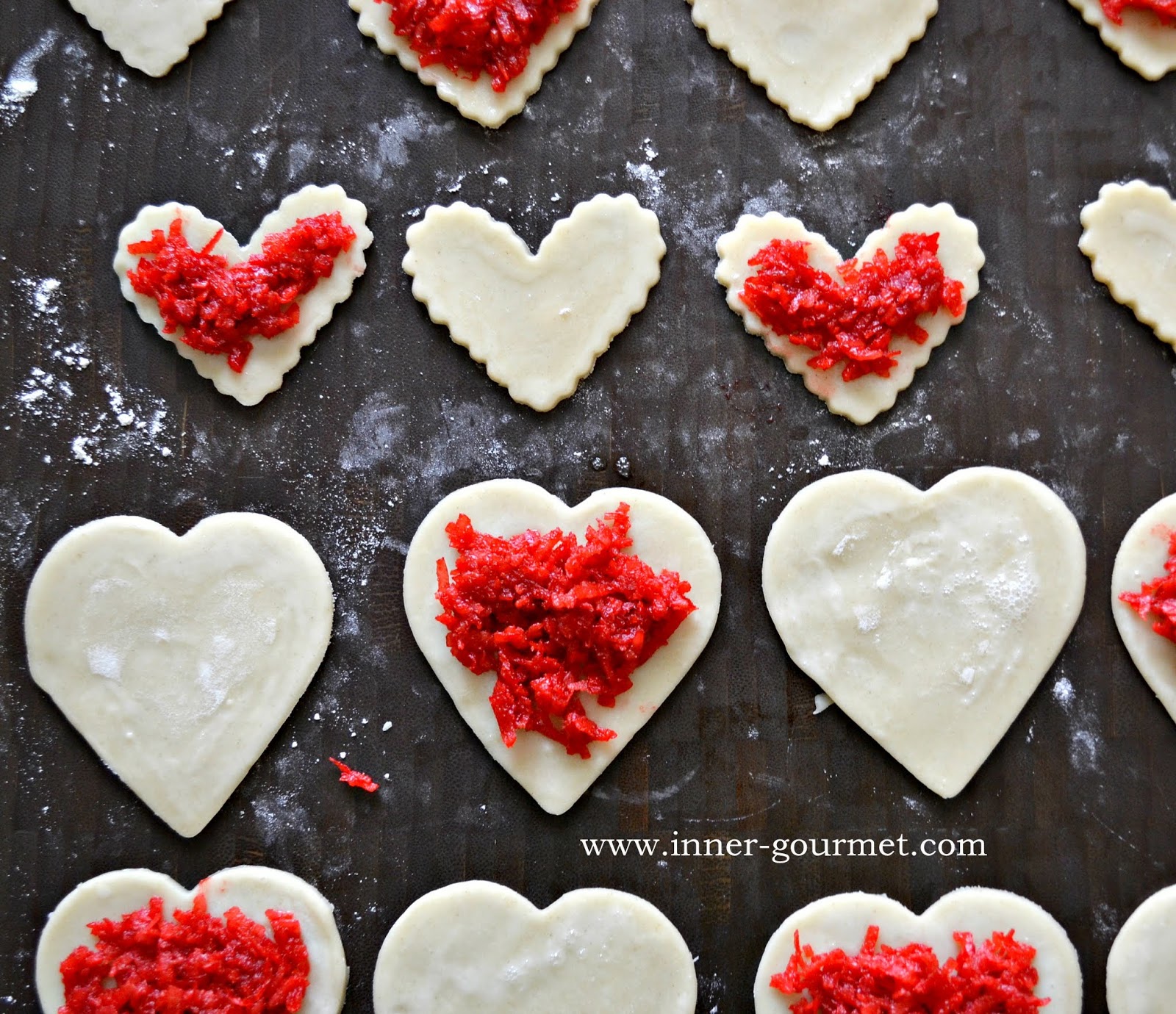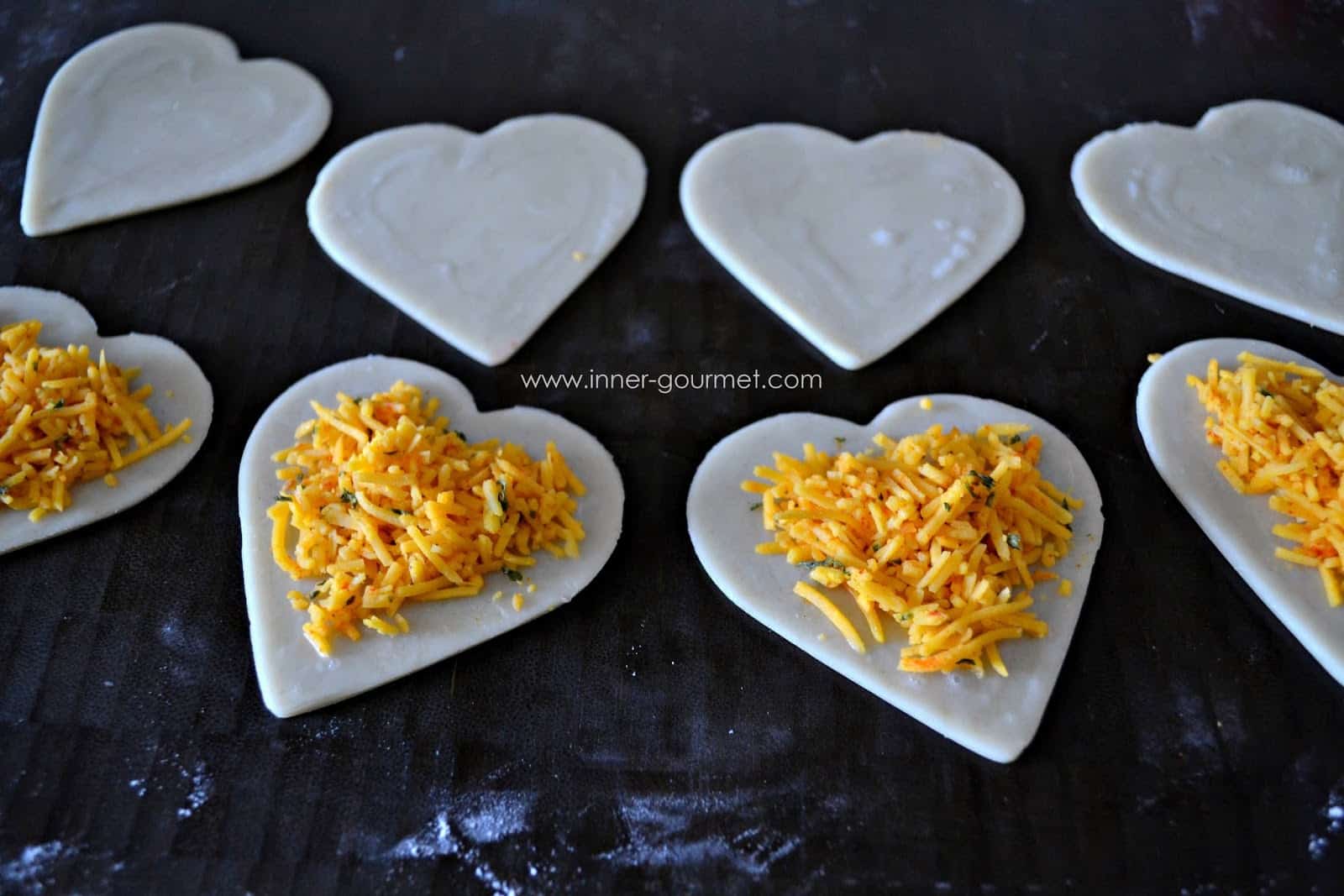 Seal each pie and press edges down with a fork.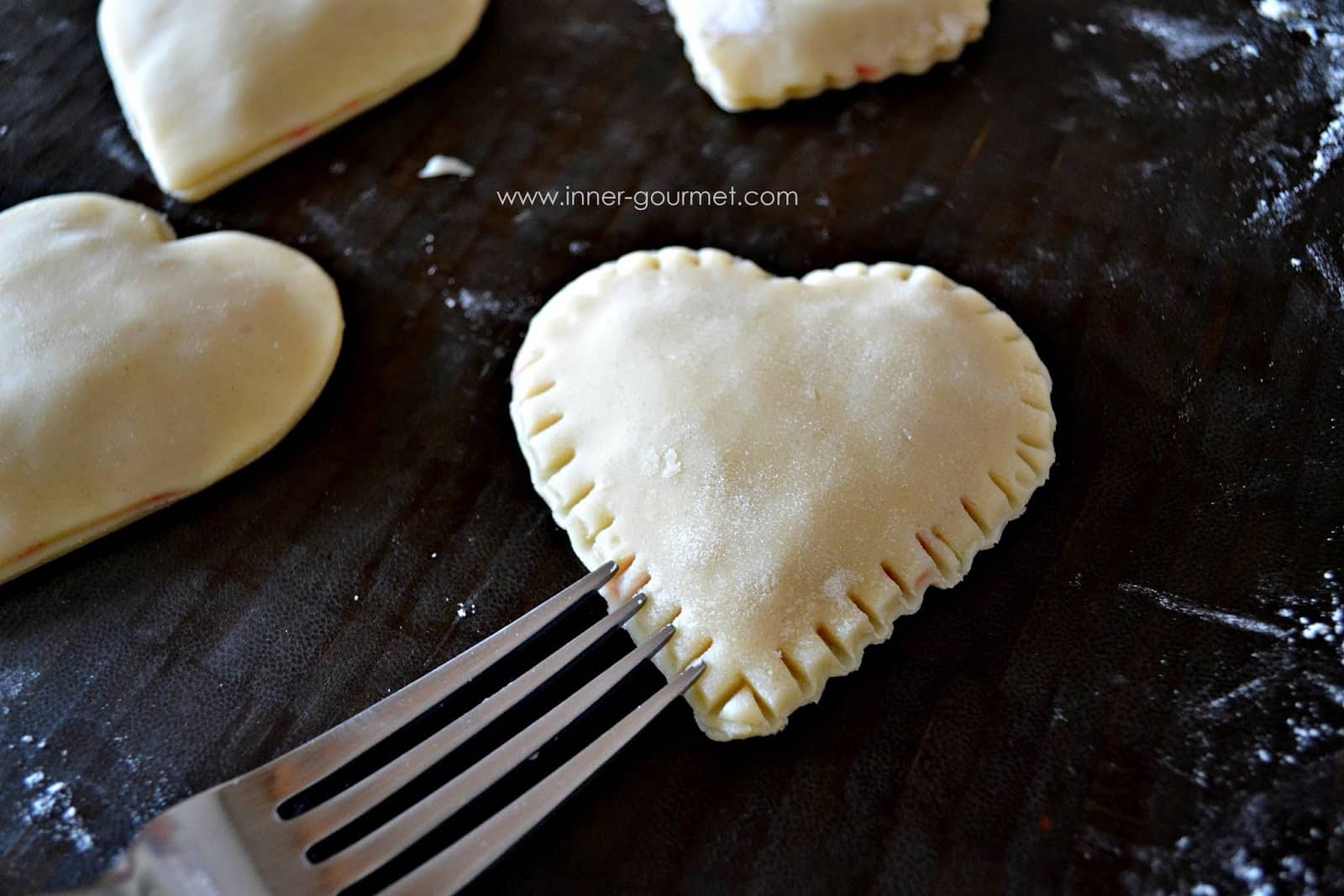 Brush the tops with egg wash.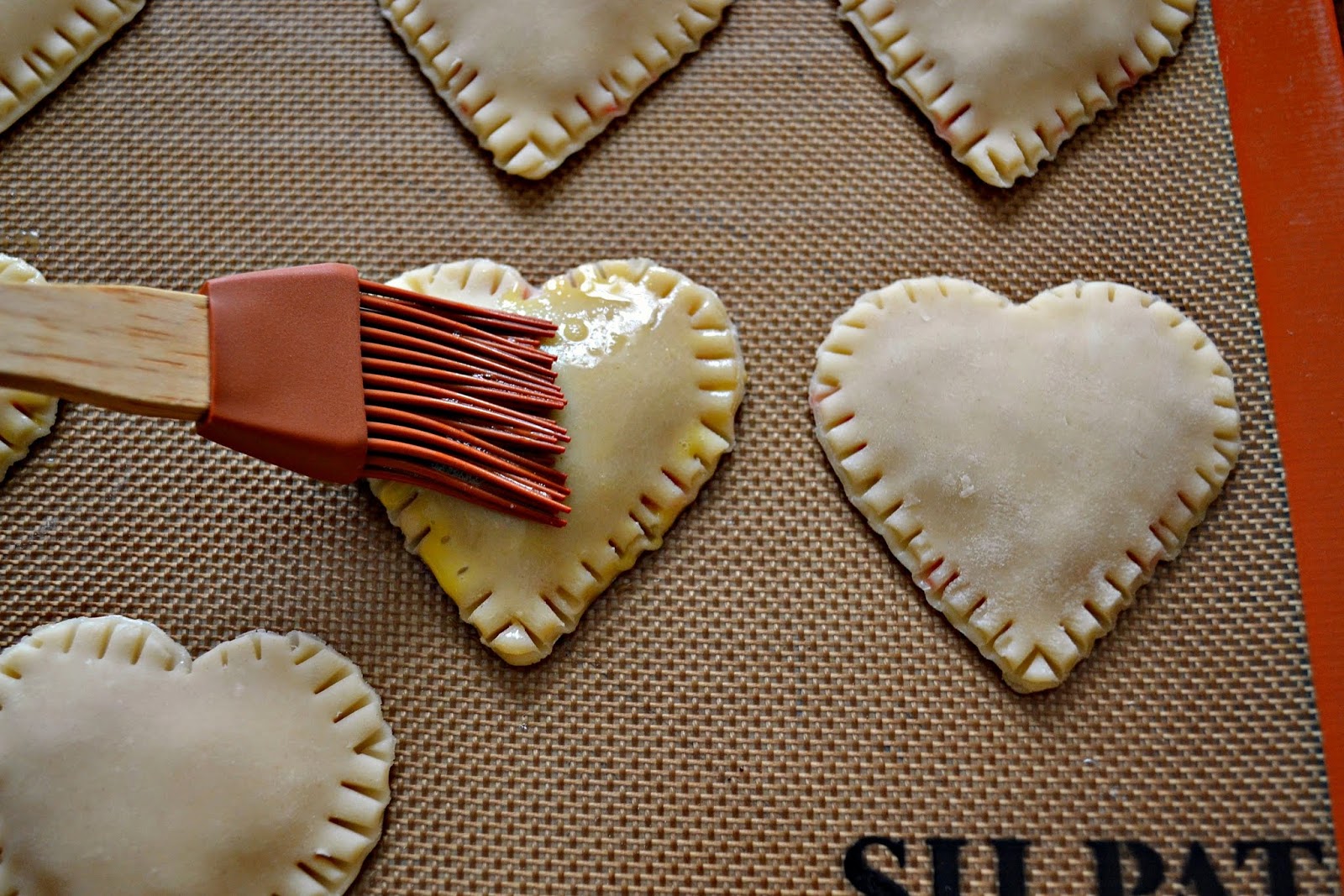 Bake at 375 for about 15 minutes.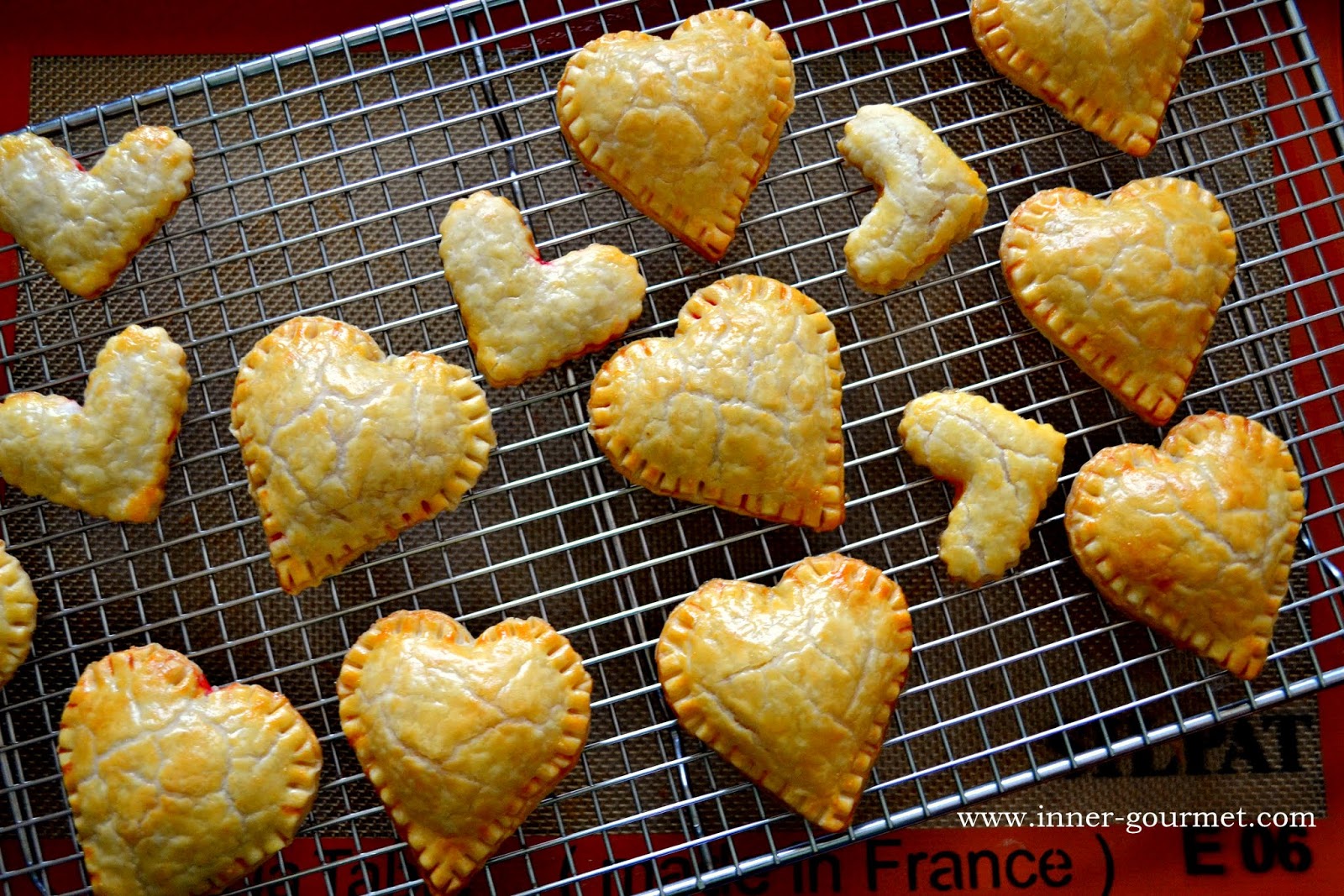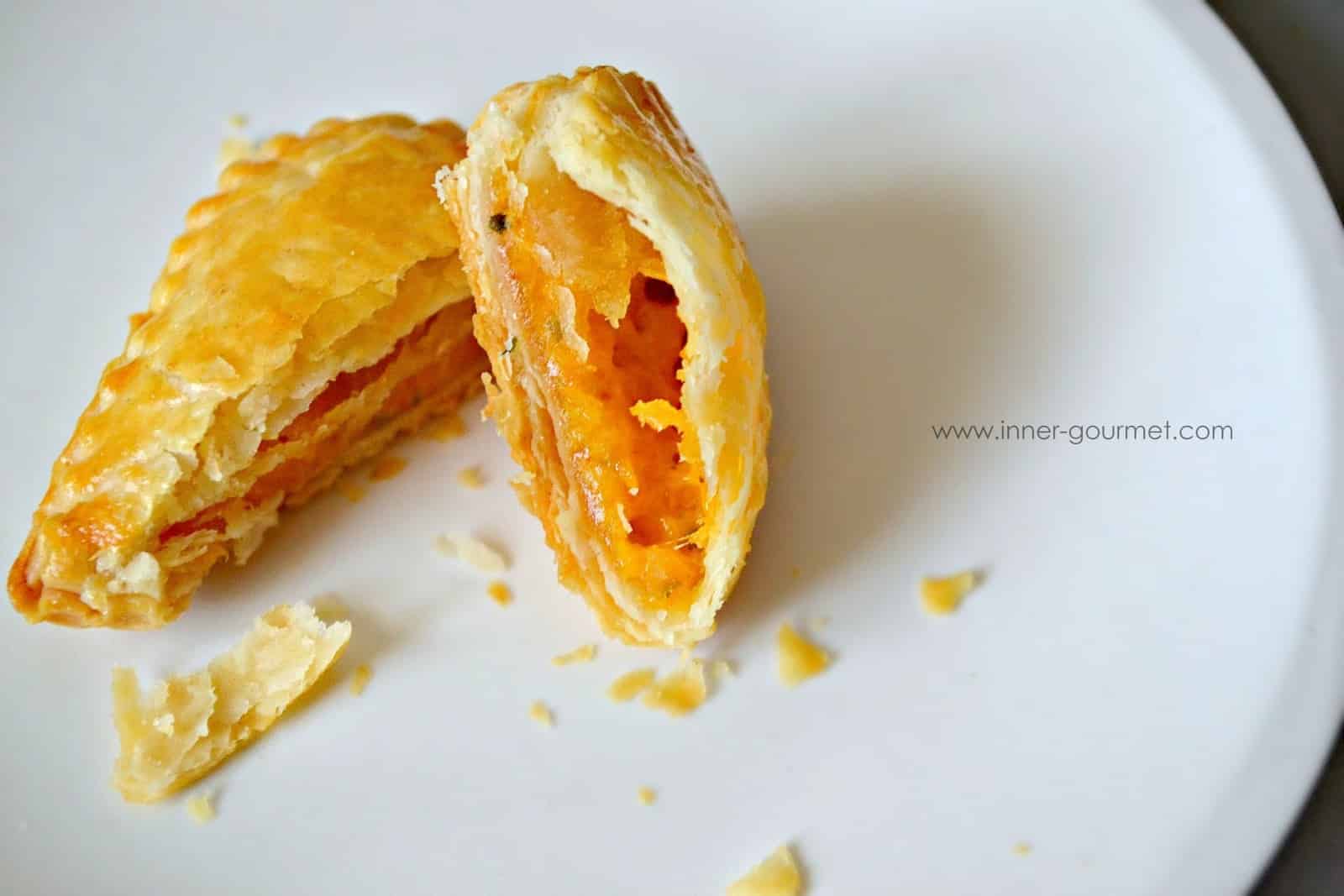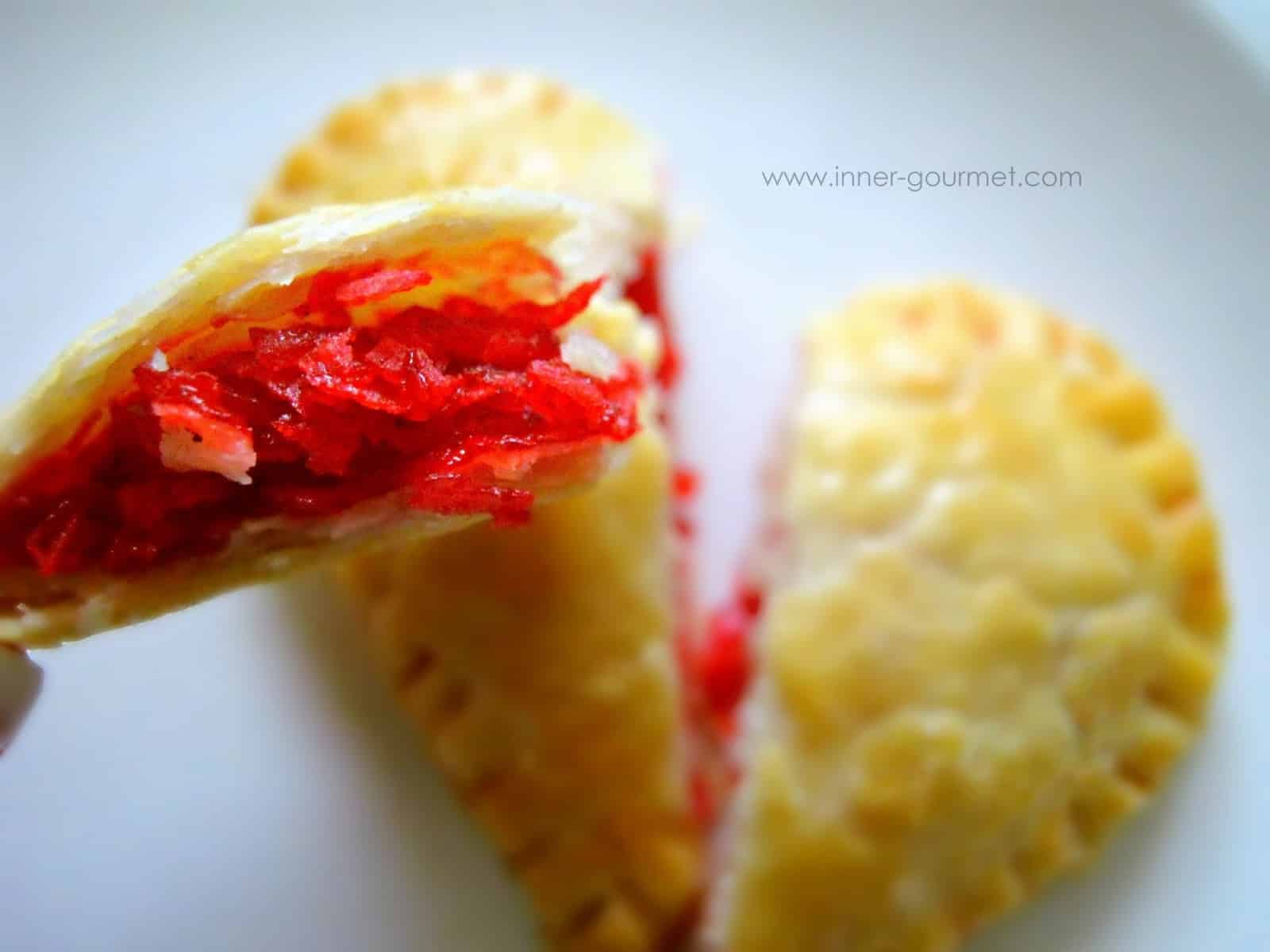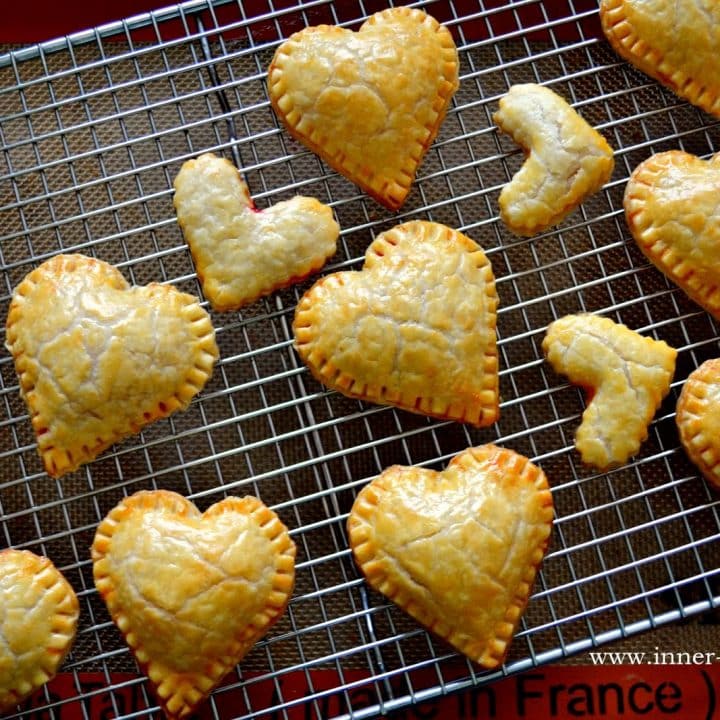 Salara + Cheese Roll Heart Pastries
Ingredients
Salara (red coconut) filling
½ cup sweetened shredded coconut (flaked)
2 tbsp white or brown sugar
¼ tsp ground cinnamon
1 tbsp water
1 tsp vanilla
2-3 tbsp melted butter
Red food coloring
Cheese filling
½ cup sharp cheddar cheese, shredded
1 tsp yellow mustard
Cayenne pepper or hot pepper sauce to suit your taste
1-2 tsp dried parsley flakes
Crust
Any brand store-bought prepared pie crust OR frozen puff pastry
Egg wash - 1 beaten egg + 1 tbsp water
Egg whites - for sealing pastry
Instructions
Thaw pie crust or puff pastry according to directions.
Prepare the fillings. Mix all ingredients into coconut, add red food coloring last to desired redness. Add mustard, pepper sauce, and dried parsley flakes to shredded cheese, mix and set aside.
Roll out dough, use desired cookie cutters, cut equal number of pieces. Rub edges with egg whites.
Place enough filling in the center of pastry, making sure to leave enough room on the edges for sealing. Place another pastry on top to seal. Press edges down with a fork.
Brush egg wash on each pastry. Bake at 375 for 15 minutes or until golden brown.
Notes
Tips:
Use any type of cheese desired, but choose one that melts well. You may even want to combine different types of cheese. I see pepper jack and cheddar as a great combination here.
The heart-shaped cookie cutters I used were 2-inch and 3-inch in size. Use whatever size you desire.
I did not include a serving amount for this recipe, because it depends on the size of cookie cutter you use. As a reference, I got about twelve 3-inch pastries from two pie crusts.
The store-bought pie crust for the salara (red coconut) filled pastries seemed too salty for me and overpowered the sweetness of the coconut, so I made a sweet pastry dough instead. Note: this is only if you are using pie crust, the salara filling works great with the puff pastry.
Recipe for sweet pastry dough follows:
1 ½ cups all-purpose flour
½ cup unsalted butter
¼ cup white sugar
With a hand mixer or stand mixer, mix butter and sugar together until fluffy. Slowly add in flour. Beat until dough forms a ball.
Place dough in plastic wrap, flatten and refrigerate for minimum 30 minutes or until slightly firm.