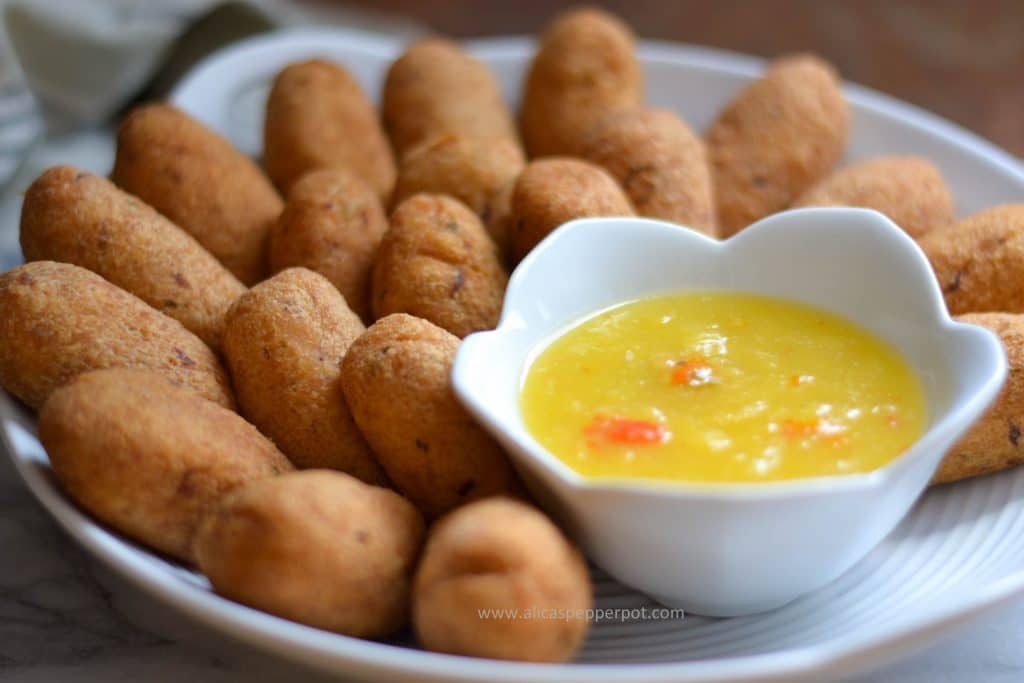 Our Thanksgiving table usually consists of roasted chicken, mashed potatoes, salads, casseroles, duck curry, dhal puri, and pholourie to name a few. It's all so West Indian, yet still wholly American. I know it sounds strange to my non-West Indian friends when I tell them what's on my menu for Thanksgiving. However for our family, the togetherness and warmth we feel all comes from the inclusion of our cultural food. It's what connects us. It brings about conversation and we reminisce on childhood memories. No Thanksgiving dinner would be complete without these important foods, and to be honest, it wouldn't feel like home.
Saltfish cakes grace our table every year for Thanksgiving or Christmas. We only made them for special occasions as they were a lot of work. This recipe is a cross between my aunty Savi and my mom's way. Aunty Savi makes these into oval-shapes, and adds chopped onion; while mom makes them flat and round, coats in breadcrumbs and omits the onion- she says onions "spoil" the mixture after being out at room temperature for a while. No matter your cultural background, if you enjoy salted cod fish, then you'll love these little cakes.
This saltfish cake is different from my other fish cake recipe, check it out here.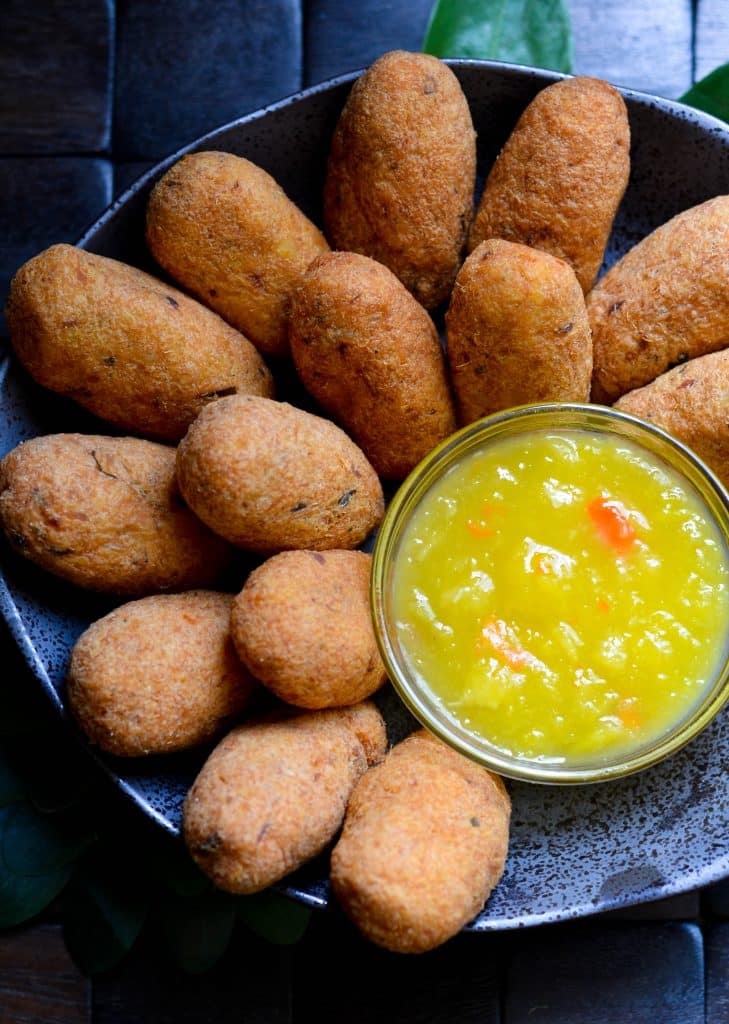 Whenever I do make these little cakes, I always get rave reviews on how plump and well-seasoned they are; not too much potato and not dry or stiff. They are spicy, but everyone seems to love that aspect. Aunty Savi always said, "fish cake does need good peppa," good meaning a lot of pepper! I used wiri wiri pepper for this batch, but you can use any hot pepper. I removed the seeds as the skin around the seed is the hottest part of the pepper; the outside is what contains the most flavor. Garlic, scallions, salt and a bit of paprika completes the flavoring. I've only ever had fish cakes with mango sour, but I think other dips would work wonderfully here as well. Perhaps a mango salsa or a tartar sauce.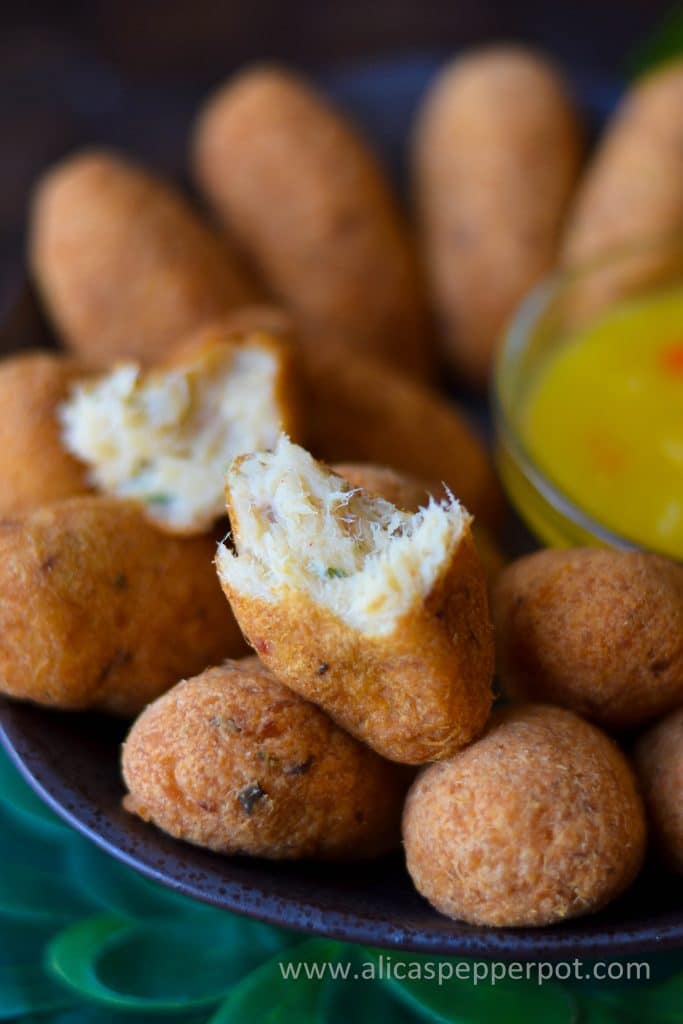 I used red potatoes for this recipe. They are creamier and have a nice texture. Add crushed garlic, finely chopped hot pepper, scallions and salt.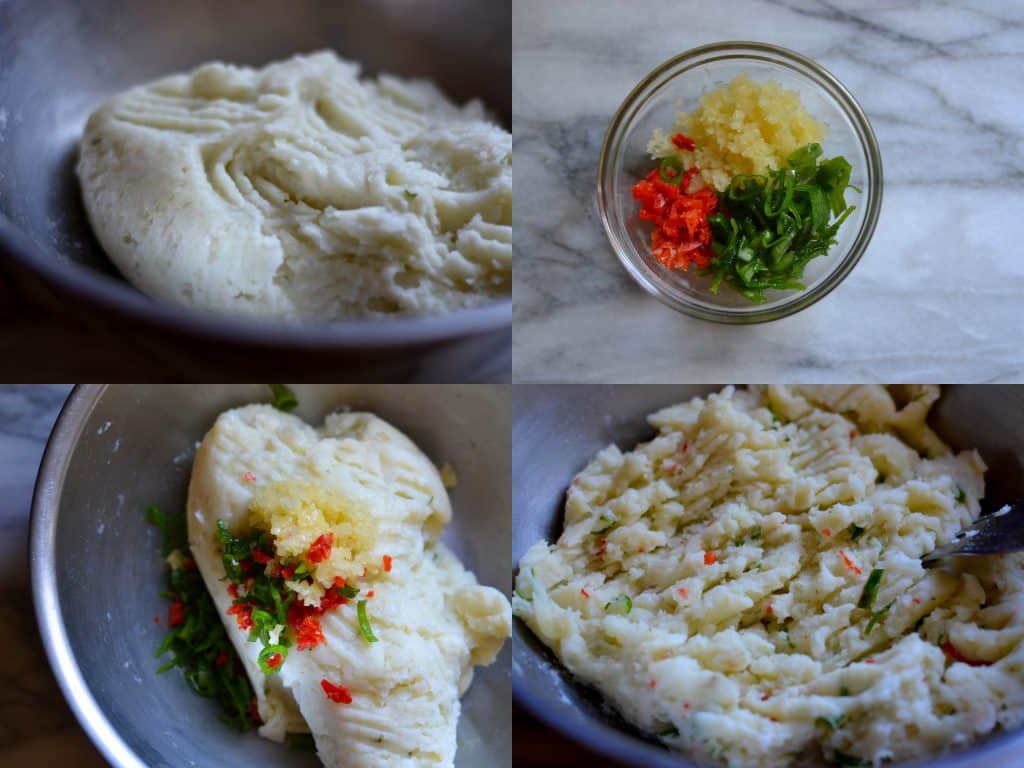 Add saltfish to potato mixture. Taste mixture at this point and adjust seasonings. Mix in 1 beaten egg then shape.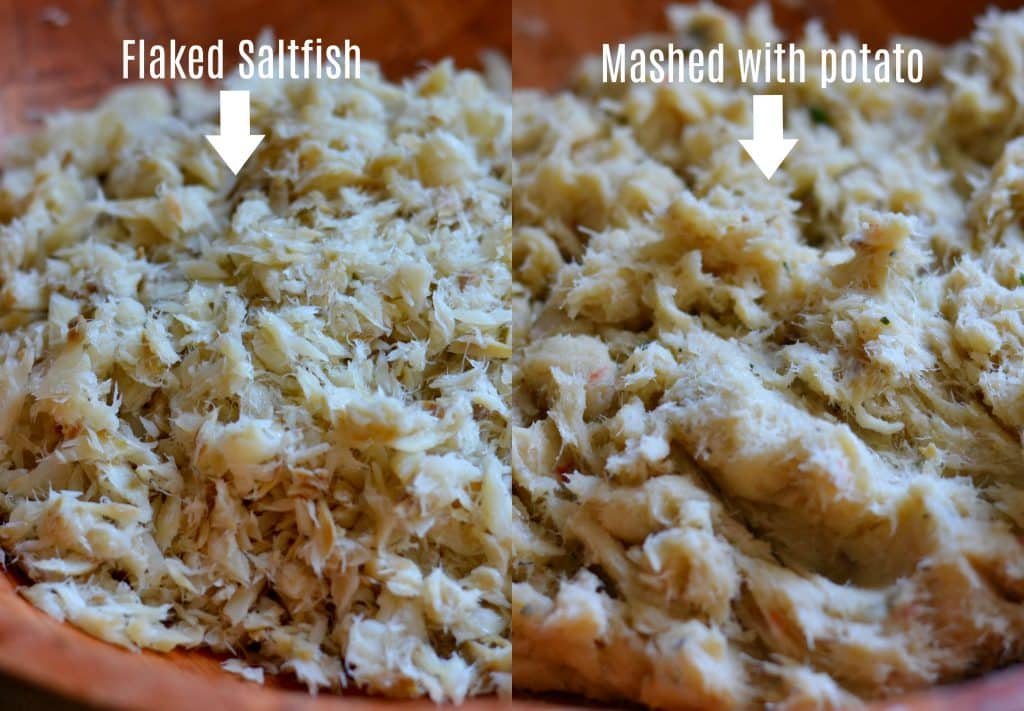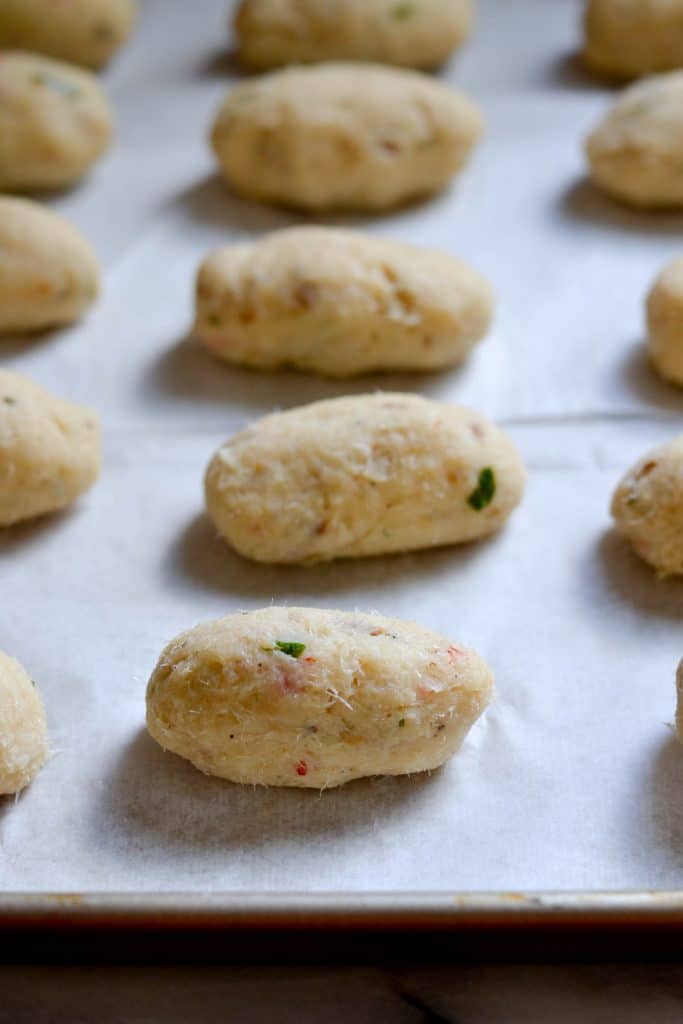 Lightly roll cakes in flour. I seasoned the flour with a little black pepper and salt. Fry to a golden brown.
Make it your own
These fish cakes are simply flavored, but you can add anything you like to make it your own. Here are some ideas:
grated onion
grated ginger
chopped celery
other herbs - parsley, cilantro, chives
finely diced green/red bell peppers
green chili peppers
capers
mustard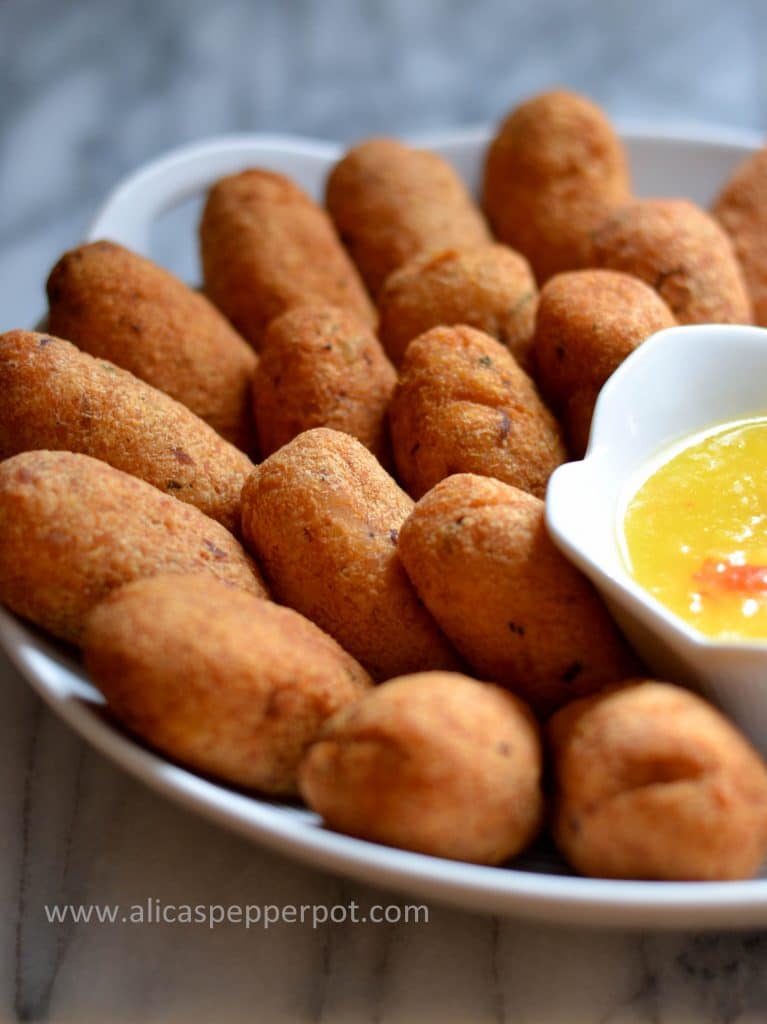 Tips
Potato must still have a give to it, meaning when pierced with a fork, the potato doesn't fall apart. You're looking for a texture where it can hold the fish together and keep a shape. Try to not to over-boil potatoes.
Red potatoes work well here as they are creamier and hold the fish up nicely.
Skinless, boneless salted cod fish saves time with de-boning. Can be purchased in packages at local grocer.
Taste mixture and adjust seasonings before adding egg.
For a thicker crust, breadcrumbs can be used in place of just flour alone.

Dip fish cake in flour
Dip in egg wash (1 beaten egg + 1 tbsp water)
Coat in breadcrumbs, then fry

Make sure pan has enough oil for frying to achieve and evenly browned color.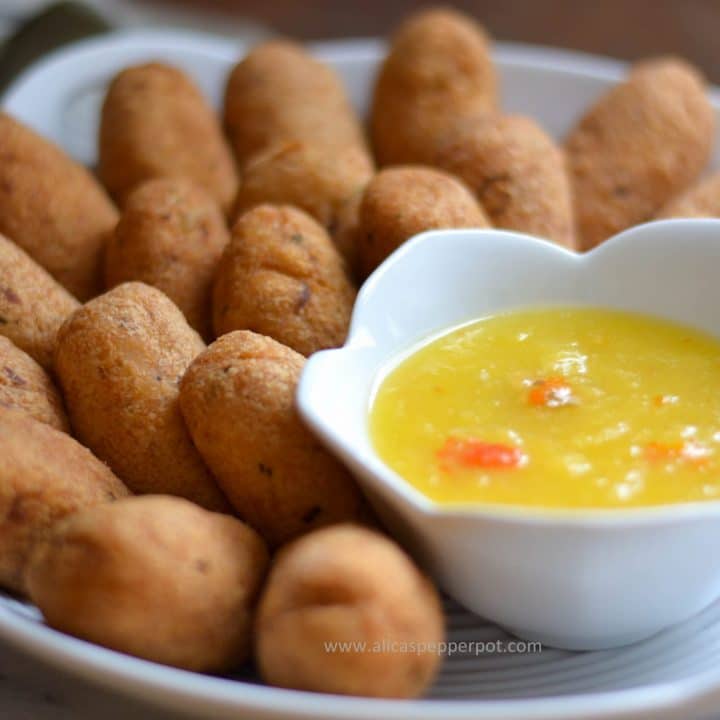 Salted Cod Fish Cakes
Ingredients
1 ½lb boneless salted fish
2 cups mashed potatoes (about 2-3 medium)
2 tbsp butter
3 wiri wiri peppers, seeds removed, minced (or other hot pepper)
3 scallion stems, sliced
5 garlic cloves, minced
3 sprigs fresh thyme leaves
¼ tsp paprika
Salt to taste
1 egg
1 cup flour + ¼tsp black pepper + ¼tsp salt for coating
Oil for frying
Mango Sour
Instructions
Saltfish
Boil saltfish 10 min to remove salt. Drain and boil again an additional 5 min. Drain and flake saltfish with fork until no longer lumpy. Set aside.
Potatoes
Peel potatoes. Chop into small cubes. Boil until cooked, but not too soft. Potato should not disintegrate when pierced.
Drain and mash potatoes with fork. Add butter, mix well. Add pepper, scallion, garlic thyme, paprika and salt. Adjust salt and seasonings to suit your taste.
Add saltfish to potato, mix well. Add egg, mix well.
Heat oil for frying.
Roll saltfish into little log/oval shapes. Set aside.
Place flour in a deep dish with black pepper and salt.
Roll saltfish cake in flour. Fry until golden brown.