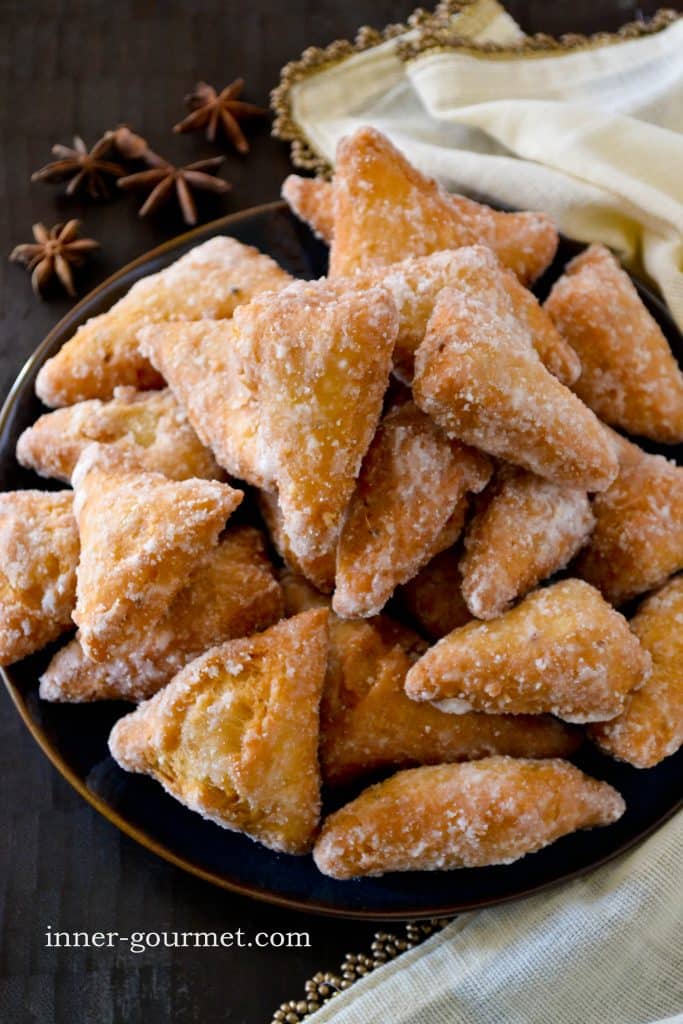 My grandmother's mithai is a sweet that makes Hindu holidays feel even more special. Her soft mithai is made with flour, butter, fresh coconut, anise seed, and evaporated milk. It's fried till golden brown then tossed in a sugar syrup until crystallized. She only made these on Hindu holidays such as Diwali and Holi, and other religious functions. These sweets were just one among many that we enjoyed during auspicious times of year. We also made peera, a crunchy mithai/kurma, and parsad. It was a fun time and I loved spending time with my mom and grandma in the kitchen. It was a sort of bonding time that I've come to truly appreciate as an adult. Now that she lives in India and I live in upstate NY, if I want these delicious treats, I have to make them myself. I decided that I was only going to make two different sweets this year. My family would make 5-6 different kinds, but what would I do with all that sugary goodness in my house? I decided to make this mithai and a milk powder peera (see end of post).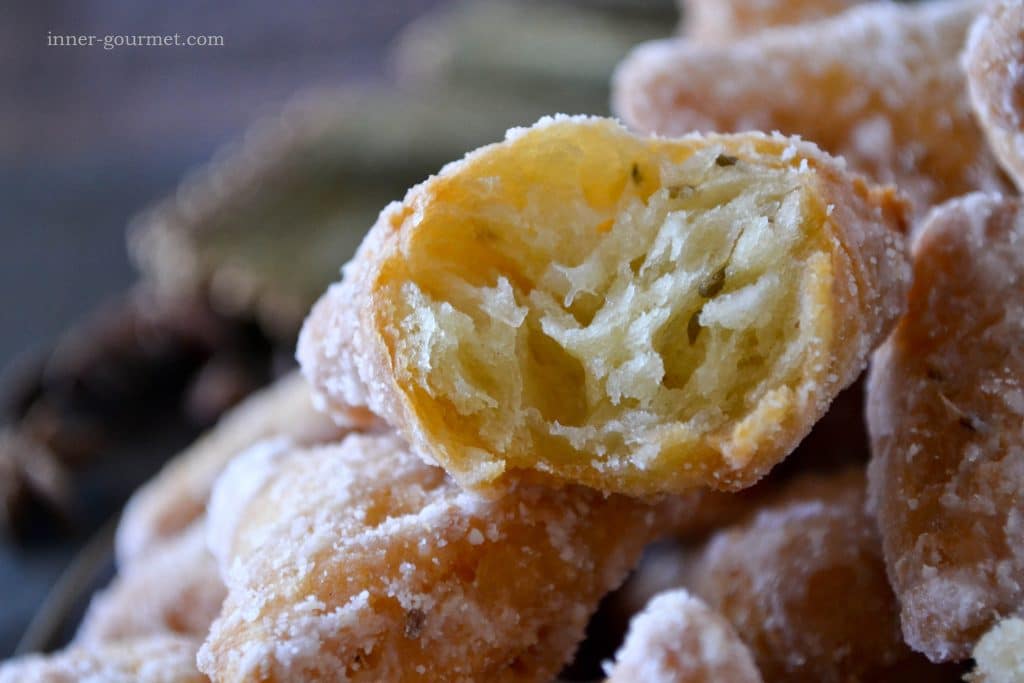 Every Diwali my mom used to make so many tasty sweet treats. We would package and give them away to friends and family members. Likewise our family members would send over little bags filled with mithai, peera, and parsad.
Method: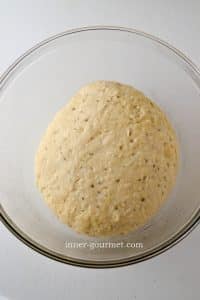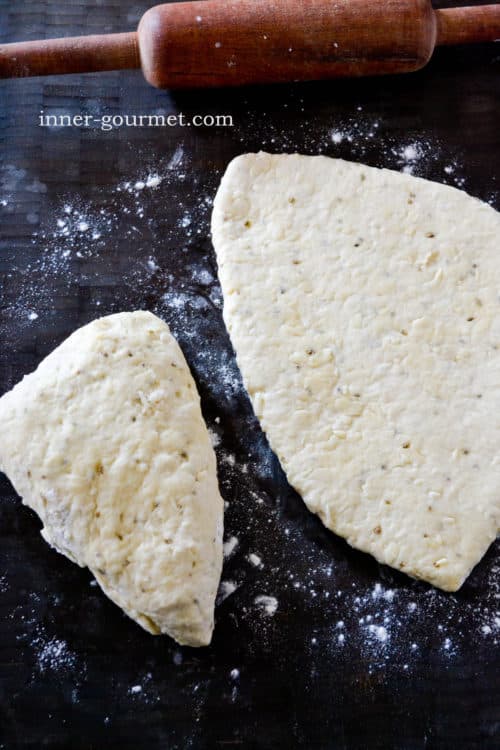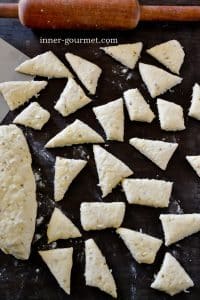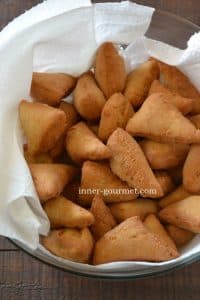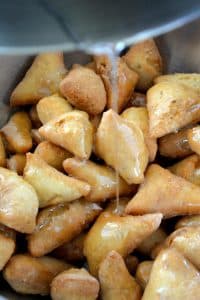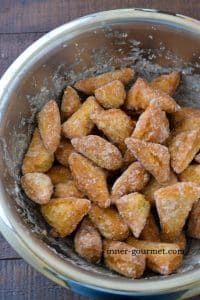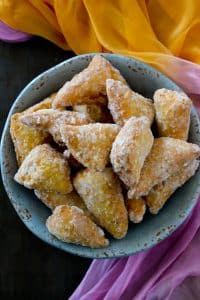 I made a trip to Michael's Arts and Crafts store. Altogether I only spent $9 for all the materials. I bought metallic gold paper bags with a beautiful burgundy ribbon, very festive. I think they turned out amazing, what do you think?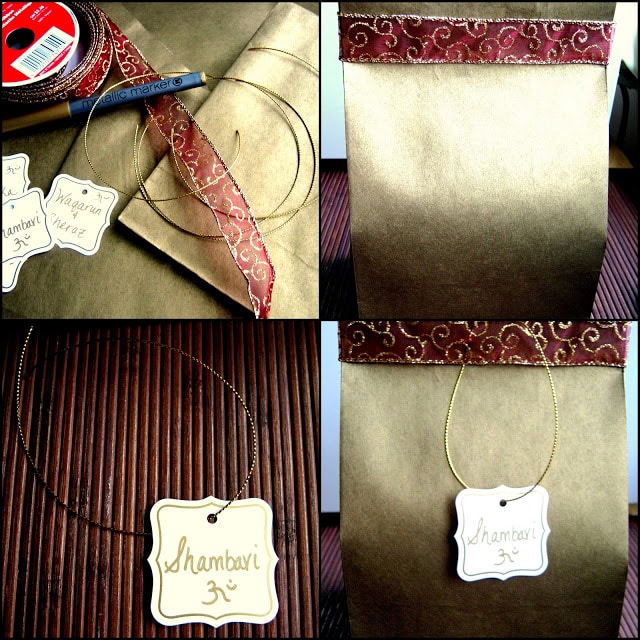 I packaged the sweets in tiny Ziploc bags to seal in the freshness.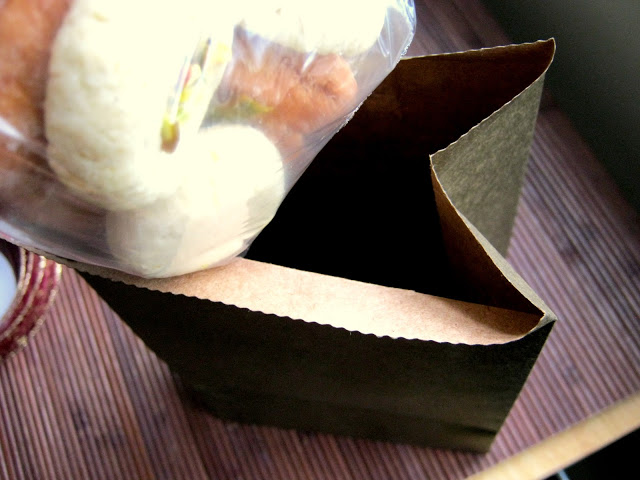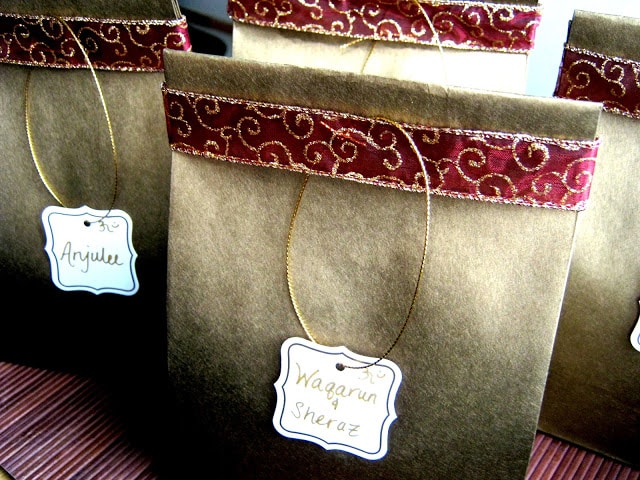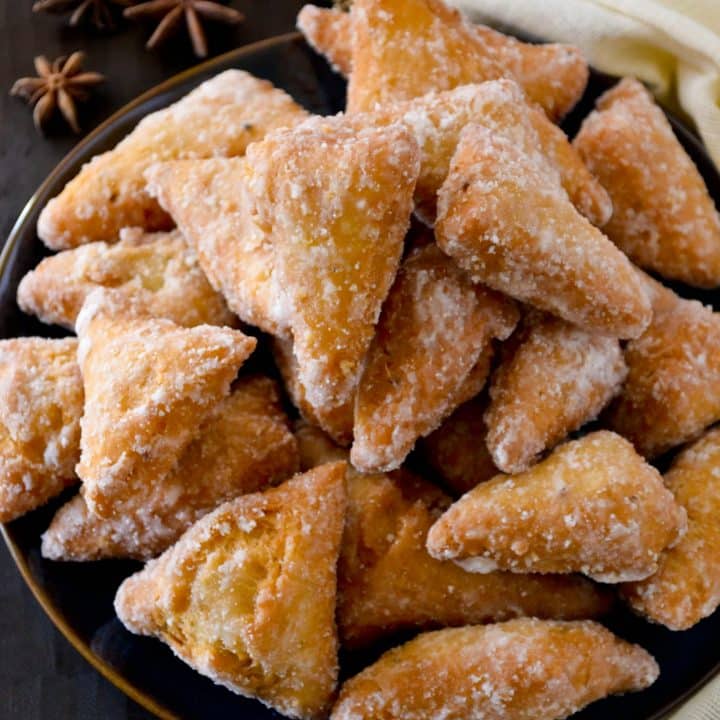 Soft Mithai
Yield: About 50 Small Pieces
Ingredients
*For the Dough
4 cups flour
1 tsp white sugar
2 ½ tsp baking powder
1 cup freshly grated coconut
1 ½ sticks butter, chopped
3 tsp anise seed
1 12oz tin evaporated milk
Vegetable or canola oil for frying
*For the sugar syrup:
1 cup white granulated sugar
¾ cup water
½ tsp vanilla extract (optional)
Instructions
Mix the flour, baking powder, anise seed, and chopped butter together. Keep mixing by hand until the dough is crumbly or you can put everything into a food processor. Add coconut to the dough and mix well.
Pour entire can of evaporated milk into the mixture and knead to form a dough ball. Add flour/ water if needed, to bring everything together. Cover with a damp paper towel and set aside and let it sit for about 30-40 minutes. (the damp napkin keeps the dough from forming a crust)
Place dough ball on counter/cutting board and cut dough into quarters. Work with one quarter at a time. Sprinkle flour on the working space and roll the quarter with a rolling pin to about ¾ in thickness. If you roll it thinner your mithai wont be as thick and soft but rather more crunchy, if that is how you prefer it then roll it thinner.
In a pot, fill oil ⅓ of the way up the pot and let oil heat on medium-low.
In the meantime cut mithai into little diamond shapes and set aside till ready for frying.
The temperature of the oil should be around 280 degrees. Test one mithai to see if it is cooked all the way through before frying the entire batch.
Once the oil is ready, place mithai in oil and let it cook slowly, keep turning to brown evenly on both sides. Cook all the mithai and set aside in a pot or bowl big enough to toss with the syrup.
Combine sugar, water, and vanilla, if using. Boil on low for about 35 minutes, or longer depending on your stove. Test sugar in water to see if it has reached the "soft ball" stage. Read this recipe to learn how to test for the soft ball stage.
When sugar is ready, pour over mithai and toss until sugar is no longer clear and has become white.
MILK POWDER PEERA
I made these and added some extra cardamom, it turned out wonderful.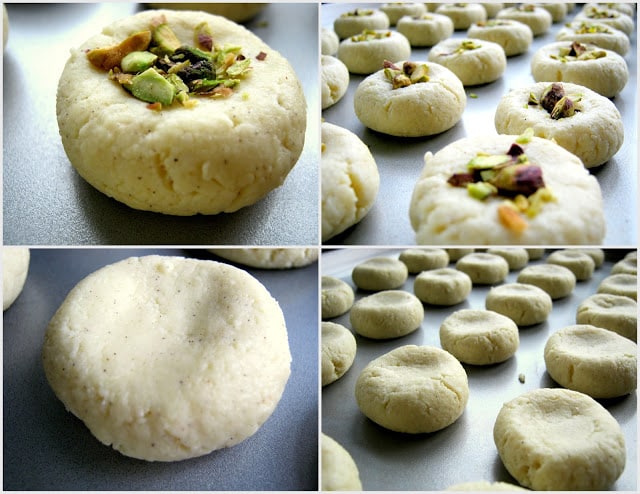 I did not write a post about these delicious peeras, but you can get the recipe at Manjula's Kitchen.
Give this mithai a try and let me know how you liked it!