My parents always cooked a variety of curries in our household. From meat and seafood curries to all sorts of vegetable curries and I loved them all. There was one curry in particular that we savored because we didn't have it often- hassar curry. A delicious fish curry made with fresh coconut milk, mango, and hot wiri wiri peppers. Hassar is also known as armored catfish and has a distinct prehistoric-like appearance. It is a fresh water bottom feeder fish typically caught in lakes, canals, or trenches. The fish is covered on both sides with a hard protective shell. It's dark grey to almost black in color and has a grey-ish gradient once cleaned. The color is really quite beautiful. When cooked, the armor comes off quite easily by using your fingers to slide the shell from tail to head. Underneath is where you'll find the delicious flesh. If you talk to anyone who knows about this fish, they'll either say they love it and yearn for it or they hate it and will never eat it.
Mom is very particular about cooking hassar. She says the hassars they got in Guyana tasted sweeter (meaning it tastes better) than the ones here in Florida. My father says it's because the waters in Guyana give the fish a different flavor. When we lived in New York, getting our hands on hassar meant we had to wait until someone came from Guyana and brought some for us, or we had to buy it frozen at West Indian fish markets. This fish can be quite expensive, I've seen it for as much as $8.99 a pound which is a lot considering that most of the weight comes from the armor shell. Since moving to Florida, we can get hassar anytime we want because it's in abundance here. However, we still don't cook it often because it really takes a lot of work to prepare.
Other names for armored catfish
Brazil - Tamuata
French Guiana - Atipa
Suriname - Kwie Kwie
Trinidad & Tobago - Cascadura/Cascadoux
Venezuela - Busco/currito
Source: Wikipedia on Hoplosternum
Catching Hassar
My father is the unofficial angler in our family. He keeps his wader, cast net, and an empty 5 gallon paint bucket in his trunk so he's always ready to go fishing. Sometimes, when we're out running errands and he comes across a trench he'll jokingly say he's going to pull over to catch some hassars. I know deep down he's not joking, though haha!
Dad learned to catch hassar as a teenager while growing up in New Amsterdam, Berbice, a region of Guyana. He recalls using using a stick and a fishing net to catch a few at a time. He says after locating the hassa nest, you must use a stick to splash the water around it- baiting the fish. Dip the net into the water and hopefully you've caught your fish. Sounds simple, but it takes some time to get the timing right.
We currently live in Central Florida and while many still catch hassar this way, my dad uses a cast net. Our family friend, Mr. Singh who is also our chicken man (where we get freshly-killed chicken for stews and curries) goes fishing on the St. John's river and brings back coolers full of hassar to sell. He goes on his airboat and also uses a cast net.
I remember once dad went fishing at night somewhere in Melbourne with his friend Terry and our Trini neighbors. It rained the day before so they had a good feeling they would get a good catch as hassars are in abundance after it rains. They came back with so much hassar- using a cast net for the catch. Four coolers to be exact. It was enough to split between 4 families. My mom was excited, but also had a look of dread on her face because of how many hassars she would have to clean!
Cleaning Hassar
To properly clean the hassar, you must clip all the whiskers and mouth area. Slice the belly open to see if there are any fish eggs, if so leave them attached, then clean out the belly. Mom uses a small hard scrubbing brush to clean the shell. When she's done, the fish is tossed in lime juice and salt and left to soak to remove any renk taste.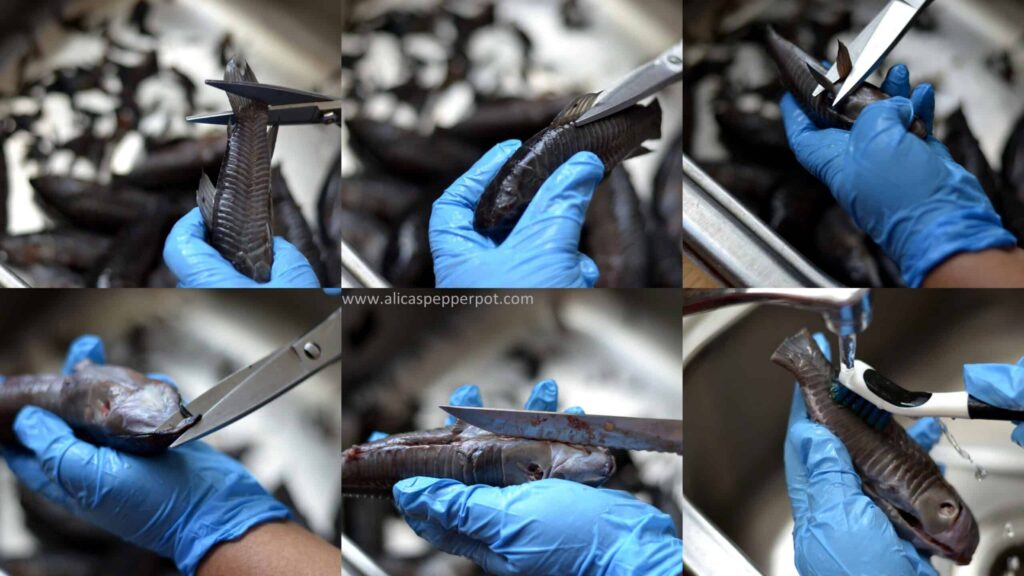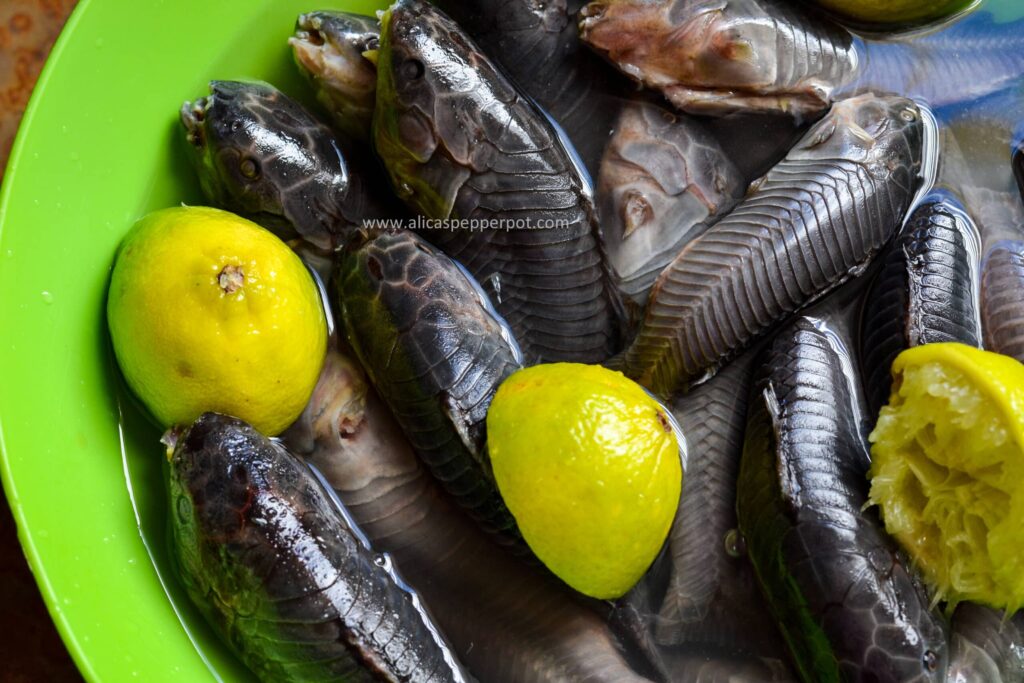 Cooking Hassar curry
For a delicious hassar curry you'll need grind up seasoning (a paste made of onion, garlic, wiri wiri pepper, thyme), garam masala, curry powder, green (unripened) mango, wiri wiri peppers, and fresh coconut milk. Okra or saijan (moringa) is commonly added to this curry. I don't recall mom ever making this with okra, but she would usually put a few saijan sticks.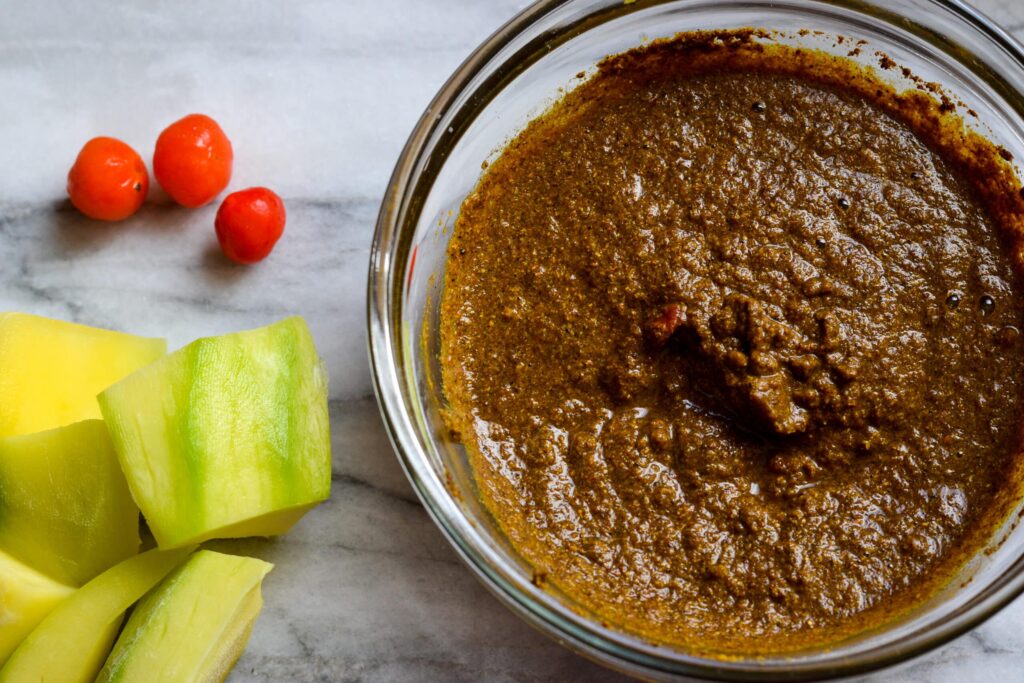 To make fresh coconut milk, you'll need to grate 1 whole desiccated coconut and mix it with enough water to make the milk. Another option is to the chop the desiccated coconut, put it into a blender with water, then squeeze the milk out by hand, strainer, or cheesecloth. I find the cheesecloth works best and extracts the most milk.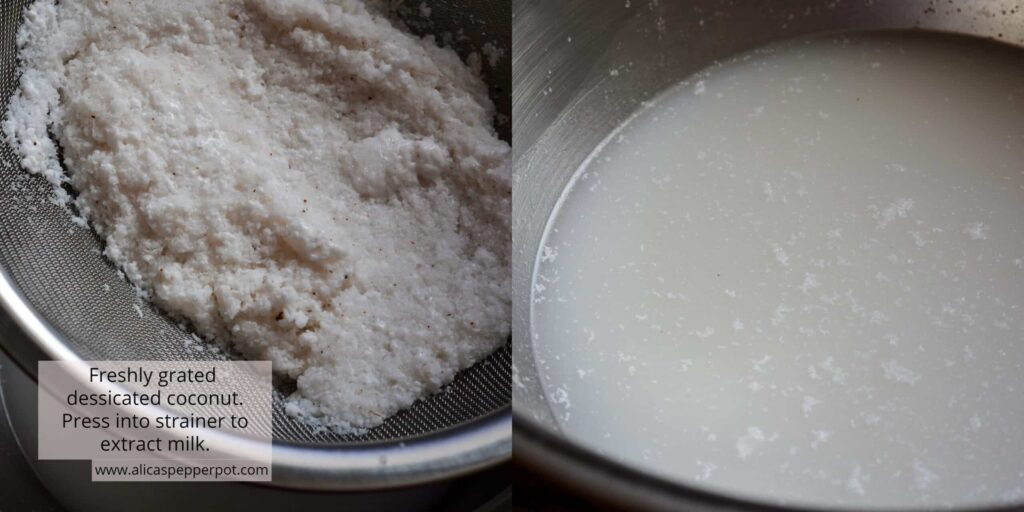 The hassars get bounjayed in the masala-curry paste mixture for a few minutes. This step helps to cook off any water from the fish, but more importantly it helps to sear the spices onto the fish.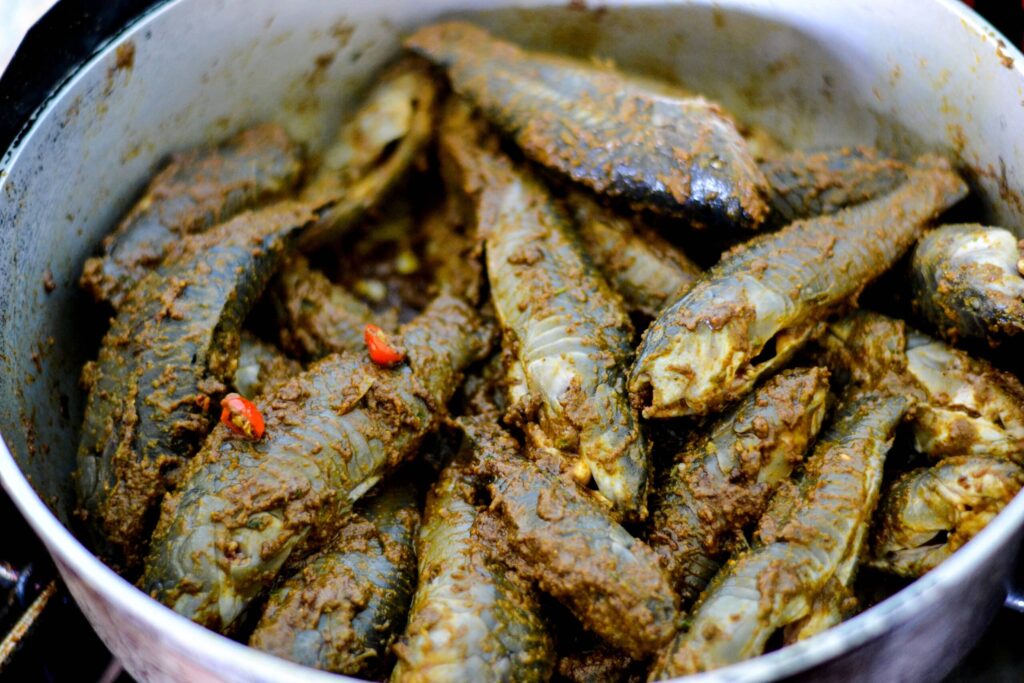 Coconut milk is added along with remaining ingredients. Hassar cooks rather quickly, 30 minutes or so. If the fish is overcooked you will know because the shell will start to break apart into the gravy making it a less enjoyable experience.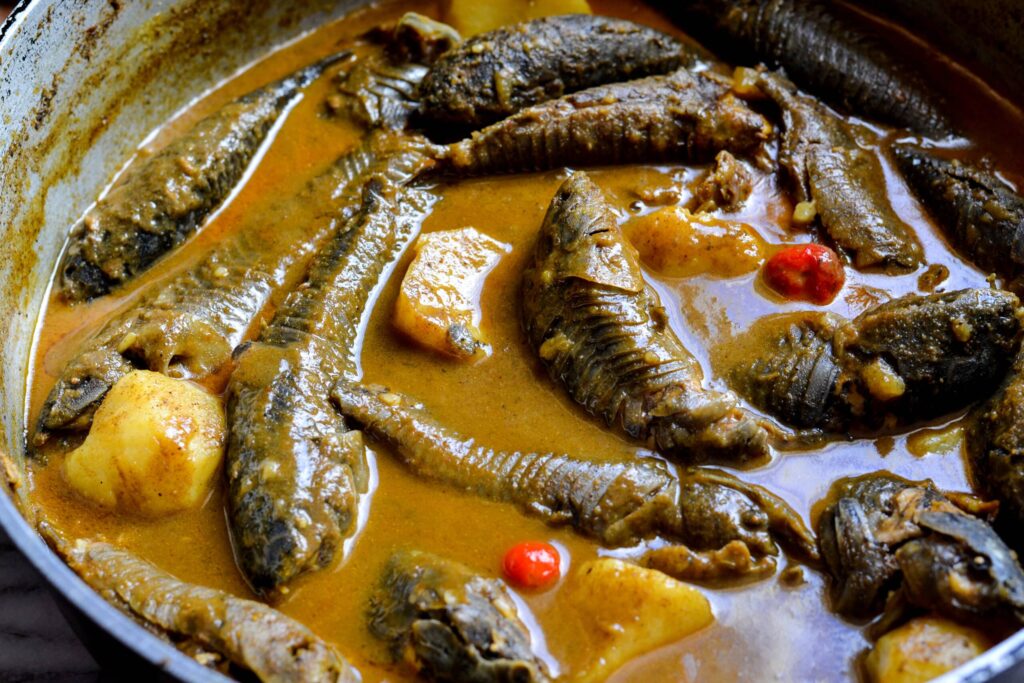 Eating Hassar curry
Cleaning and preparing this fish is a lot of work so when you sit down to a plate of hassar curry, it must be savored. This is a curry that can only be eaten and enjoyed by using your hands. We typically eat the gravy and rice first and save the fish for last. To get to the flesh of the fish, take your finger and pull back the shell from tail to head. The flesh is pinkish-tan and has a soft, but firm texture. Sucking the masala off of the shell is common. It really is quite an experience. Oh, and if you happened to get a hassar with the egg bag inside, your plate was for sure a lot sweeter.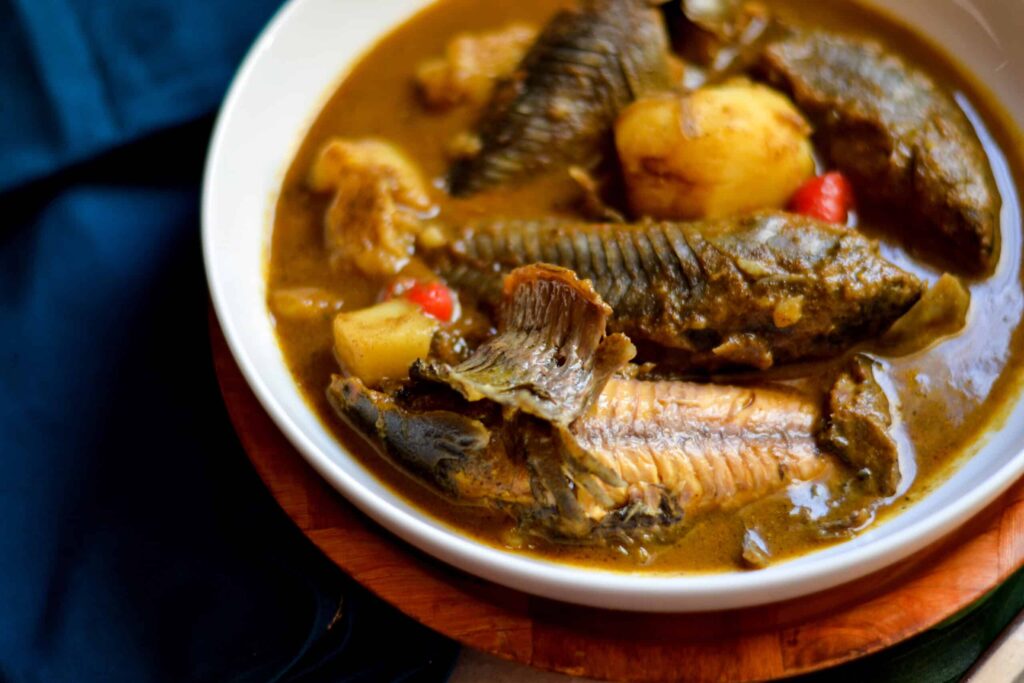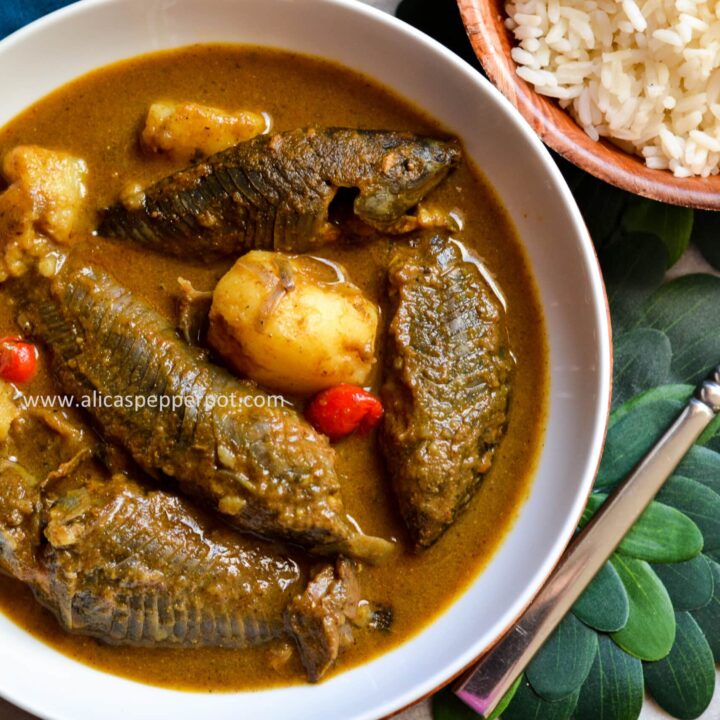 Hassar Curry
Ingredients
20 small hassar fish (about 4-5in) or 10 large
2 limes
1 tbsp salt
5 tbsp green seasoning
2 heaping tbsp +1 tsp curry powder
3 heaping tbsp + 1 tsp garam masala
4tbsp water to make masala paste
1 tbsp tomato paste or 1 small fresh tomato, chopped
4 tbsp oil
3-4 wiri wiri pepper or 2 scotch bonnet
4 cups freshly squeezed coconut milk (see note if using canned)
5 (2inch) pieces green, unripened mango
2 tsp salt (adjust to taste)
2 medium potatoes peeled and chopped small
Optional
Handful okra, if desired
4-5 saijan (drumsticks)
Instructions
Prep and clean fish. Using a scissor, cut all fins and trim mouth and whiskers. Scrub shell with a hard bristled brush.
Place fish in deep bowl. Squeeze fresh lime juice and sprinkle salt over fish and fill with water. Allow to soak 15-20 minutes. Rinse and drain.
Make masala-curry paste by combining curry powder, masala, green seasoning, and tomato paste. Add a 4 tbsp water to make paste.
Heat pot with oil, fry masala paste until golden brown. Add fish and coat in mixture. Bounjay until all fish is coated.
Add coconut milk, mango, and salt. Boil 20 minutes then add potatoes. Allow curry to boil until potatoes are cooked and gravy has reduced and thickened.
Notes
Tamarind can be used in place of green mango
If using canned coconut milk, dilute milk with water. 1 can to 1 can of water.