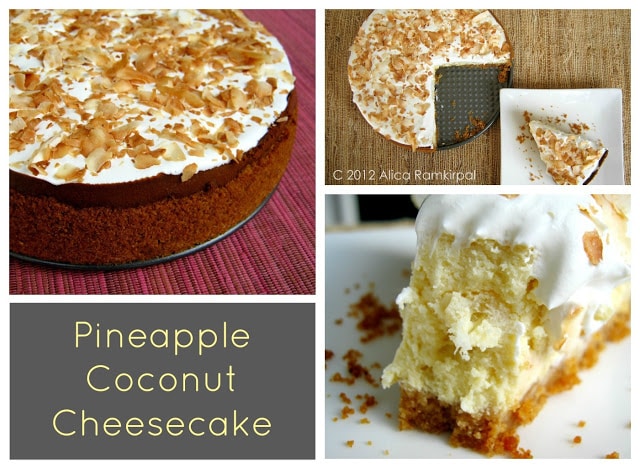 I've decided to take a break from Guyanese recipes to share with you a delicious cheesecake that I have been making for years. A recipe that was consistently used to bribe my good (tech) friend Jeff to help me out with any blog issues I needed assistance with. I've made it for his birthday, as a thank you gift, and even sometimes as a warning to say, "heads up: next week I'll need you to write some code for the blog." It worked every time; sweets usually do that to men. To this day, it is so hard to make this cheesecake without it reminding me of my cunning and mischievous ways (insert evil laugh here).
This cheesecake has also been a hit at our family gatherings, especially during the holidays when we would all congregate after dinner for a dessert coma. It's rich and decadent, just like a cheesecake should be, but what puts this cheesecake over the top is the occasional, and rather pleasant, burst of pineapple in your mouth as you take even the smallest bite. The batter is made with seven simple ingredients: cream cheese, sour cream, sugar, eggs, vanilla extract, lemon zest, and flour. When combined, and in the right measurements, these ingredients will give you a perfectly tasting cheesecake; mildly tangy and sweet, with a silky smooth texture. This cheesecake is even delicious plain and served with fresh fruit. It is also quite versatile in that the batter holds up nicely to heavy additions like crushed pineapple, dulce de leche swirls, or even Oreo cookie pieces. It is really quick to whip up and if you are using a store-bought crust, which I use most times, then this will really be a breeze to make.
Surprisingly, people either love or hate cheesecake. Some feel it is too sweet or too dense, and there are some who have just had a bad experience, like myself. I'll never forget it, it was a plain cheesecake at a diner in Queens, NY and it was so sweet that I could feel the residual sugar in the back of my throat, you know that syrupy feeling you get after eating something really sweet like sorbet? To make it even worse, it had a rank-y/egg-y aftertaste, that taste never leaves your memory. Since then, I have tasted many different types of cheesecakes; enough to prove that this is actually a very tasty, decadent, and delicious. You taste the bad, you taste the good, then you develop your own criteria for what a good cheesecake should and shouldn't taste like.
What makes a good cheesecake?