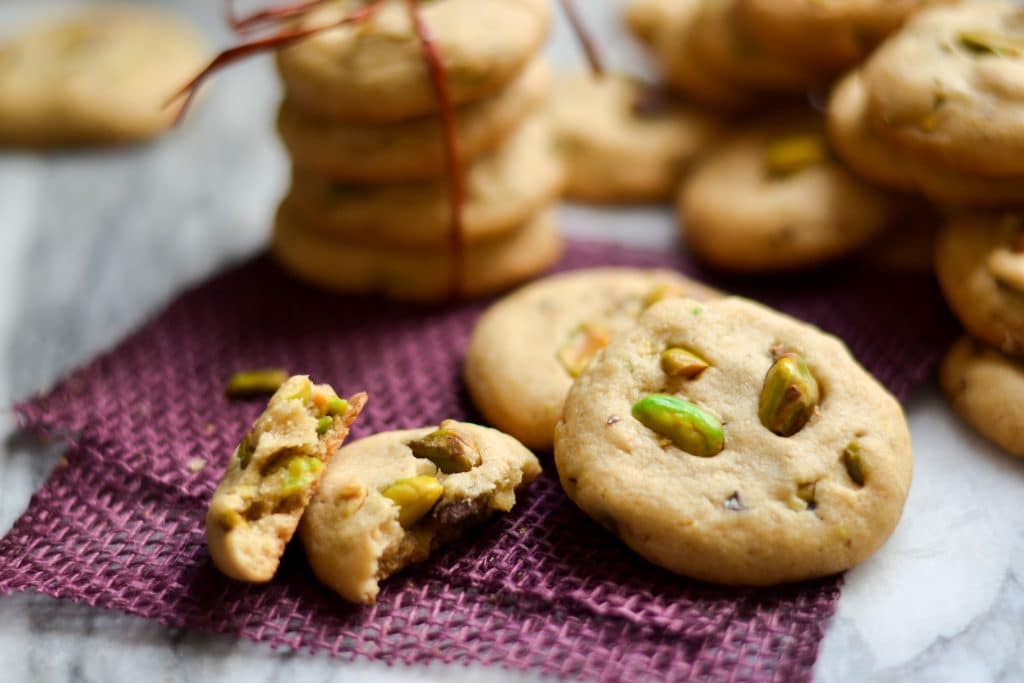 My father had a little Christmas party at his job the other day. He asked me to make a couple of things for him to take. He works with a lot of Caribbean people so I knew the foodscape would be filled with West Indian cuisine and lots of fruit cake, black cake, and sponge cake. I didn't want to send something I knew they'd already have so I decided on these boldly flavored pistachio cookies.
I don't know what it is, but most West Indians seem to LOVE pistachios and pistachio flavored food. Anytime we go out for ice cream or gelato, my parents, husband, mother-in-law, grandmother, aunt, and uncles (we roll deep) ALWAYS orders pistachio or hazelnut flavors. I sometimes wonder if it's more the almond flavor in the pistachio ice cream that they're drawn to rather than the actual pistachios (which are never enough in the ice cream, right?). I also recall my mother-in-law getting really annoyed if the pistachio ice cream wasn't green, haha! Even though she knows it's just food coloring; if it's not green, it's not pistachio ice cream to her.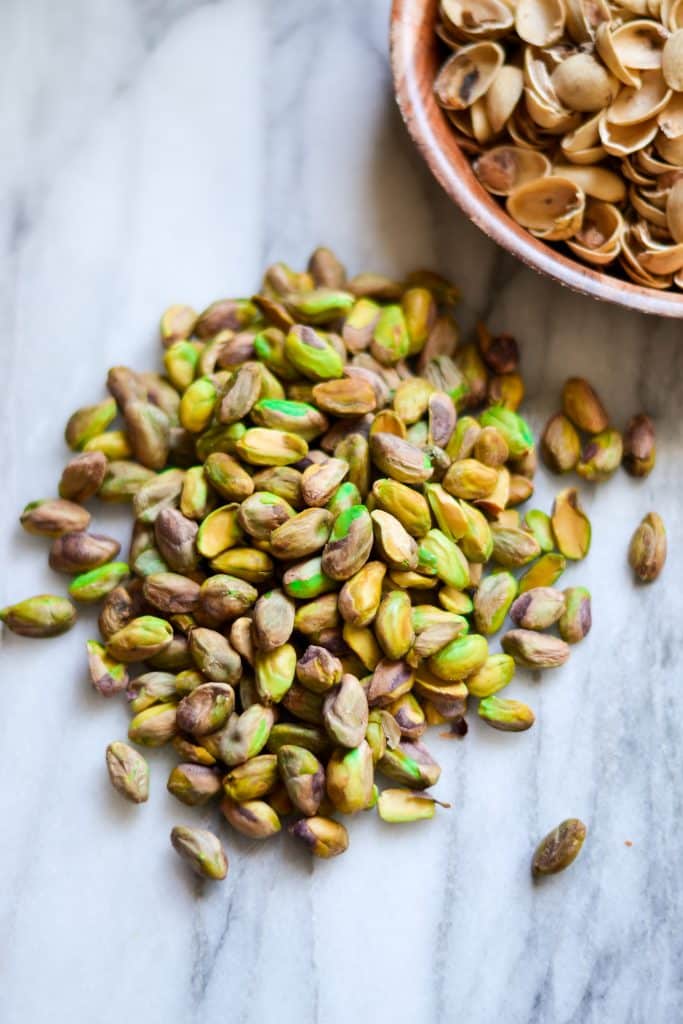 I, too am a pistachio lover, but for more than just the taste. I love the look of the different hues of green against the eggplant colored skin and I really enjoy shelling them while watching a good movie.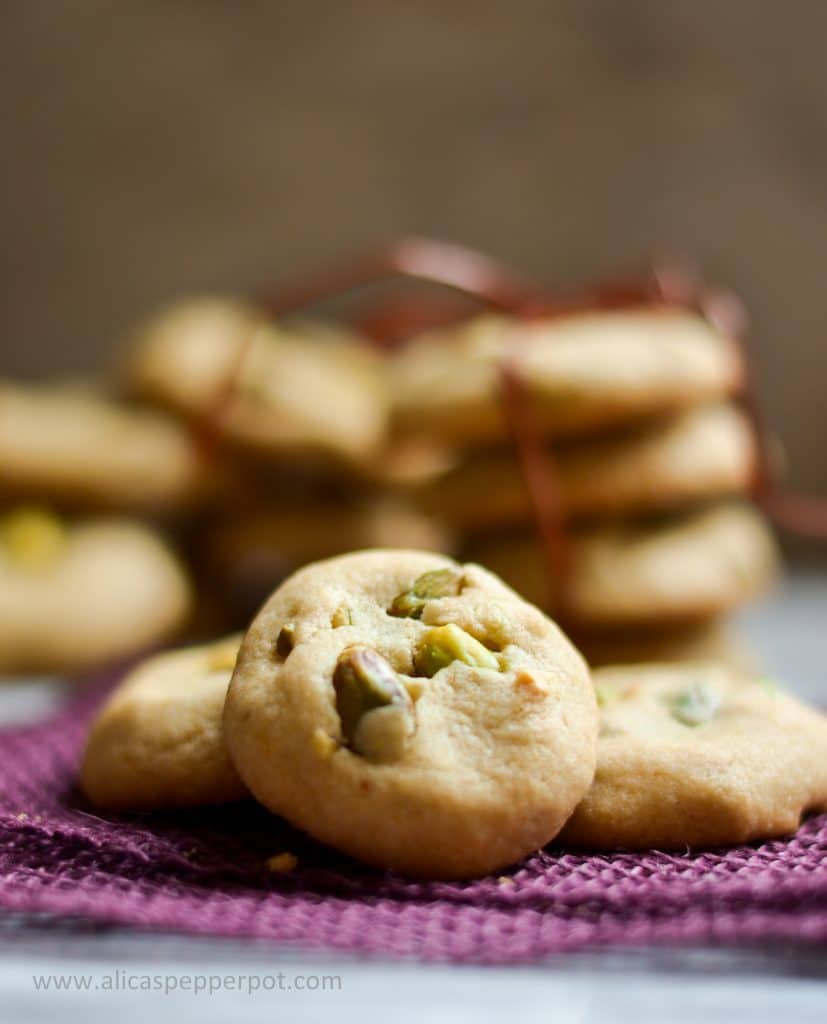 For many non-Caribbeans, the holiday season is synonymous with baking cookies, but in my home we baked lots of cakes and cheese straws around this time of year. My mom's long-time neighbor would bake a few hundred cookies in many varieties to make holiday platters for her family and friends. I was always really excited to receive one of her platters because they were so pretty and well-adorned. I thoroughly enjoyed eating them, too. While I love a good cookie, baking them isn't my thing. I prefer to buy cookies. Cookies are temperamental! They seem to have a mind of their own. They're either too flat, too thick, dry, hard, cakey or tasteless. Blah! I keep it simple when I make cookies for the kids; chocolate chip and sugar cookies and everyone's happy.
These pistachio cookies were a total hit at my father's Christmas party so I couldn't wait to share the recipe with you all. The first time I made these I thought they were pretty bland. Honestly, I was quite disappointed because of the time and waste of ingredients, especially the pistachios since they can be quite pricey. The second time around I omitted a few ingredients and added more brown sugar, doubled the vanilla and almond extract for flavor. This cookie has a lot of almond extract in it, so if this is not your flavor, I'd say only add one teaspoon or leave it out entirely. It turned out perfect for us and I hope you enjoy them, too!
Two ways to bake:
1. Roll and shape
As I mentioned before, cookies are temperamental. Any little change to the recipe or technique will yield a different outcome. These cookies can be rolled into balls, flattened slightly, then baked. They don't spread too much so flattening them prior to baking helps. Rolling the cookie dough into balls also ensures a smooth cookie. Batter needs to be chilled for at least 1 hour to shape and bake.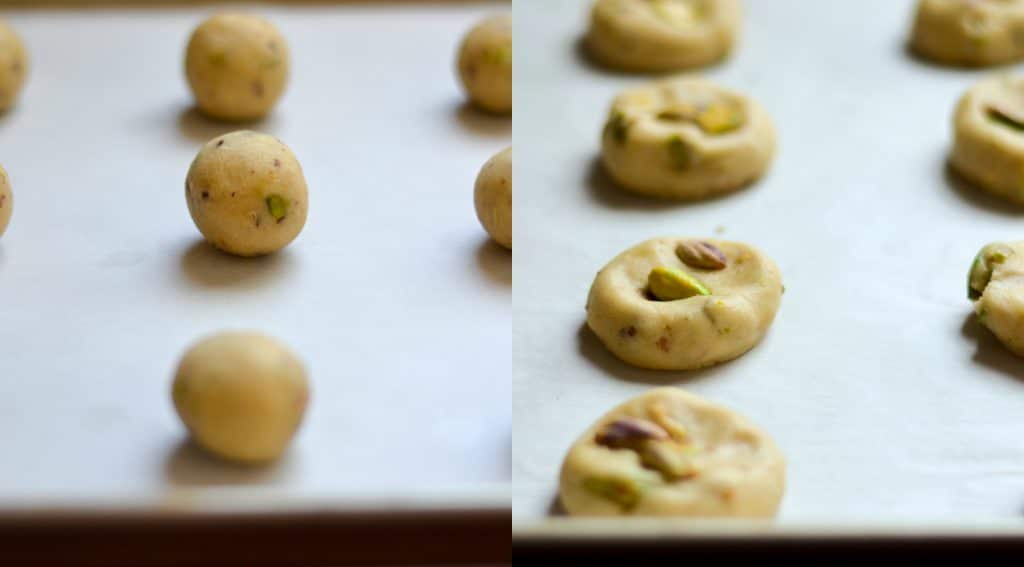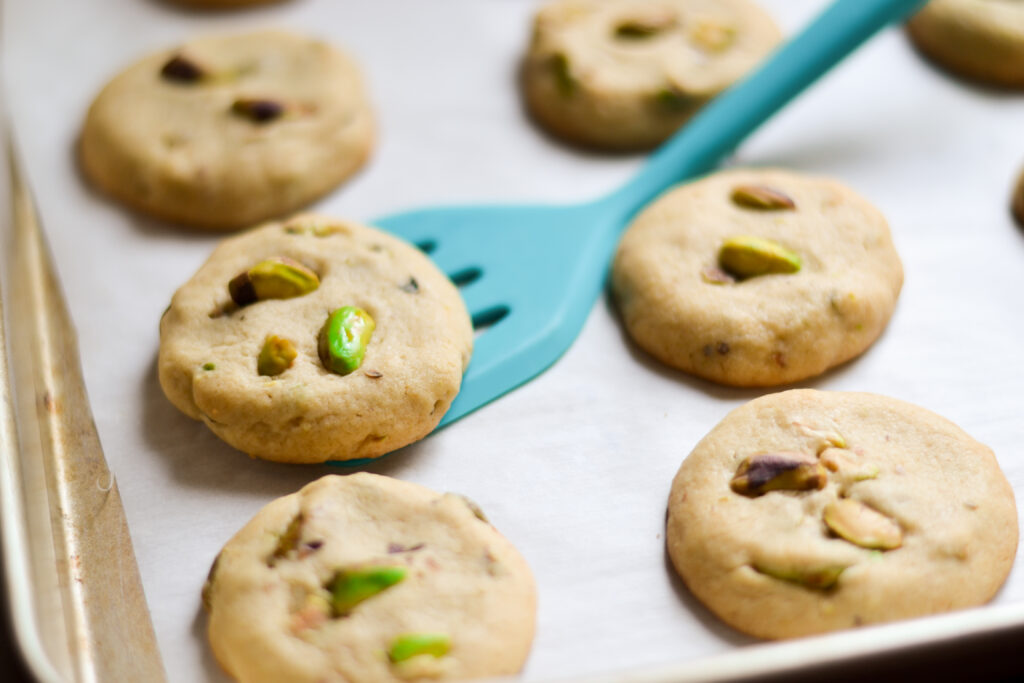 2. Drop by Spoonful (My preference)
I prefer to drop the cookie dough by spoonful rather than roll into balls first. They seem to come out more crisp and I love that each cookie looks different. The dough can't be too stiff, so I don't recommend chilling for too long. Drop by spoonful after chilling dough in the fridge for 10 min.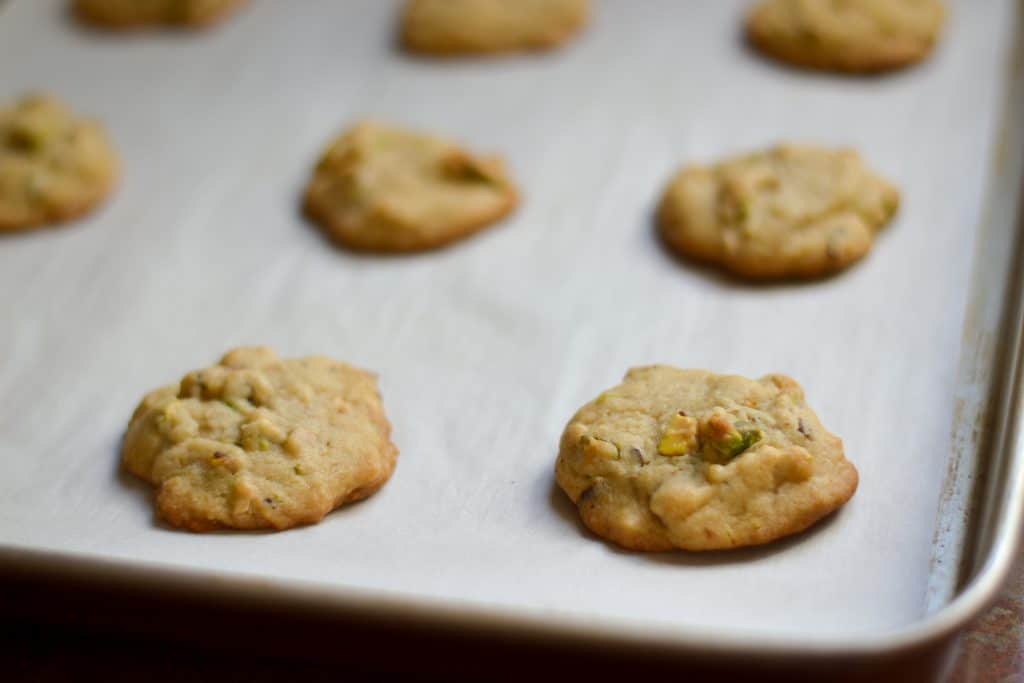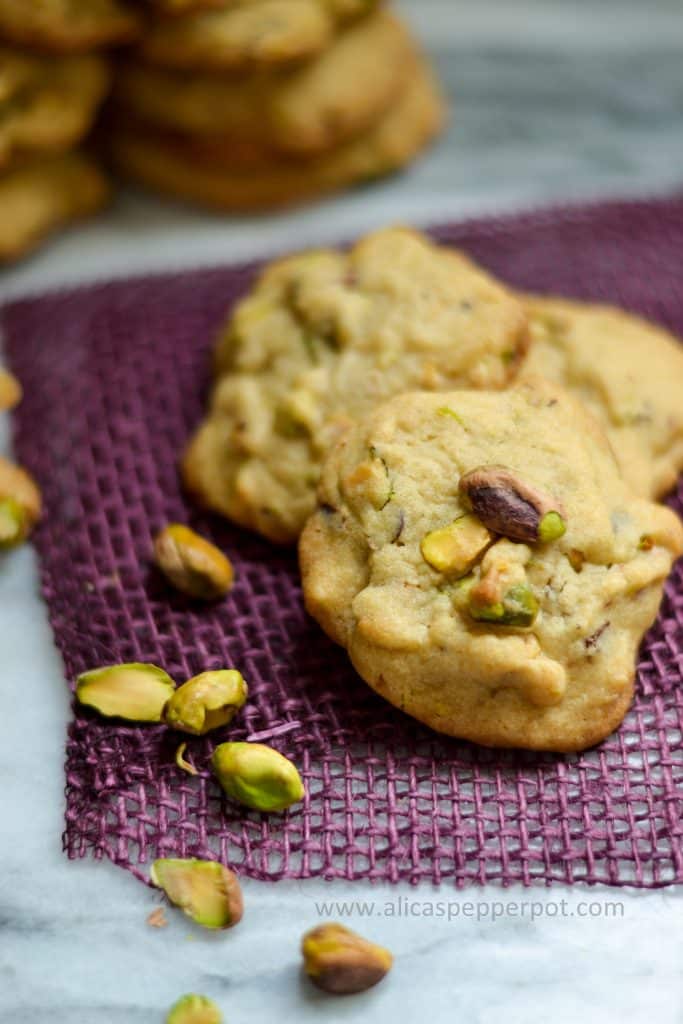 Texture
For chewier cookies- under bake the cookie slightly, somewhere around 8-9 min
For crisp cookies- I prefer these cookies a little more crisp. Bake a little longer, around 10-13 minutes. The longer you bake the harder/crunchier the cookie will be.
The longer these cookies are baked the more it tasted like a biscotti. My father and I love it this way, and with a cup of tea. #olepeople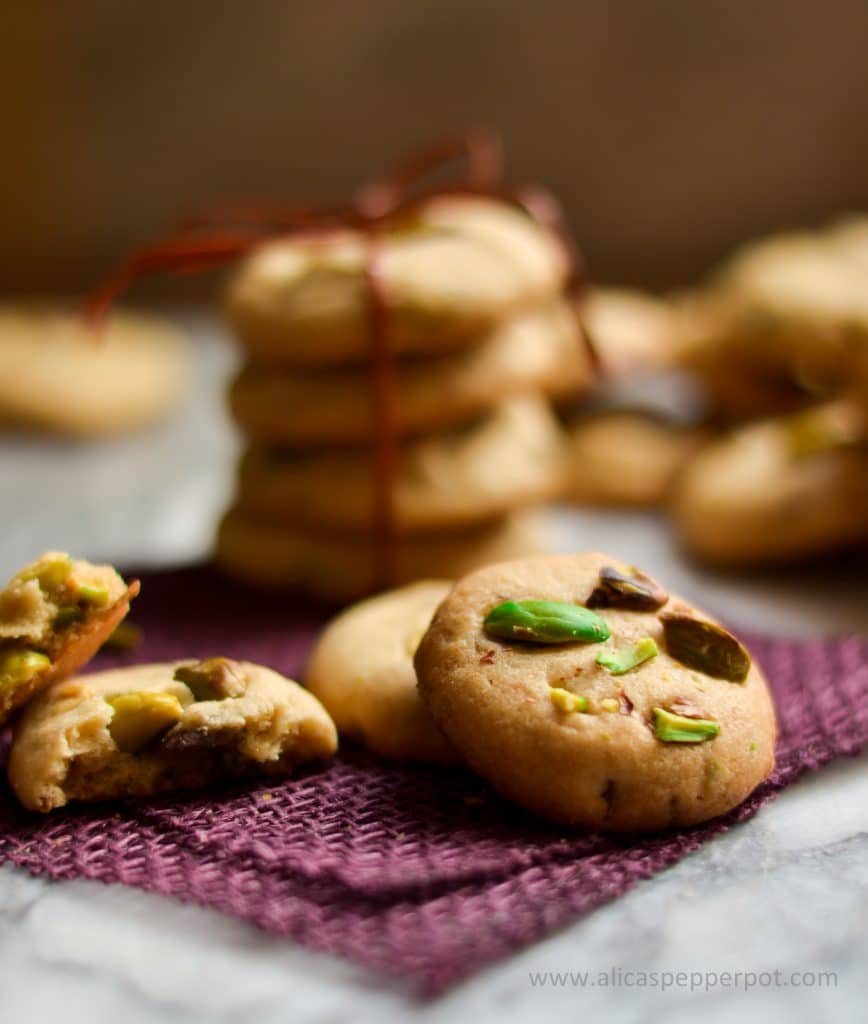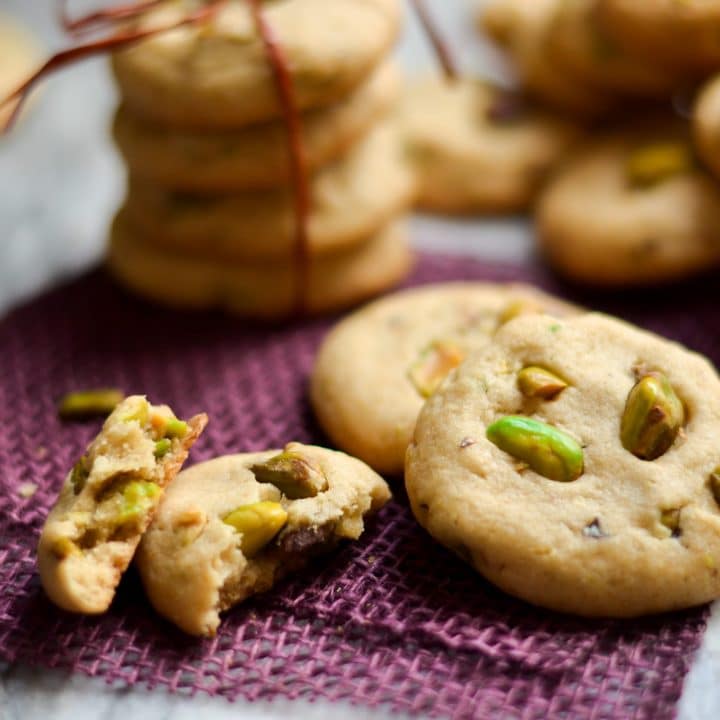 Pistachio Cookies
Yield:
About 2 dozen cookies
Ingredients
1 cup unsalted butter
½ cup dark brown sugar
½ cup white sugar
1 egg
1 ½ tsp vanilla
2 tsp almond extract
2 cups all-purpose flour
½ tsp baking soda
¼ tsp salt (if using unsalted pistachios)
1 cup roasted salted pistachios, partially crushed
Instructions
Preheat oven to 350 degrees.
Using a hand-held mixer or stand mixer with paddle attachment, cream butter and sugar until smooth. Add extracts and egg. Mix on medium until fluffy and light in color.
In a separate bowl, whisk dry ingredients together.
Gently add the dry ingredients to the butter/sugar mixture. Do not over beat batter, just mix until flour is incorporated. Fold in pistachio nuts. Cover and chill in refrigerator for 10 minutes.
Line baking sheet with parchment paper or silpat baking mat.
Drop cookie batter by teaspoonful a couple inches apart.
Bake at 350 degrees for 8-10 minutes for a chew cookie or 10-13 for a crisp cookie.
Notes
For a smoother more uniform cookie, chill dough for 1 hour in refrigerator then use teaspoon to scoop and roll into balls. Flatten slightly and top with crushed pistachios.