Famous for its uniquely dense texture, dark color, rich and robust taste; this is the cake that takes the cake. This beloved rum soaked fruit cake is highly revered and sought after during Christmas time as well as weddings and celebrations. If you've never had this cake, at first glance it may resemble that of a chocolate cake, but the deep dark color comes from the main ingredient- dried macerated fruits. Prunes, currants, raisins, and glaced cherries are chopped finely then soaked in red wine and dark rum for months and years on end. The fruit mixture is added to cake batter along with aromatic flavorings and warm spices. When baking, my home is fragranced with the cake's citrusy notes. It smells like Christmas is in the air.
Growing up, I remember having black cake at weddings and Christmas time. The black cake made for weddings always had a layer of almond paste and royal icing on top, then adorned with little silver sugar beads. I especially loved the piece of black cake that was right under the almond paste. Mmm! Whenever we baked it during Christmas time, we never iced. Nowadays, I think people make it the way they like.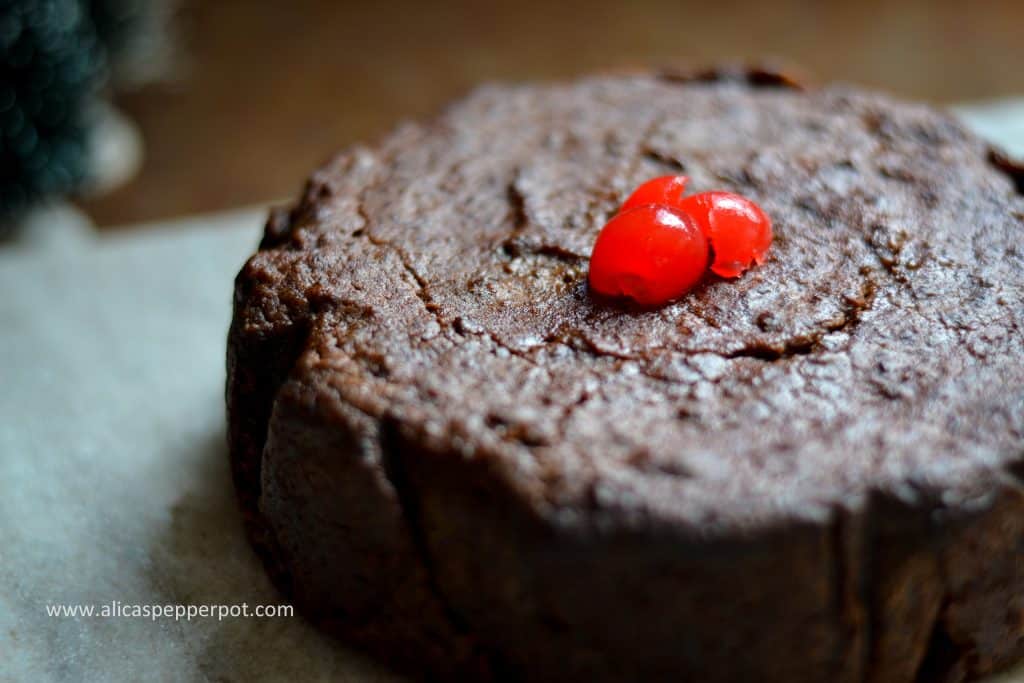 About The Recipe
Texture is the word to use when discussing black cake. I can't tell you how many times people refer to how the consistency of a black cake makes it a good one or bad. Recipes and techniques for black cake vary according to country and personal preference. Personally, a pudding-like texture is what I prefer. It's smooth and just melts into your mouth. Mmm, again.
I can't say this recipe is solely my mom's or grandmother's or anyone in particular. It is actually a combination of 5 or 6 people and my mom's old 1973 Guyanese cookbook, What's Cooking in Guyana. If you know someone who is a master at making this cake, you better hope they are kind enough to share their tips. It's one of those cakes where no one wants to tell you their recipe, and if they do, they don't tell you all the other crucial steps like how important a low baking temperature is, or how to make the burnt sugar to color the cake.
Mom and I have discovered so many tips over the years from people who were willing to share. When I told her that I want to share the black cake recipe this year on my blog, she said, "gyal, yuh give way all meh recipe dem." I laughed so hard, but she was happy to contribute.
Special thanks to the following people for sharing their tips and strategies with us:
Marlene - the Bajan woman who made the black cake for my wedding, also my aunty Mala's long-time friend. Her tip was to bake the cake at least 3-5 days before serving for optimum taste.
Pearly - My husband's grandmother. "Soak the cake with cherry brandy and good (quality) rum."
Miss Joan - My old co-worker. "Cover the cake with plastic wrap right after brushing with rum."
Do you have any tips for making a good black cake? Feel free to share in the comments below.
About the Fruit Mixture
We use a mixture of prunes, currants, raisins, and glaced or maraschino cherries. I think most dried fruit would work well in this cake. One year we even tried dried figs, but we ended up chewing the seeds throughout the cake. Needless to say we omitted it the following year. My dad usually grinds the fruit for us, he prefers to use a traditional food mill even though there are faster ways. I use a ninja blender. It has the grinding power to get the fruits to a smooth paste texture and it gets it done quickly.
We grind our fruits then soak with rum and wine. An alternative method is to soak the fruits whole and grind when ready to bake the cake. Avid black cake makers will swear by soaking the fruits for at least a year, while 3-4 months is good enough for others. No method is wrong here; just different, and based on preference.
If you did not soak fruits months ahead, you can also simmer the fruits in wine for about 20 minutes. Let it cool then macerate and combine with rum.
Know Your Oven
This is not a crumb type cake, it resembles more of a pudding so a high temperature is not needed to cook the cake. Some people bake this in a bain marie (water bath) to steam the cake. I have not tried this method, though. We've baked this cake anywhere between 275-300 degrees. My mom's oven heats very fast and can even overheat. Whenever I'm using her oven I have to reduce the temperature slightly because my baked goods seem to brown up faster than I'd like. I bake this cake at 275 in her oven for almost 2 hours, but if baking in my kitchen, it goes in at 300 for 90 minutes.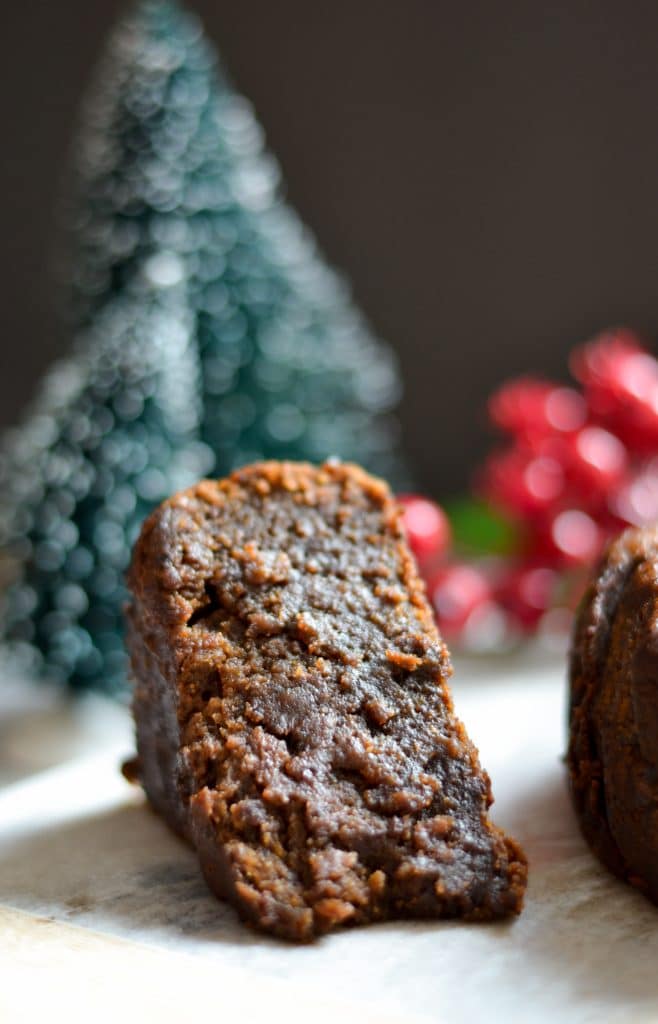 Mom's old Guyanese cookbook, What's Cooking In Guyana. This book has seen better days, but a little cake splatter here and there gives it character.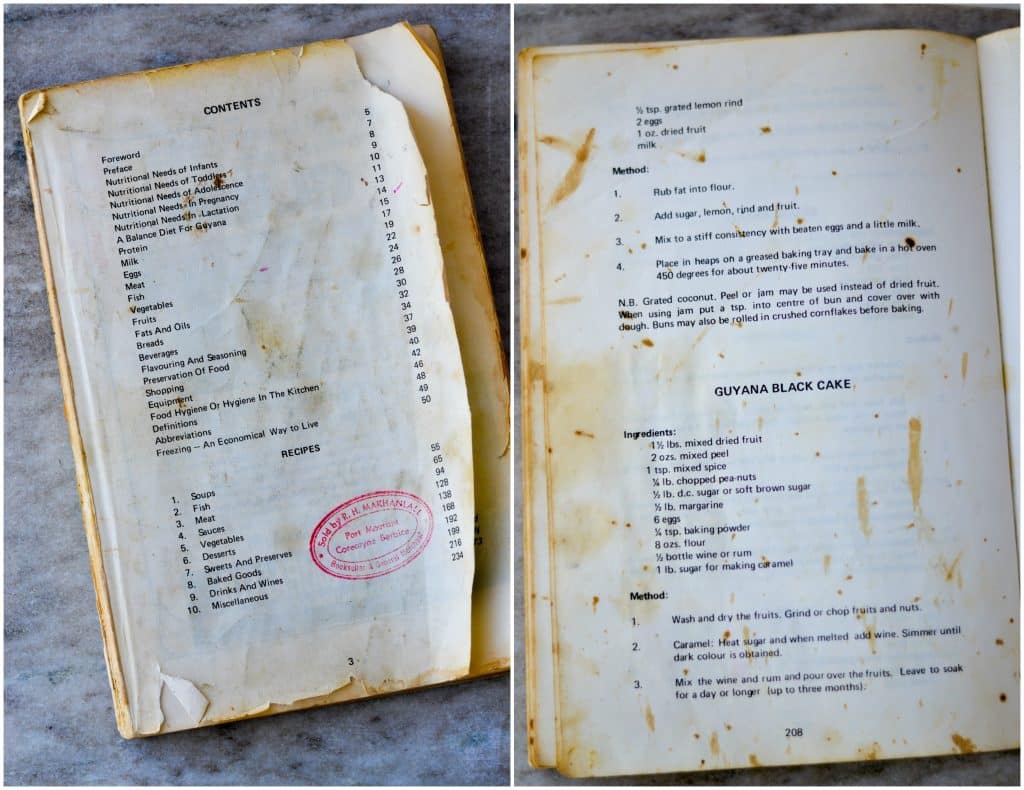 Make the coloring for the cake. This step can be very tricky. It is easy to burn the sugar to the point where it is bitter. I recommend practicing this step until you get it right or if you are not as comfortable, store-bought burnt sugar will work just fine. Let sugar cool before adding to cake.

After creaming the butter and sugar, add eggs then fruit mixture. Once fruit is combined, add flour. The batter will lighten in color again after adding flour.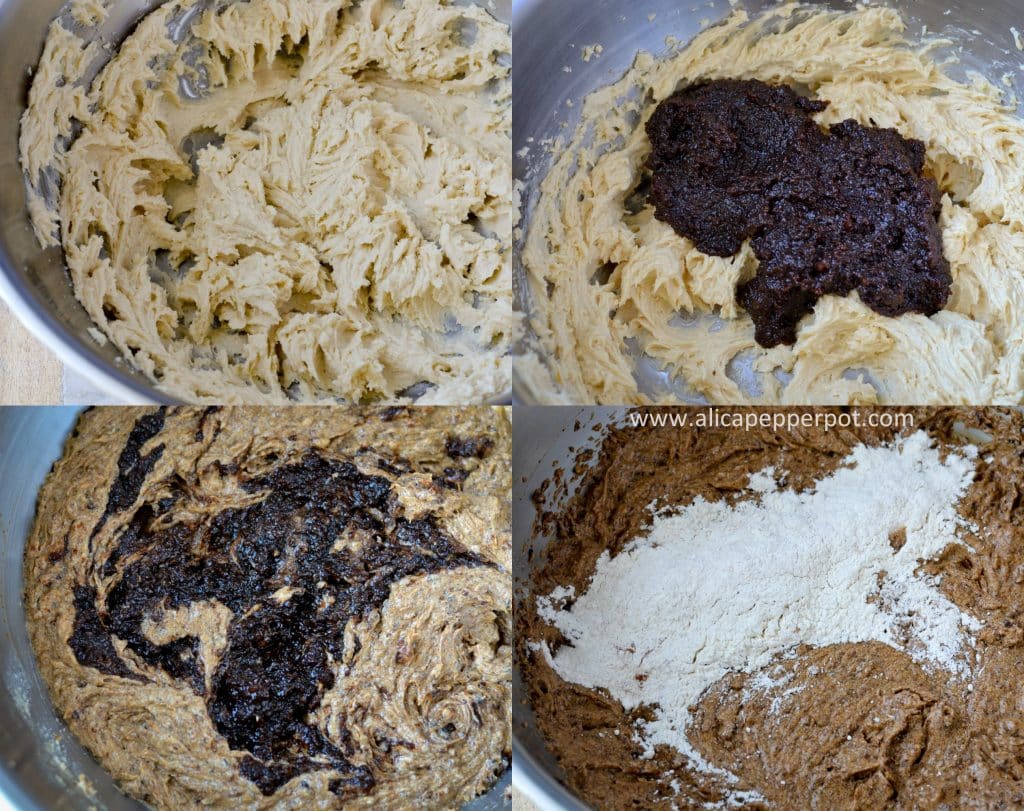 After adding flour, add burnt sugar to the cake. Add as much as you like until desired color is achieved.

I like to bake my cake in parchment paper. It works very well in keeping in the liquid when having to pour rum over the cake.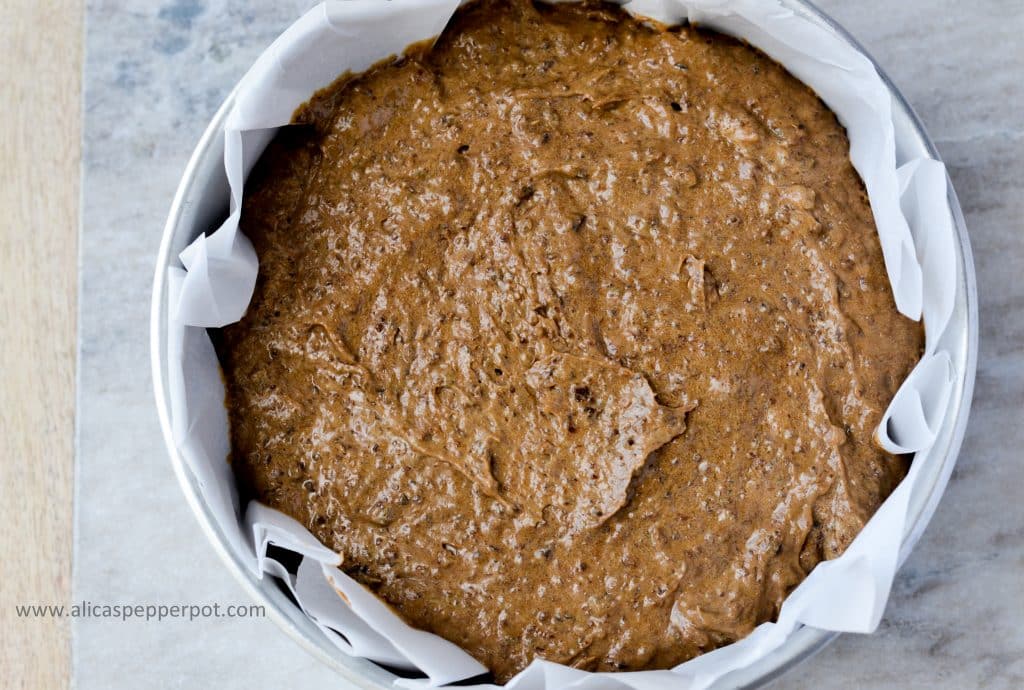 Bake cake anywhere between 275- 300 degrees for 90 minutes.
As soon as the cake comes out of the oven, pour the cherry brandy + dark rum mixture on top. Brush to distribute.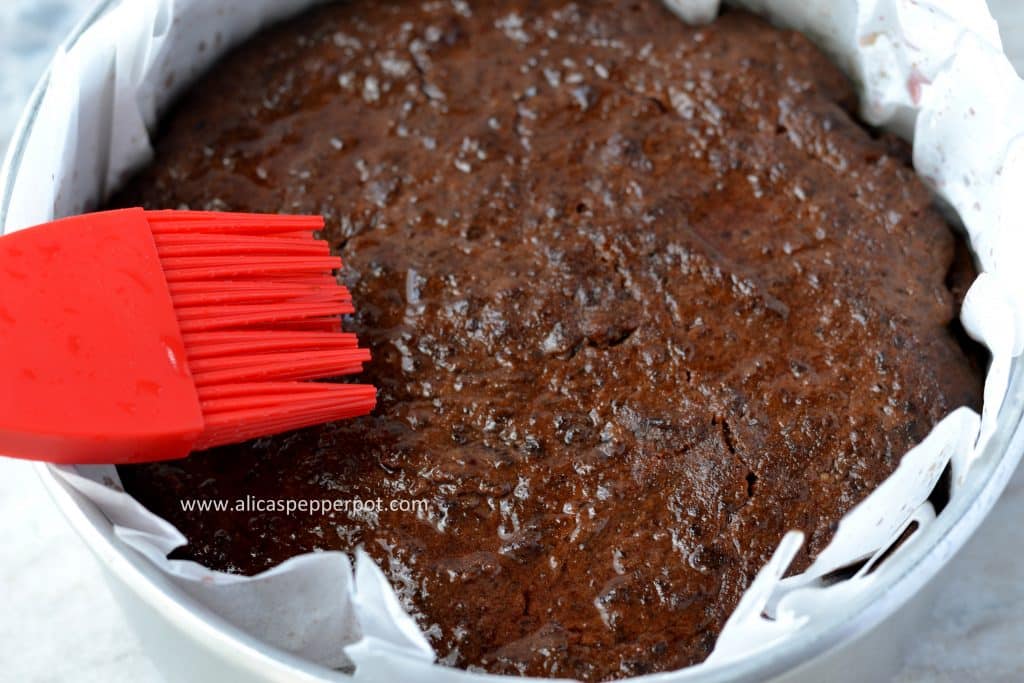 How we like our black cake:
It must have a pudding like texture, not stiff, rubbery, or dry
It must have just enough rum, not overpowering where you can't enjoy the cake
The cake must be baked at least 3 days ahead so it has time to dry for best flavor/texture
It must have a good height, we want a piece of cake, not a sliver
Royal icing for weddings and birthday parties; no icing for our black cake baked at Christmas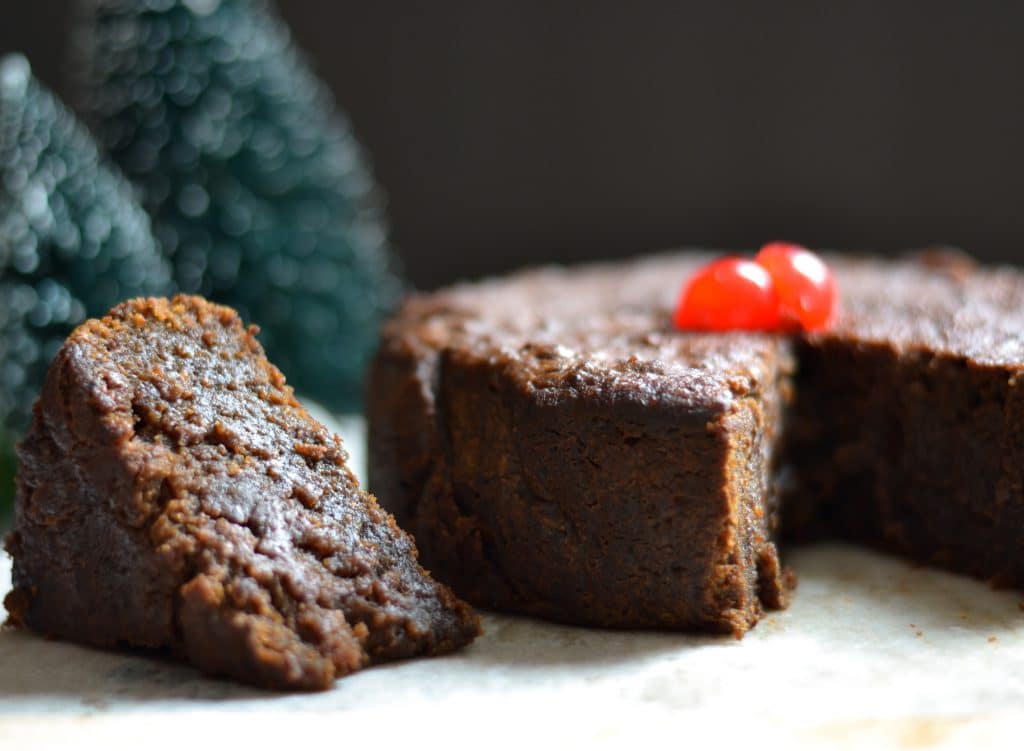 Tips:
Eggs and butter must be room temperature to help with even mixing.
8inch pan is the perfect size for me. The batter will fill 3 tins. 9in pans may be used, but make sure to adjust baking time. Bigger the pan, the less time needed to bake.
I like to line pans with parchment paper. It keeps the bottom of the cake moist and also ensures the cake absorbs all the alcohol mixture when poured on top.
When grinding fruits, make sure it is not lumpy. It should resemble a paste texture.
If using store-bought browning/burnt sugar, make sure to taste it first to ensure it is not salty.
You will have macerated fruit mixture remaining, this recipe only calls for 3 cups of the mixture and makes two cakes.
You will use up most, not all, of the port wine when macerating/soaking the fruit.
If you are not comfortable making your own burnt sugar, practice a few times. It can burn very quickly, so as soon as it gets very dark brown, remove from heat and add wine. Taste when cool to make sure it is not bitter. If too bitter, it will ruin the taste of the cake! Here is a great video on how to make your own burnt sugar - http://bit.ly/2AzGqFC
After brushing cake with rum/brandy mixture, let it cool a few minutes then cover cake with plastic wrap. Make sure plastic wrap touches cake. This helps to seal in the moisture. Leave plastic wrap on cake and once ever few days, add more rum/brandy mixture.
Non-alcoholic Black Cake
Another blogger friend of mine wrote a great post on non-alcoholic black cake. Check it out here: Halal Trini Black Cake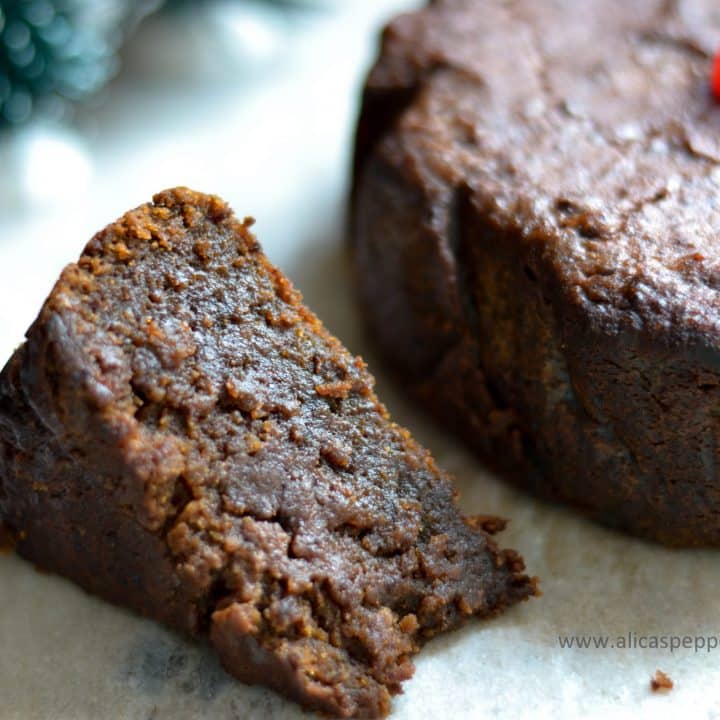 Black Cake (Caribbean Rum Soaked Fruit Cake)
Yield:
2-3 cakes 8 or 9in pans
Cook Time:
1 hour
30 minutes
Total Time:
1 hour
30 minutes
This beloved rum soaked fruit cake is rich, perfectly spiced, and decadent. You'll find yourself having a little piece each day until it's gone!
Ingredients
Macerated Fruit mixture
1 lb prunes, pitted
1 lb currants
1 lb raisins
8oz red glaced cherries
4oz mixed peel
Soaking
750mL bottle port wine (or another dark red wine)
3-4 cups white or dark rum
Keep one extra small bottle rum on hand
Browning
4 tbsp brown sugar
4 tbsp port wine
Cake batter
1 lb unsalted butter, softened (4 sticks)
1 lb sugar, demerara brown or white granulated (2 cups)
12 eggs
Zest of one lemon
Zest of one orange
1 tsp vanilla extract
1 tsp almond extract
2 tsp mixed essence
1 ½lbs macerated fruit mixture (about 3 heaping cups)
300g all-purpose flour (2 ½ level cups)
2 tsp baking powder
1 ½ tsp ground cinnamon
½ tsp ground nutmeg
¼ tsp ground all spice
¼ tsp ground clove
Alcohol mixture to pour on top
¼ cup dark rum
¼ cup cherry brandy
Instructions
Fruit Mixture
Wash and dry all fruits. Mix together in a large bowl. Place fruits a little at a time in a food processor, food mill, or ninja blender. Add enough wine to grind fruits to a paste. Repeat process until fruits have been macerated. Fruit mixture should not be too watery. Add 3-4 cups dark rum. Stir and let mixture soak at minimum one week or even one year+. Adding more wine or rum periodically.
Make browning
If using store-bought burnt sugar, skip this step. Place sugar in a small saucepan. On low heat turn sugar with a spoon until it begins to caramelize. Once dark brown, add wine and remove from heat. Let cool completely.
Make batter
Preheat oven to 275 or 300 degrees F.
Line 3-8in or 2-9in baking pans with parchment paper. Trim paper and set aside.
Bring eggs and butter to room temperature.
Crack eggs into a separate bowl one at a time, Remove little white membrane from each egg (optional). Beat in zests, vanilla, almond, and mixed essence. Set aside.
In a separate bowl, mix all dry ingredients. Set aside.
In deep mixing bowl or stand mixer, cream butter and sugar until pale. Add eggs a little at a time. Blend well.
Of the macerated fruit mixture, add 1 ½ lbs (3 heaping cups) a little at a time, continue blending.
Add flour mixture a little at a time- fold in with a spatula. Add 1 tbsp burnt sugar at a time until desired color is achieved. If using store bought burnt sugar, 4 tbsp should suffice for a very dark cake. Mix well.
Pour batter into lined cake pans.
Bake anywhere from 275-300 degrees F for 80-90 minutes. When cake come out of oven, pour alcohol mixture on top. When cool, cover cake with plastic wrap. Flavor is best after a few days.
Notes
1lb fruit mixture is traditionally used, you can try this recipe with these changes to see if it meets your preference. If you did not soak fruits months ahead, you can also simmer the fruits in wine for about 20 minutes. Let it cool then macerate and combine with rum. 
Batter may be split in 3 smaller cake pans.
After removing cake from oven, it may seem it is under cooked. Do not be alarmed as this is how it is supposed to be. After 2-3 days the texture will change.