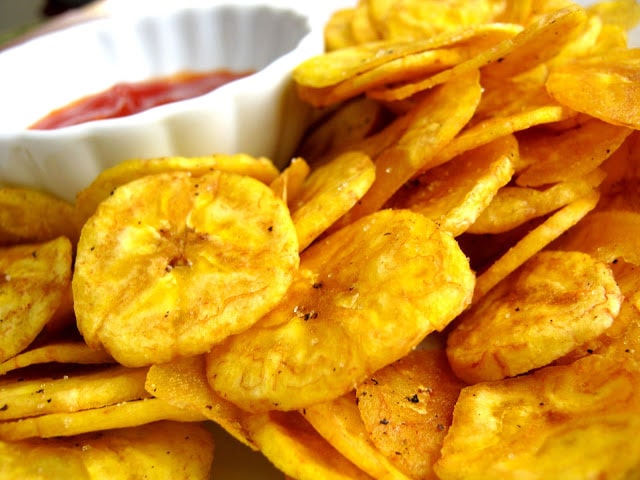 This is one of my all-time favorite Caribbean snacks and if you are from the Caribbean, then you must surely recognize these chips. Growing up, plantain chips was a staple in my house. Whether guests were over or we just had extra plantains that we didn't want to get ripe, my mother had no problem frying up a batch of these chips. I used to always love eating these with ketchup and hot pepper sauce, some people like theirs with different types of condiments like garlic sauce or mango chutney. They are also just as tasty without any sauce.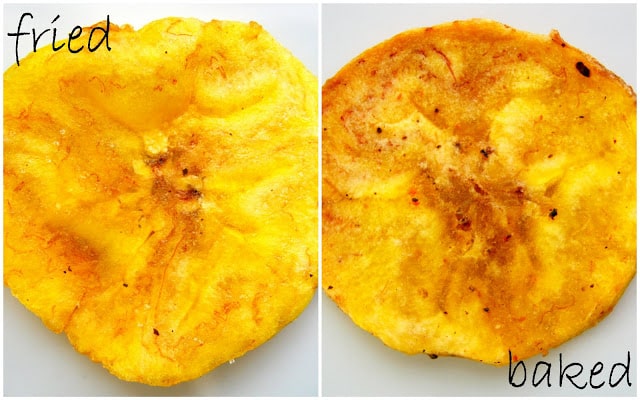 If you are from the Caribbean then you know our foods are very carbohydrate intensive. Everything we eat is either served with rice or some type of heavy carb like roti or fried dough. It's sometimes difficult to make our favorite dishes healthy without compromising the taste, but since we are all moving towards a more healthy America, then the least we could do is try right? Well today I decided that as much as I love fried plantains, I really want to bake them to see how different they would taste.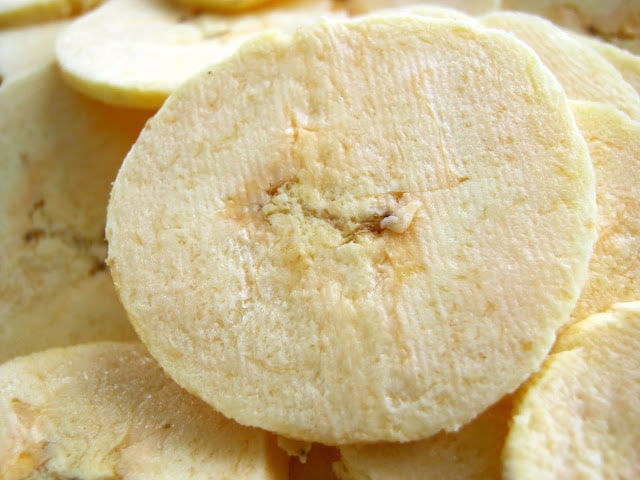 So what's the verdict? Bake or fry?
Baked plantain chips are a great substitute for those who want to avoid the calories from deep frying. The taste is the same, however the texture is very different. The baked version is much crispier and drier. You see when you fry a plantain chip, you get a nice golden crust while keeping the moisture inside the chip. When you bake a plantain chip, you are drying out the entire chip resulting in a crisp chip all the way through. If you can get past this one textural difference, then you are on your way to having a healthy version of one of your most favorite fried snacks!
What type of plantains should I buy?
You have two options. Completely green (which is what I used) or slightly ripe. Below is a picture of what slightly ripe looks like. It will still taste like a green plantain, except it will have a hint of sweetness. I grew up eating plantain chips made from completely green plantains so that is what I used for this recipe. One thing to note is that the greener the plantains the lighter in color the inside will be. If it is slightly ripe, when you fry the plantain, you will notice a deeper yellow color which comes from the ripeness.
I will go through two different process; baking and frying. You can follow through my pictorial instructions to see the difference.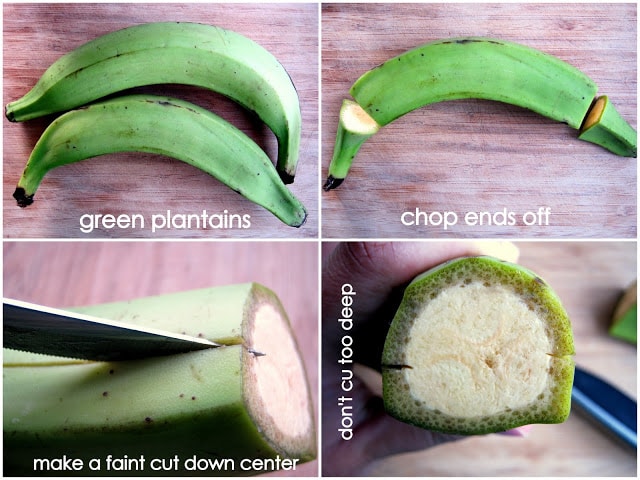 Use your knife to help you gently lift the skin off. Continue with your fingers to peel away the green skin.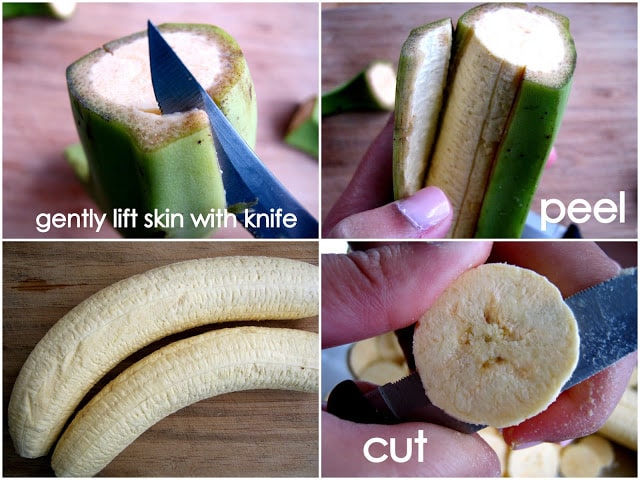 If you have a mandolin slicer, this will speed up your process. I don't have one so I cut these by hand. The thickness of your slices should be about ⅛in.or as thick as a nickel.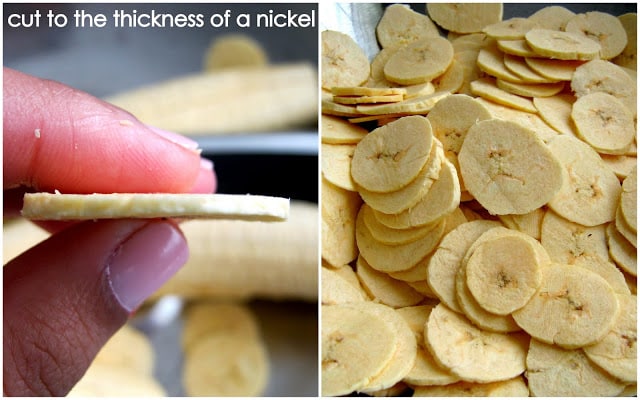 Spread on a baking sheet and bake at 350 degrees for 12 minutes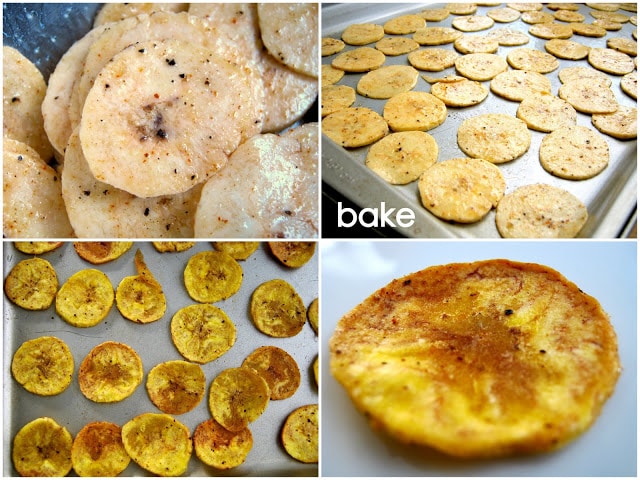 If you don't have a thermometer, just test by dropping one chip into the oil, you will know the oil is ready if the chip floats to the top almost immediately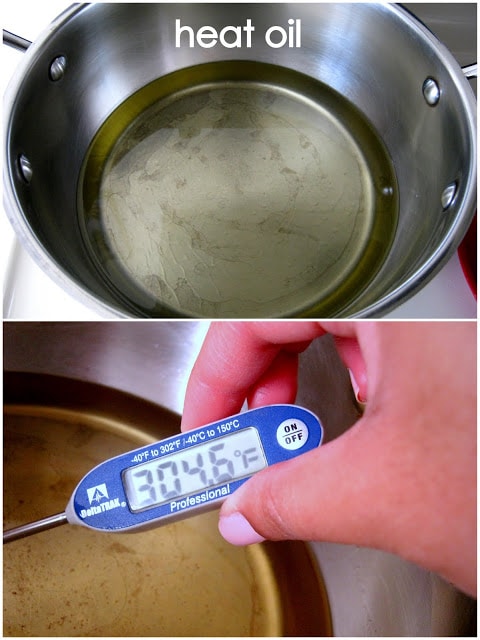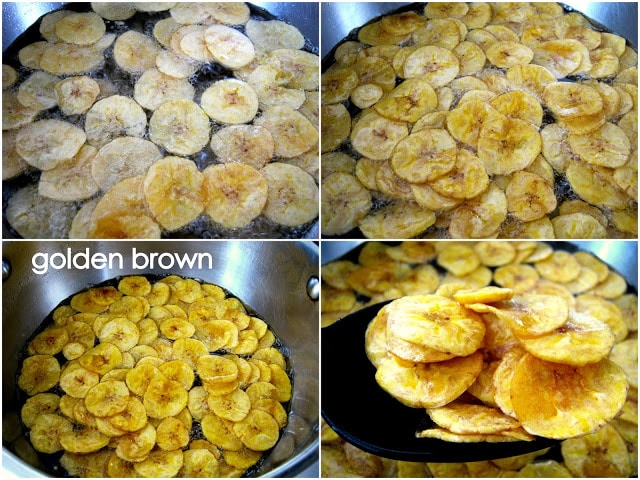 Prep your bowl by sprinkling salt and pepper on the napkin, when you throw the hot chips in the bowl it will make contact with the salt and pepper and stick to the chip.
Throw some additional salt and pepper and shake while still in the bowl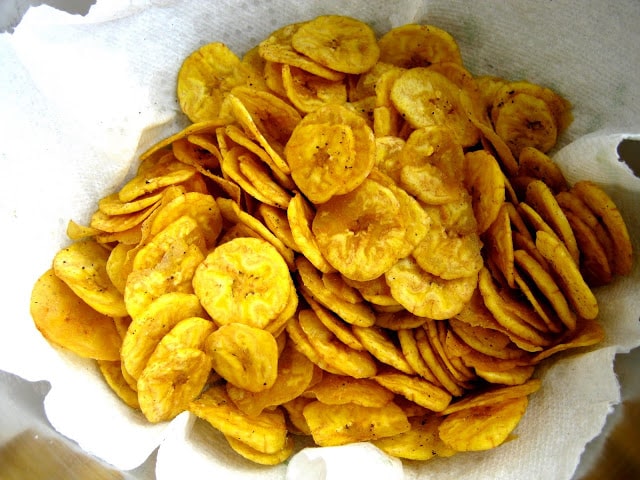 An idea for a dipping sauce
This is my favorite dipping sauce to eat with plantain chips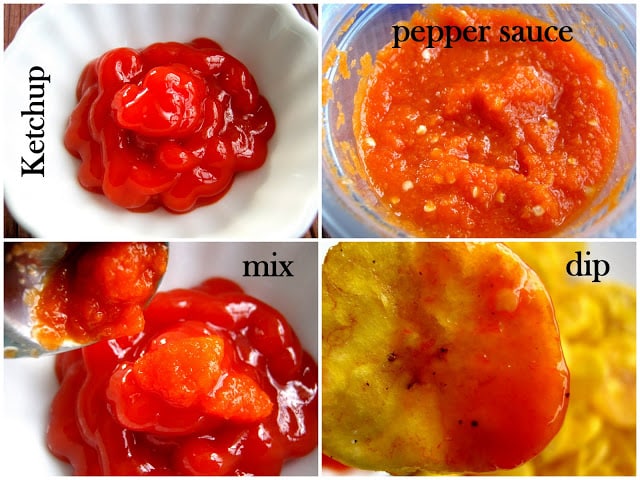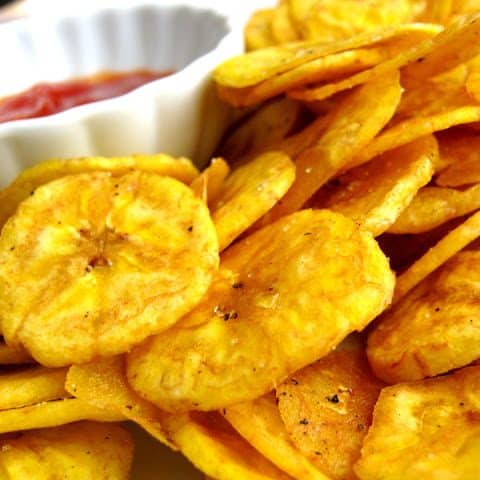 Plantain Chips: Baked or Fried?
Ingredients
For baking:
2 green plantains
2 tbsp olive oil
½ tsp black pepper
½ tsp salt
dash of cayenne pepper
For Frying:
2 green plantains
dash of salt
dash of black pepper
canola oil for frying
Instructions
For baking:
Preheat oven to 350 degrees.
Slice plantains and place in mixing bowl.
Mix olive oil, black pepper, salt, and cayenne pepper together, pour over raw plantains.
Spread on a baking sheet and bake at 350 degrees for 12 minutes, checking after 8 minutes.
You may not be able to fit all the plantains on one baking sheet, so you can bake these in 2 separate batches.
For Frying:
Heat oil on low-medium in a deep frying pan while you are slicing the plantains.
Peel and slice plantains and place into a mixing bowl.
Once the oil is hot, drop batches of plantains in the oil stirring frequently in the beginning so that they don't stick together.
When the first batch is done, toss with the salt and pepper mixture.
Sprinkle a little salt and pepper after every batch is done the frying.