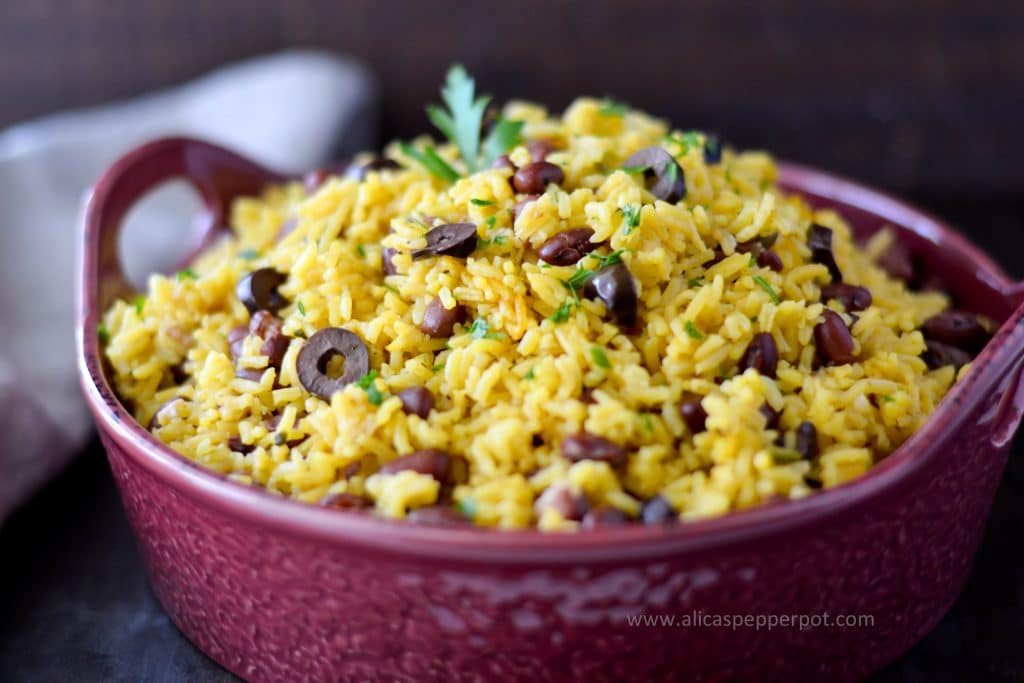 One thing I love about the year-round warm weather in Florida is we are constantly cooking outside or getting invited to backyard BBQ's. I particularly love when someone asks me to bring something specific to a gathering. It makes it easy on me and takes the, "what am I going to cook?" off my shoulders. One of the most requested dishes people have asked me to make is a tray of yellow rice. I'm always surprised by the request because for me, it is a fairly simple side dish to make. However, I've realized some may be intimidated by cooking rice, especially long grain rice as it is temperamental and can be easily overcooked; or if using parboiled rice, under-seasoned and hard.
What I love about this side dish is the versatility. I mean, it's rice, you can add whatever you like once you've gotten the cooking method down. People have told me the reason they love the way I make this rice is because it's light, flavorful, and loose with a nice kick. I believe the secret to the tastiness is in the cooking method and vessel. I always use extra long grain rice for this dish so getting the water-to-rice ratio correct is imperative. How much water you use depends on the size of pot. I use a wide-bottomed, coated cast iron pot or non-stick. The water comes up about ⅓ of way covering the rice. Simmer on low then fluff with a fork. You can also use a rice cooker after seasoning the rice. Check out some other tips below on how to cook this rice perfectly.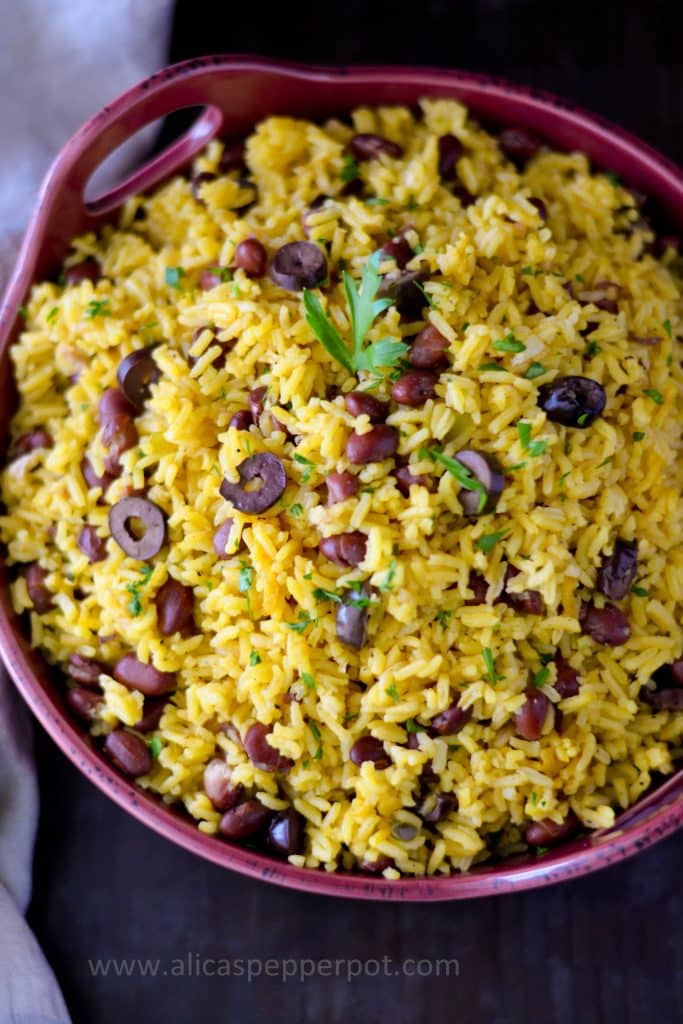 Quick Tips
This type of rice is excellent for making yellow rice or fried rice. It's light and loose, and also retains flavor very well. The trouble is it can overcook easily. Here are some tips I've found very useful in cooking yellow rice or any rice that uses a simmering method specifically:
Cook rice in a wide bottom pan. It gives rice room to spread and where the rice isn't packed on top of each other.
If you're not comfortable cooking rice, using a non-stick pot can be very forgiving and help prevent burning.
Always wash rice before cooking to remove sticky starches and sediments.
Cook on low heat. Do not open lid for first 15 min.
After cooking, spreading rice on a baking sheet, roasting pan, or long foil pan helps rice to cool evenly. Run fork back and forth over rice to loosen up. Let rice cool off before spooning into a tray.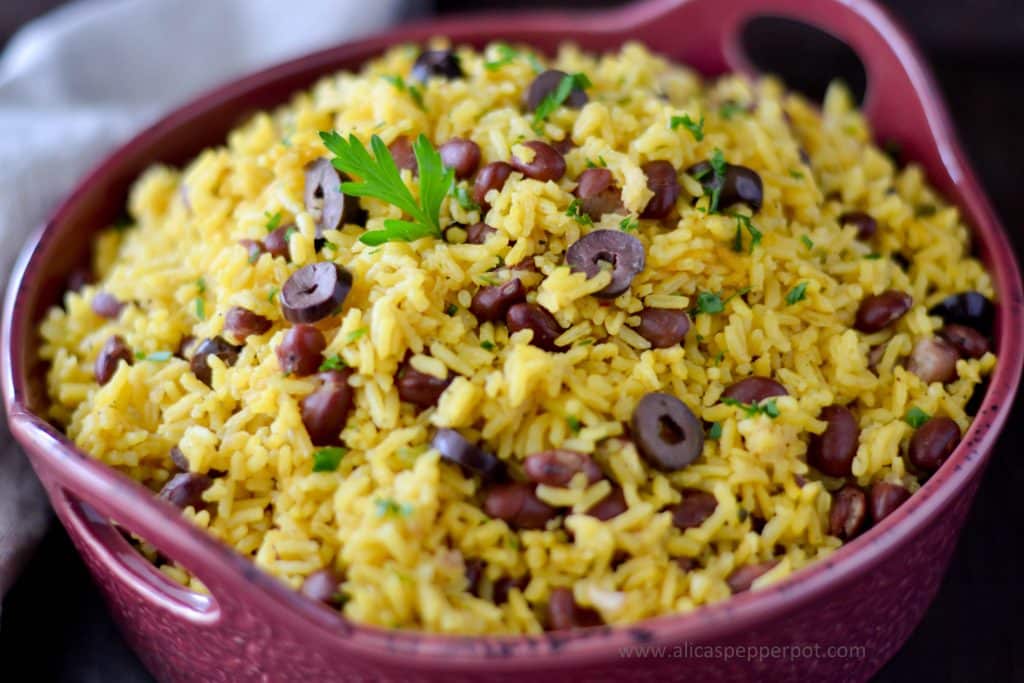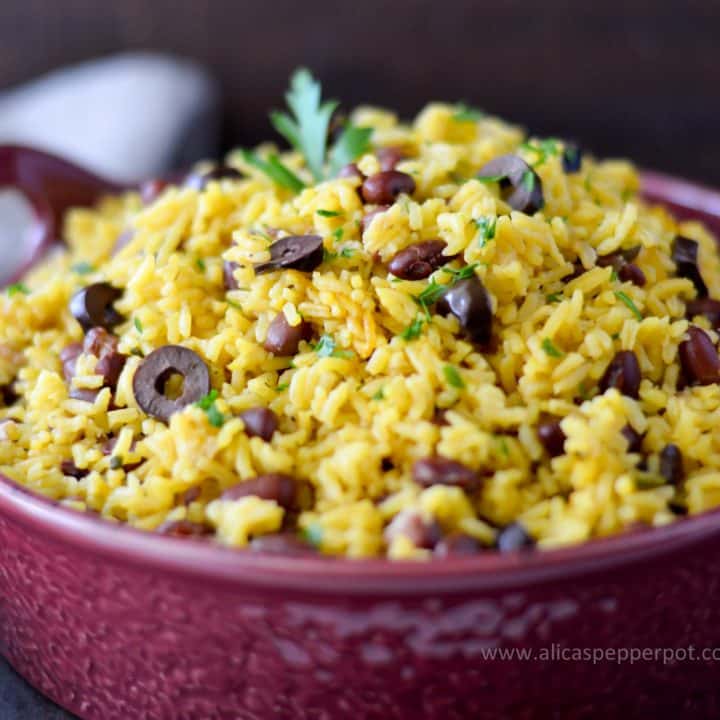 Yellow Rice & Beans
Yield:
5 cups cooked (about 10-12 servings)
This recipe for Puerto Rican-style rice and beans is flavorful and easy to make. Serve it as a side dish or even a main meal where all you'll need is a fork!
Ingredients
2 ½ cups extra long grain rice
1 packet sazon seasoning
2 teaspoons adobo seasoning
½ teaspoon salt
½ teaspoon paprika
½ teaspoon garlic powder
Handful of fresh parsley, cilantro, or thyme, chopped
½ cup green pepper, finely diced
½ cup red pepper, finely diced
10-12 kalamata olives, sliced
1 can 15.5oz red beans, drained and rinsed
2 tablespoons neutral oil like avocado or canola
Enough water to come ⅓ of the way up pot
Instructions
Rinse rice until water runs clear. Set aside.
Heat oil in a non-stick pot or enamel-coated cast iron pot. Saute green seasoning or onion, garlic, and thyme for a minute or two.
Add rice, sazon packet, adobo, salt, paprika, garlic powder, and herbs. Stir until rice is completely coated with the seasonings.
Add peppers, olives, and beans. Mix well. Pour water over the rice covering about ⅓ up the pot.
Bring to a boil for 2-3 minutes, then reduce heat to low and let simmer for 20-22 minutes.
When rice is done, fluff with a fork, then spread on a baking sheet or long aluminum foil pan. Allow rice to cool.