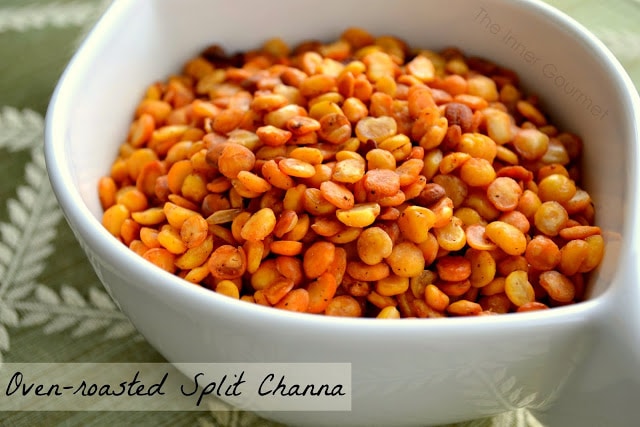 One of the greatest benefits of this blog is that I get to meet new and wonderful people almost everyday. Your emails, comments, and messages all help to encourage me to keep posting new recipes and experimenting with how to make our traditional foods a little bit healthier. Last week I received a message from a new visitor, her name is Michelle Walters. She explained that she tried the Oven-roasted Channa and that her daughter really loved it. The best part for her was knowing that it was roasted and not fried. She then asked if she could do the same with another one of her favorite snacks, split channa. I've always believed if you could fry it, you could certainly bake or roast it.
WHAT IS SPLIT CHANNA? Split channa is usually made with chick peas that have been split in half by hand. Because it can be labor intensive, yellow split peas is also used and sometimes called by the same name since it bears very similar resemblance to the chick pea (when split). Take a look here. Split channa is a crunchy snack that is usually fried then tossed in garlic powder, salt, and black pepper. It is sold in large bottles and is quite addictive once you get your hands on it. The protein content in split peas and chick peas makes this snack a healthy option, except for the fried part of course.
I did not want to spend most of the day splitting chick peas by hand so I opted to use split peas instead. I went off to experiment with how to roast these peas with the goal of mirroring a similar texture to that of the fried version. THE VERDICT So how does the roasted version stand up to the fried version? Well, it tastes very close in texture. When frying, moisture is added, when roasting moisture is removed, leaving a drier texture. I felt the peas were a littler harder than the fried version, there were also a few soft ones here and there that resulted from uneven roasting on the pan. My advice is to turn the peas every five minutes to ensure they bake evenly.
The peas on the end of the baking sheet tend to roast faster than those in the middle. Everyone's oven temperature varies slightly, so play around with the first batch to see how it works for you. If you want a healthier version of this snack and can get past that they are slightly harder than the fried version, you will have yourself a very tasty and protein rich option, all without the guilt! Have fun and please email me if you have any questions at innergourmet@gmail.com Michelle - Thank you for inspiring this post!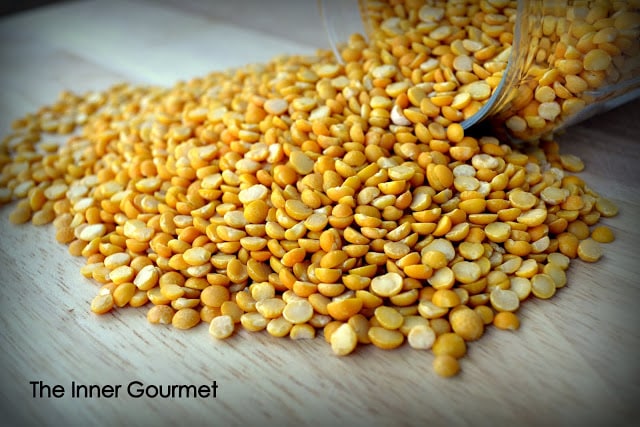 I made 2lbs of peas which is two bags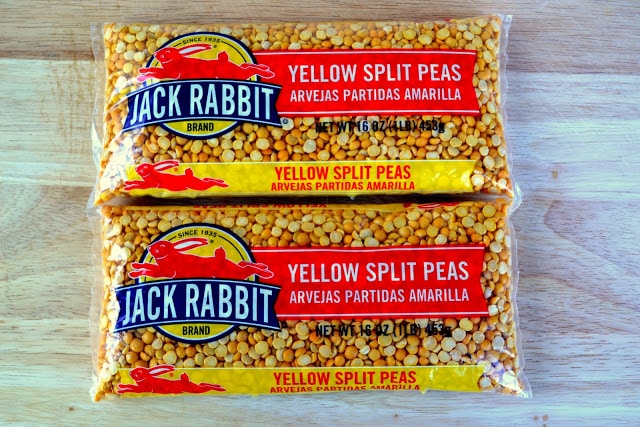 Pour peas into a very large mixing bowl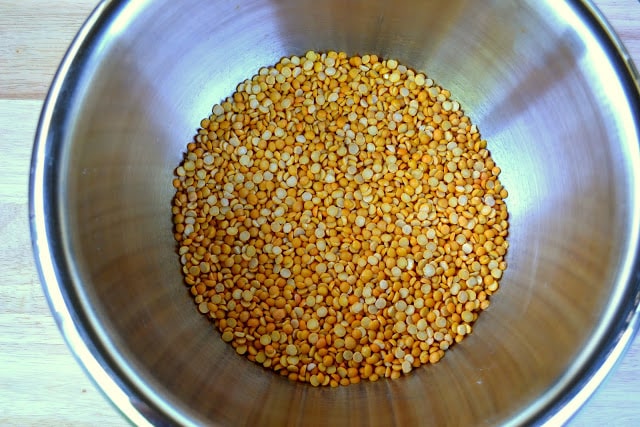 Add enough water to come ¾ of the way above the peas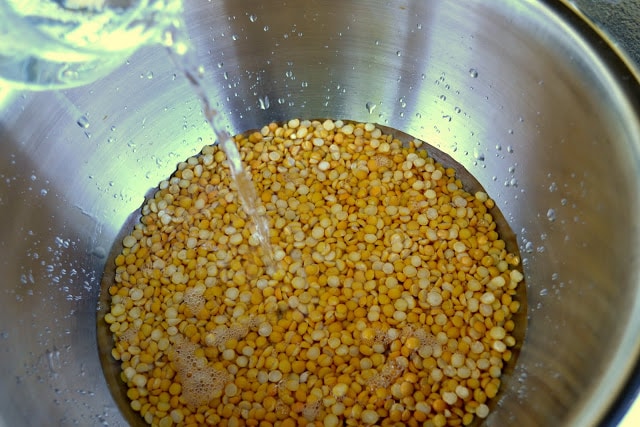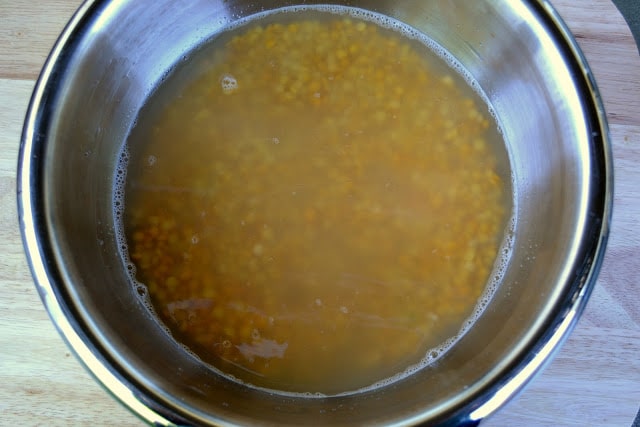 Cover with aluminum foil and leave for a minimum of 6 hours or overnight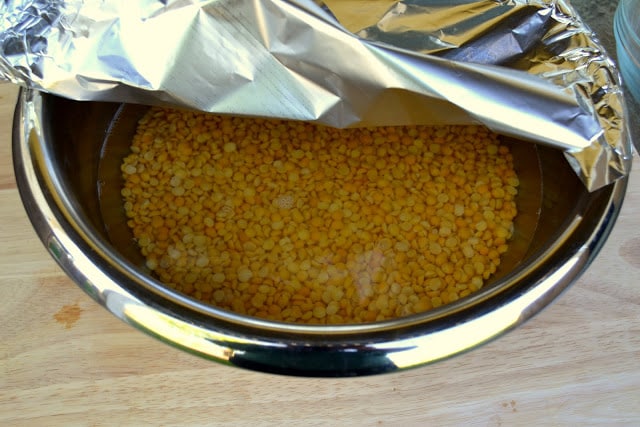 The next morning...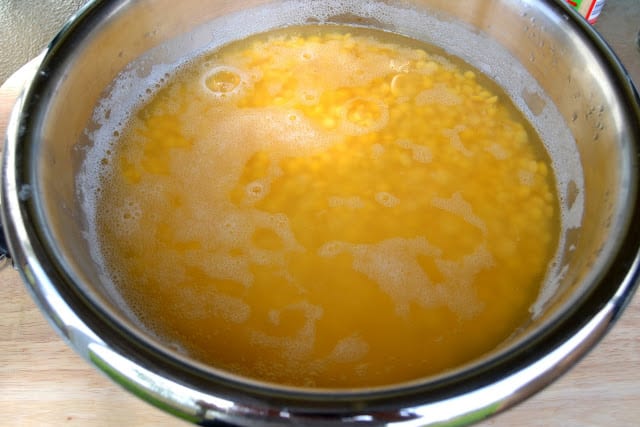 We have now reconstituted the peas. See how plump they look?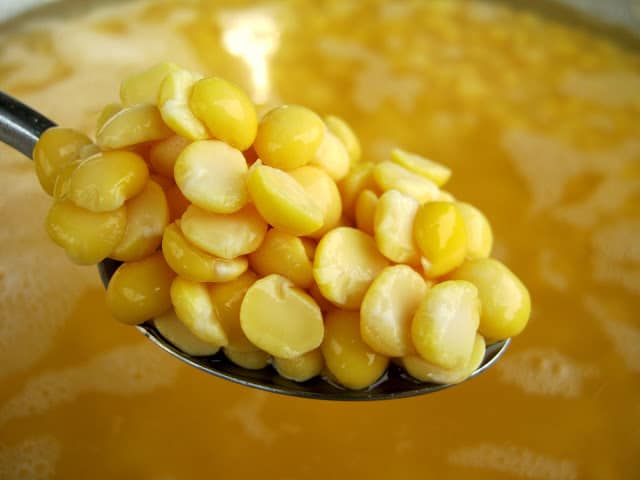 Rinse and drain peas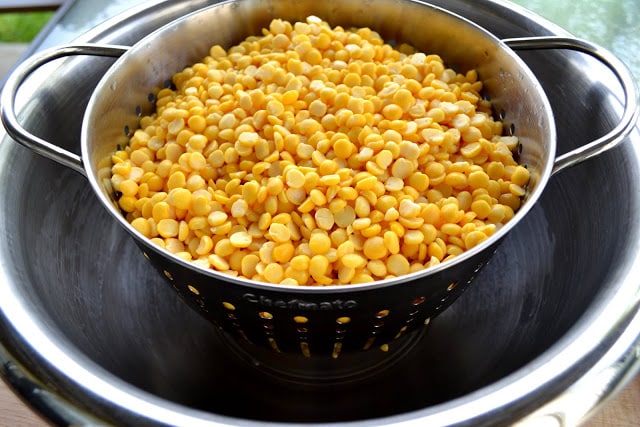 Dry peas with a few paper towels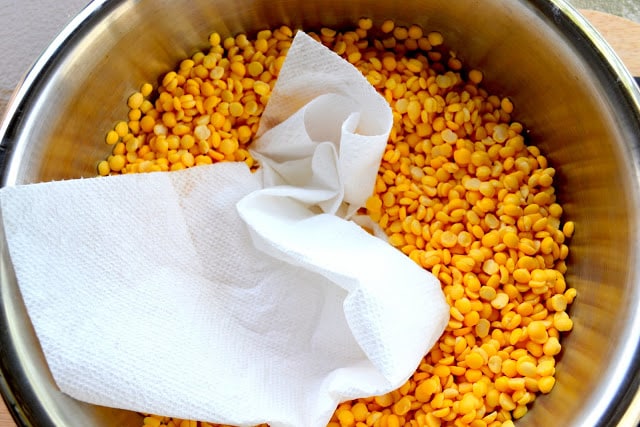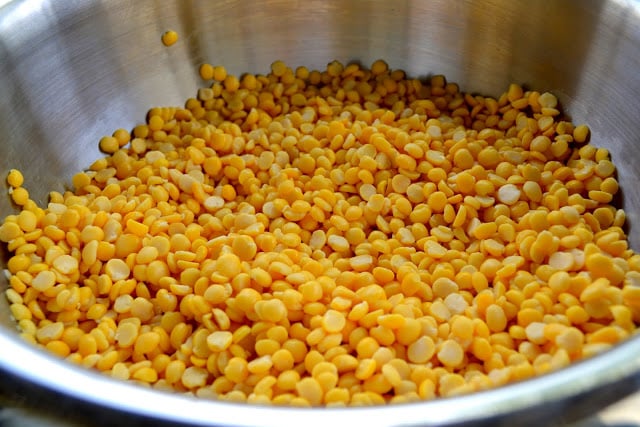 Add your seasonings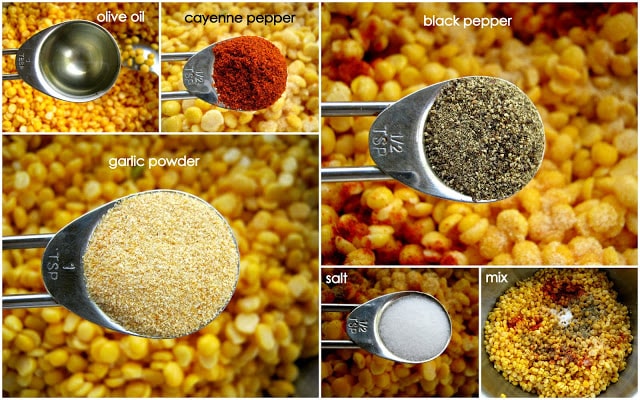 Mix thoroughly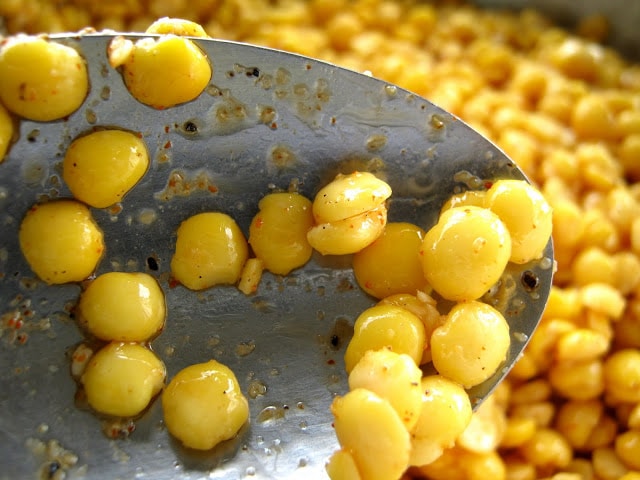 Place peas onto a baking sheet. 2lbs is a lot, so you will have to separate this into four baking sheets or bake them in 2 batches. Try not to spread too much peas on one baking sheet.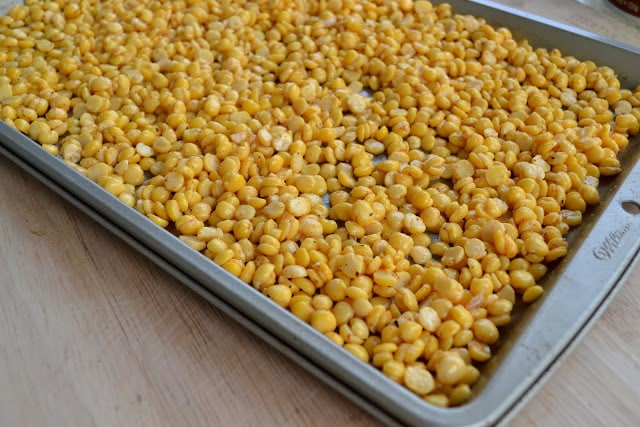 Roast in a 400 degree oven. After 10 minutes turn peas every five minutes for 25-30 minutes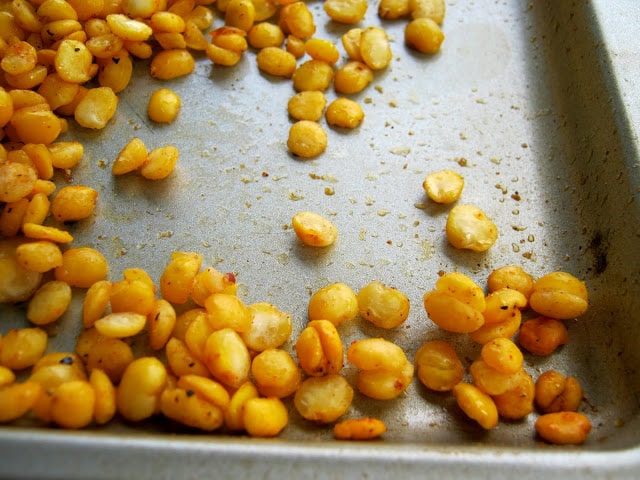 Still needs more roasting...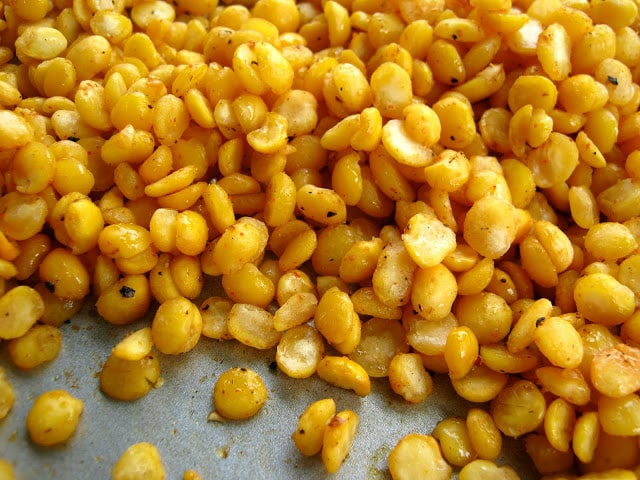 Until it looks like this!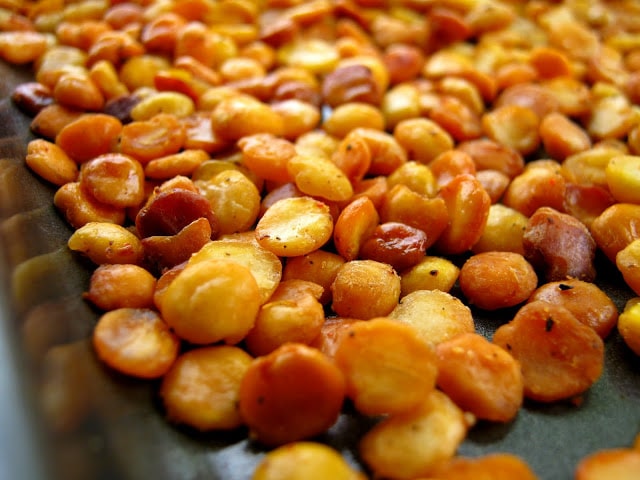 Split Channa: The not-so-fried way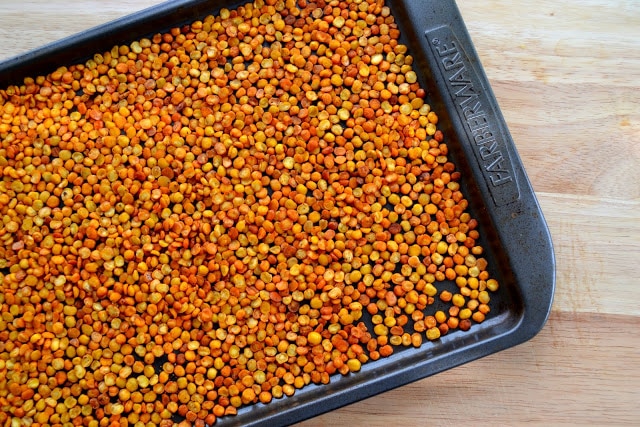 Oven-roasted Split Channa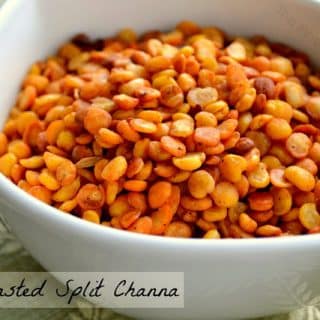 Split Channa: The not-so-fried way
Ingredients
2lbs split peas
6 tbsp olive oil
1 tsp garlic powder
½ tsp black pepper (I added more later)
½ tsp cayenne pepper
½ tsp salt (add more to suit your taste)
Instructions
In a large mixing bowl, soak peas with enough water to come ¾ of the way up the bowl. Let sit for minimum 6 hours or overnight.
After peas have plumped, drain and rinse peas, put peas back into mixing bowl.
Dry peas thoroughly with paper towels.
Add olive oil, garlic powder, black pepper, cayenne pepper, and salt (after peas are done roasting, you can add any additional salt, black pepper etc. to suit your taste).
Divide peas among four baking sheets and roast at 400 degrees for 25-30 minutes. After 10 minutes of roasting, turn peas with a spatula every five minutes for the rest of the time until peas are golden to dark brown.
Notes
Some peas may be soft, this is due to uneven baking in the oven. Make sure to turn peas frequently as the peas on the end of the baking sheet will roast faster than in the center. I also placed my baking sheets on the second to last rack in the oven.
Hey, why not?