Sweet rice, also known as Kheer, is a thick rice pudding that has been flavored with spices such as cinnamon, nutmeg, and cardamom. It is sweetened with sugar or condensed milk and served warm or cold. This tasty rice pudding is typically served at Hindu or Muslim religious functions as a dessert. It can sometimes be eaten with puri, which adds another layer of texture and flavor. This is a special recipe, as it belongs to my grandmother. I have yet to taste a sweet rice recipe that is as good as hers. It has the perfect balance of sweetness, creaminess, and flavor.
Being Hindu and growing up in a Hindu home meant helping my mom and grandmother cook traditional foods for our Jhandi's or Pooja's (this is what we call a prayer service). We would invite all of our family members, friends, and neighbors to the prayer service and prepare delicious foods to serve afterwards. My mom would make all of the traditional foods that are typically served at a Hindu prayer services. "Jhandi food" as I like to call it, includes seven different types of curries, rice, dhal puri, roti, along with even tastier desserts/sweets such as peera (fudge), mithai, and sweet rice.
The one dessert that I was always drawn to was my grandmother's sweet rice. It seems this may be an easy dish to make, but the truth is, at any point during the cooking process, things can go haywire. Mishaps such as under cooking the rice, adding too much rice for the amount of milk, and even adding too much sugar are all factors that can mess up the entire dish. Until I made all of the above mentioned mistakes, it made me appreciate my grandmother's careful attention to making gigantic pots of this wonderful pudding without any said errors. Now that she lives in India, it is hard to watch her cook and jot down measurements as she goes, but fortunately for me (and you) my aunt has mastered my grandmother's recipe so I was able to document it for all of posterity. Yes, it's that serious 😉
Here is her delicious recipe, I hope you enjoy it as it means so very much to our family!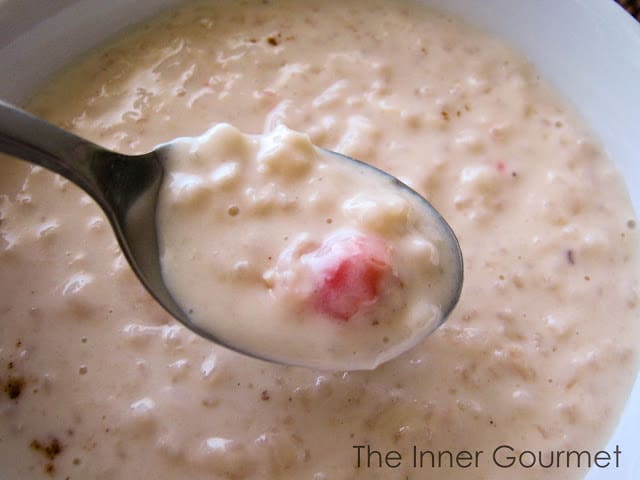 You need white long grain rice for this dish. This is the brand we use.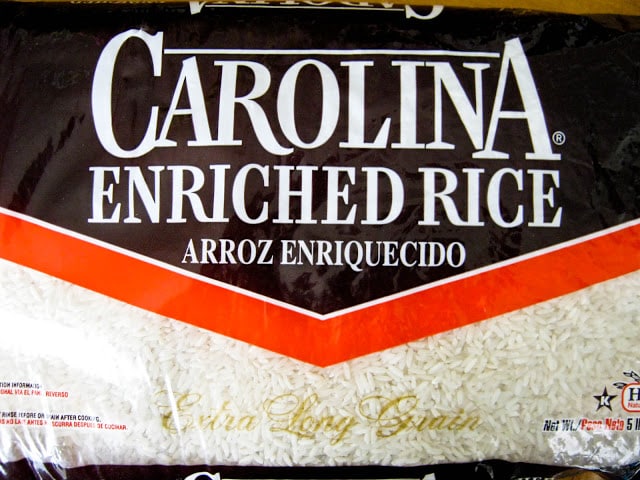 Measure ½ cup of rice. I couldn't find my dry measuring cups, don't judge me 🙂 Rinse the rice until the water runs clear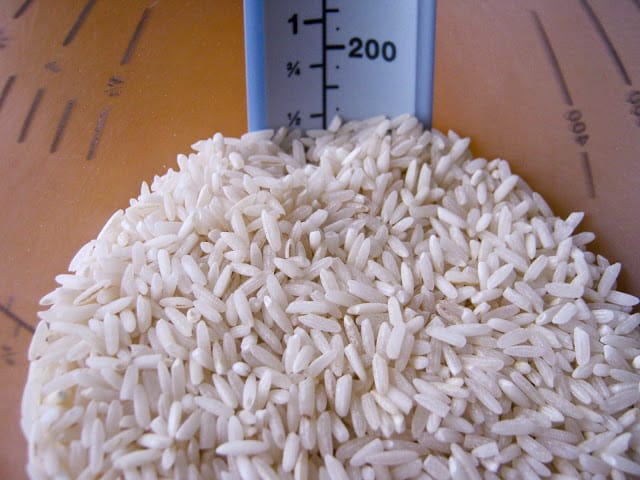 Start with 3 cups of water. Bring to a medium boil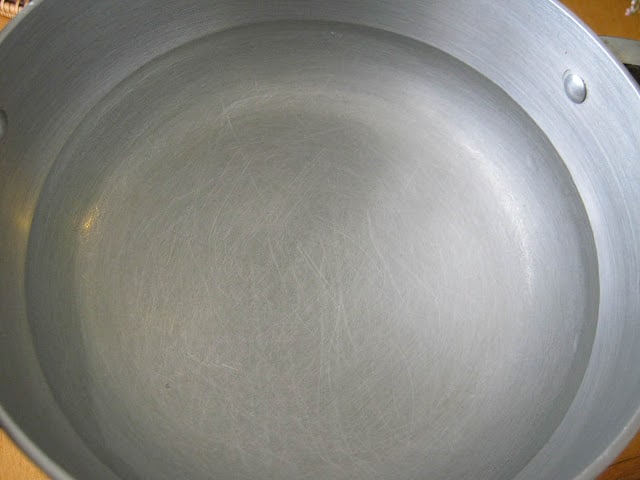 In a separate bowl, combine rinsed rice with 1 stick of cinnamon, ½ tsp cardamom, and a dash of nutmeg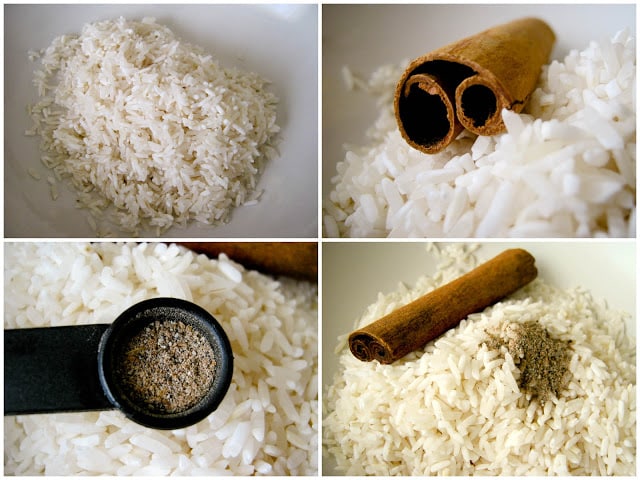 Add rice with spices to water.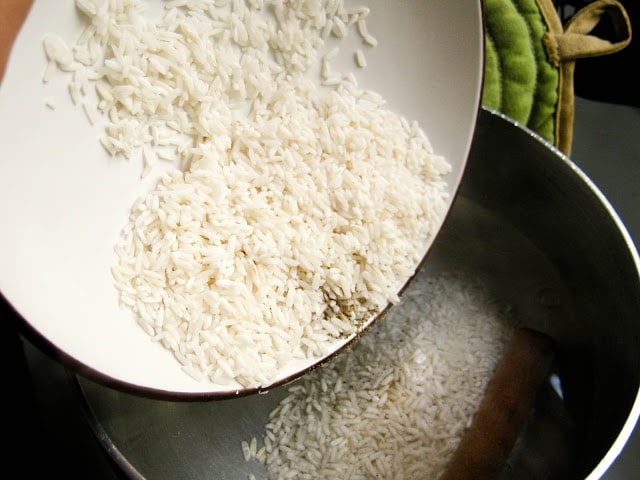 Make sure rice is cooked completely before adding milk. If you need to add more water a little at a time to rice, do so. When is completely cooked and begins to look soupy, add 1 cup of whole milk along with any cherries or raisins you may be adding. Stir and let the mixture simmer for about 10 minutes
After 10 minutes of adding the whole milk, add one 12oz can of evaporated milk. Rice mixture will get loose and watery. Simmer for about 25-30 minutes until mixture gets thick like photo on the bottom right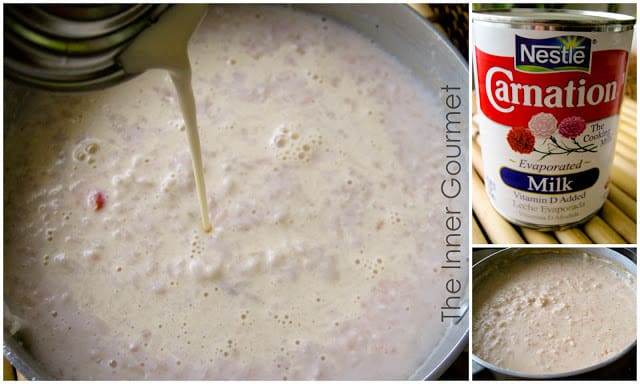 When mixture looks thick and lumpy as demonstrated below, add desired amount of condensed milk to sweeten. I added half the tin which is about 7oz.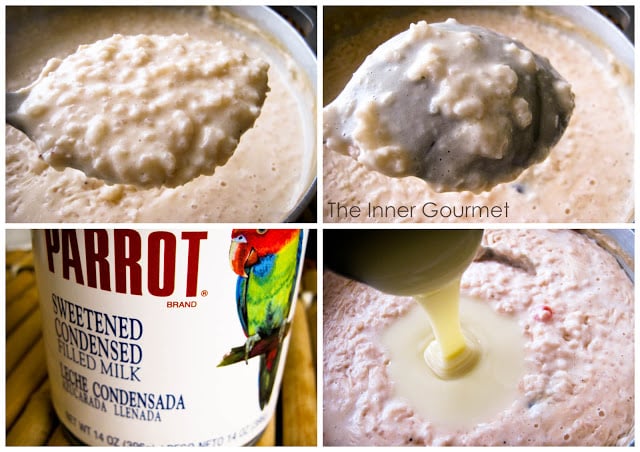 Oh the milky goodness...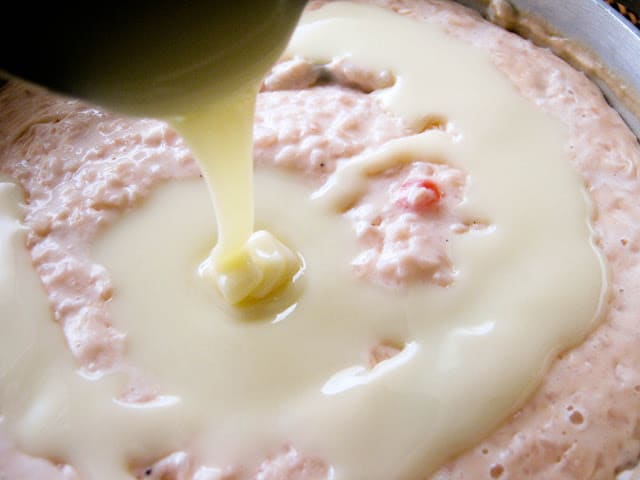 Done and done!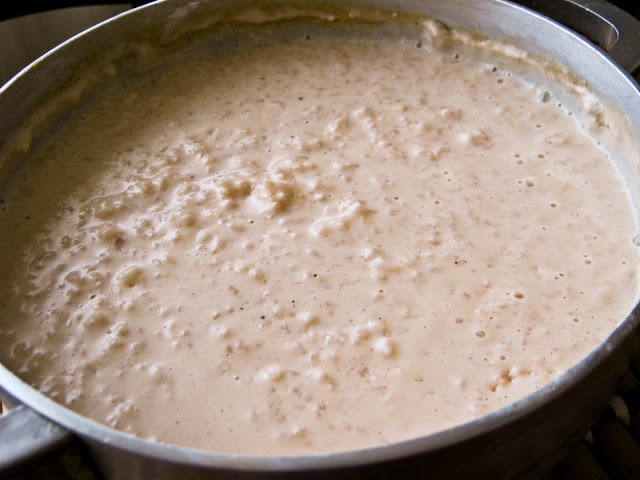 You can serve this warm or cold. I prefer it warm right off the stove!
SWEET RICE / KHEER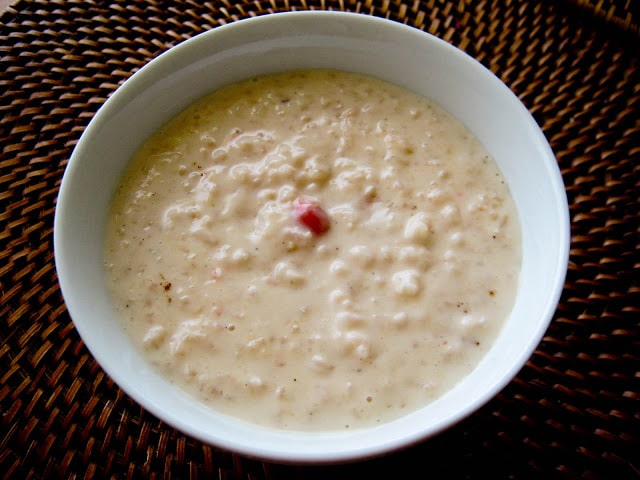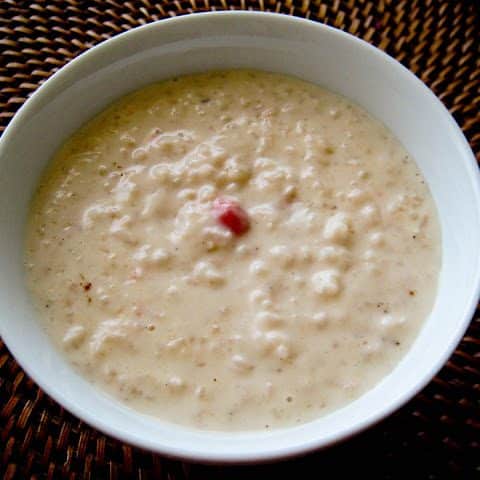 Sweet Rice / Kheer
Ingredients
3 cups water
½ cup long grain white rice
1 whole cinnamon stick or ½ tsp ground
¼ tsp ground cardamom or 2 pods
Dash of nutmeg
Dried cherries/raisins/nuts (optional)
1 cup of milk
1 12oz can of evaporated milk
Condensed milk to taste (about 7oz)
Instructions
Bring 3 cups of water to a medium boil. Add washed rice, cinnamon, cardamom, nutmeg. Let rice boil until cooked all the way through on medium heat. If needed add more water ½ cup at a time until rice is completely cooked. This step should take about 30 minutes.
Once rice is completely cooked, it will look soupy, add 1 cup of whole milk and reduce heat to low and simmer for 8-10 minutes. Add the desired amount of cherries or raisins/currants.
Add one 12oz can of evaporated milk. Rice mixture will look loose and watery after adding evaporated milk. Let simmer for 25-30 minutes on very low heat until mixture starts to get lumpy and thick. Stir frequently, but refrain from scraping the bottom.
When rice mixture is thick and lumpy and has a pudding texture, add the desired amount of condensed milk to sweeten. I added 7oz which is about half of the standard sized tin. Stir and enjoy!