First things first, who in the world knew you could eat these cute little pumpkins?! Definitely not I, until I saw a post on Broma Bakery's blog. I mean, talk about a centerpiece that doubles as a delicious side dish (or vice versa). I just can't get over them. The pumpkin flavor is quite mild which is nice- I can season however I like. These mini pumpkins are usually used for decorative purposes. My kids love painting them every Halloween season and we leave them on our table for show. What I love about these mini stuffed pumpkins is how easy they are to put together, and the versatility of the filling. Once you roast the pumpkins, any filling you choose is fair game. This is also a great side dish to help get your older kids involved. Have them cut the tops off and scoop out the insides, after that, just season and roast.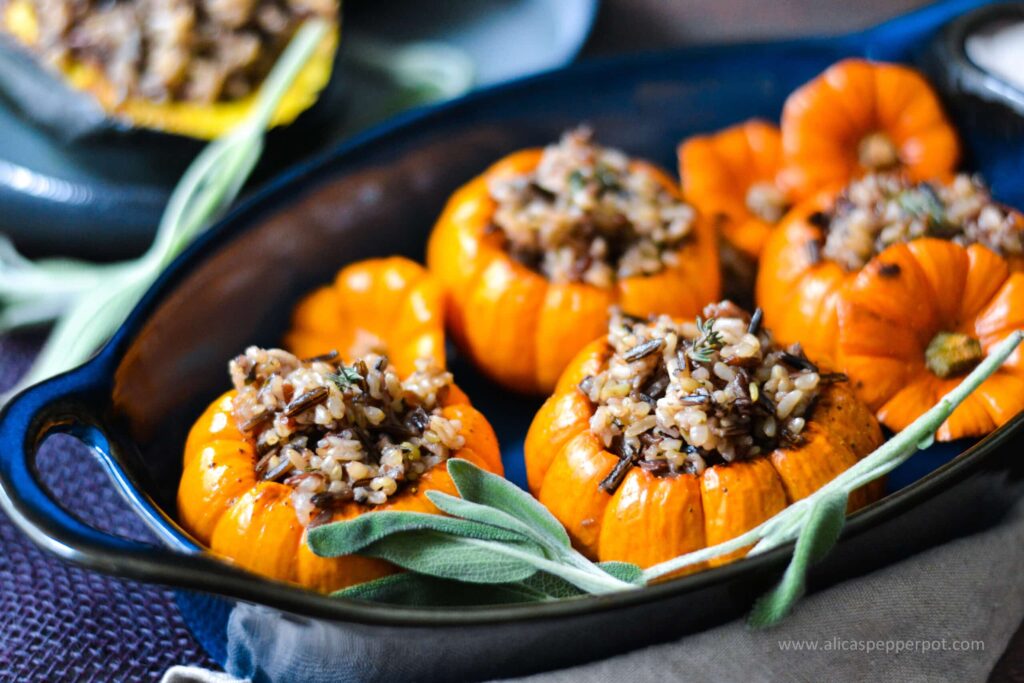 Make it your own
I used a wild rice mix for the filling, but don't stop there! Here are some other options that would be fantastic paired with these mini pumpkins:
Your favorite holiday stuffing mix
Pumpkin bisque or your favorite fall soup
You can even swap out the mini pumpkins for a larger sized gourd like the acorn squash pictured below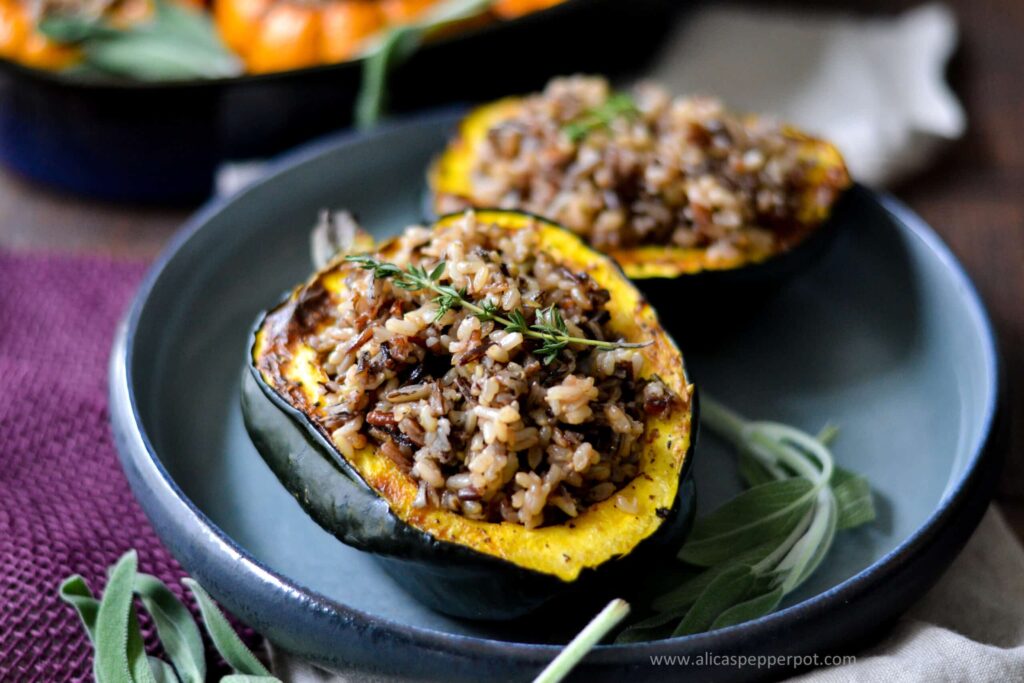 Pumpkin Prep
Cut the tops off, scoop out the insides. Season with black pepper, salt, or any all purpose seasoning. You'll want to make sure you season the pumpkins because the rice alone will not flavor the inside of the pumpkin.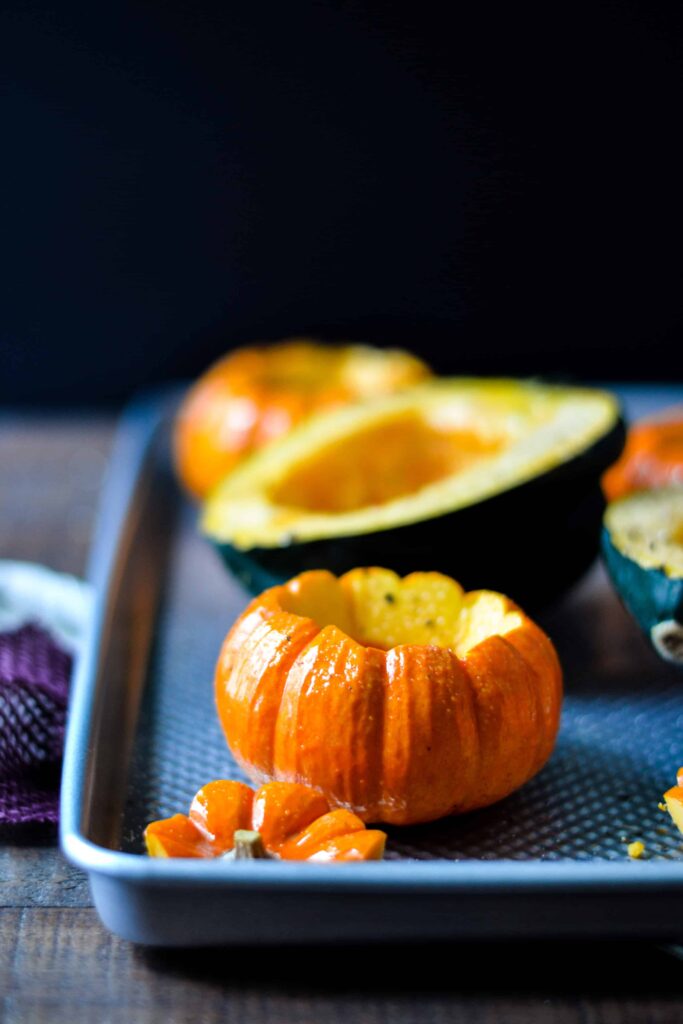 Spray or brush pumpkins with cooking oil. Roast at 425 degrees F for 25-30 minutes, checking on them periodically.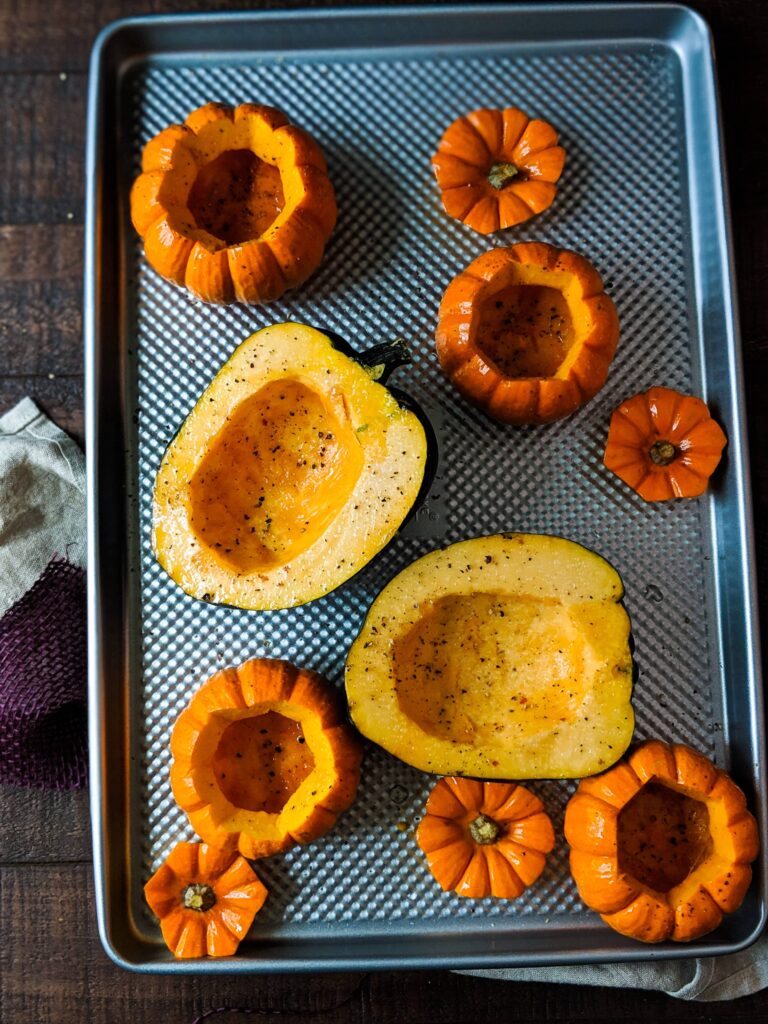 Cooking wild rice
If you don't know much about wild rice, I can tell you it is a delicious grain that has a great nuttiness to it and needs just enough salt to bring out the flavor. It does take a long time to cook, so you may be apprehensive. But this is a rice you can throw into your instant pot or rice cooker and not have to worry, just be sure to choose the "brown rice" option. Read more about wild rice here.
The wild rice I used for this recipe is an unseasoned mix from Lundenburg Family Farms. I prefer unseasoned because I can control the amount of salt in the rice. You can easily find this rice on Amazon or your local grocer.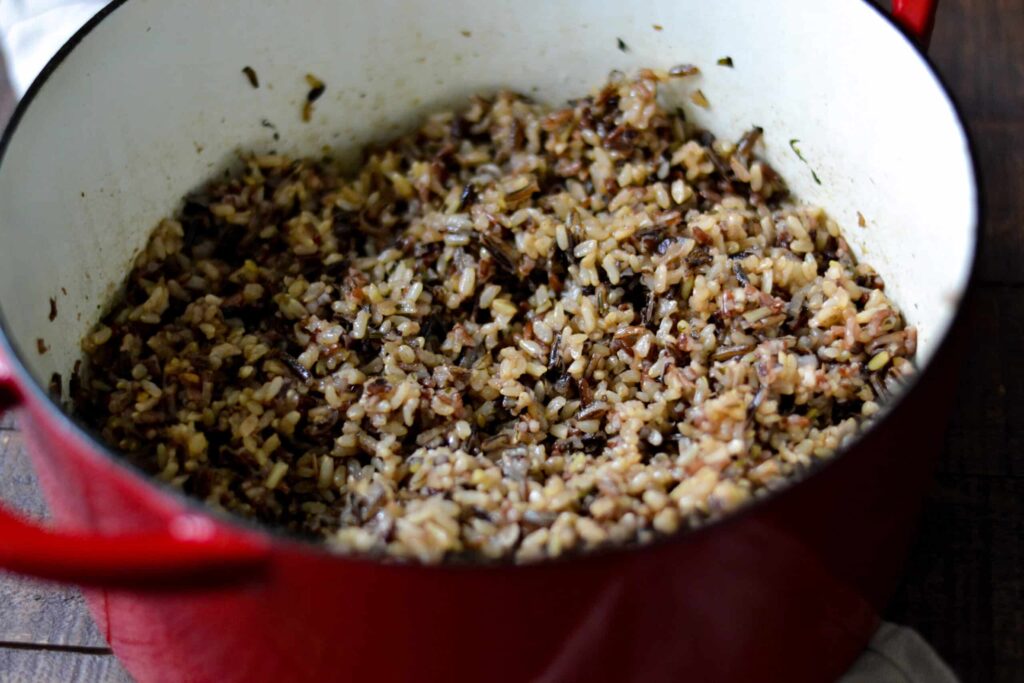 How much rice for how many pumpkins?
I think this side dish works well for a smaller Thanksgiving gathering, maybe 8-10 people. I would recommend 12oz of rice for about 8-10 pumpkin halves (4-5 mini pumpkins). One pound (16oz) of rice would fill more plus larger gourds like acorn squash. The wonderful thing about this recipe is that it doesn't have to be precise. You can fill as much as you want and it won't matter if you have left over rice, someone is bound to eat it!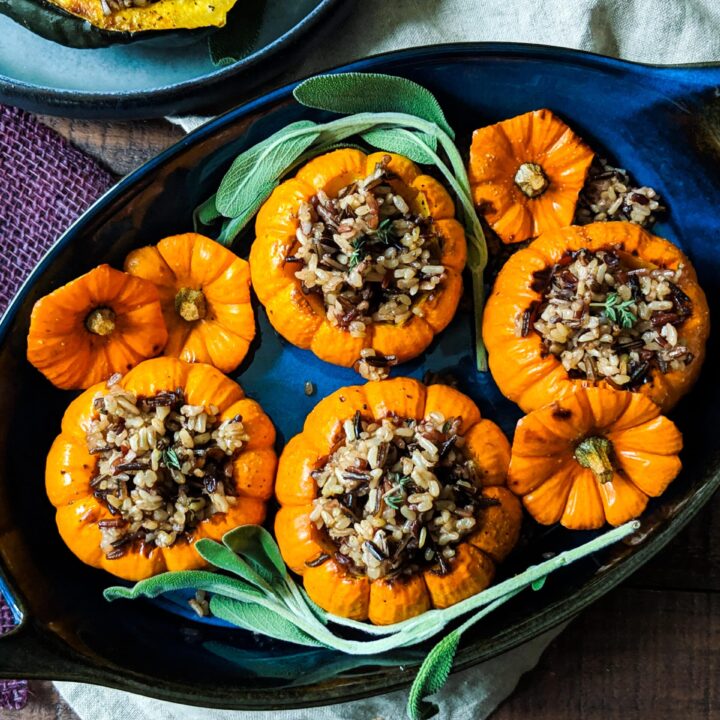 Wild Rice Stuffed (Mini) Pumpkins
Cook Time:
1 hour
30 minutes
Total Time:
1 hour
50 minutes
Ingredients
Rice
1 ½ cups (12oz) wild rice, rinsed
1 tbsp avocado oil or canola
½ onion, finely diced
2 garlic cloves, minced
½ tsp garlic powder
½ tsp salt
3 cups vegetable broth
Pumpkins
4-5 mini pumpkins or 3-4 acorn squash
Oil spray
Salt
Black pepper
All-purpose seasoning (if desired)
Instructions
Rice cooker or Instant Pot
Place all ingredients in pot. Cook according to specific cooker you have. Make sure to use brown rice setting.
Stovetop
Rinse wild rice in fine mesh strainer under cold water. Let drain.
In shallow pot, add oil and heat on medium.
Add onions and garlic. Saute until fragrant. Pour in broth and add garlic powder and salt.
When the water has come to a boil, lower the heat to simmer and cover the pan.
Cook at a simmer for 45 minutes. When done, rice will be chewy and some of the grains will have burst open. If rice still seems under cooked, add ¼ cup more liquid and cook additional 10 minutes.
Pumpkin prep
Pre-heat oven to 425 degrees F.
Rinse and pat dry pumpkins. Slice tops off. Use a spoon to scoop out inside. Place on baking sheet.
Spray or brush each pumpkin with oil. Season with salt and black pepper or all purpose seasoning. Place on baking sheet. Roast in oven for 25-30 minutes until brown and cooked through.
Fill each pumpkin with rice and return to oven at 350 degrees F for 10 minutes. Serve warm.