When cauliflower rice became all the rage last year, I have to admit, I was more than skeptical. Rice is a staple in Caribbean cuisine and I couldn't see how I would substitute it for an imposter rice. I decided if I was going to make cauliflower rice and like it, it would have to have some familiar flavors. The first way I made it was just plain with minimal seasoning; not a fan. Then I tried it as a fried rice with all the regular ingredients I would normally use for fried rice- soy sauce, Chief brand fried rice seasoning, bora, and carrots. I added chicken and eggs for protein and it was a total hit. I made a batch of this cauliflower fried rice for my parents and they couldn't believe the flavor. My dad even requested I make a big tray of it for his birthday party a few months ago.
And to clarify, I have not given up rice. I've just learned to cut back and cauliflower rice helps me do that. If you're watching your carbohydrate intake, this cauliflower fried rice is a great way to balance wanting familiar flavors without the carbs. Plain cauliflower rice is also great paired with West Indian dishes you would normally eat with rice like bora, bhaji, dhal, and yes, even curry.
Make your own vs. frozen vs. freshly packaged
There are three options for prepping the cauliflower.
Make it yourself. All you need is some cauliflower florets and a box grater (either side used for cheese). Grate until small granules form. Or you can add the chopped florets to a food processor and pulse just enough until it looks like rice. Be careful not to over-pulse or you'll make it too fine like cous cous.
Buy it frozen. Many grocers carry cauliflower rice already prepped and frozen. This takes away the prep work and you can keep it in the freezer until you're ready to use it. The one challenge I had with the frozen option was the cauliflower got soft quickly when cooked. Some people do not mind this, so if that's you then go for this option.
Buy freshly packaged. This is my favorite option because of the results it yields. I've found cooking for 3-5 minutes allows it to still have a chew or bite to it and has the most similar texture to rice.
Tips for making cauliflower fried rice:
Season the cauliflower in a bowl with all dry seasonings before adding to wok/pan. Adding seasoning while cauliflower is in the wok will increase the cooking time and can potentially make the cauliflower soggy or overcooked.
Have all ingredients prepped and ready to go.
Have sauces measured out in a separate bowl.
Cook chicken first, set aside then cook eggs and set aside.
Guyanese-style fried rice typically contains bora (Chinese long beans). I love bora in my fried rice because it adds that nice crunch. This addition is optional if you cannot access it.
When cauliflower is added to the wok/pot toss continuously to ensure even cooking.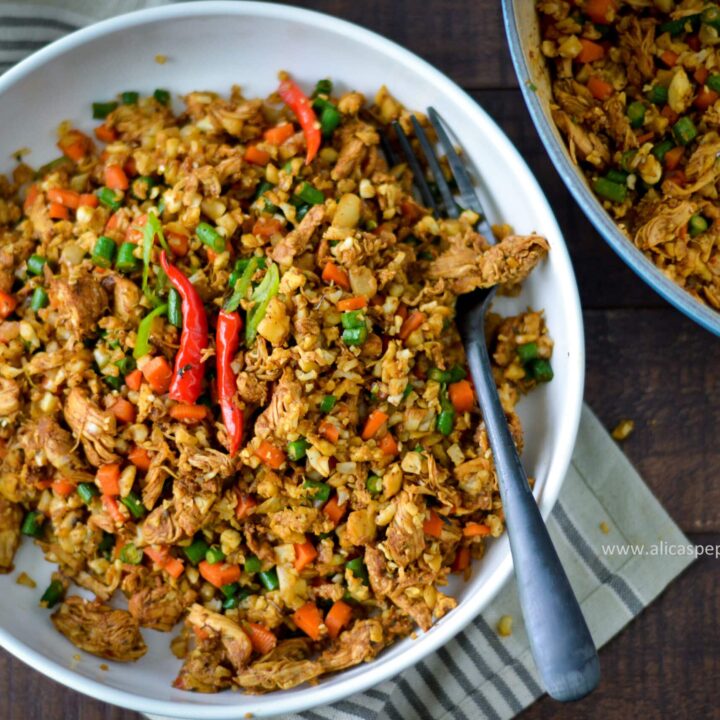 Cauliflower Fried Rice
Ingredients
1 ½ cups riced cauliflower
1 cup frozen mixed vegetables or sweet peas and freshly chopped carrots
2 eggs beaten with a splash of milk, scrambled
½ cup chopped bora beans (Chinese long beans), optional
¼ cup yellow onion, chopped, optional
2-3 chili peppers, optional
½ tsp fresh grated ginger
1-2lbs chicken or protein of your choice, cook and set aside
1-2 stems scallions for garnish
1 tbsp avocado or canola oil
Dry seasonings for Cauliflower
¼ tsp garlic powder
¼ tsp salt
¼ tsp paprika
½ tsp Chinese five spice powder
¼ tsp salt
Sauce
1 ½ tsp sesame oil
1 ½ tbsp dark soy sauce
Seasoning for chicken
For about 1-2lbs chicken, season with a few dashes soy sauce, ½ tsp sesame oil, 1 tbsp green seasoning, few dashes paprika and salt. Or season meat how you prefer.
Instructions
Prep
Beat eggs with a splash of milk, cook in non-stick pan. Scramble eggs then set aside.
Cook chicken or protein of choice, set aside after it's done. While chicken is cooking, measure out cauliflower and mixed veggies in two separate bowls. Place cauliflower in a larger bowl to allow space for mixing.
If using bora, chop finely and set aside.
Pour sesame oil and dark soy sauce into one bowl. Reserve for later use.
Add all dry seasonings to cauliflower. Mix to completely coat. Taste to see if more seasoning is desired (consider the sauces will also add flavor).
Cook
This entire process should take less than 10 minutes.
Heat a wok or shallow pot on medium high heat. Add 1 tbsp avocado or canola oil. Add onions and chili pepper, let fry a minute, then add mixed vegetables, cook another minute.
Add seasoned cauliflower and bora, toss with mixed vegetables. Pour in sauce and continue to toss together a few minutes.
Add in cooked chicken and eggs. Let everything cook another minute or two. Add in scallions to garnish.
Notes
I have also used Chief brand fried rice seasoning in the packet in place of the dry seasonings listed in this recipe. If you prefer to use Chief seasoning, start with ½ tsp to season the cauliflower and increase from there to desired taste.
Pin it for later!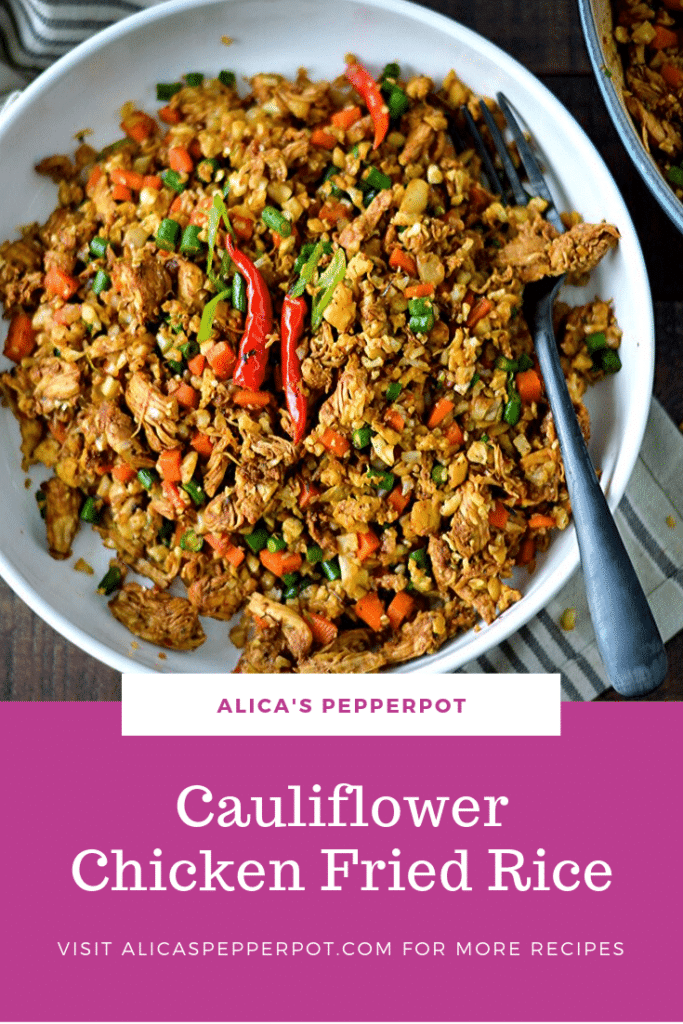 Pin it for later!