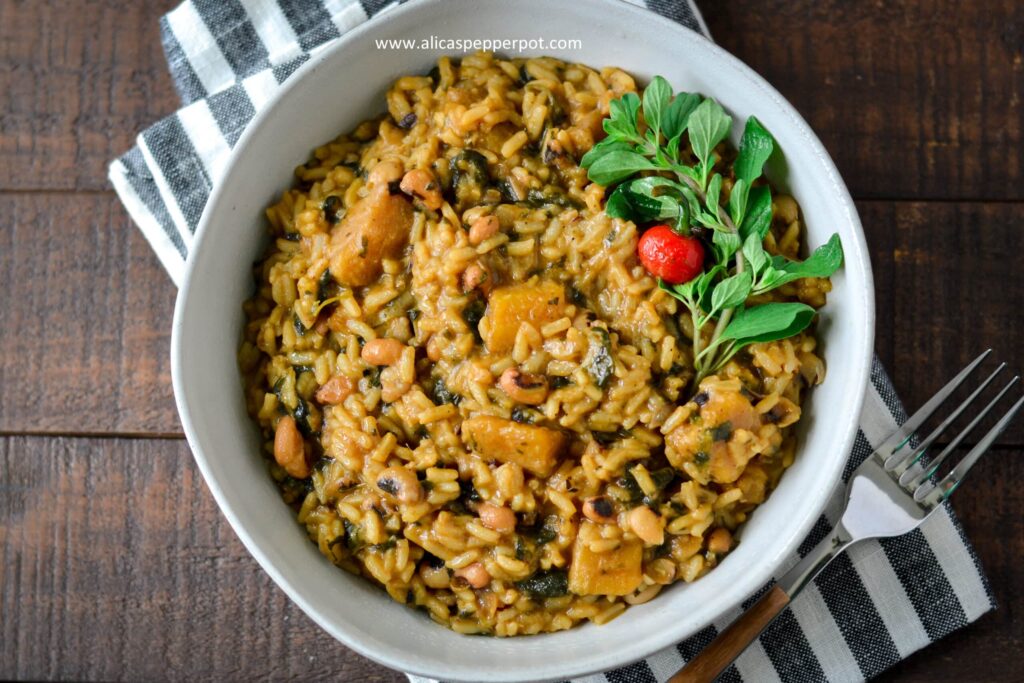 Every New Year's Eve my family would make a big pot of black-eyed peas cook-up rice. Cook-up is a one-pot rice dish consisting of meat, peas, and rice traditionally simmered in fresh coconut milk. These type of one pot dishes are great for feeding a lot of mouths and use up whatever is available in the kitchen, therefore anything is fair game in terms of ingredients. The ingredients are added to a single pot and cooked down to thick consistency, although some enjoy a drier cook-up.
We make cook-up throughout the year and at least once a week in my home. However, for New Year's Eve the version we made always had black-eyed peas and it was always vegan so the non-meat eaters in our family could enjoy it as well. My aunt would make fried fish on the side or some type of stewed meat. This meal was the most comforting part of our foodscape- hearty and satiating to say the least. We all looked forward to having a taste of this earthy and rustic rice dish especially because it's considered a lucky food for the new year with black-eyed peas symbolizing prosperity.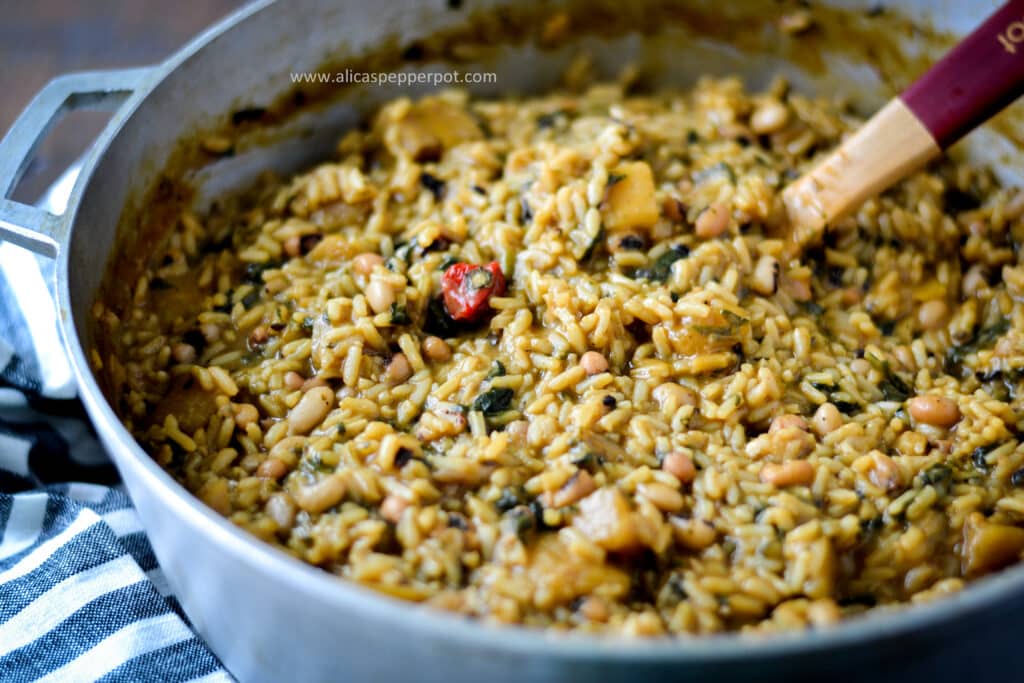 Dried vs. Canned beans
I've made cook-up with dried beans and canned beans. The choice seems to come down to preference and time.
Dried
This recipe is a variation of my aunty Mala's version. She uses dried black-eye peas. Sometimes she boils the peas until cooked, then adds remaining ingredients. She also has made it by soaking peas in water overnight to reconstitute then cooks the next morning. Using dried beans is a time commitment and really a matter of if it works for your cooking schedule. The benefit of using dried beans is that the bean is firmer and the skin stays intact. I also feel the peas flavor is distributed throughout the dish and adds a background color to the rice.
Canned
I decided to use canned beans here because it's easier, and in case you've forgotten to soak the peas, I wanted to show how you can still enjoy this dish with the canned option. The challenge with canned black-eye peas is if added too soon to the pot, it can turn to mush and lose its discernible shape. Canned beans are soaked in a brine- yes the goopy stuff which coats the peas in the can is actually a brine which gets thicker as the beans releases its own starch. The brine is salty which can take away from the taste of the peas so make sure to adjust salt in the rice to your tastes. Canned beans are a great option if you're short on time. It also adds a nice smooth texture to the dish.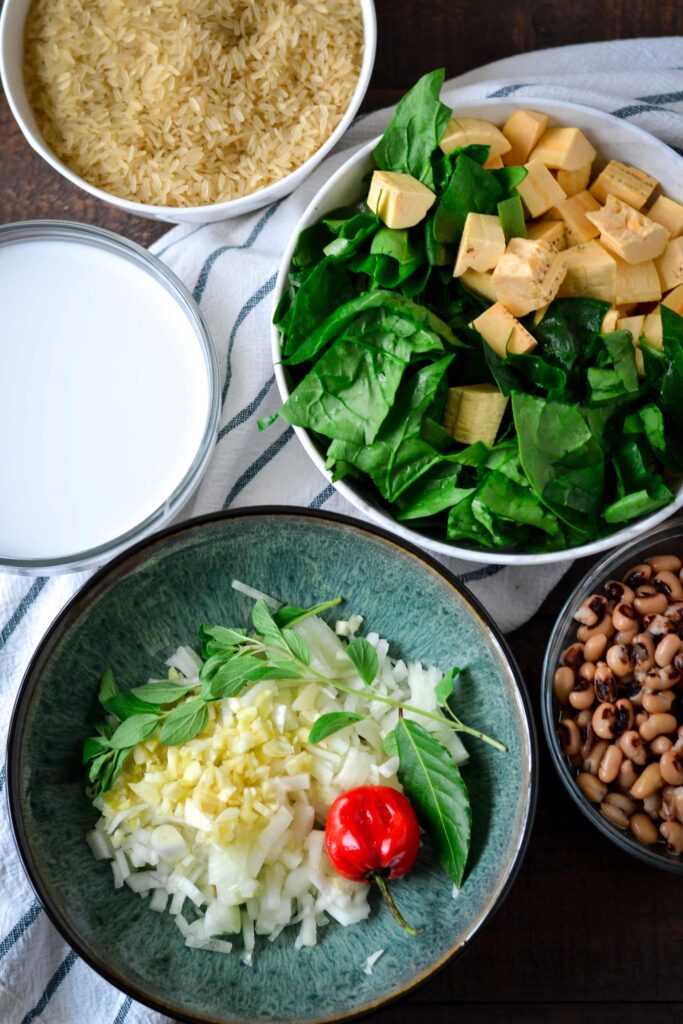 Method for using dried beans
If you'd prefer to make this dish using dried beans you can either soak the beans overnight in water then boil with all the other ingredients the following day, or you can boil it the same day- but prepare that the latter option will take much longer. If using soaked peas- drain liquid then saute peas with onions, garlic, and pepper. Once onions are fragrant, add remaining ingredients and cook down for 35-40 minutes stirring frequently to keep bottom from burning.
Make it your own
We typically make our cookup vegan so the non-meat eaters can enjoy it as well, but if you'd like to add meat or change this up a bit, here are some options:
Add salted or smoked meat in the pot such as pig tail or turkey neck. Fresh beef or chicken or even canned sardines are also a great option. If adding fresh meat, cook the meat first with onions, garlic, peppers, add peas then add remaining ingredients. If using sardines- add toward the end so chunks of sardine can remain.
Add your choice of peas- pigeon peas is another favorite of mine- see recipe here. Kidney beans, split peas, black beans, chick peas are all great options.
Change up the greens- spinach, kale, collard greens, okra, cabbage bring additional flavor and texture.
Serve on the side - fried fish, stewed meat, dried shrimp, meat curry.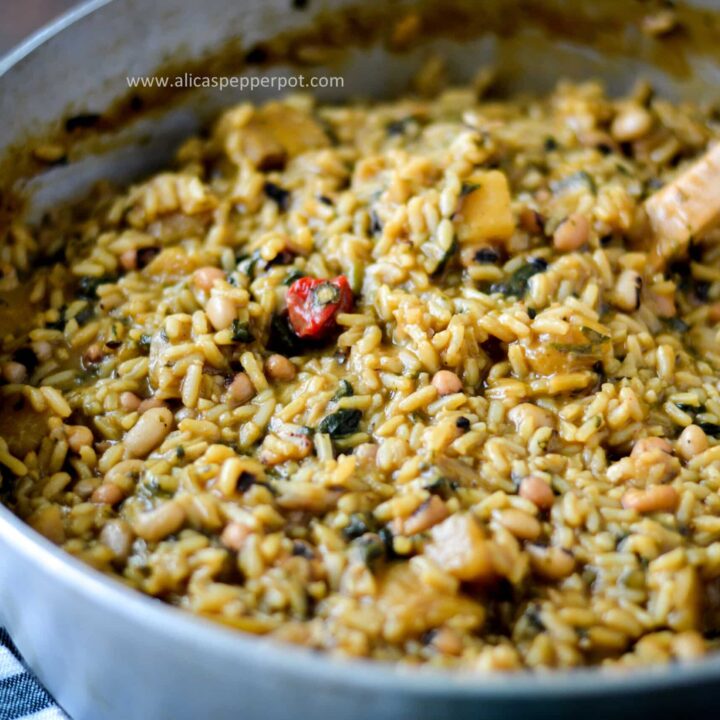 Black-eyed peas cookup rice
Ingredients
1 tbsp neutral oil
1 large yellow onion
4 garlic cloves, minced
2 wiri wiri peppers or 1 scotch bonnet
8 cups water
1 ½ tbsp casareep
1 13.6oz can coconut milk or fresh squeezed
2 cups parboiled rice, rinsed
1 ½ cup chopped spinach
2 plum tomatoes, chopped
1 green plantain, medium dice
6-7 sprigs thyme or 3 tsp dried thyme
2 sprigs fresh oregano or 2 tsp dried
1 bay leaf
1 tsp paprika
⅛ tsp all spice
½ tsp black pepper
1 ½ tsp salt or 2 vegetable bouillon cubes (adjust to taste)
2 15oz cans black-eyed peas
Instructions
Heat a wide and deep pot on medium heat. Add oil and saute onions, garlic, and pepper.
Add 8 cups water and bring to a boil.
Add casareep, coconut milk, rice, spinach, tomatoes, plantain. Mix well.
Add herbs, paprika, black pepper, allspice, salt or bouillon.
Boil for 30 minutes on med-low heat turning frequently to keep from burning.Add black-eyed peas. Continue to cook an additional 10 minutes or more until reduced to a semi-soupy consistency.
If using dried peas
Use about 8oz dried black-eyed peas for this recipe. Place peas in a bowl and cover with water. Leave overnight to soak. The next day, drain liquid from peas then saute peas with onions, garlic, pepper. Once onions are fragrant, add remaining ingredients and cook down for 35-40 minutes stirring frequently to keep bottom from burning.
Pin it for later!