What do you do with all the leftover meat from Thanksgiving or any holiday meal? After a while eating the same food for a couple of days gets boring and everything starts to taste the same. Can you relate? Personally, I can't seem to enjoy leftovers that have been in the fridge after a day or two. I've been paying more attention to eliminating as much food waste as possible and utilizing leftover meat the very next day is a great way to minimize waste. Not to mention giving your taste buds a shakeup! From fried rice and soup, to casseroles and pasta. With already cooked meat available; the possibilities are endless.
Fried rice is one of my favorite meals to make. There are so many variations and it's a great way to "clean out" your fridge. Anything goes into fried rice these days, but there is more to the method in making a good fried rice than just the ingredients. Check out my version and also some suggestions for other meals you can make with leftover meat. Do you have a suggestion you don't see below? Drop a line in the comment box below!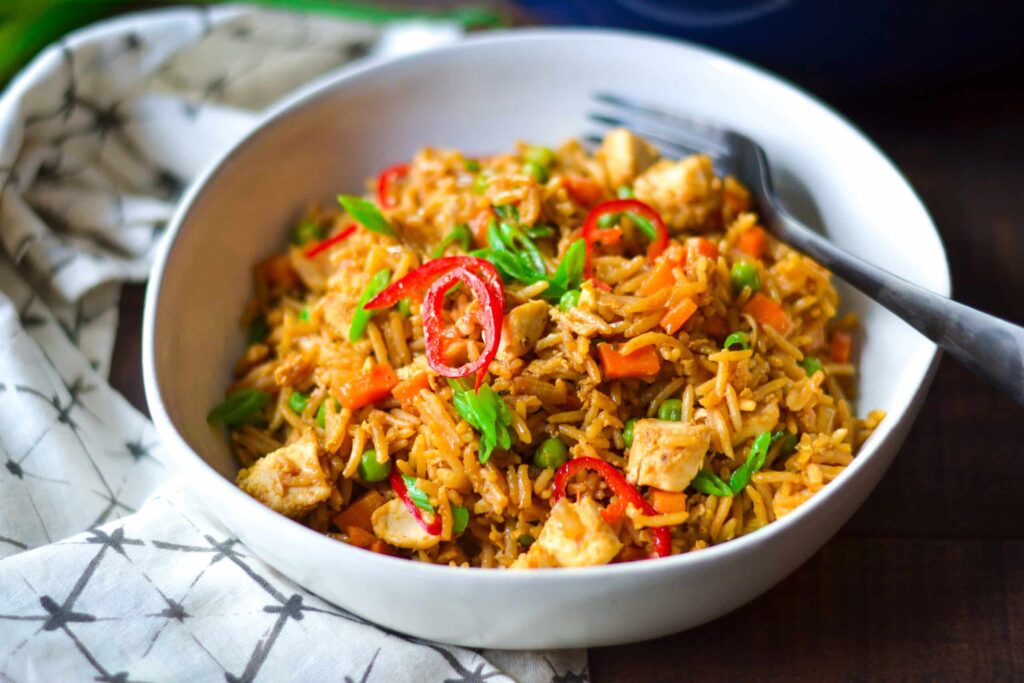 Other ideas for leftover turkey or chicken:
Turkey Pizza
Turkey Pot pie
Use leftover meat in your favorite pasta dish
Turkey quiche
Turkey empanadas
Turkey pita
Turkey gumbo
Turkey enchiladas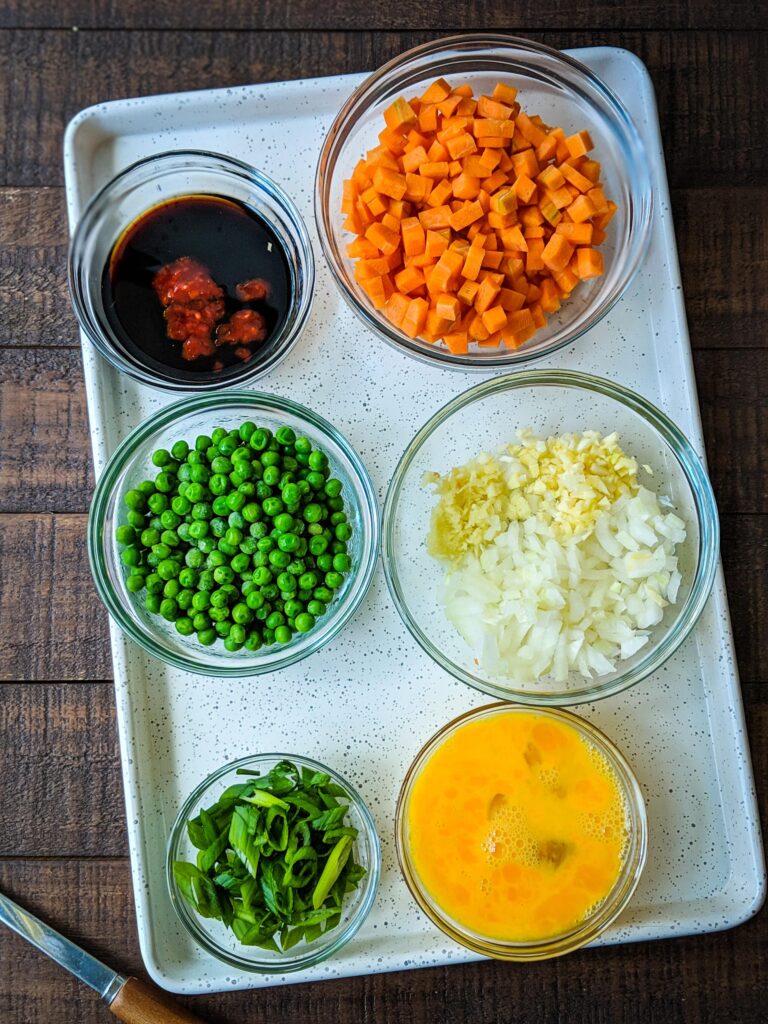 My tips for making fried rice
Use a large wok or deep + wide pan - you'll need to keep things moving int the pan and will need space
Have extra oil on hand - oil your pan each time you add more ingredients
Use cold rice - fresh rice is too sticky and the starch hasn't had a chance to recrystallize. Refrigeration helps it firm up.
Rinse the rice before cooking to get rid of extra starch
Chop all your ingredients in a small rice-like size
Add something for crunch - Chinese long beans (bora), cabbage, fresh crisp scallions
Rice vinegar - this gives the fried rice that extra yum
Cook the vegetables that have similar cooking times together.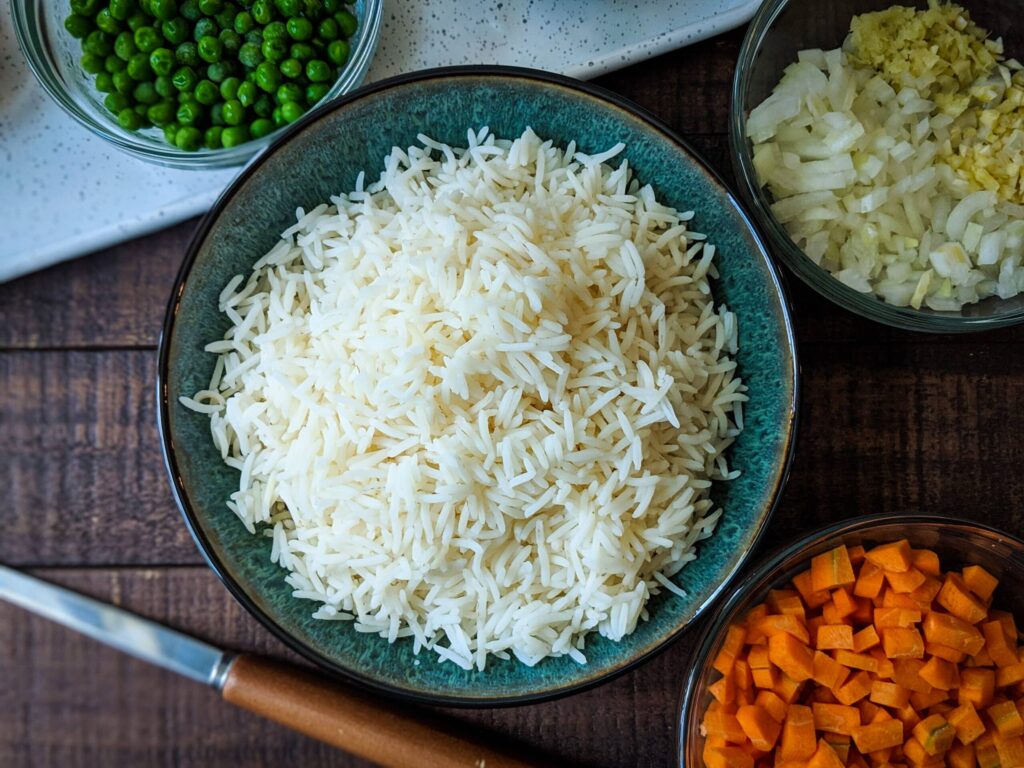 Chop turkey or chicken into cubes. You could also strip or shred the meat instead.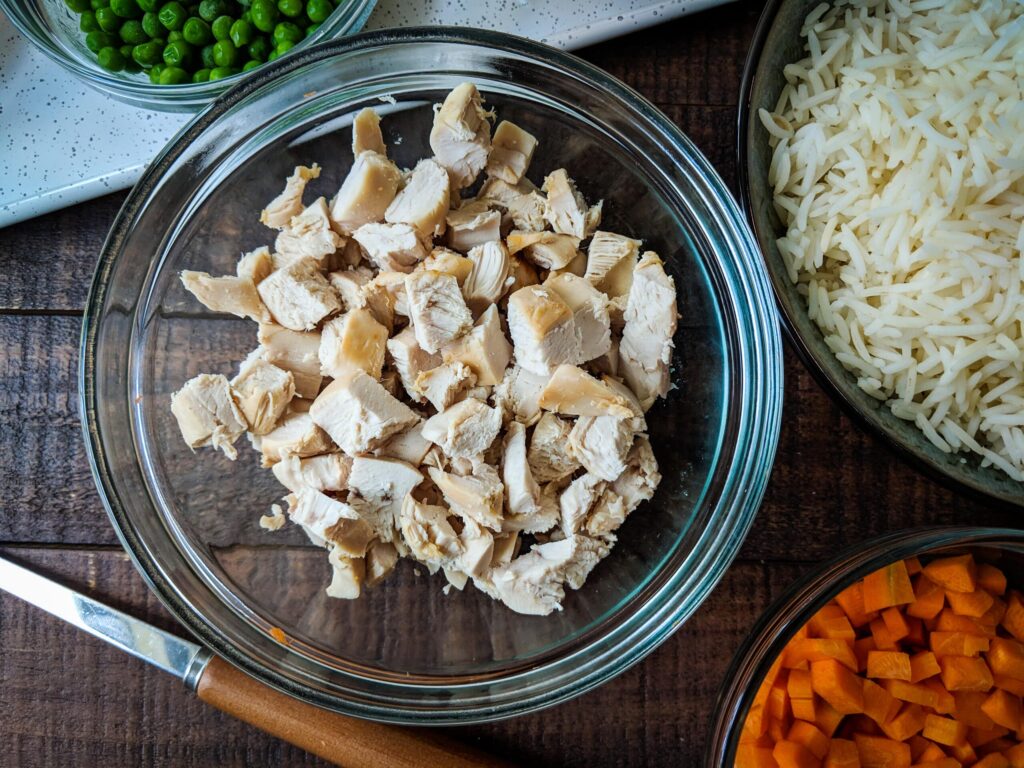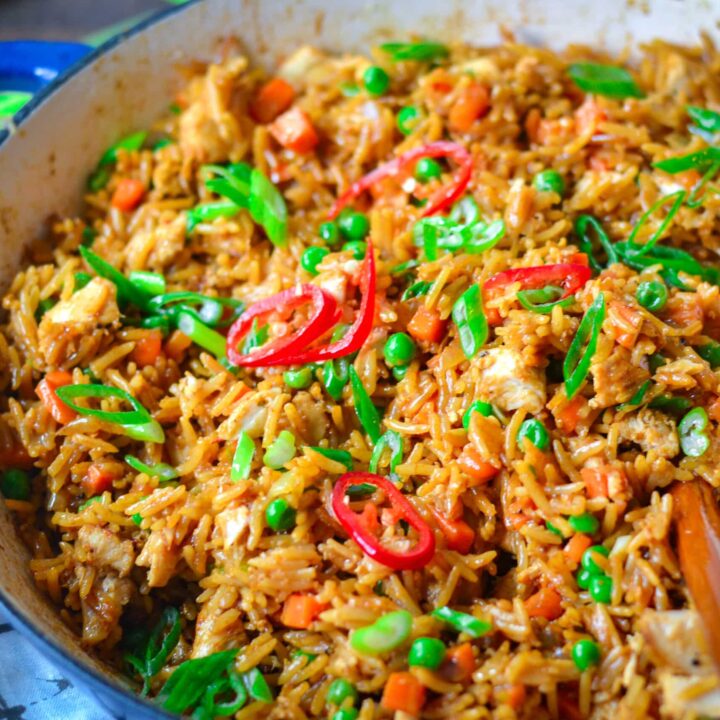 Leftover turkey or chicken fried rice
Ingredients
Turkey
desired amount of leftover turkey or chicken, diced
2 tbsp neutral oil, canola or vegetable (more as needed)
1 tbsp soy sauce or tamari
1 tsp sesame oil
Aromatics
1 medium onion, finely diced
3 cloves garlic, minced
1 tsp fresh ginger, grated
1 cup fresh carrots, diced (if using frozen, add toward the end)
Rice
1 ½ cups extra long grain rice, uncooked (rinsed)
2 tbsp soy sauce or tamari
1 tsp sesame oil
3 tbsp mushroom soy sauce
1 tsp chili garlic sauce (sambal oelek)
2 tbsp rice wine vinegar
2 eggs + drop of soy sauce, beaten
½ cup green peas
3-4 stems scallions, finely chopped
½ tsp fried rice seasoning (optional)
¼ tsp Chinese five spice (optional)
Red chili pepper or red serrano (for garnish)
Instructions
Bring a pot of water to a rolling boil. Add rice. Cook 16-18 min until rice is no longer hard in the center of grain. Drain rice, let cool. Refrigerate overnight.
Measure all ingredients and set aside. Combine liquids for rice in one bowl.
Heat wok or pot with 2 tbsp oil. Add turkey and saute a few minutes until meat looks crisp. Add soy sauce and sesame oil and any other desired dry seasonings. Remove meat from pot and set aside.
Add more oil to pot, saute onions, garlic, and ginger until fragrant. Add carrots, let cook a few minutes.
Add rice and stir continuously. Add liquids- soy sauce, mushroom sauce, sesame, oil, rice vinegar, and chili garlic sauce. Fry the rice until sauce has coated the grains. If darker color is desired, add more mushroom soy sauce.
Push rice to one side of pan, add more oil, add beaten egg and a drop of soy sauce. Scramble then toss with rice. Add green peas and scallions. Continue to toss rice.
Fried rice seasoning or Chinese five spice may be added for additional flavor.
Notes
I use a boil and drain method for cooking the extra long grain rice in this recipe. You may choose to use jasmine rice or basmati rice, which cooks perfectly in a rice cooker. If using parboiled rice, add salt to the pot of boiling water. Parboiled rice tends to need more flavoring.