Tiramisu is one of my favorite desserts to order when we go out to eat. I love how smooth and light the texture is and the coffee flavor is the perfect taste to end any meal. If you're on the hunt for a dessert to take to a dinner party or holiday potluck, this is your stop. This featherlight tiramisu will have your guests licking their forks and going back for seconds. What's not to love here: creamy layers of a light and airy zabaglione-mascarpone mixture layered between coffee-soaked ladyfinger biscuits, then finished with a generous amount of cocoa powder. Tiramisu is the ultimate crowd-pleaser. Every time I make this dessert, people go absolutely crazy and I get a lot of requests to share the recipe. If you've never made this dessert at home, once you do, you'll never want to order it at a restaurant again. It's really that good.

On my previous blog, The Inner Gourmet, I had a recipe for tiramisu that contained raw eggs. In many European countries, tiramisu is traditionally made with raw eggs. I have never had a concern with raw eggs in my tiramisu because I would only use fresh farm eggs. I would however be concerned about bacteria if using store bought eggs. When making this dessert with fresh farm eggs (raw), it is usually only for my immediate family. People are put off by the idea of raw eggs in this dish, so when making for a crowd, I use the double boiler method to cook the eggs. I do feel using raw eggs yields a lighter tiramisu, but this recipe is still incredibly tasty and a lot creamier.
If you do not have a double boiler, placing your mixing bowl on top of a pot of low boiling water will work just fine. Place eggs, sugar and vanilla in the mixing bowl and mix with electric beaters while on the stove. This should take about 10 minutes. You'll see it coat the back of your spatula. Let this mixture cool off for a good 45 minutes. Then blend in the room temperature mascarpone cheese.

In a separate bowl, whip the heavy cream until stiff peaks form. Fold the whipped cream in with the egg/mascarpone mixture. You'll end up with a fluffy, smooth, creamy custard. Refrigerate until ready for use.

The traditional biscuit used in tiramisu are ladyfingers. The are sold soft or hard. Once the hard ones are soaked, they absorb all the coffee mixture and soften up. So good!

Layer ladyfingers then spread the mascarpone custard on top. Repeat layer a second time.

If you rather make smaller desserts, using little glasses, or plastic cups are a perfect option for a party. Break ladyfingers so they fit into your glass and layer the same way.


Tips:
I used an 8x8in pan for this recipe. I had enough left over to layer 4 wine glasses. A 9in square pan or aluminum foil pan will work perfectly for this recipe.
If you do not have a double boiler to cook the egg mixture, place a mixing bowl over a pot of simmering water.
I used very strong brew coffee. Instant espresso may be used. For 1 ¾ cups, 4 tbsp espresso powder should be strong enough. After mixture cools, add rum.
When whisking heavy cream, placing the bowl over a bag of frozen vegetables or another bowl of ice helps to keep the temperature cold while whipping.
I ended up using about 2 packs ladyfingers, my son also ate some, but I still had a few left over.
For this recipe I layered the tiramisu in a pan lined with wax paper so I could lift it out of the pan and cut into squares. Otherwise I would layer in a dish (without wax paper) and scoop tiramisu to serve. If you'd like to line your pan, cut wax paper to fit and tape the sides down.
Kahlua may be used instead of rum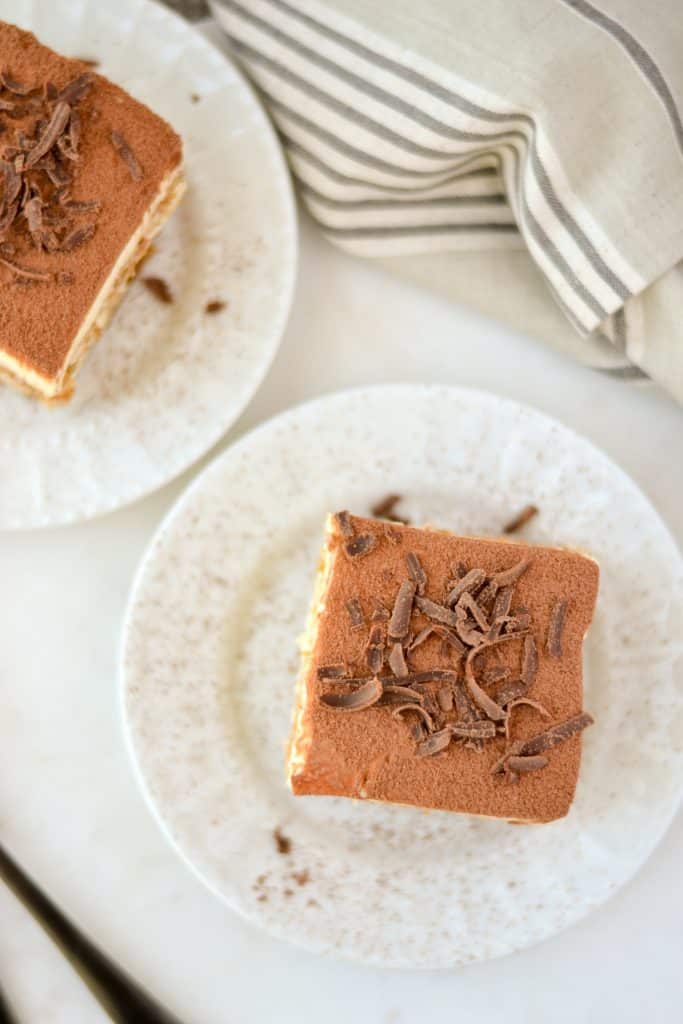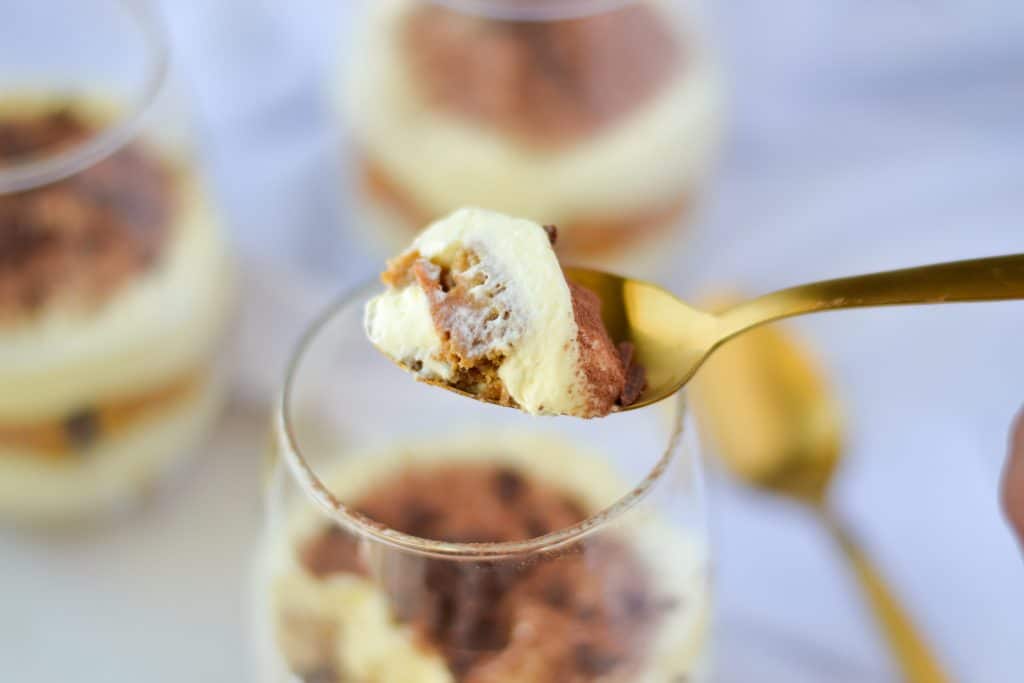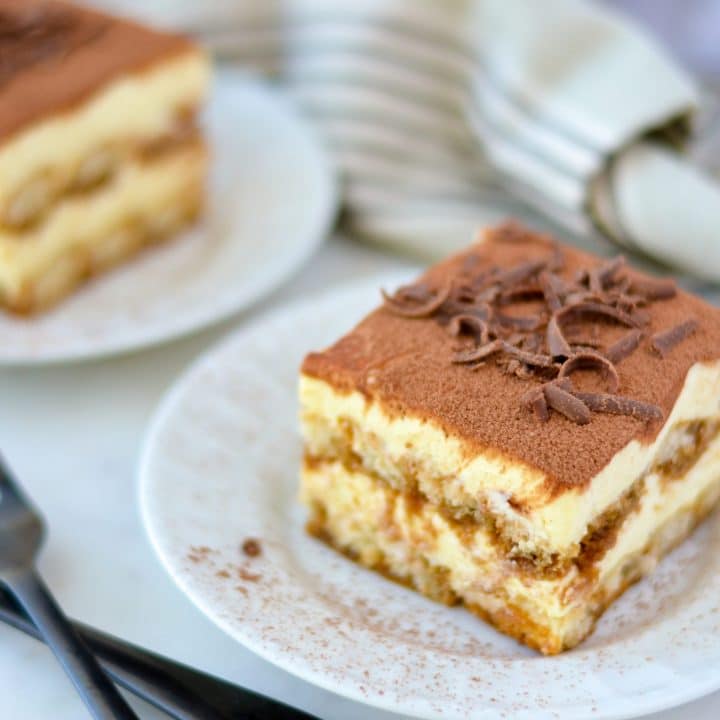 Tiramisu - A Coffee Lovers Dessert
Adapted from Ask Chef Dennis
Ingredients
6 egg yolks
¾ cup + 2 tbsp white sugar
¼ cup whole milk
¼ tsp vanilla
1 ½ cups heavy cream
1 tbsp confectioners sugar
1 tsp vanilla
16oz mascarpone cheese, room temperature
1 ¾ cup espresso or very strong coffee, room temperature
⅓ cup dark rum
2 packs ladyfinger cookies (400g), 7oz each pack
Cocoa powder for dusting
Chocolate shavings (optional)
Dish options
8in square pan (will yield left overs so you may use small glasses for mini desserts)
9in square pan or trifle dish
Aluminum foil pan
Instructions
Make 1 ¼ cup coffee or espresso and set aside to cool.
In a double boiler, whisk egg yolks, sugar, ¼ tsp vanilla and ¼ cup whole milk until mixture thickens, about 10 minutes. Using an electric mixer works best here. Remove from stove and chill 45 minutes. After egg mixture is chilled, blend in mascarpone cheese, return to fridge.
In another bowl, add heavy cream, 1 tsp vanilla, confectioners sugar. Place bowl over another bowl of ice or frozen bagged vegetables. This keeps the bowl cold. Whip cream mixture until stiff peaks form.
Fold whipped cream into egg/masacarpone mixture. Return to fridge until ready for use.
Gather ingredients to layer tiramisu.
Add rum to espresso mixture.
Dip ladyfingers one at a time in espresso and layer entire bottom of dish. Spread enough custard over ladyfingers to cover completely. Repeat layer a second time. Use remainder in smaller dish or cups.
Cover tiramisu with plastic wrap and leave to set overnight. Flavor is best 2 days after.
When ready to serve, sprinkle cocoa powder over the top and finish with chocolate shavings.
Notes
I made this recipe in an 8x8 dish and 4 merlot glasses. A 9in pan or aluminum foil pan would work well if taking to a party.