This post contains affiliate links. To view my disclosure policy, click here.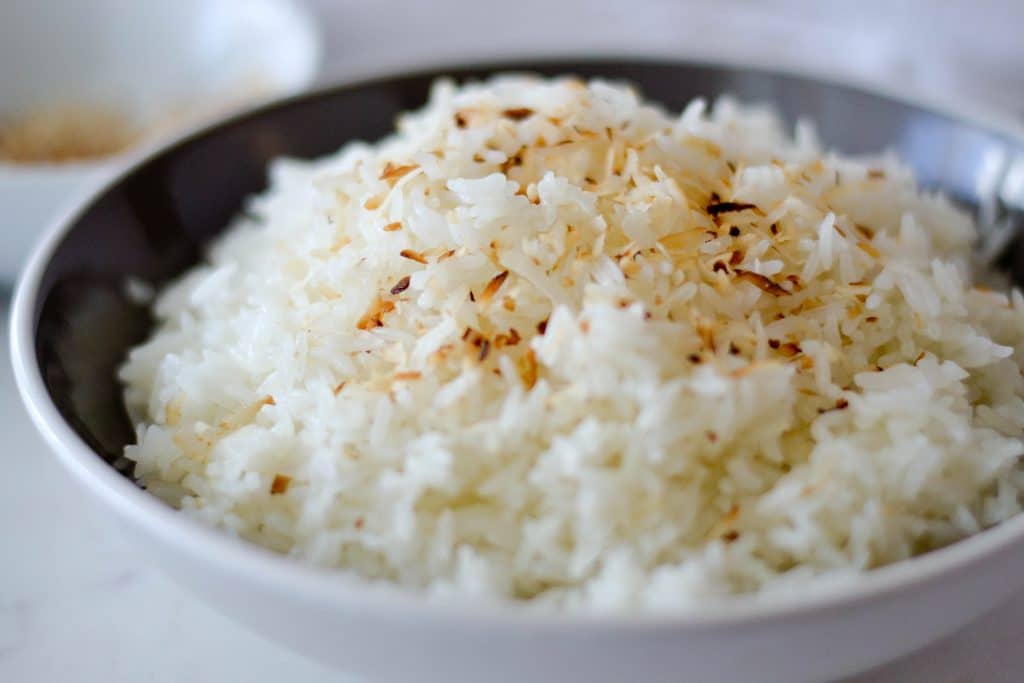 I made a delicious and rather quick dinner this weekend; a honey-chili pepper shrimp (recipe in queue), and paired it with this toasted coconut rice. I posted it on Instagram's, Instastories and received so many messages for the recipe. Instastories is one of my favorite updates to Instagram. Not only do I get instant feedback, I also get to have one-on-one conversations with you all, which I really value.
This recipe is so simple that I had to share. It's a great side dish and pairs wonderfully with Asian inspired entrées. Super quick to make, too. If you don't have a rice cooker, you can also simmer this rice. See instructions in recipe box. To preserve crunchiness the toasted coconut is sprinkled on top when ready to serve.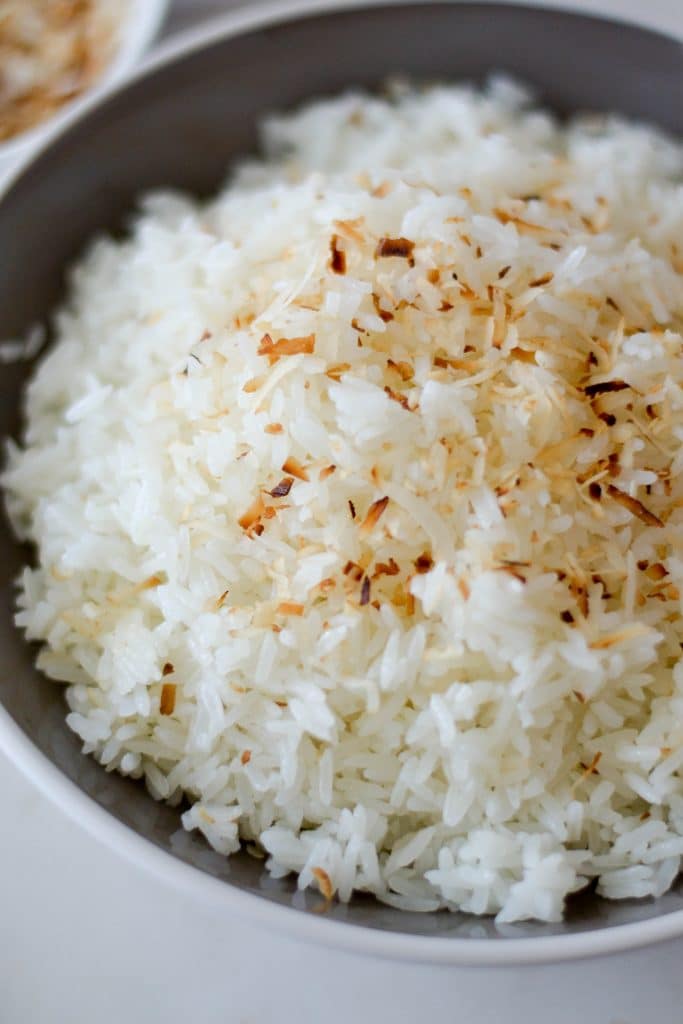 Do you ever feel like you have too many kitchen appliances? I think I went through a stage a few years ago of wanting every kitchen appliance that existed! After having kids, I've adapted a more minimalist lifestyle. We try to declutter as much as we can and that includes keeping my kitchen lean. Many kitchen appliances have such a large footprint that finding a place to store them can be a challenge. I've given away a lot of unnecessary appliances and kept ones that I feel really make a difference in my cooking process; one of them is my rice cooker. It was an inexpensive appliance and has come in so handy at least a few times a week. I love it because it cooks basmati and jasmine rice perfectly.
Rice Cookers I Recommend
Aroma 8 Cup Rice Cooker - This is the one I own. I've had it for 4 years, and it's still going strong.
Aroma 20-cup Rice Cooker - My parents own this one, which is the larger version. There's only two of them in the house; ironic they'd have a larger rice cooker than I, but it seems they are always cooking for the masses.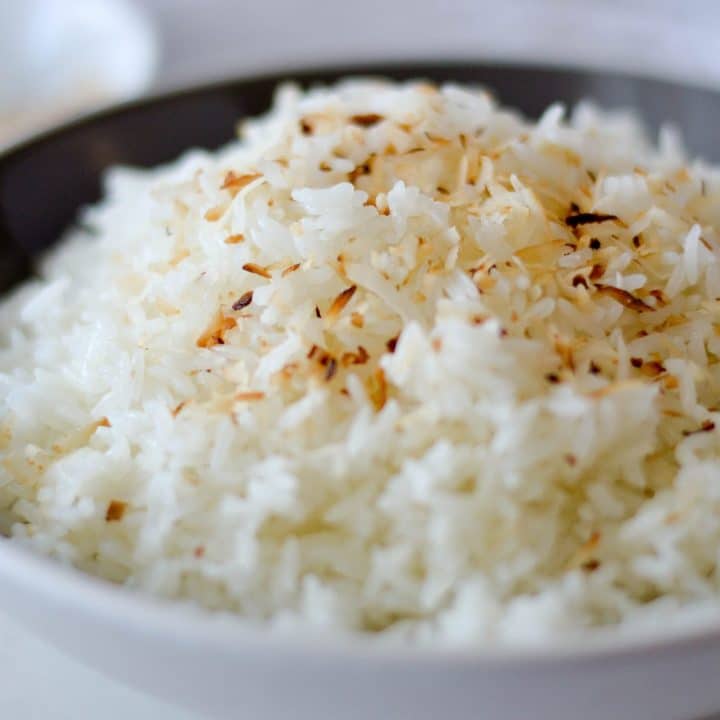 Toasted Coconut Rice (Using a Rice Cooker)
Ingredients
2 cups jasmine rice
2 tsp granulated sugar
1 cup coconut milk
½ cup water
pinch of salt
1 cup sweetened flaked coconut
Equipment
Instructions
Rinse rice until water runs clear. Add rice to rice cooker.
Add sugar, milk, water, and salt.
Cook according to rice cooker settings.
Toast coconut flakes. Heat a small frying pan. Add coconut and stir frequently until golden brown. Transfer to a bowl.
If you don't have a rice cooker - Rinse rice until water runs clear. Add to pot, add remaining ingredients. If liquid doesn't cover rice, add more water until it just comes above rice. Bring to a boil. Let boil 3-4 minutes then reduce heat to low and simmer about 15-18 minutes. Remove from heat and fluff with fork.
Add toasted coconut flakes to rice when ready serve. Adding sooner will make flakes soft.
This side dish is a quick and easy way to enjoy rice when you get tired of the same ole' thing. Give it a try and let me know how you liked it!