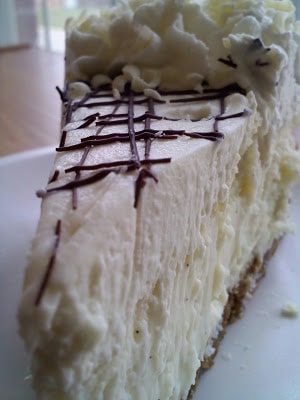 The morning of the day I made this cheesecake was a pretty rough one for me. I was taking a final exam and could actually feel during the exam that I wasn't doing as well as I had hoped. After 2 ½ went by, I walked out of the exam room and decided I was going to go home and make something really time consuming to get my mind off of the exam. I love cheesecakes, it's probably one of my most favorite desserts. This vanilla bean cheesecake has three different layers and once it all comes together it is an experience to die for!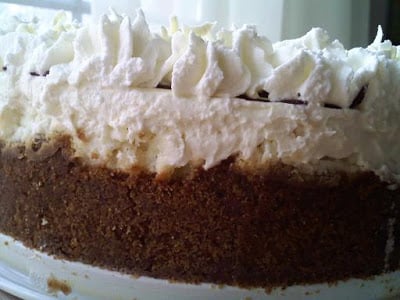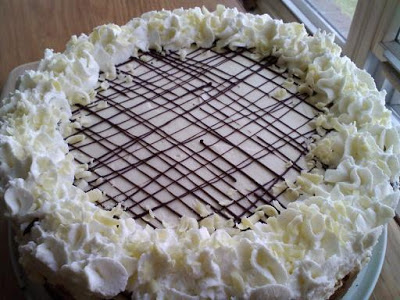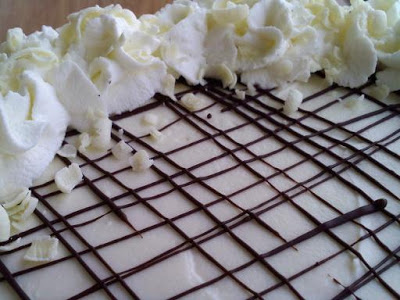 I thought of finally making those French macarons that I have been putting off for so long or even the tedious Petit Fours that I dream of.
My friend casually suggested a Vanilla Bean Cheesecake and I thought "oh my! I can use the extra Madagascar vanilla beans hidden in my cupboard for this recipe!"
A cheesecake lover's dream is what I call this cheesecake.
It's dense like a New York Style cheesecake, but sweet and fluffy at the same time.
It has two layers one with the actual vanilla bean cheesecake and the second with a sweet cream white chocolate spread, finished with vanilla flavored whipped cream roses.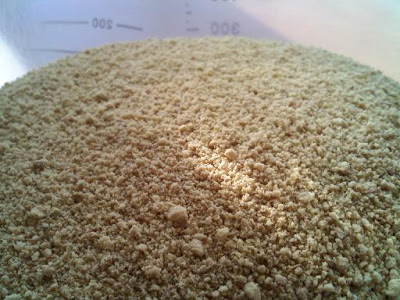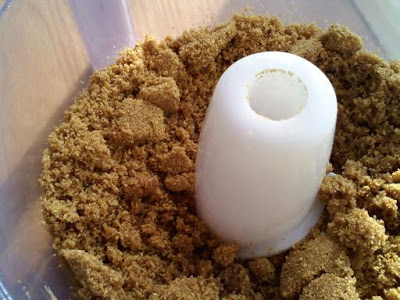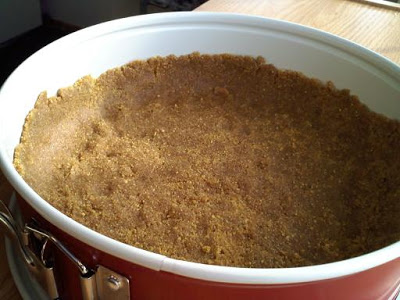 I searched pretty rigorously for this recipe and I actually used my own recipe for the crust.
I love taking pieces of different recipes and putting them together.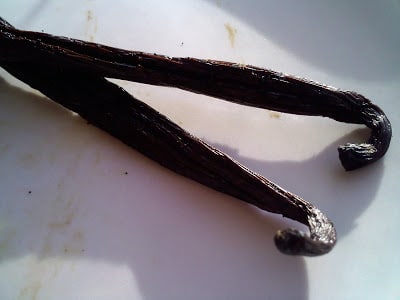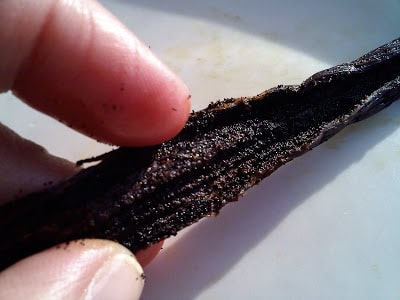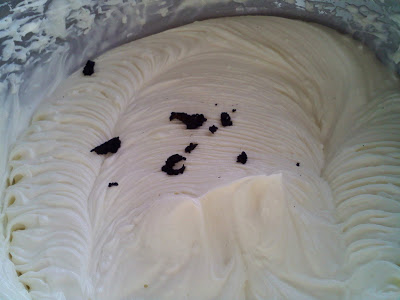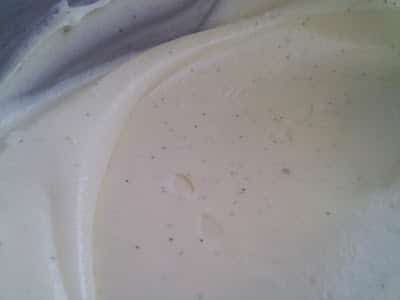 Some may say this cheesecake is reminiscent of The Cheesecake Factory's Vanilla Bean Cheesecake or TGI Fridays (did you know that Friday's actually purchases their cheesecakes from The Cheesecake Factory).
However my cheesecake didn't turn out as tall and my topping is a little different.
Save yourself the $8 a slice and make this cheesecake.
It will probably cost you around $12 in ingredients and you will get about 10-12 slices out of it.
I guarantee even if you don't make the cream topping this recipe will be a keeper. Enjoy!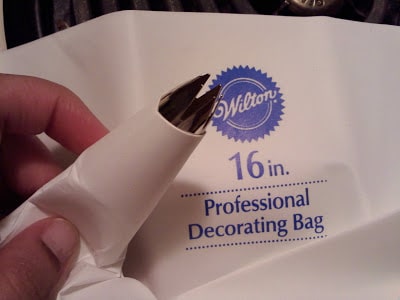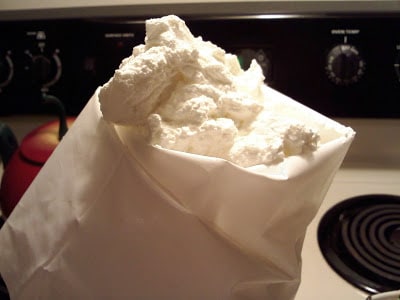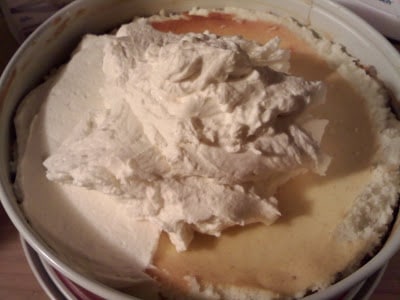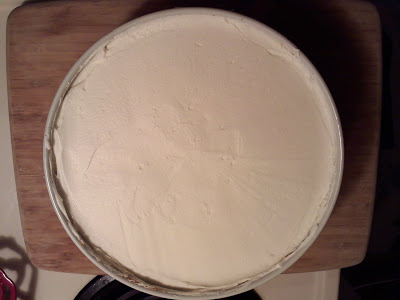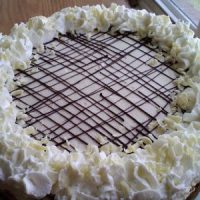 Vanilla Bean Cheesecake
Yield:
9 inch springform pan
Ingredients
Crust
1 ½ cups finely crushed graham crackers
¼ cup dark brown sugar
½ cup butter, melted
1 egg yolk, beaten
¼ teaspoon vanilla
Batter
CHEESECAKE:
16 ounces cream cheese, softened
1 cup sour cream
2 Tablespoons corn starch
1 cup sugar
1 stick unsalted butter, softened
1 stick salted butter, softened
½ teaspoon vanilla extract
vanilla beans from one pod
White Chocolate Mousse
1 cup whipping cream
3 Tablespoons powdered sugar
4 ounces ⅓ less fat cream cheese, softened
5 ounces white chocolate baking squares, melted
Vanilla Bean Whipped Cream
1 cup whipping cream
1 Tablespoon powdered sugar
Beans from one vanilla pod
Instructions
Crust
Crush the graham crackers. Mix in the sugar. Add the egg yolk and vanilla, then stir in the melted butter. Line a springform pan with non-stick foil. Press graham crackers into the pan. Bake at 375º for 8 minutes or until edges are slightly brown. Remove and let cool.
Cheesecake
Combine cream cheese and butter and mix well then add sugar mix till all sugar is incorporated. Now add sour cream, corn starch, and vanilla beans, blend until smooth. Pour this mixture into the graham cracker crust. When you take this out the oven it will be jiggly and you will think its not cooked but it will set up beautifully once it is cooled. It will be dense and smooth. Bake at 320 minutes for 1 hour. Cool 1 hour.
White Chocolate Mousse
In a cold mixing bowl beat 1 cup cream until soft peaks form. Gradually add powdered sugar until stiff peaks form. Put this in a bowl in the fridge. In a small bowl melt chocolate and *let it cool! (You will be mixing in the whipped cream and if the chocolate is even the slightest bit warm it will deflate the whip cream). Now in a bigger bowl beat cream cheese and melted chocolate together until fluffy. Fold in the whipped cream from the fridge slowly then put back in fridge.
Vanilla Bean Whipped Cream
In cold mixing bowl, beat whipping cream until soft peaks form. Gradually add powdered sugar and then vanilla beans, beating until stiff peaks form.
After the cheesecake has cooled spread the mousse evenly on top. Refrigerate for about an hour.
Spread the whipped cream on top and then drizzle the chocolate on top OR instead of spreading whipped cream you can pipe it on after drizzling the chocolate over the mouse. I drizzled chocolate over the vanilla bean mousse and then piped the whipped cream roses around. Refrigerate several hours before serving.
Notes
This recipe makes one 9 in Springform pan. You can use a bigger size for a thinner cheesecake or an 8in for a tall cheesecake. I used a 9in for this recipe.