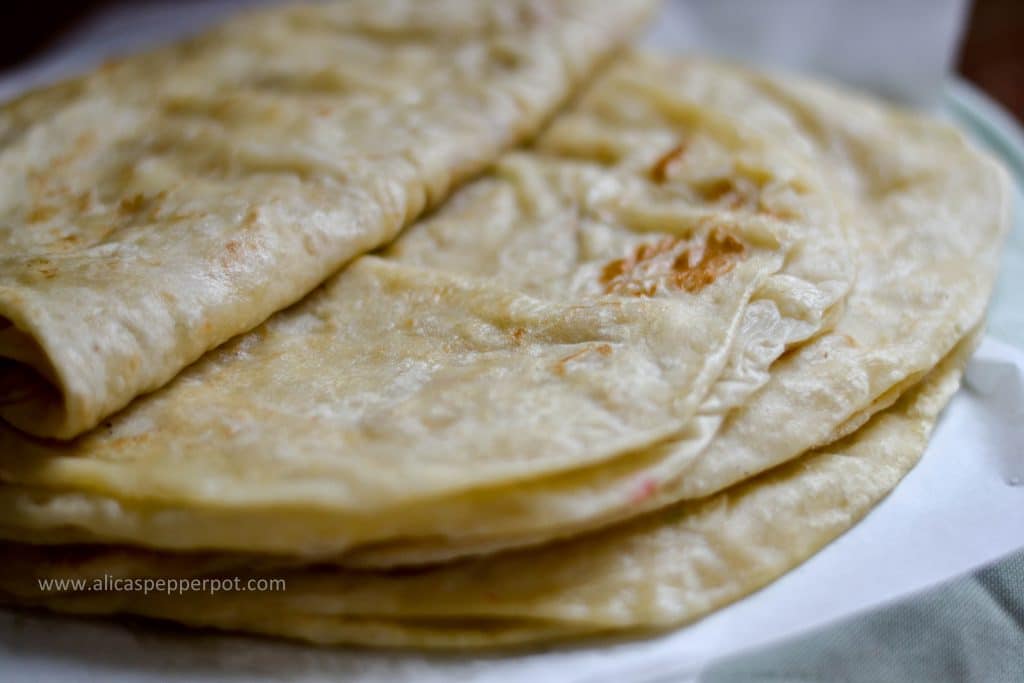 One of my mom's most memorable rotis is this aloo roti - a flatbread stuffed with spiced mashed potatoes. The other stunner is her dhal puri (I know guys, I'm posting a recipe soon, promise). We usually had this alongside some type of curry dish. The filling was flavored simply with few ingredients; butter, salt, hot pepper, geera, and scallions. It was so delicious and mom knew how to flavor it just right so it didn't compete with the curry.
This aloo roti is a variation of the Indian, Aloo Paratha which is a little thicker, crisp on the outside, and does not contain any leavening agents. Read about it here and get a recipe here.
There were a few hallmark traits about my mom's version:
They were incredibly soft and thin. Although stuffed, it was never overwhelmingly doughy.
There weren't too many dark brown spots. She seared them lightly so as not to overcook the dough.
They were small in size and filled with potato from center to edge.
What was funny about my mom is she didn't like the taste of aloo roti- any aloo roti. I couldn't believe she didn't like this roti since she makes it the best in our family. She would always make one plain paratha for herself while the rest of us enjoyed this potato version. My dad and I would spread pepper sauce all over the roti, roll it up and chow down. It was one of my favorite types of roti, but we had it less often than we did dhal puri. It was nice not having it all the time, it gave me something to anticipate when she did make it. Like many of the dishes I now cook for my own family, I learned this recipe from my momma.
Making any type of stuffed flatbread can be a bit tricky. You have to be careful that the filling does not have lumps else it will pierce the dough. The roti dough itself should be pliable and able to have enough movement to stretch with the filling. Lastly this roti has to be cooked right away after stuffing, otherwise the dough will rest too much. When that happens the dough gets very soft and is more likely to tear when rolling. Check out my tips below for getting this roti just right!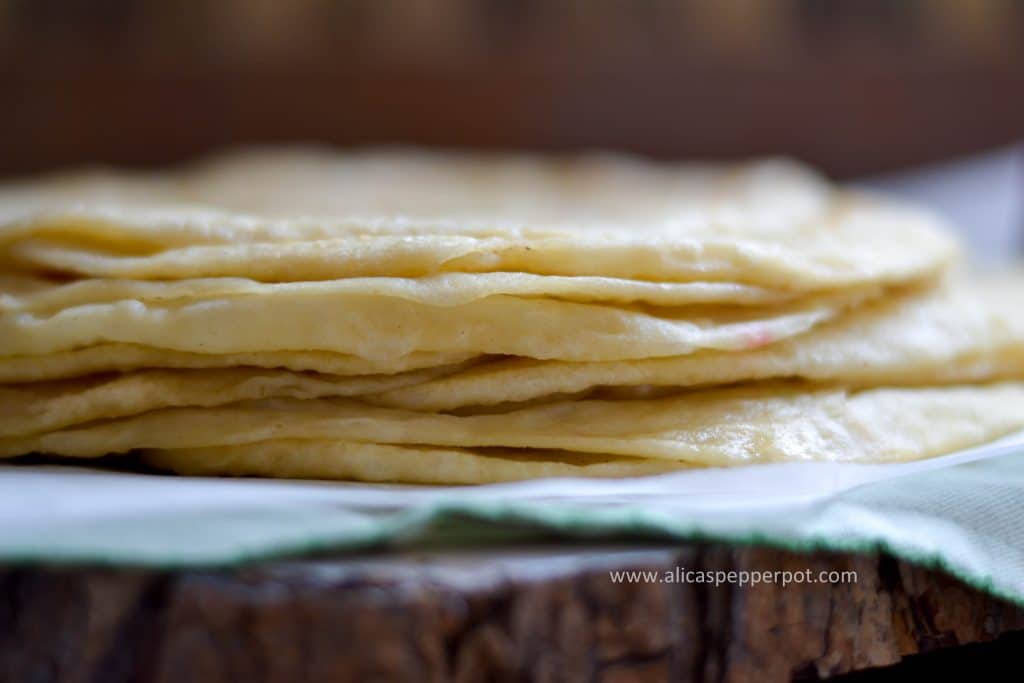 Use any type of potato you like. I used red potatoes as they tend to be creamier. Flavor the mixture and taste as you go.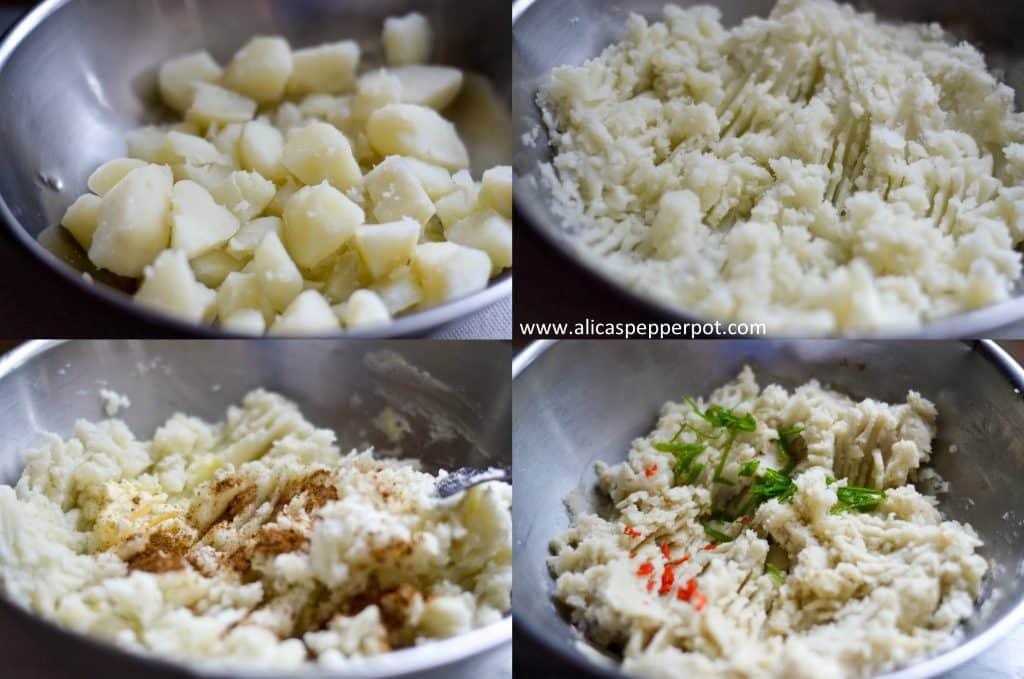 Get full paratha roti recipe here.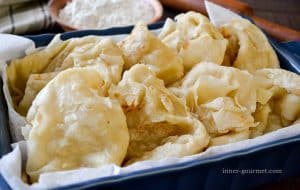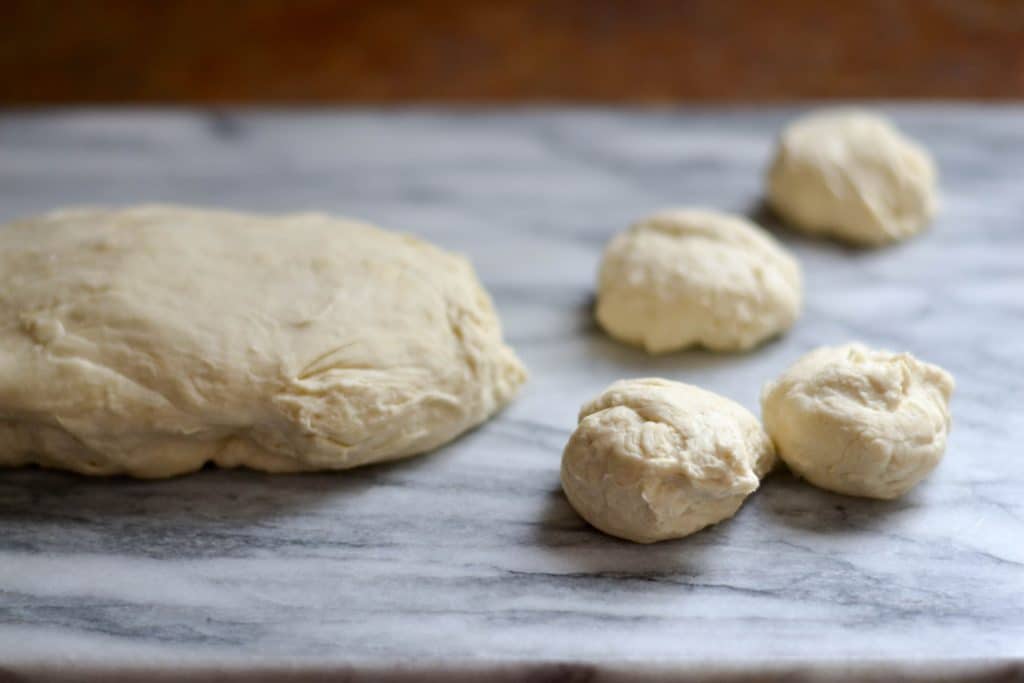 Fill each dough ball with potato mixture, 2-3 tbsp should be enough.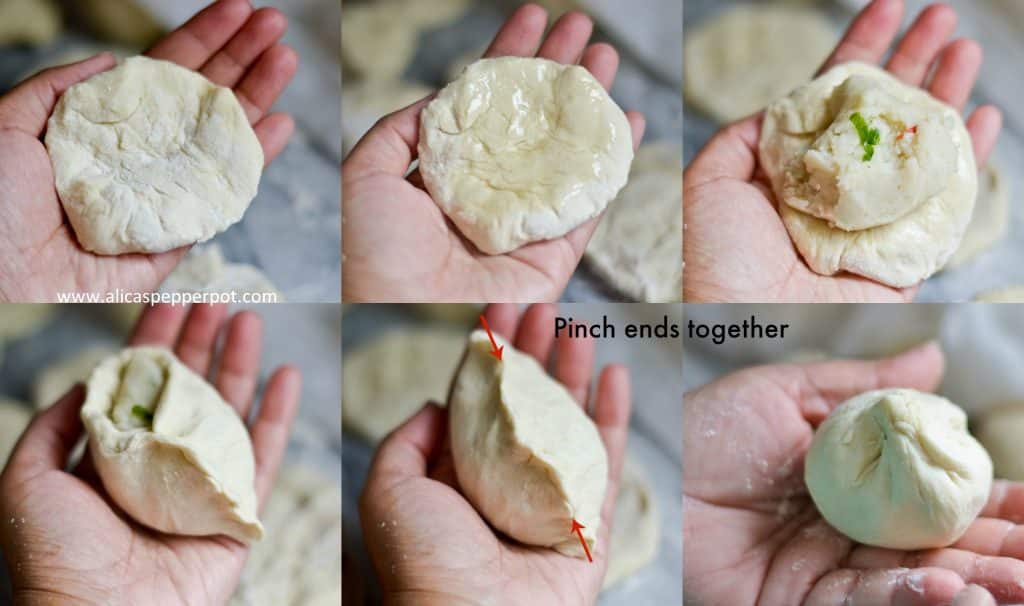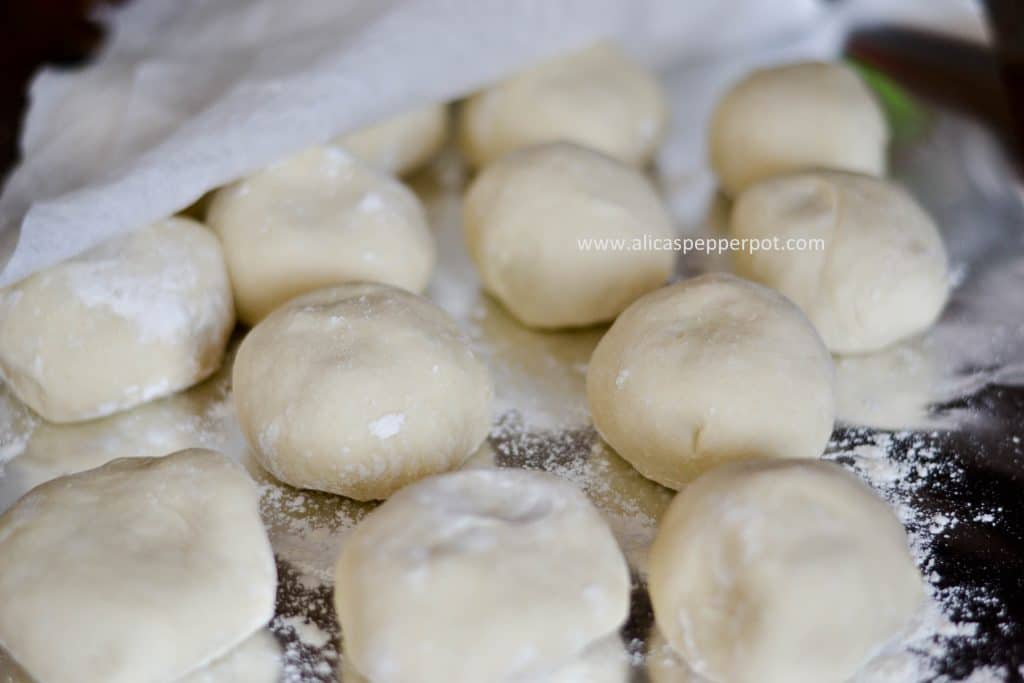 Flatten slightly before rolling. Otherwise you may burst the dough from too much pressure from the rolling pin. Use a lot of flour on your surface to keep dough from sticking- another way roti can tear.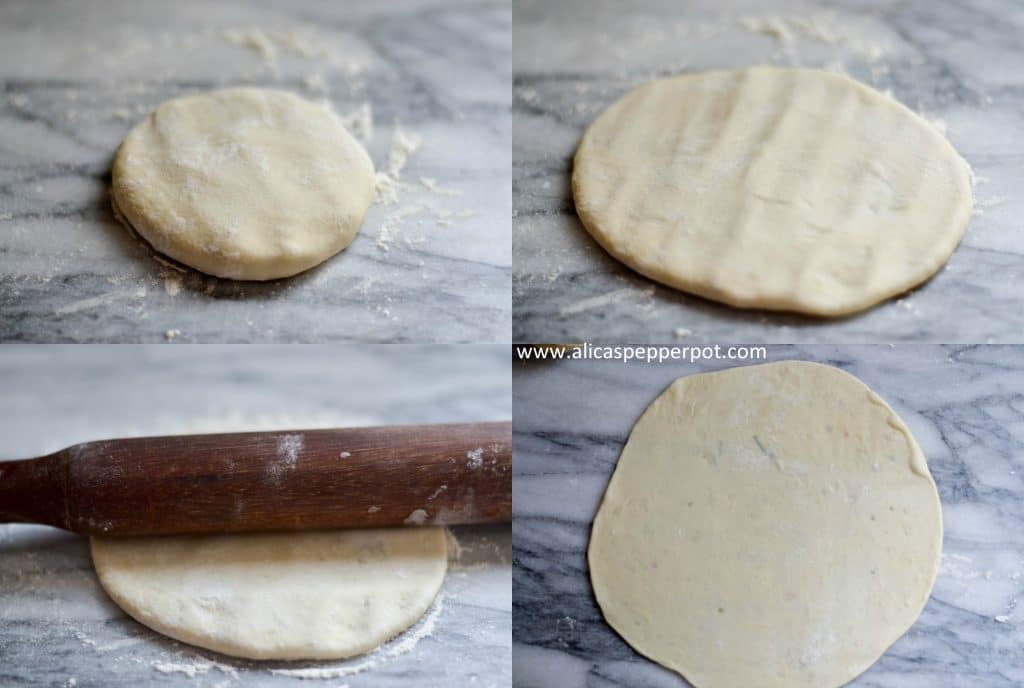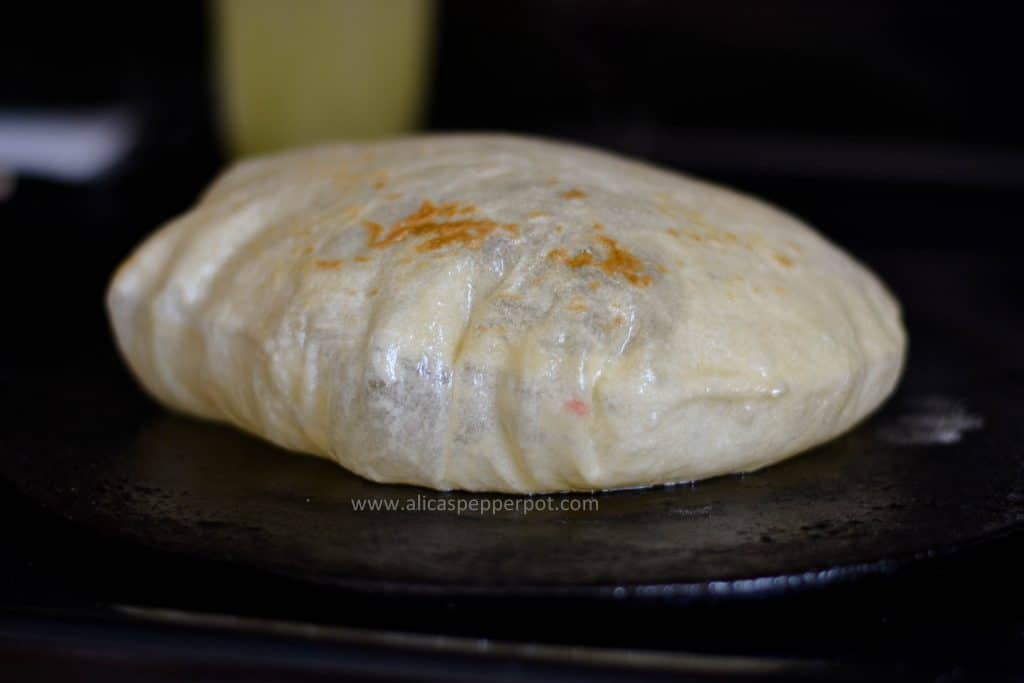 Make it your own:
Mom's aloo roti was simply flavored, but you can make this your own by altering the ingredients in the filling. Add what you like!
green or red chilies
onions
other dried spices - paprika, garam masala etc.
cilantro, parsley, or any other herb
grated ginger
hot pepper sauce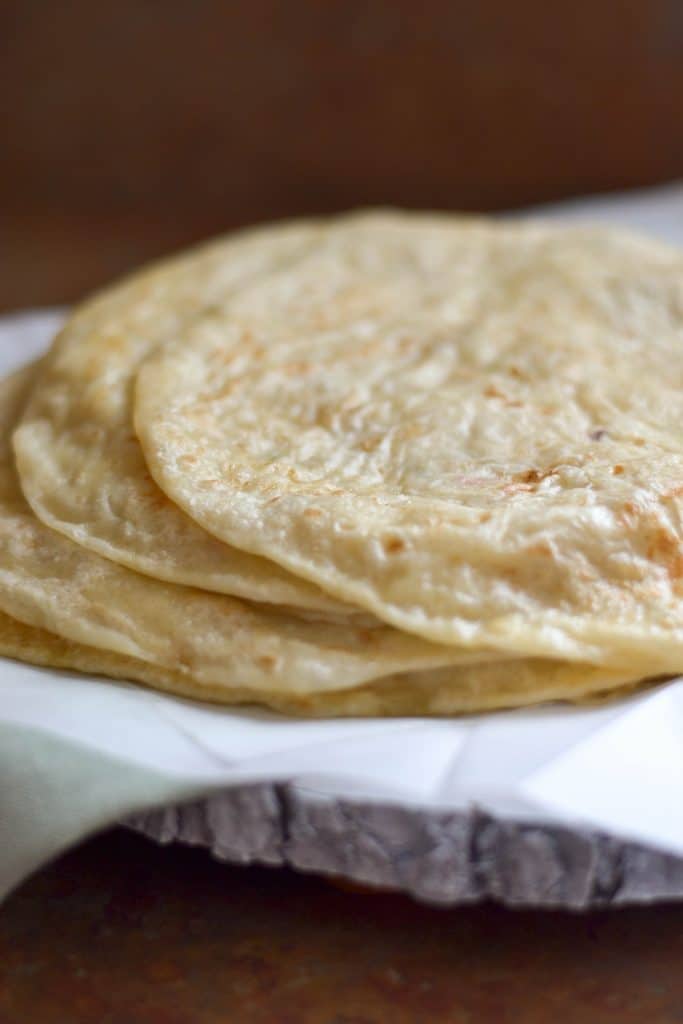 Tips:
Potato mixture must be smooth in order to not pierce through roti dough when rolling. Using a potato masher or fork to get potato as smooth as possible.
Butter in the filling keeps potato soft and smooth.
Potatoes may be boiled with skin on then removed after potato is cooked. However, I find doing it this way is too much work and burns my fingers when having to peel the skin. I prefer peeling, chopping, boiling, then mashing.
This type of roti does not need to be shaken/clapped to release air pockets like paratha/oil roti. After cooking, stack roti on top of each other. May be refrigerated after cooling.
The ratio of filling to dough must be accurate in order for filling to spread to edges. This comes with practice.
Oiling dough before placing filling inside helps for filling to spread.
Flatten filled dough slightly before rolling out. This helps to keep it from bursting.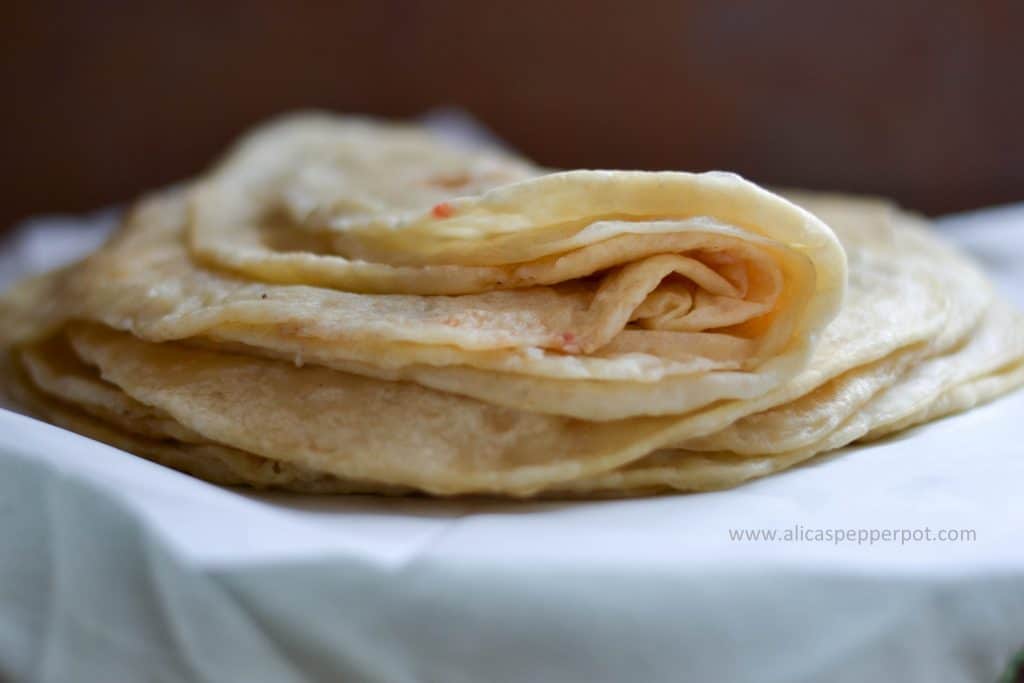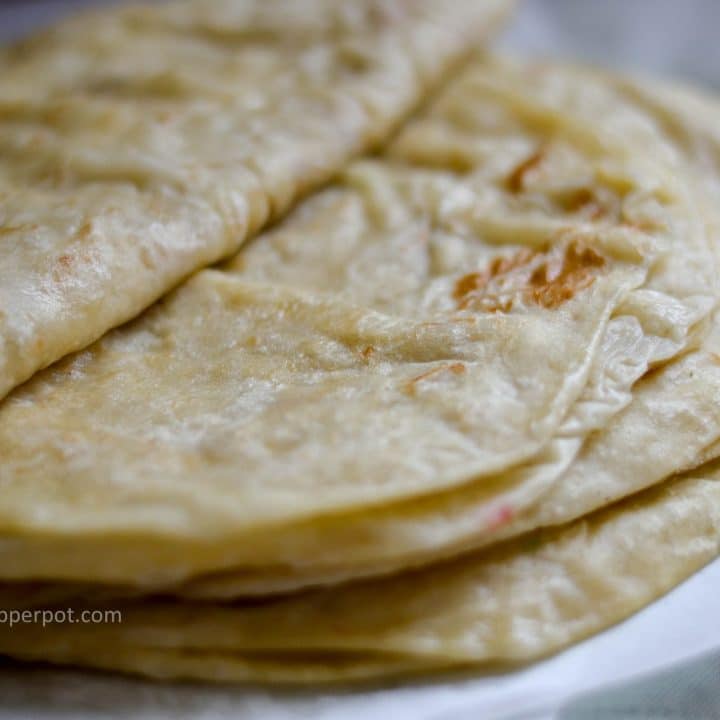 Aloo Roti (Potato stuffed flatbread)
Ingredients
Potato filling
7-8 medium sized potatoes
2 tbsp butter
1 ¼ tsp salt
1 tsp roasted cumin (geera)
2-3 stems scallions, thinly sliced
1-2 wiri wiri pepper, seeds removed (or scotch bonnet)
2 garlic cloves, crushed (optional)
Dough
3 ½ cups all-purpose flour
2 ½ tsp baking powder
½ tsp salt
1 tsp vegetable shortening
1 ¼ cup warm water for kneading (more if needed)
Extra flour for dusting
Oil for cooking roti
Instructions
Make the dough:
Sift flour, baking powder and salt together. Rub shortening into flour mixture until small bits form.
Add water a little at a time and knead into a soft smooth ball.
Rub a little oil on the top of the dough ball to prevent from crusting. Cover with a damp paper towel. Let dough rest for minimum 45 minutes.
Make the filling:
Peel and chop potatoes. Boil until cooked through, but not too soft.
Drain potatoes and mash immediately adding all ingredients. Potato should be smooth with no lumps. Taste filling and adjust seasonings.
Assemble and Cook:
Divide dough into tennis ball sized pieces.
Flatten each dough ball one at a time. Rub a little oil on dough, add 2-3 tbsp potato filling, then seal. Place on floured dish and cover with a damp paper towel to keep crust from forming. Complete process until all dough or potato has been used.
Cook roti right away. Heat tawah or cast iron skillet to medium heat. Roll each dough ball to ¼ inch thickness.
Place roti on tawah or skillet to cook. Once roti shows tiny bubbles, flip onto other side and brush with oil. Flip back to the first side and brush with oil. Do not allow very dark brown patches to form as it will yield a stiff roti. Remove roti from heat, stack on top of each other.