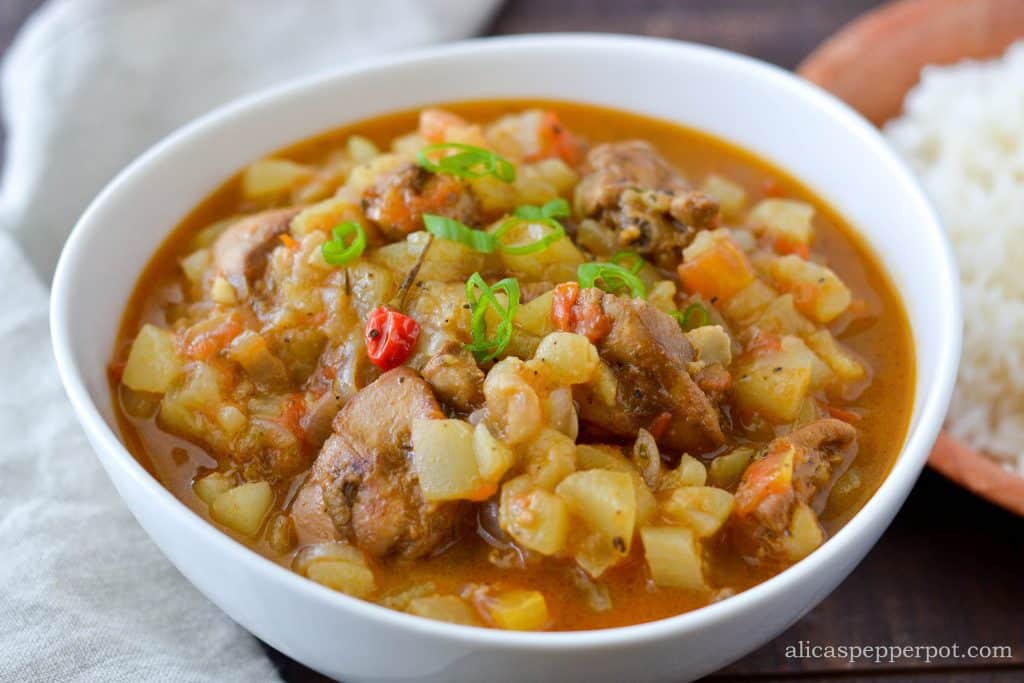 When I think back to how my mom ran our food and eating schedule growing up, I am amazed at how she did it as a working mom. She had a pretty efficient routine that was not written down. I'm sure one of the reasons for her success was us not having a choice in what we ate; what she cooked was what we were having for dinner. We didn't have a menu board or anything like that, but she always made sure everything we ate contained some sort of vegetable. There were a number of vegetable dishes on rotation most weeks. We would have bora, pumpkin, spinach, kariela (my least favorite), or this delicious stewed squash. Sometimes a protein was added to any one of these, other times, it was kept completely vegan.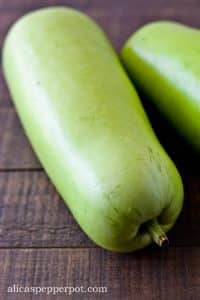 This squash is known as bottle gourd or long melon, but we simply called it squash. Most of the interior is made up of seeds and a spongy center. We would scoop that part out, peel the skin and dice the meaty part of the squash. My favorite way to eat this is stewed. I love it with lots of tomatoes, onions, garlic, hot pepper, and even some green and red peppers- something my mom never added to her version. It's cooked on low heat to give the squash meat enough time to soften up. Squash contains a lot of water and when slowly cooked, the juices are released forming a tasty gravy- especially delicious when eaten with rice. To make a good stewed squash, a lot of ingredients or seasonings aren't needed as the squash itself has its own flavor. Another way we enjoyed squash was curried with blue stone crabs. A lot more work, but worth it in the end.
Method
Here's a visual on how to prep the squash. Chop stems and bottoms off. Run a knife through the middle to remove the seeds and spongy center. Use a spoon to remove any larger seeds that may be lingering. Chop into quarters, peel and dice.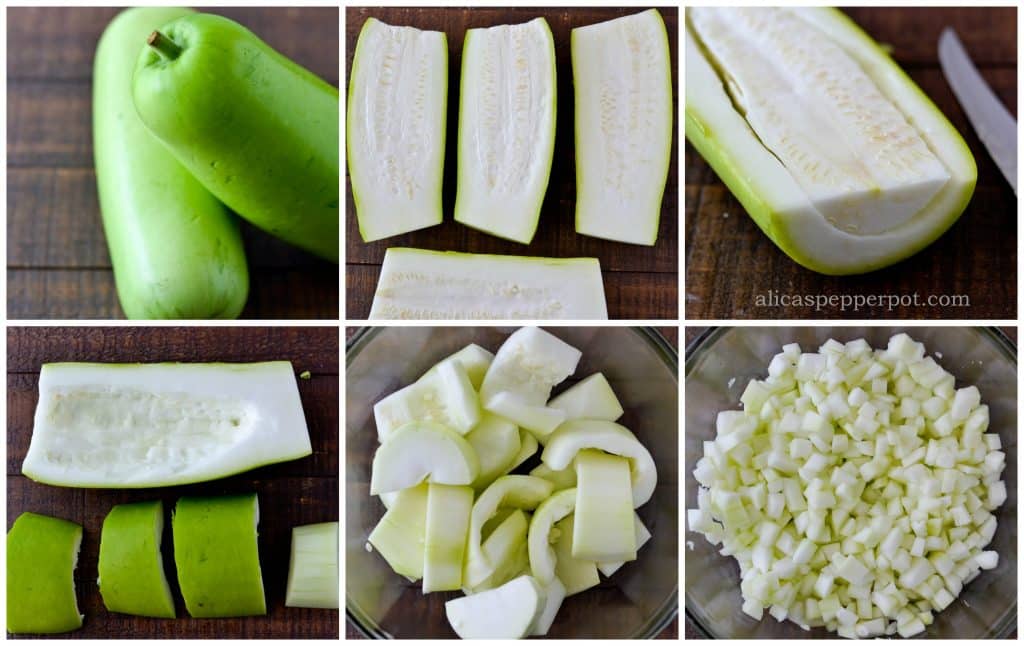 Chop the onions, garlic, tomatoes and add any hot pepper you prefer. I used about 3 large roma tomatoes for this recipe. Two large beefsteak tomatoes would work well also.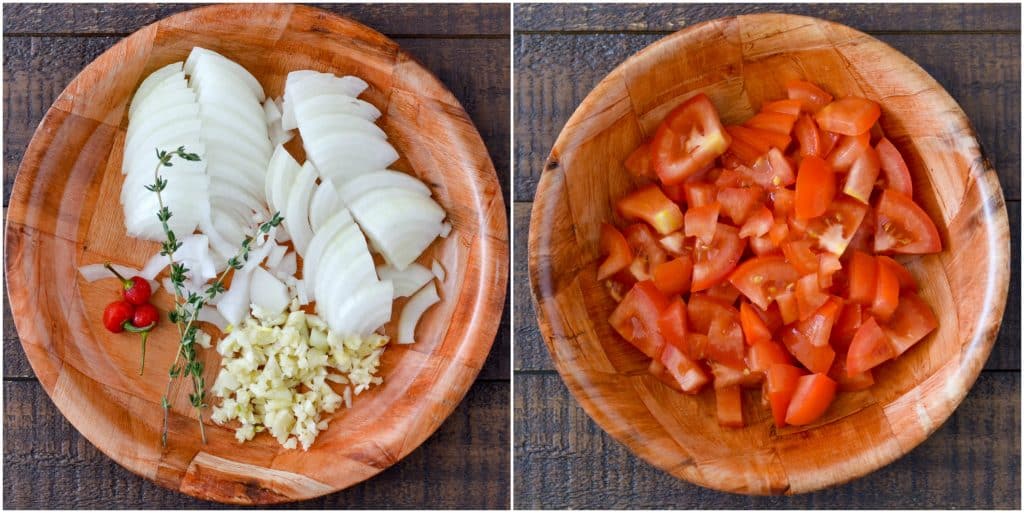 Prep and cook chicken. I used chicken thighs and cut them into small pieces. Use whatever meat you prefer here. Shrimp or saltfish (salted cod) are also delicious substitutions.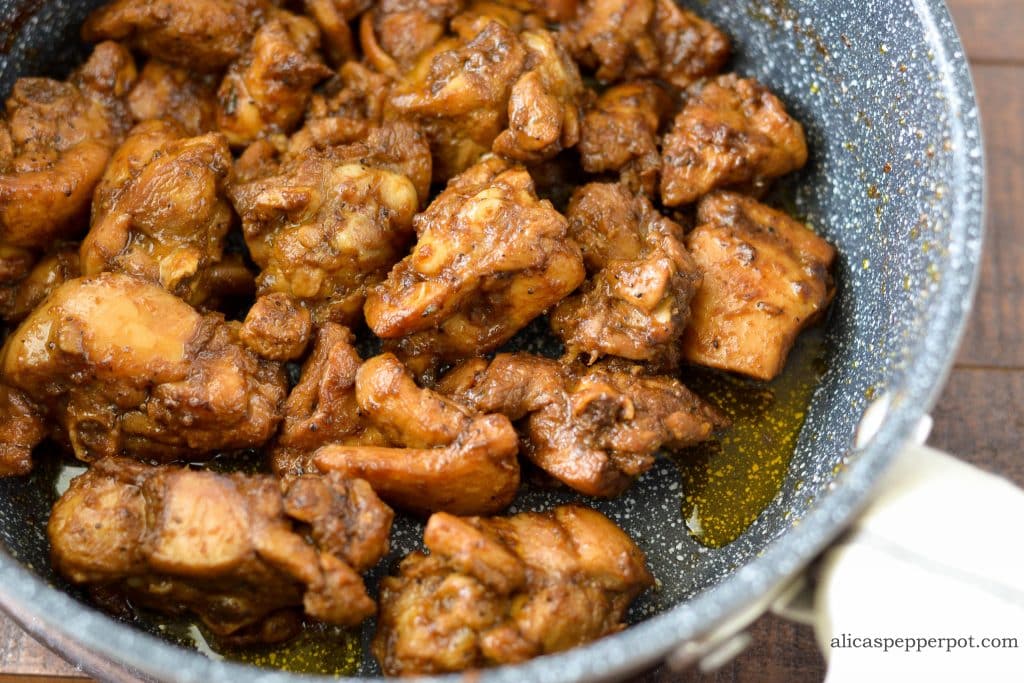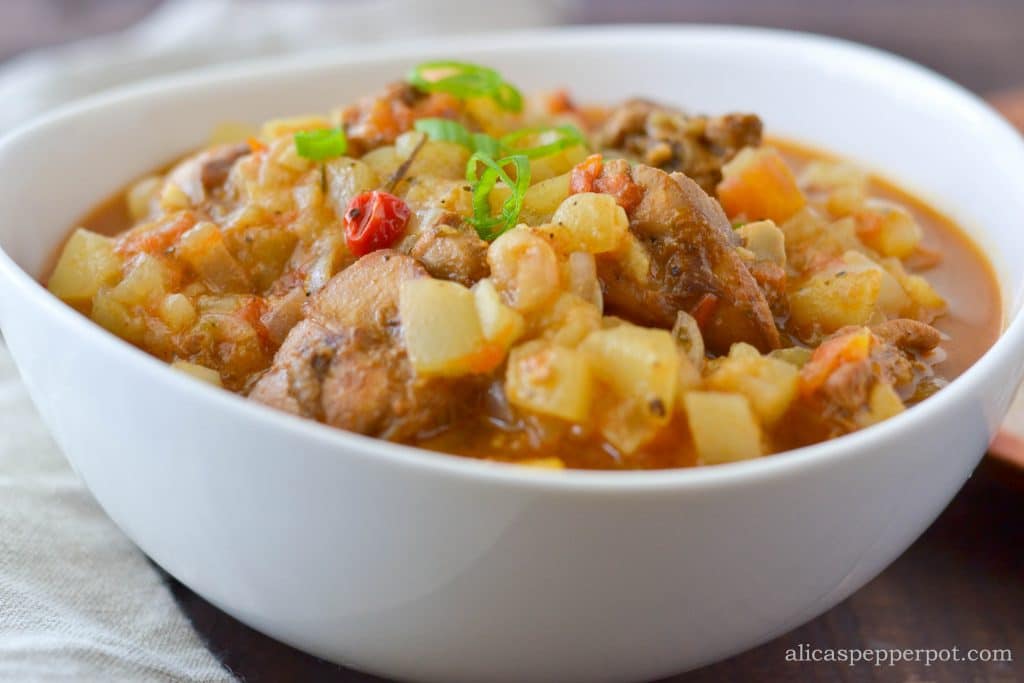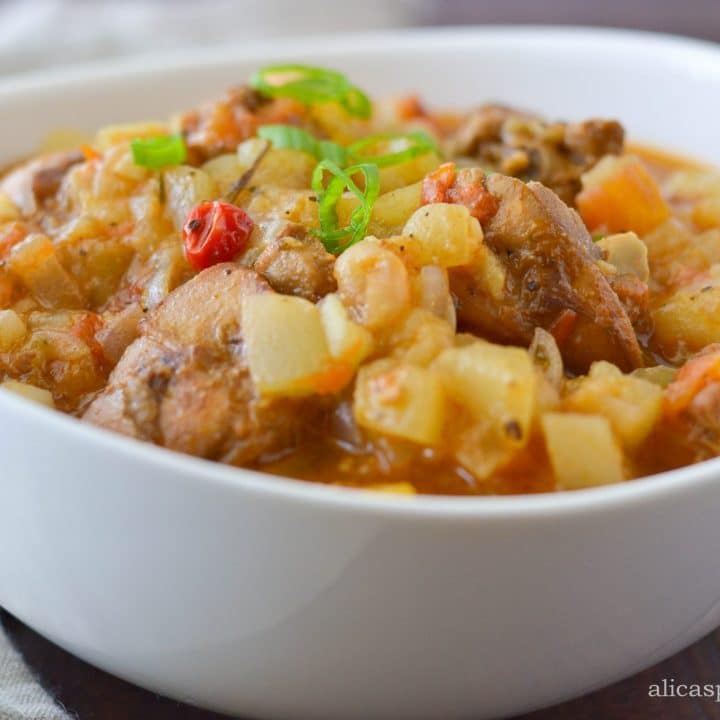 Caribbean Stewed Squash with Chicken
Ingredients
For Squash
2-3 lbs squash, seeds scooped out
1 whole onion, finely sliced
3 garlic cloves, finely minced
2 wiri wiri peppers, or (½ habanero/scotch bonnet)
1 ½ cup diced fresh tomatoes or 3 tsp tomato paste
4 sprigs fresh thyme leaves
1 -2 bouillon cube
½ tsp Black pepper
¼ cup water
¼ cup diced green and red bell peppers (optional)
3 tbsp canola oil
For Chicken
2lbs chicken thighs or breast
2 tbsp green seasoning
1 tsp casareep or browning sauce
Dash salt
Dash black pepper
Dash paprika
1 tbsp oil for marinade
1 tbsp oil for cooking
Instructions
Clean and chop chicken into small pieces. Season with green seasoning and remaining ingredients and let marinate.
Prep squash. Chop stems and bottom off each squash. Slice in half and scoop out seeds.
Chop squash into quarters then peel skin off. Dice squash into small pieces. Set aside.
Slice onions, garlic, tomatoes, red and green peppers if using.
Heat oil in a wide-bottom pot. Add onions, garlic, wiri wiri pepper, and tomatoes. Let saute until tomatoes are soft.
Add squash to pot with remaining seasonings, herbs, and water. Add green and red pepper here if using. Let squash cook on medium low heat until soft and most liquid has evaporated.
Heat oil in a frying pan for chicken. Saute chicken until cooked through. When squash is completely cooked, add chicken. Stir to combine.
Notes
I prefer the Knorr brand bouillon cubes. They are the large, rectangular, and soft ones. If using the small cube shaped Maggi brand, use 4 instead.