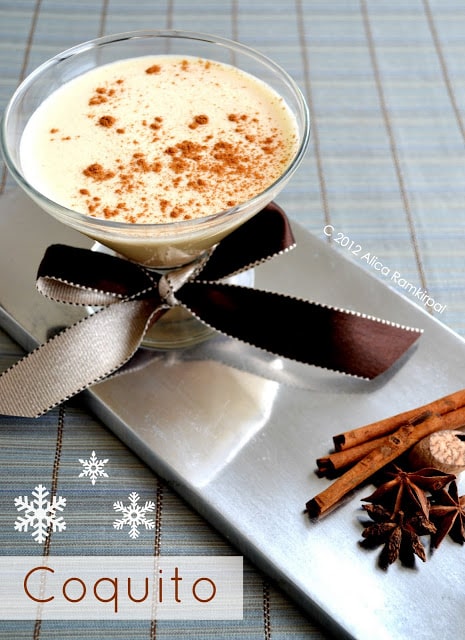 The first time I had coquito was a few years ago during a visit to Florida. It always feels so festive when I am there. My mom and I cook up a storm and bake all sorts of goodies. We never really know who's stopping by, but we always make sure there is enough to eat for any amount of visitors. Back in 2009, my mom's friend Zulieka, who is from Puerto Rico (and also lives next door), came over and brought with her a bottle of homemade "egg nog" to help us wash down all the goodies we baked. It was so delicious. It had this wonderful creamy coconutty taste with hints of cinnamon in the background. It was her mother's recipe and they make it during Christmas every year. I've also had coquito from my friend Jeff, who is from the Dominican Republic. It tasted similar to Zulieka's. The recipe overall seems to be standard, with some variation.
Coquito reminds me of other egg nog variations like Trinidad's
ponche de creme
which has more of a citrus profile. My husband makes it every year as well and I indulge in it probably a little too much! What I love about these egg nog drinks is that they are meant to be savored; letting the ice melt and stirring frequently makes it taste better. It's even reminiscent of Irish Bailey's, where you just sip and stir, stir and sip, but never gulp.
Method
Since my first coquito encounter, I have made this a few times at home and it is a hit every time. There are two methods of preparation; you can blend the ingredients with the raw eggs or temper the eggs and milk until thick, then blend with the rest of the ingredients. I usually throw all the ingredients into a blender with the raw eggs and hit go. I was never too concerned with salmonella from the raw eggs since this drink contains a lot of alcohol and most likely kills the bacteria in the eggs, if any. Store-bought eggs go through a washing and sanitation process where most of the salmonella from the egg shells are removed, however since salmonella can also be found on the inside of the egg, there is no way to remove it without cracking the egg. I have found in my research that 1 in every 10,000 eggs contain salmonella, according to the Center of Disease Control, so I guess we can say the odds are on our side. If you still feel nervous about having raw eggs in your coquito, then you can cook the egg and milk mixture until it reaches a temperature ranging from 155-160 degrees if you care to use a thermometer. This indicates the egg yolk has been cooked to a temperature where the bacteria has been killed. Whether you choose to blend with the raw eggs or cooked, the result will still be a velvety, creamy, coconutty drink that is sure to please any crowd.
If you try this recipe, I hope you enjoy it and remember to add as much or as little of any ingredient you choose, especially the rum! If you are making this for a party, I suggest doubling or tripling the recipe since it only makes about 6 cups. I wish you all a very happy holiday season!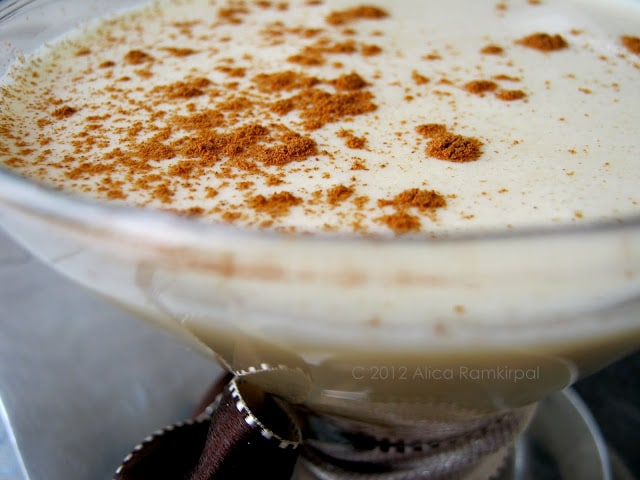 These are the typical ingredients that go into coquito: Condensed milk, coconut milk, evaporated milk, egg yolks, spices, vanilla, and of course- rum :). Coquito is traditionally made with fresh coconut milk, but canned coconut milk works well and used in place these days. I used the light version because I prefer my coquito with more of a delicate coconut taste. You can either pour all these ingredients into a blender and blend till frothy, or you can continue from here and temper the eggs.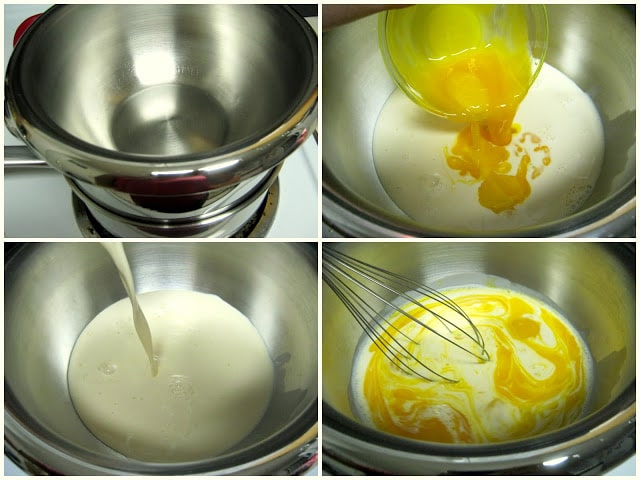 Bring ½ cup water to a simmer in a double boiler. Place aluminum bowl over water, add egg yolks and evaporated milk only. Continue to stir about 10 minutes until mixture is thick and coats the back of a spoon. Or, if using a thermometer, this mixture should reach about 155-160 degrees. At 155-160 degrees, the egg yolk has cooked enough to destroy any bacteria it might contain. I didn't use a thermometer, so don't feel you can't make this beverage if you don't have one.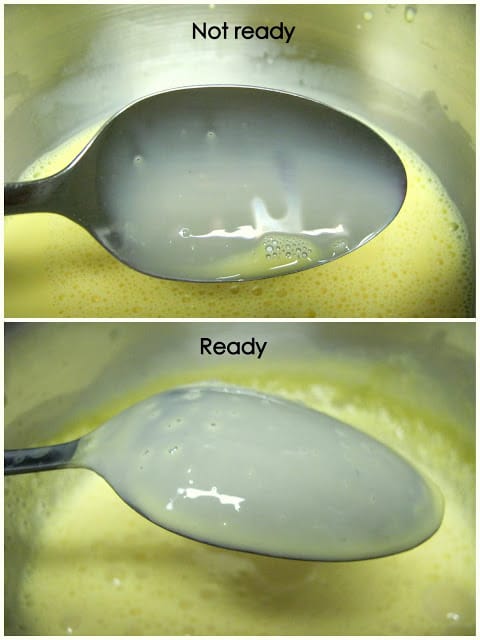 Pour egg/evaporated milk mixture into a blender add coconut milk, spices, vanilla, condensed milk, and rum. Blend until frothy.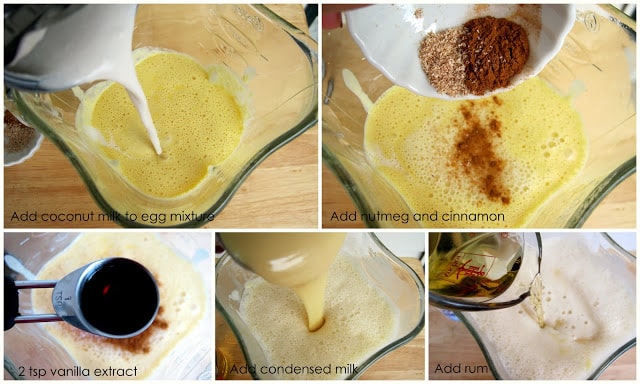 Frothy.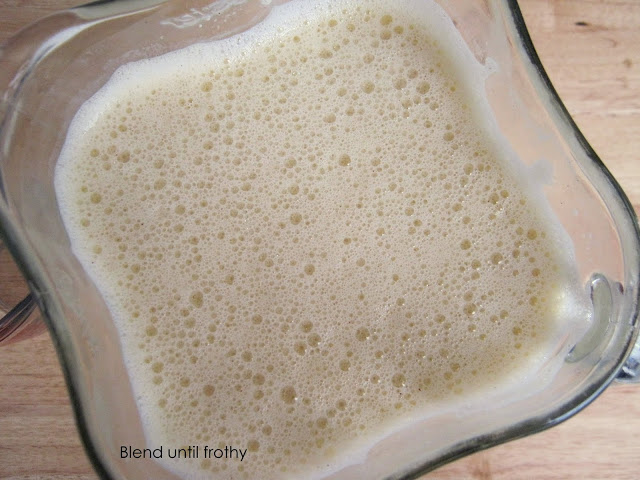 Pour into glass bottles. Add the star anise to the finished mixture. This is optional, but I think it gives a nice background flavor to the beverage.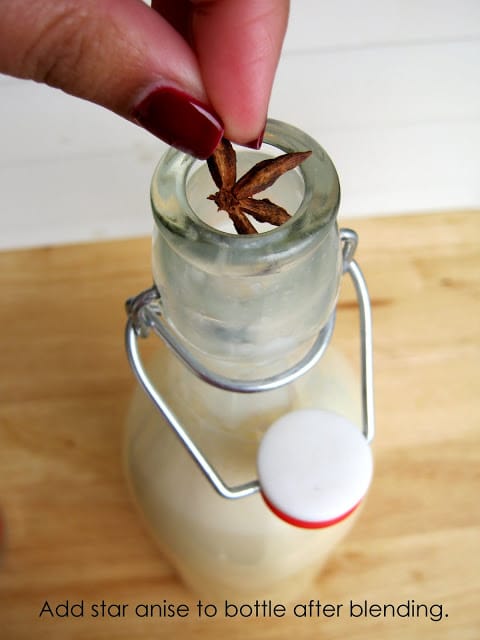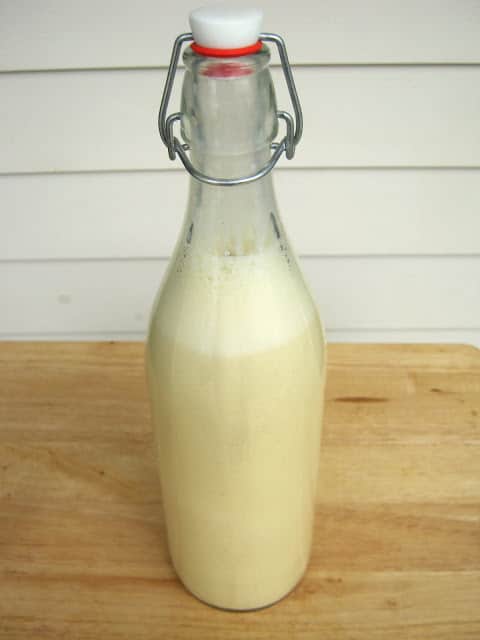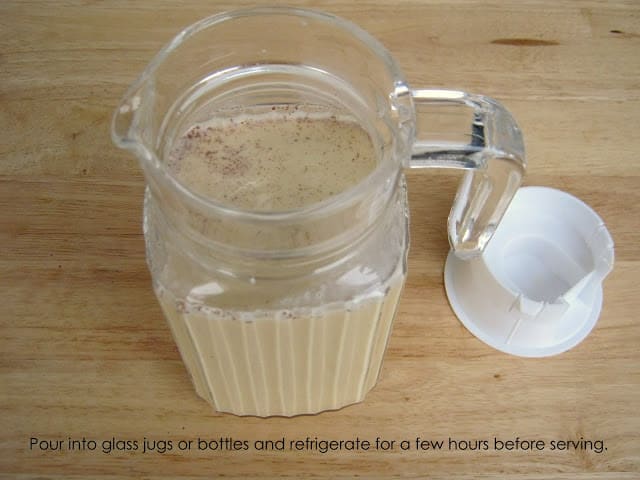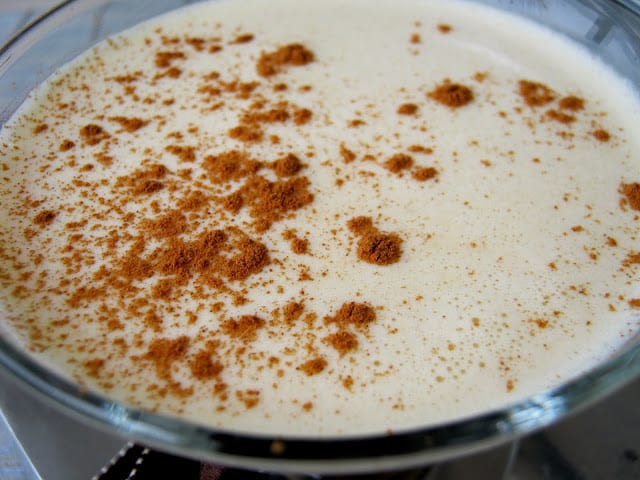 Coquito – Puerto Rican Eggnog
Ingredients
1 12oz can evaporated milk
1 13.5oz can regular or light coconut milk
1 15oz can condensed milk
¾ - 1 cup white or dark rum
5 large egg yolks
2 tsp vanilla extract
¼ tsp ground cinnamon
⅛ tsp freshly ground nutmeg
1-2 star anise
Instructions
Bring ½ cup water to a simmer in a double boiler. Add evaporated milk and egg yolks. Stir until mixture coats the back of a spoon (about 10 minutes on low heat). Or, stir mixture until it reaches 155-160 degrees.
Pour milk/egg mixture into a blender, add rest of ingredients and blend until frothy.
Refrigerate until chilled then serve over ice.
Alternate Directions:
Place all ingredients in a blender with raw eggs and blend until frothy. Refrigerate until well-chilled, serve over ice.
Notes
To prevent mixture from flowing over, a blender that can hold more than 6 cups is preferred. Mixture can also be whisked in a large bowl and then poured into a blender 3 cups at a time, if your blender does not hold more than 6 cups.
If you do not prefer a strong coconut taste, light coconut milk can be used as well.
Rum is the traditional alcohol used in this beverage. Whether you choose white or dark rum is based on your preference. Since 151 proof is a lot stronger, I recommend starting with ½ cup.