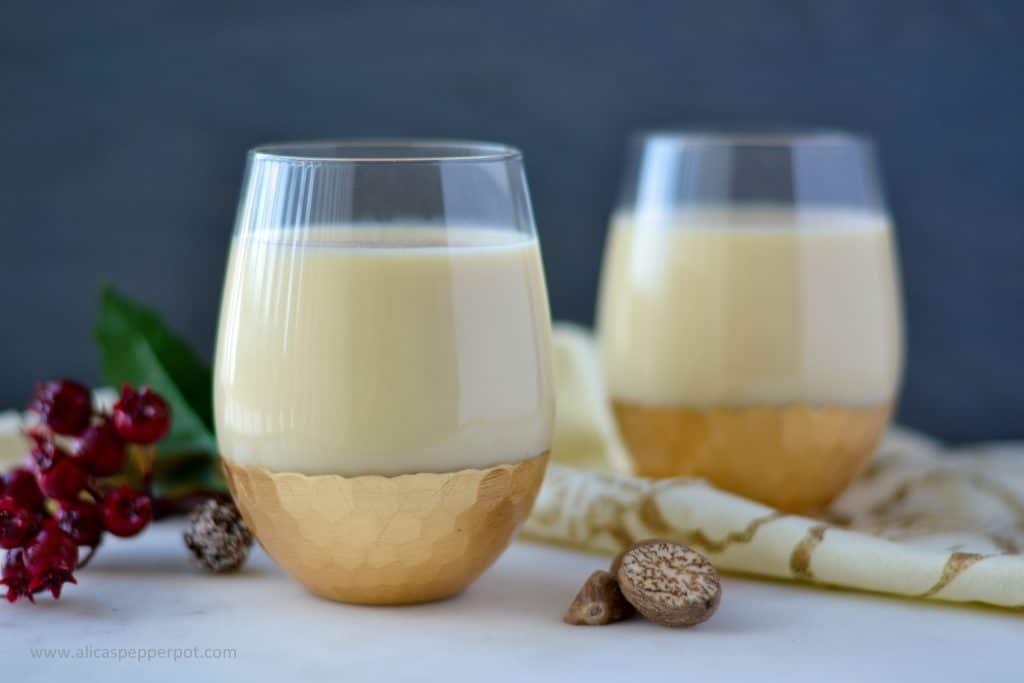 Every Caribbean country has their own version of a homemade milk-based alcoholic drink, served mainly during the holidays. Variations include different types of milk, such as coconut, coconut cream, condensed, or evaporated milk. Although ingredients vary, especially in the amount, two constants remain- spices and rum. This is my mother-in-law's Trinidadian ponche de creme recipe, or as she likes to say, "punch-ah-creme." Actually, it's her mother's recipe and she has adapted it as her own. I wanted to share this recipe with you all earlier in the holiday season, but it's become a tradition these past five years as something she makes when she visits for Christmas, so I had to wait. But the wait is over! If you love any type of eggnog, this drink is for you!
If these type of creamy drinks are your thing, you may also enjoy this Nutella Coquito or my plain Coquito recipe.
Patsy's Method
There are a few steps she takes to ensure the ponche does not taste rank and that it is completely smooth. She starts by cracking each egg one at a time in a large bowl then removing the little white membranes attached to the yolks. Do not skip this step. Trust me, no one wants to chew anything when they're drinking ponche de creme. After prepping the eggs, she adds one lime peel and whisks by hand until frothy. You can use an electric mixer if you'd prefer. The lime cuts any rank/fresh taste from the egg. The condensed milk gets added slowly as she whisks, and finally the bitters, rum, and spices. This mixture is strained in a fine colander then poured into sterile glass bottles. Most often we used old liquor bottles to store the ponche de creme. Once the ponche sits for a couple of days the flavors really develop. It is best enjoyed served over ice.
Her recipe is pretty straight forward. I believe she adds more condensed milk to her batch than some other recipes; it's just the way she prefers it. She is also particular about the type of rum that goes into the mixture. It has to be Fernandes Vat 19, Black Label, or Puncheon rum, but any type of good rum will work here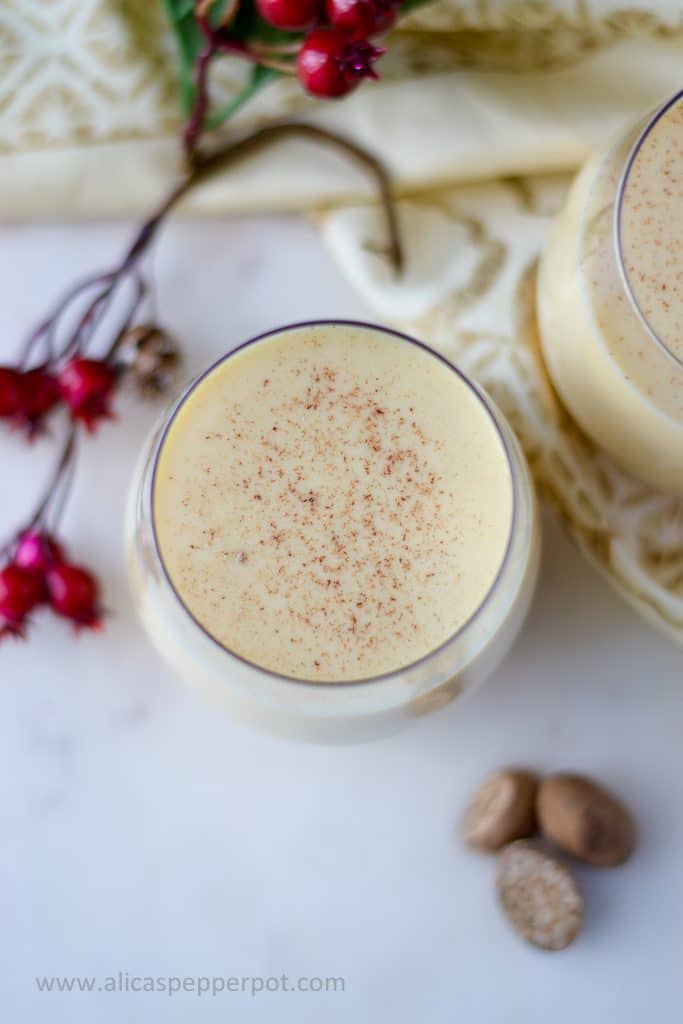 A Note On The Raw Eggs
This recipe does contain raw eggs. The high alcohol content in the drink kills off any bacteria that may be present. We have been consuming her ponche de creme recipe for years and she has been making it this way for most of her adult life so there's no way I'm about to tell a hot-blooded Trini to cook the eggs in her ponche de creme! However, if you are concerned about raw eggs in the drink, you can cook/pasteurize the eggs over a double boiler or simply in a metal mixing bowl over a small pot of boiling water. I'd recommend adding some evaporated milk to the eggs and cook for a few minutes until the mixture is thick. Let egg mixture cool off before proceeding with recipe.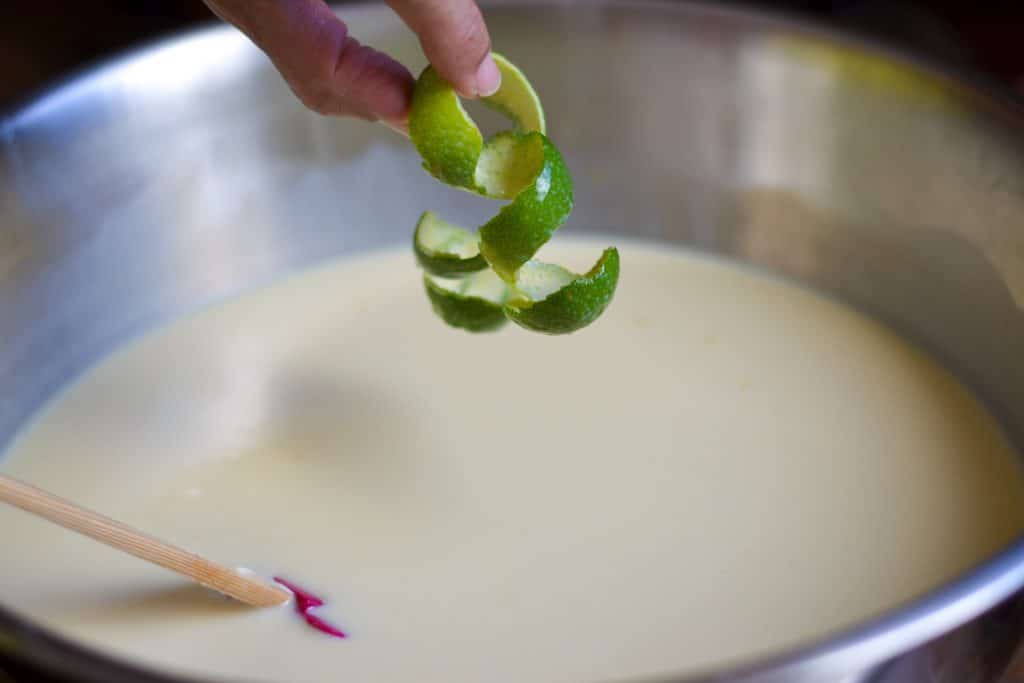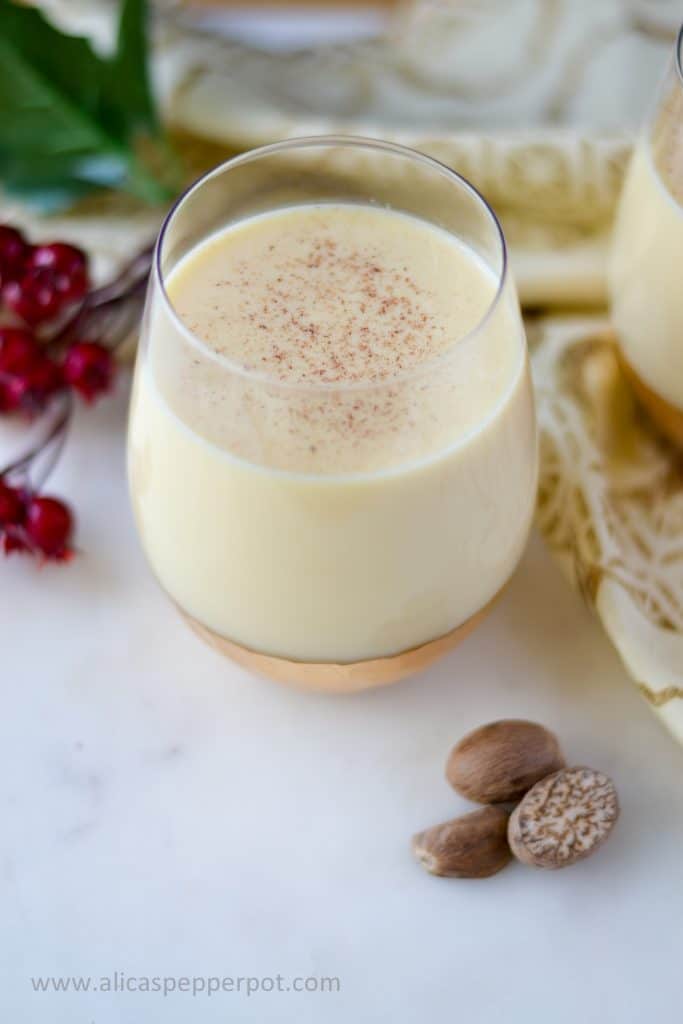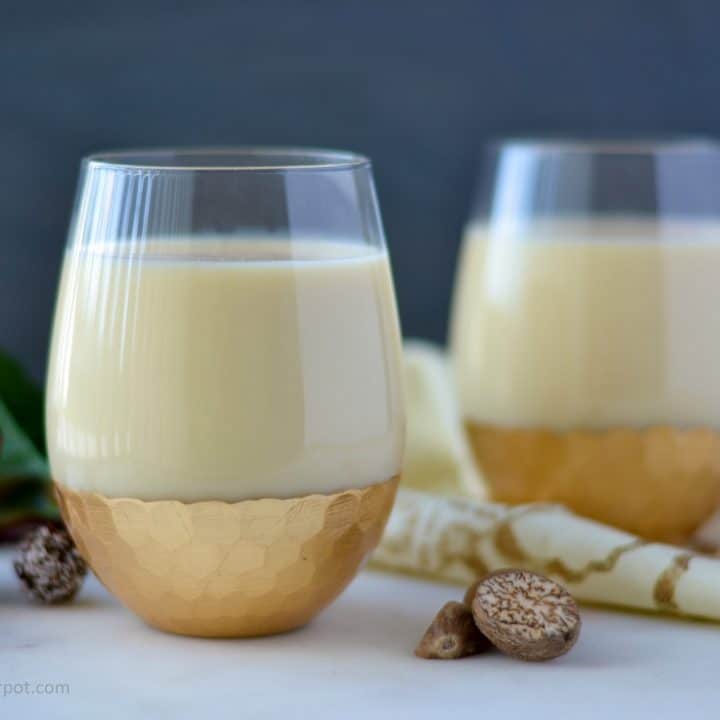 Patsy's Ponche De Creme
Ingredients
6 large eggs, white membrane removed
1 lime peel
6 14-oz cans condensed milk
2 12-oz tins evaporated milk
3-4 dashes Angostura bitters
1 750ml bottle rum (about 3 cups)
½ tsp freshly grated nutmeg (more if desired)
½ tsp freshly grated cinnamon
Instructions
In a large mixing bowl crack eggs one at a time. Remove white rubbery membrane from each egg.
Peel lime and add to eggs. Whisk eggs until frothy using an electric mixer on low or a handheld whisk.
Slowly pour in condensed milk whisking vigorously. Add evaporated milk and entire 750mL bottle of rum.
Add freshly grated nutmeg and mix thoroughly. Discard of lime peel.
Strain mixture through a fine colander.
Pour mixture into sterile glass bottles to store.
Notes
My mother-in-law uses only Fernandes Vat 19, Black Label or Puncheon rum for her recipe.
For optimum flavor, let mixture rest for a couple of days before serving. Refrigeration not necessary.