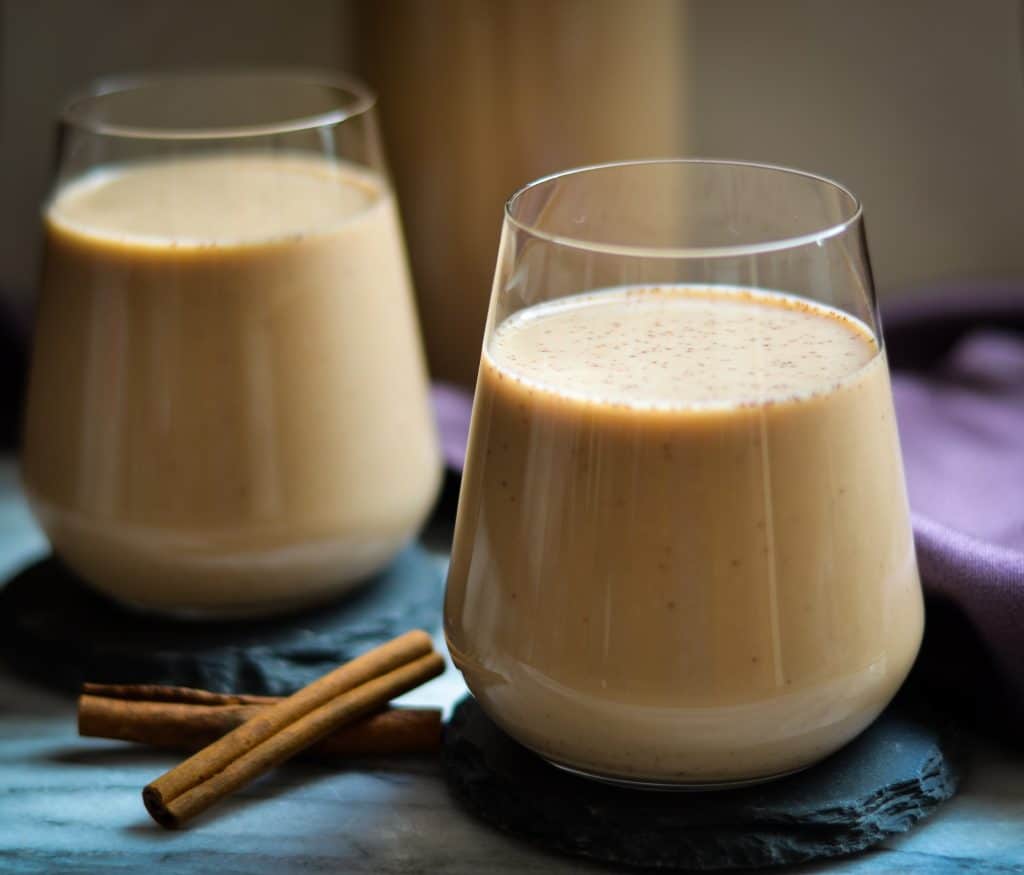 Coquito is a traditional Puerto Rican coconut milk drink served during holiday time. Spices such as clove, cinnamon, and nutmeg make up the flavors of this egg nog. What I love about these type of creamy holiday drinks is letting the ice melt as you sip. It's reminiscent of Irish Bailey's, where you just sip and stir, stir and sip; but never gulp. So much flavor in just one mouthful.
I tried this nutella version for the first time last year. It was so good! It was a gift from our neighbor. I never thought to make it until my friend Mark and I were chatting about holiday foods and he mentioned nutella coquito and how much he loved it. Then another day my husband said his barber told him about a nutella coquito his wife makes for Christmas. I couldn't get it off my mind so I decide to make a batch.
If you're a nutella lover you will be head over heels for this drink! I add enough nutella to get that hazelnut flavor, but not so much that it tastes like chocolate milk. This recipe is loosely based on Latina Mom Meals' recipe. Check out her version, you might enjoy it also. I tried this with coconut flavored Bacardi rum, but I feel it made the drink too sweet. I wouldn't use the coconut rum next time, but any regular white rum will be fantastic. Of course, you can add any rum you like.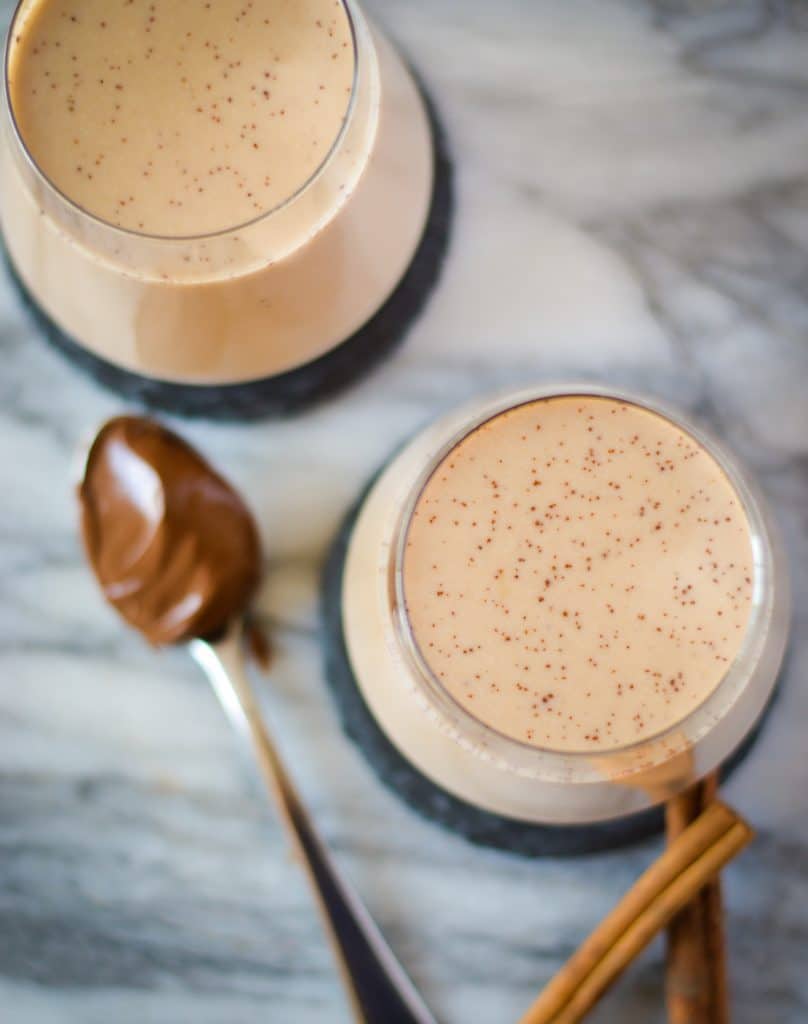 Method
Making this is pretty quick and easy. I used egg yolks for the mixture; it yields a rich taste in the drink. You can cook the eggs and evaporated milk over a double boiler until the mixture is thick or whisk the egg yolks into the evaporated milk over direct heat; making sure to whisk constantly. After the egg-evaporated milk mixture has been combined, I find mixing in the rest of the ingredients in a very large mixing bowl then transferring (a little at a time) to a blender really helps to blend the flavors well. Some choose to strain the mixture through a very fine colander or cheesecloth. I didn't strain my mixture, though. Add desired amount of rum and pour into glass bottles. The longer this mixture "sits" the better it tastes.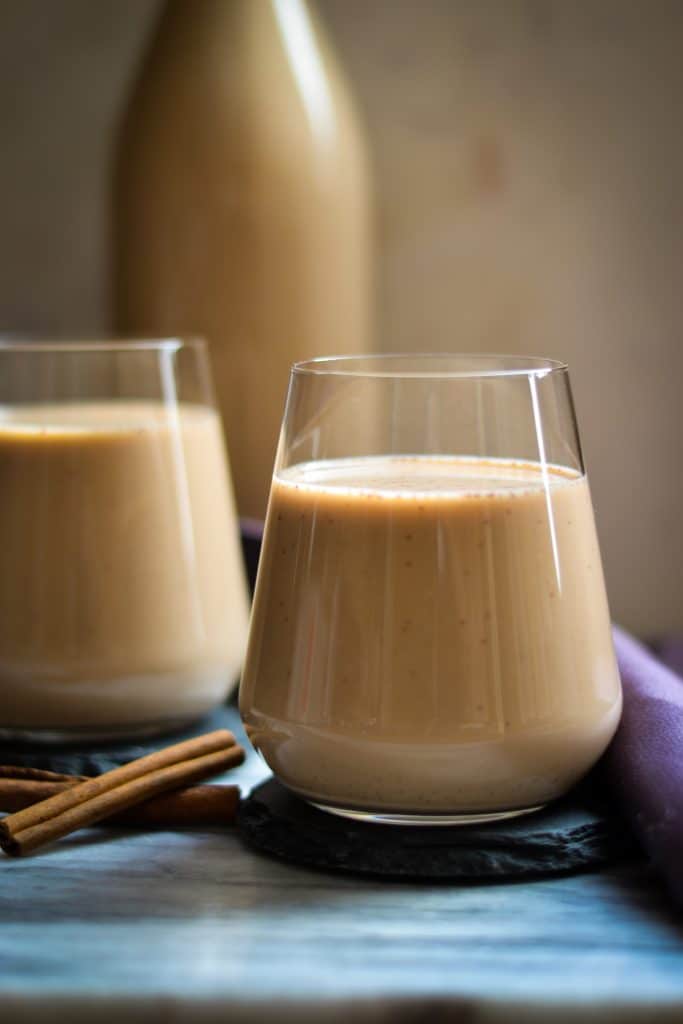 Nutella Coquito
Ingredients
6 egg yolks
2 12oz cans evaporated milk
1 15oz can coconut cream
3 13.6oz cans coconut milk
2 14oz cans condensed milk
½ tsp clove
1 tsp ground cinnamon
¼ tsp nutmeg
2 tsp vanilla extract
¾ cup Nutella spread
2-3 cups white rum
Instructions
Over a double boiler, add egg yolks and 2 cans evaporated milk. Whisk together over steam until mixture is thick, about 5-6 minutes.
In a large mixing bowl add evaporated milk-egg mixture. Pour in coconut cream, coconut milk, and condensed milk. Add Nutella, spices, and vanilla extract.
Pour mixture into a blender a little at a time. You may choose to strain the mixture through a fine colander- this step is optional. Stir in rum and mix well.
Store coquito mixture in glass bottles.
Notes
For optimum flavor, make this a few days before serving. The longer this sits, the better it tastes.
Coconut rum was too sweet, I prefer this with non-flavored white rum. Dark rum will also work well.