One of my all time favorite Indian desserts is Rasmalai. It's rich and creamy and melt in your mouth good. Plump milky dumplings are soaked in a rosewater and cardamom scented sweet milk and topped off with nuts and saffron. Truly a dessert fit for a king (and me) and Diwali! Mom made rasmalai during Hindu holidays and our family members would get every last drop of milk into their spoon because it was that good! Everyone would request this dessert from her even if it was just a regular Saturday night. She used ricotta cheese for her version, which is what is used in this recipe.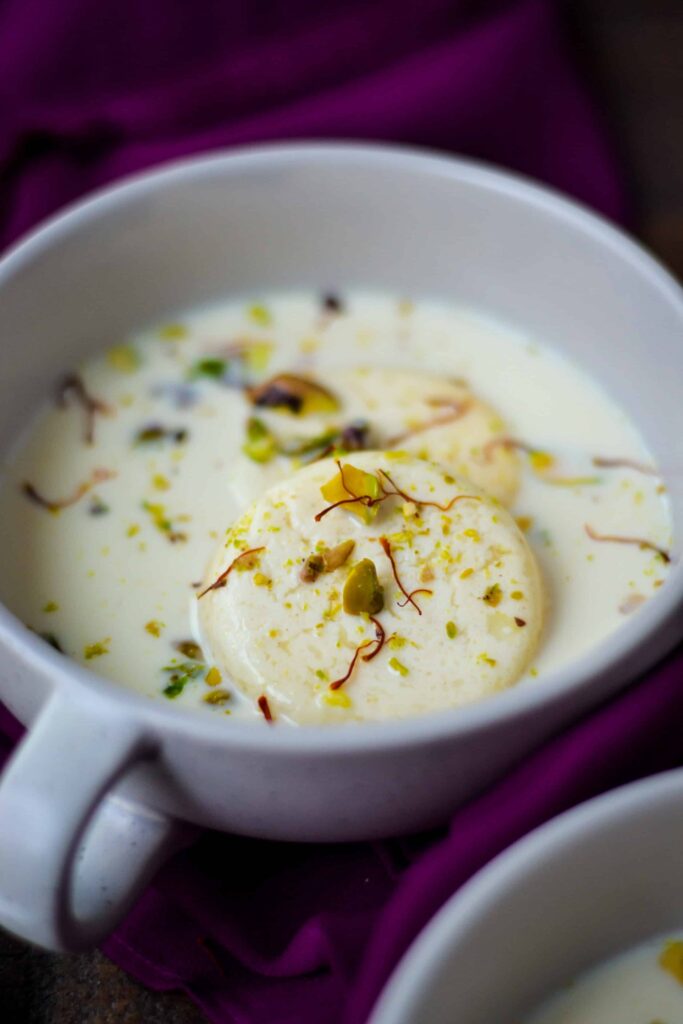 Traditional version
Making the cheese dumplings is the most taxing part of this dish. Boiled milk is curdled with lemon juice, strained then mashed until smooth. The curdled milk is called paneer. The warm paneer is shaped into balls and ready for cooking. You can certainly buy ready made paneer at Indian grocery stores. If you'd like to give this more traditional version a try, take a look at this recipe.
Shortcut version
This recipe is sort of a shortcut version because it uses ricotta cheese instead of homemade paneer. My mom always used whole milk ricotta in her rasmalai- actually a suggestion from an Indian friend of hers at our temple. The ricotta is seasoned with mostly ground cardamom and sugar. The cheese is baked to remove moisture then soaked in the milk mixture overnight. The milk is a mixture of condensed milk, half and half and whole milk. Although, my mom used evaporated milk in place of half and half. She also baked the cheese in a standard size aluminum foil pan, then cut the cheese into squares. I've decided to use cupcake/muffin pans to bake the cheese so they keep a round shape.
Start with whole milk ricotta cheese. Season it with ground cardamom and sugar. You may also used crushed cardamom. My mom likes to add a pinch of cinnamon and nutmeg- optional.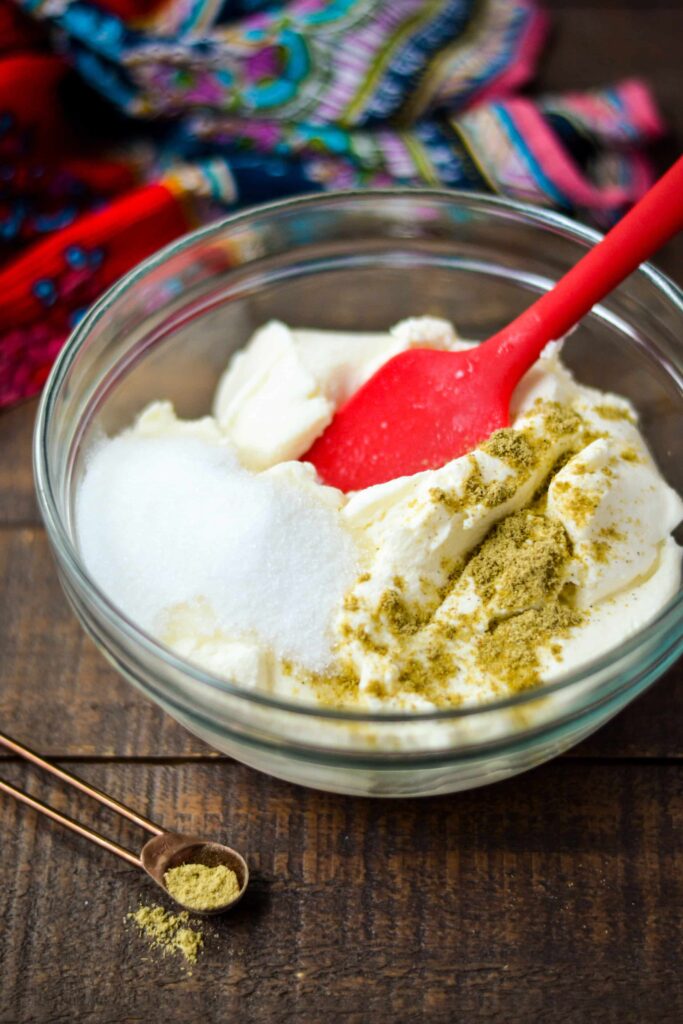 Spray a standard size muffin tin with a neutral oil spray like coconut, avocado, or canola. Don't use olive oil, it will leave a taste on the cheese. Fill each crevice with 2 tablespoons of the cheese mixture. A 16oz container of ricotta will yield 12 cheese dumplings. I made 24 pieces using 32oz ricotta.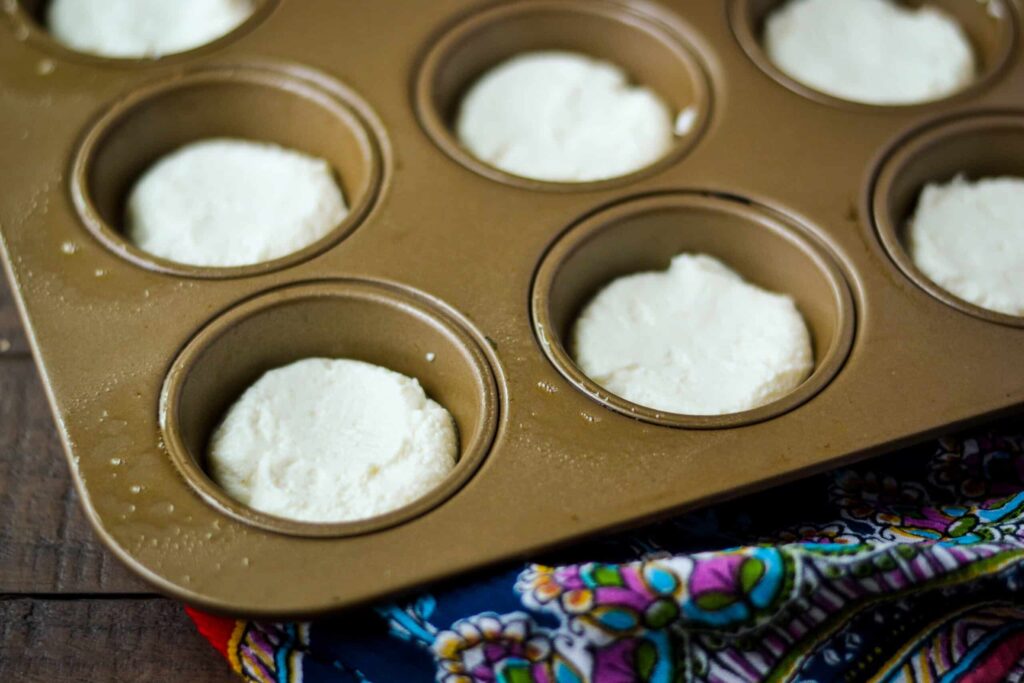 Bain Marie (water bath)
I baked the cheese in a waterbath to keep from over browning. Water baths are great because the steam neutralizes direct heat to the food. In this case, we want the cheese to cook but not get brown (to prevent overcooking) so a water bath is appropriate. If the cheese overcooks it can be stiff and not absorb the milk mixture as well. Place muffin tin with cheese mixture into larger pan. A long aluminum foil pan works great here. Fill larger pan until water comes halfway up the muffin pan and bake in oven for about 22-26 minutes at 325 degrees.
If you do not have a larger pan to make the bain marie. Fill any baking pan you have on hand half way with water. Place on bottom rack of oven. Place muffin tin on rack directly above. The water in the pan will create steam/moisture in the oven and can work similarly as a bain marie.
While the cheese is baking. Make the milk mixture. My mom uses a combination of condensed milk, evaporated, and whole milk for her rasmalai, but evaporated works well in place of the half and half if you're not a fan of evaporated milk. Add saffron strands to milk mixture and heat just until warm. If available add crushed pistachios or almonds to milk.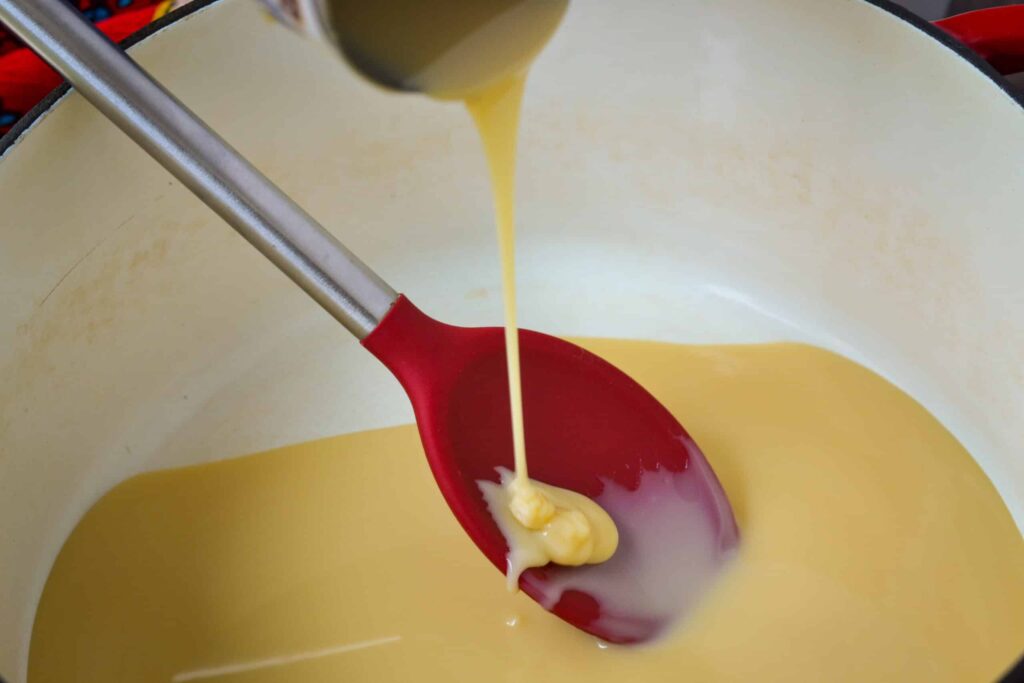 After removing cheese from oven, place in refrigerator. Once cooled, remove cheese from muffin tin and place in milk mixture. Let soak overnight. Garnish with more nuts. Serve cold and enjoy!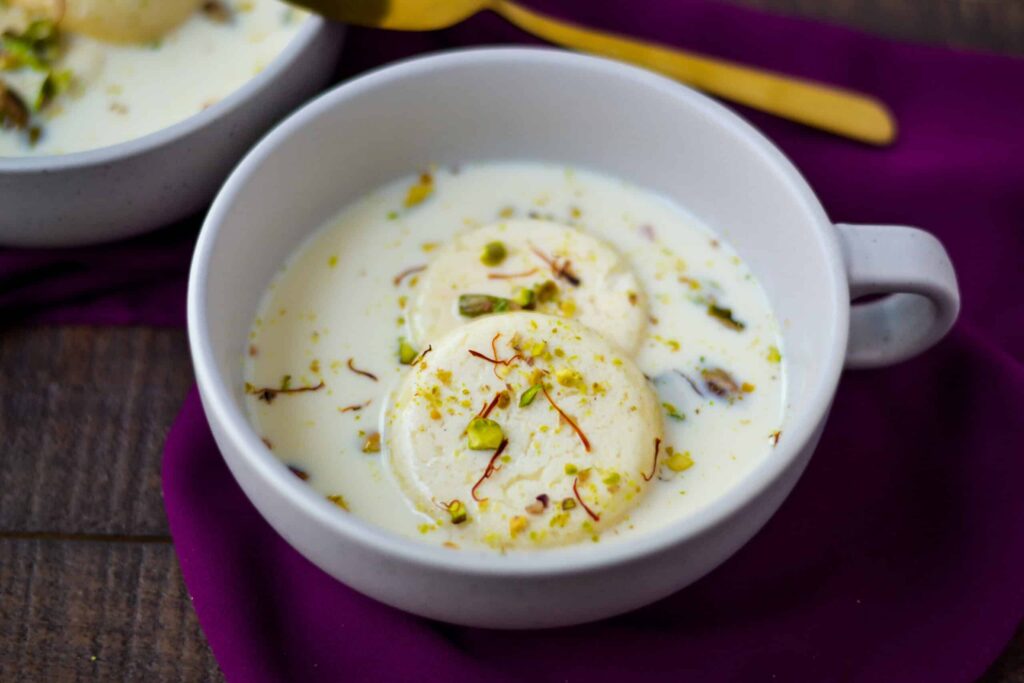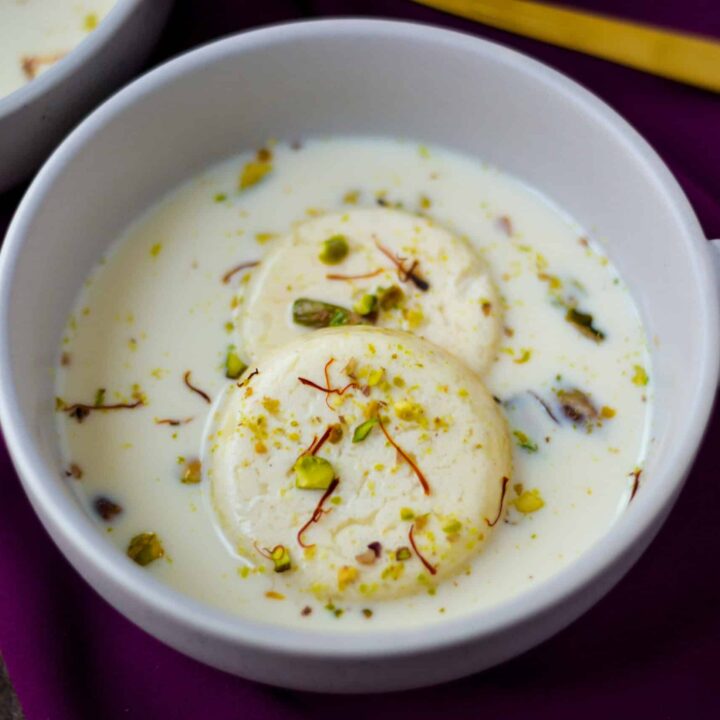 Easy Rasmalai Recipe
Total Time:
1 day
20 minutes
Ingredients
Cheese mixture
32 oz whole milk ricotta cheese
½ teaspoon ground or crushed cardamom seeds
½ teaspoon cinnamon
4 tablespoons white sugar
Oil spray for pan
Crushed pistachios or almonds to garnish
Milk mixture
1 14oz can condensed milk
12oz evaporated milk or half & half milk
16oz whole milk
1 tbsp rosewater
¼ cup crushed pistachios or almonds
8-10 saffron strands (optional)
5-6 cardamom pods or ⅛ tsp ground cardamom
additional sugar if desired
Tools
12 slot standard size cupcake/muffin pan
Large pan for water bath
Instructions
Add cheese, ground cardamom, cinnamon, and white sugar in a mixing bowl. Mix cheese with spices and sugar. Set aside.
Spray a muffin tin with oil spray. Fill each crevice with 2 tbsp of cheese mixture.
Place the muffin pan in a larger pan. Fill the larger pan with water halfway. Bake uncovered for 55-60 minutes at 325 degrees F. You'll know it's done when you shake the pan slightly and the cheese jiggles like jello. Also, check for doneness by inserting a toothpick in the center. If the cheese is still wet, bake for 5 more minutes at a time until cooked.
Combine all ingredients for the milk mixture in a pot. Heat on stove slightly just until warm, 2-3 minutes. Do not boil or simmer.
Remove cheese from oven when done. Place in the refrigerator immediately. Let it cool for 15-20 minutes. When cool, use a butter knife to loosen the edges of the cheese, then gently lift out using a small pastry spatula or fork. Remove from pan and add to milk mixture.
Allow rasmalai to soak overnight for the best taste. Garnish with pistachios or almonds to serve.
Notes
Do not fill each crevice of the muffin pan to the top; place only 2 tbsp. The cheese will swell as it bakes. Rasmalai is best when soaked overnight. If you do not have a large pan to place the muffin tin inside of for the water bath, use any baking pan, fill it halfway with water, and place it on the bottom rack of the oven. Place the muffin tin on the rack directly above. This will create moisture in the oven.