Aloo and channa curry always makes me think of jhandis (Hindu religious functions). It is part of a seven-dish ensemble that is usually served at the end of the prayer. It can also be found at roti shops and my mom's kitchen on a day when we are fasting. I actually make this when I don't feel like cleaning meat to make chicken curry. The potato and chickpea combination is such a great pair and tastes wonderful with roti or dhal puri. If you've never made curry before, this is a good place to start since it is less intimidating than a curry containing meat.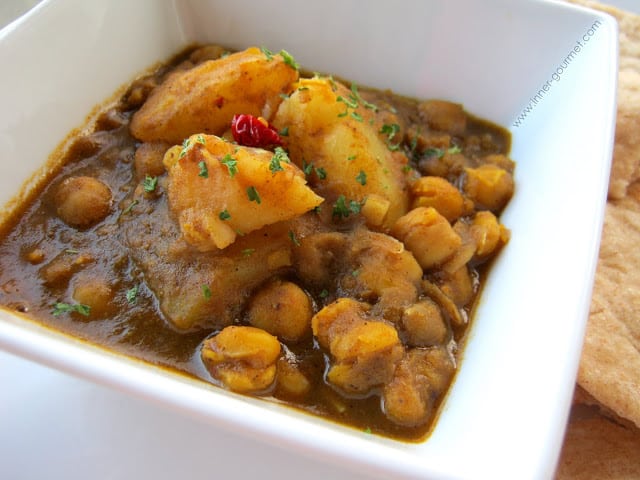 Chop 2-3 russet potatoes into large chunks. Russet potatoes are pretty large, so if you have smaller potatoes use 3-5 instead. Place potatoes in a bowl of cold water, set aside.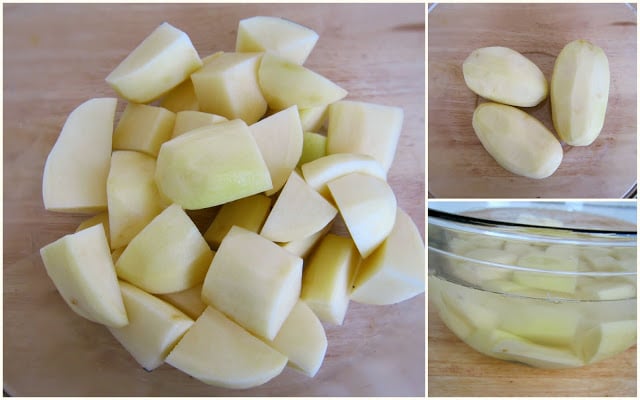 I used dry chickpeas since I didn't have any canned ones on hand. Using canned chickpeas is easiest, but if you'd like to use the dried ones. Soak overnight in water to reconstitute them or boil for a few hours until they are soft. Drain and set aside.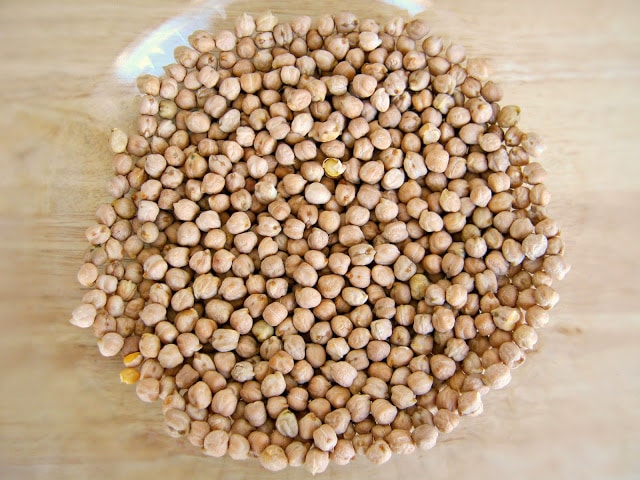 In a blender combine one medium onion, one head of garlic, leaves of a few sprigs of thyme, and desired amount of wiri wiri or scotch bonnet peppers.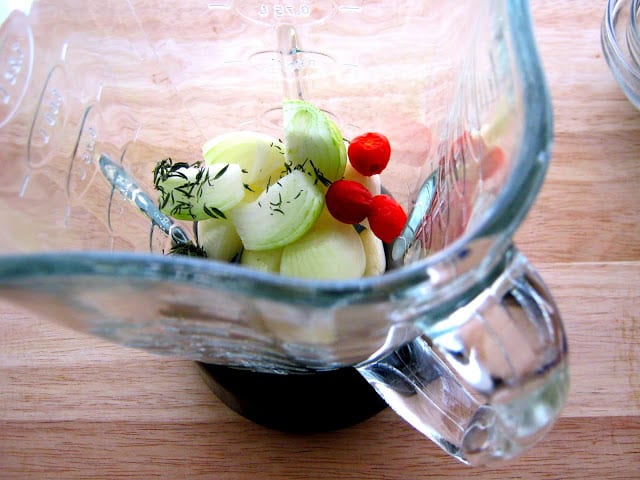 Add enough water to blend into a smoothie type texture. You should need be about ¼ cup water to get it to this texture.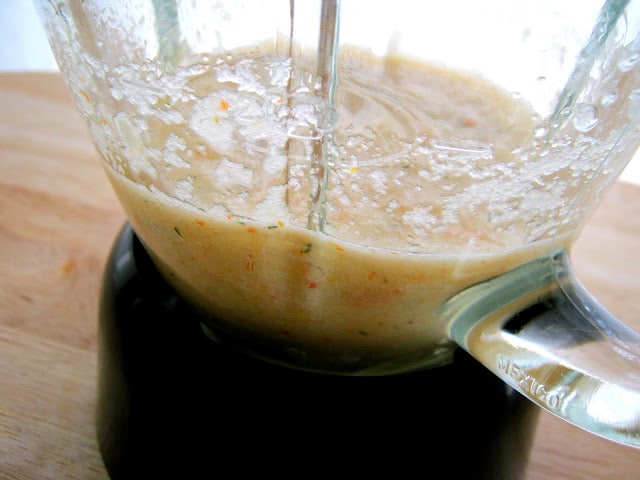 You will have extra seasoning left over. Store in an air-tight container and use to season meats, soups, rice etc.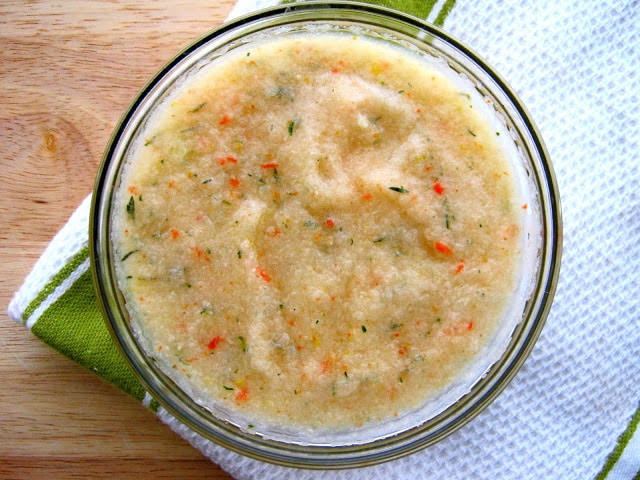 Add ¼ cup of seasoning in a bowl, add garam masala, ground geera, and curry powder. Add 3-4 tablespoons of water to form a watery paste.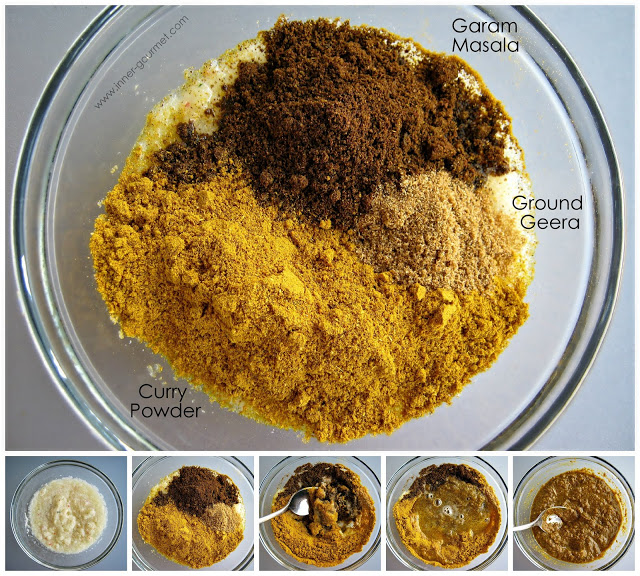 Heat pot with a few tablespoons oil, add masala mixture and fry until mixture looks slightly darker. The reason we do this step is to sort of toast the spices and remove the raw taste that the spices can have. Be sure to keep turning so the mixture doesn't stick to the pot. You can also add a wiri wiri pepper here if you'd like.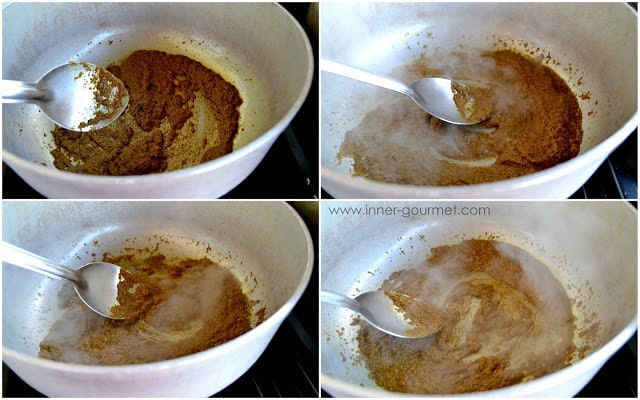 Add chick peas and coat with the masala mixture.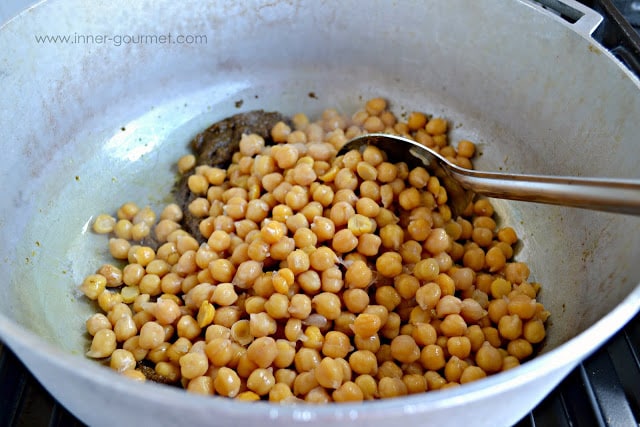 Let the chickpeas fry up for a few minutes in the masala mixture.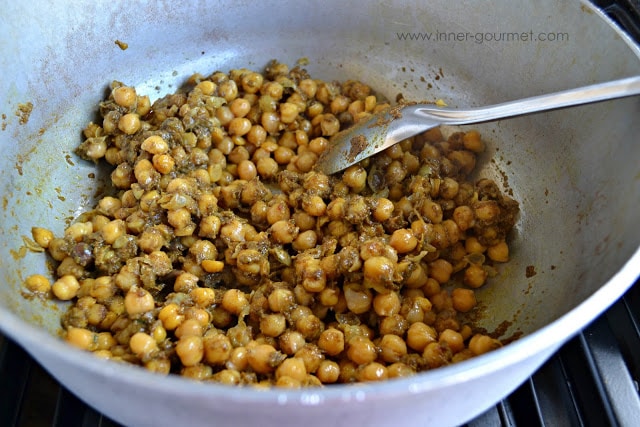 Add enough boiling water to cover 1-2 inches above the chickpeas.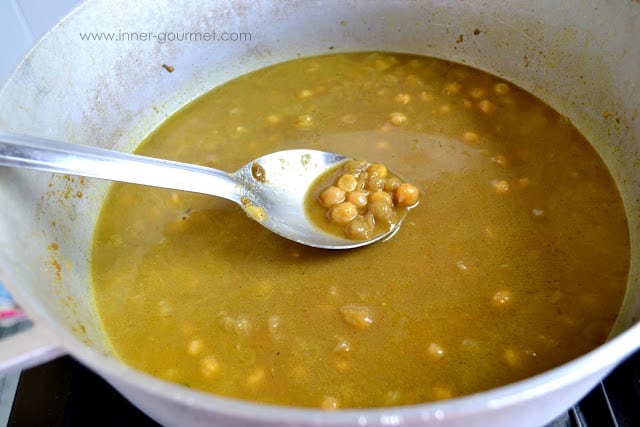 Stir in 1 tbsp tomato paste- gives it a nice color. Add 1 tsp salt here (not pictured).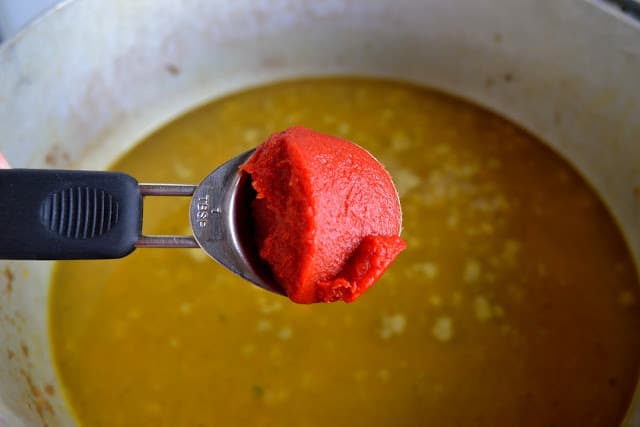 Let chickpeas boil for a few minutes. I used dried chickpeas so they had to cook a bit longer to get to the soft texture I desired. If you use canned chickpeas, you won't have to cook them since they are already soft enough. Add the potatoes.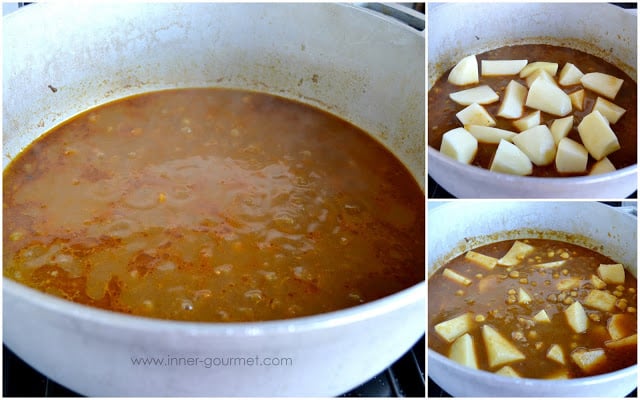 Curry is done when potatoes are completely cooked through and curry looks thick.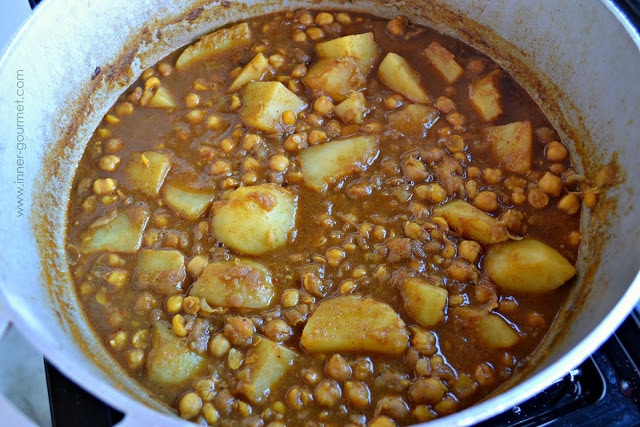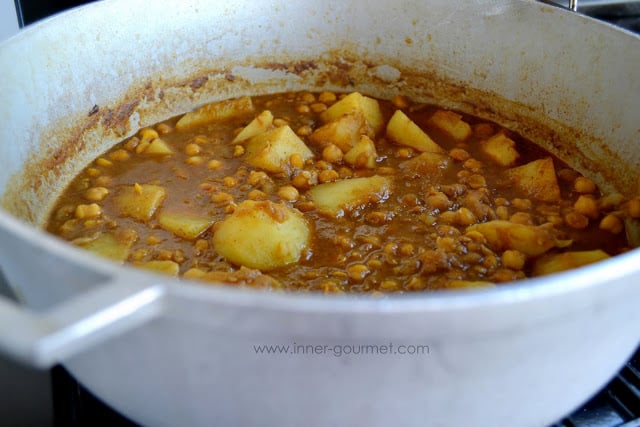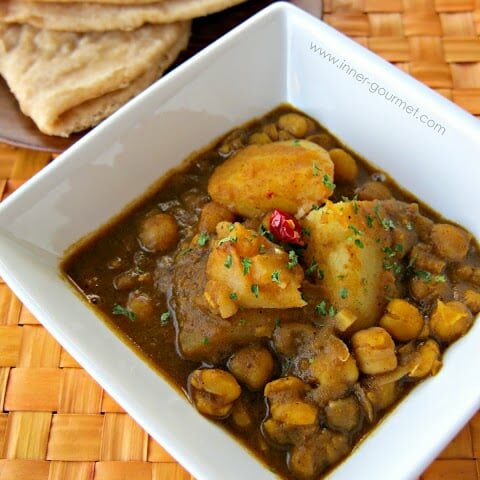 Aloo & Channa Curry (Potato & Chickpea)
Ingredients
Onion/Garlic Seasoning
1 small yellow onion
1 head of garlic, peeled
3-4 fresh or dried thyme leaves
3-4 wiri wiri peppers
⅓ cup water
For the curry
2-3 russet potatoes, peeled and quartered
One 15.5oz tin chick peas
¼ cup onion-garlic mixture
3-4 tbsp water
4 tsp curry powder
3 tsp garam masala
½ tsp ground cumin (geera)
Boiling water (as needed)
1 tbsp tomato paste
1 tsp salt
Oil for frying masala
Instructions
Peel and chop potatoes, set aside in cold water.
Drain and rinse chick peas, set aside.
Make the onion-garlic seasoning, reserve ¼ cup and store the rest in your refrigerator for use another time.
Add ¼ cup seasoning to a bowl with masala, curry powder, ground cumin, and a few tbsp of water, stir to make a watery paste.
Heat pot with oil, add masala mixture and fry until slightly dark. Add the chickpeas and coat with masala mixture.
Pour enough boiling water over chickpeas to cover about 1-2 inches. Add tomato paste and salt here. Let boil for a few minutes.
Add potatoes give it a good stir. Curry is done when potatoes are cooked through and curry looks thick. Boil longer if you do not want as much gravy.
Notes
If you are using dried chick peas, soak overnight to reconstitute them. The next morning, boil until they are soft.
I usually keep my kettle filled with boiling water, it's handy and easier than boiling a separate pot of water.
A lot has been going on these past few months that I unfortunately have been neglecting my blog. I have received all of your emails, recipe requests, and also demands (haha!) to start blogging again and I want to say thank you for reaching out to me with your continued support. A big reason that I have felt demotivated to continue blogging is because of people stealing recipes, and photos. The last situation I had to deal with resulted in me sending someone a cease and desist letter since they did not respond to any emails where I requested them to credit my photo and recipe. Thankfully they did remove my content from their site and facebook page. For these reasons alone, I just felt I needed a break from blogging. I know I am not the first blogger to deal with plagiarism, nor will I be the last. That doesn't mean it is any less frustrating to be in these situations-it really takes the joy out of blogging. There are many other food bloggers that deal with virtual thieves over and over again and the truth is, we will always have to deal with it in some capacity, there's just no getting away.
There is enough room for all of us within the online space to be as unique and creative as possible without having to resort to copying someone else's work or style. So my advice to anyone starting up a food blog or currently writing a food blog that tends to plagiarize every now and then, thinking no one is looking, is to please try to be unique and make it your own. Moving forward, I won't focus on the people who are dishonest, but will instead direct my attention to those of you who take time to read my posts, try a recipe, send me an email or message, give me constructive criticism, and are overall in support of the blog. I appreciate all of you and want to say thank you!