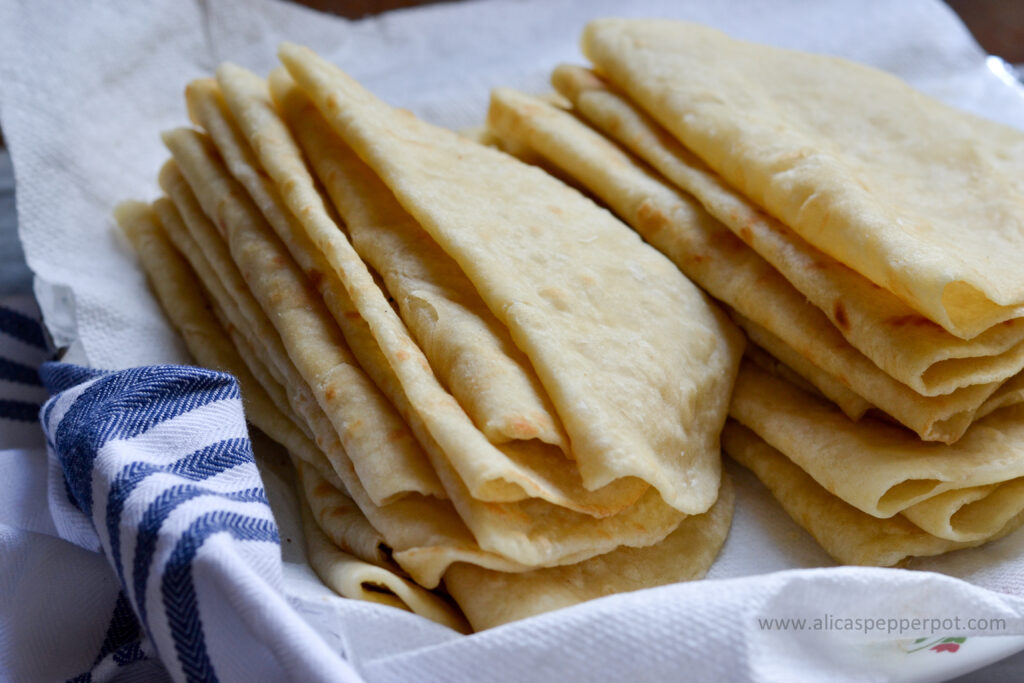 My grandmother spent the last month visiting us here in Florida. I'm always excited when she visitis because I know our time together will be filled with chats about her life experiences, family drama, and food. I was able to document some of her recipes, while other dishes we cooked together required me to pay more attention to her technique so I wasn't able to write much down. One random day we decided to make a small pot of gurumba, a sweet mango dish cooked with sugar, geera (cumin), and a few other spices. This dish is typically enjoyed with dosti roti and delicious as an anytime meal. The dosti roti was a perfect pairing because it's so thin and light.
What is Dosti Roti?
Dosti is the Hindi word for friendship and is the perfect description for this roti. Two small roti loi (dough balls) are flattened, brushed with oiled, then joined together, making them friends. The roti loi is rolled thinly and cooked on a tawah (iron skillet). Immediately after removing from the tawah, the roti is *clapped until the two rotis separate. My grandmother also makes them very small, about 6in in diameter. It can be enjoyed with gurumba, sweet rice, halwa, or any dish that pairs well with roti, which is pretty much anything.
*Clapping is a Guyanese term used to describe the method of releasing the air pockets from paratha roti. In this case, the dosti roti would be clapped to separate the two layers. Once the roti is done cooking, it is tossed up in the air and clapped with both hands repeatedly. There are many different methods used today instead of "clapping," including placing the hot roti in two bowls or a pitcher and shaking repeatedly.
Knead dough into a smooth ball, rub a little vegetable or canola oil on top. Cover and let rest.
Gently stretch dough into a log.
Break off little pieces of dough, about the size of a golf ball. Make sure there are an even number of dough balls to pair.
Flatten two dough balls slightly.
Rub some oil on each piece using your hands.
Sprinkle with flour.
Join them together, like friends (dosti).
Let each pair rest for 10-15 minutes then roll thinly.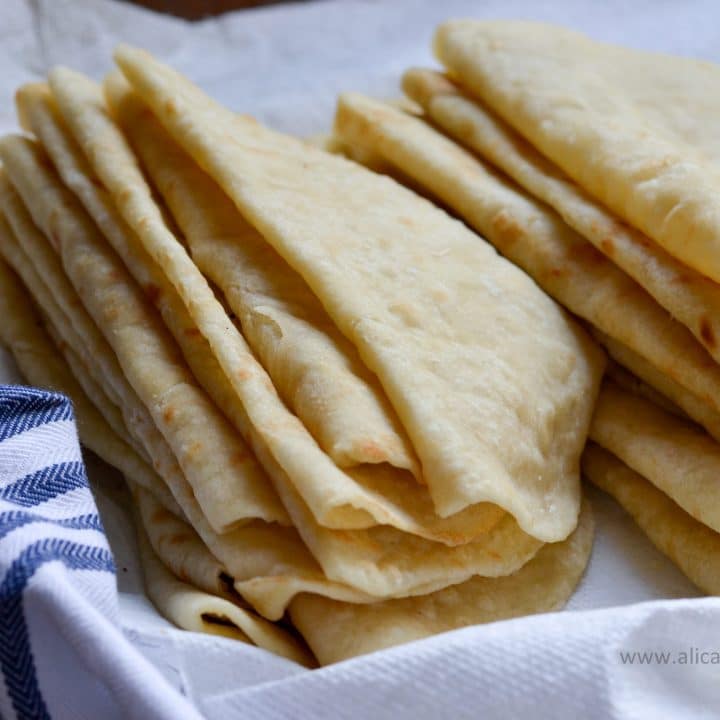 Dosti Roti
Yield:
About 22 rotis when separated
Ingredients
3 ½ cups all-purpose flour, more for kneading
2 ½ tsp baking powder
½ tsp salt
1 tsp vegetable shortening
1 cup very warm water, more as needed
½ cup oil, melted vegetable shortening, or ghee
½ cup flour for dusting
Instructions
Sift flour, baking powder and salt together. Rub shortening into flour mixture until small bits form.
Make a well in the center of the mixing bowl and add water. Use two fingers to stir flour into water and knead into a soft smooth ball.
Rub a little oil on the top of the dough ball to prevent from crusting. Cover with a damp paper towel. Let dough rest for minimum 45 minutes.
Gently roll dough into a log, pinch off small golf ball sized pieces in equal parts so that each piece has a pair.
Slightly flatten each dough ball (loi) with fingers, rub oil on both pieces then sprinkle with flour. Place one on top of each other and set aside. Repeat until each piece of dough has been paired. Let dough pieces rest for 10-15 minutes. Cover with a damp paper towel to prevent from crusting.
Heat tawah or skillet to medium heat.
Roll roti lois until ⅛ inch thickness. Place on tawah. When slight bubbles start to form, flip to the other side and brush with oil. Flip back to the first side and brush with oil. Let cook for 10-15 seconds. Make sure too many dark brown spots do not form.
Remove from tawah and clap with bare hands, or place in kitchen towel and clap to burst and separate roti. Alternately, roti can be placed in a pitcher with a lid and shaken.
Notes
Dough can be mixed in a stand mixer instead of kneading by hand. Add more flour or water as needed to bring dough together.