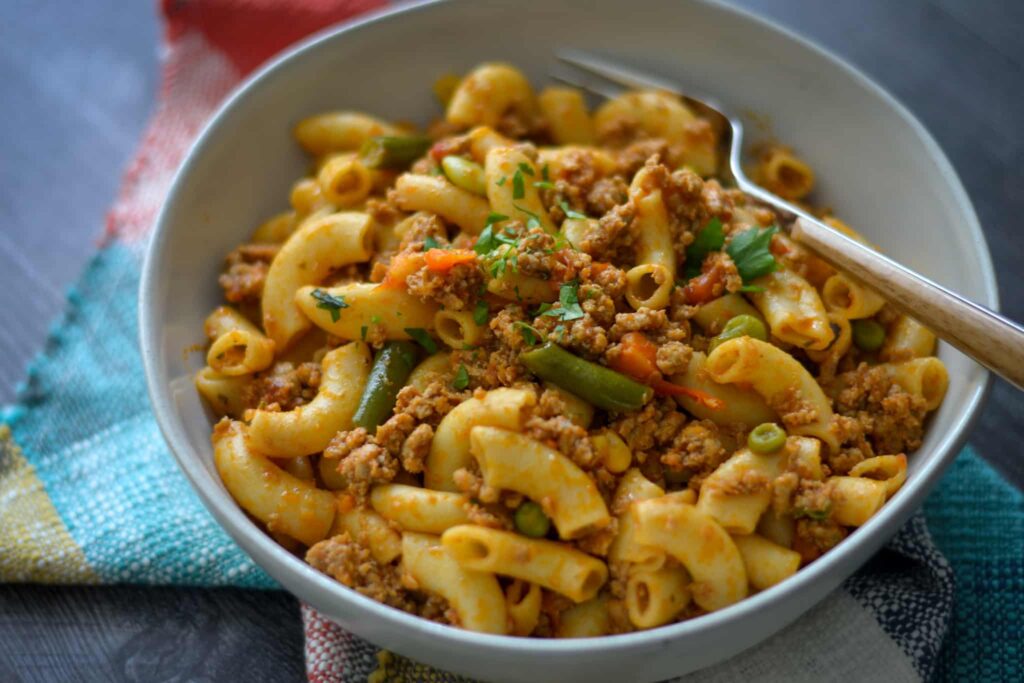 Who doesn't love a quick and easy 30-minute meal that uses pantry or freezer staples? What I love most about this ground turkey pasta is how versatile it is. Adding different vegetables or seasonings create a whole new flavor every time I make it. My older son is a vegetarian so I leave out the meat and just make it a veggie pasta for him. This is a regular on our weekly menu and it's a perfect weeknight meal without the fuss. I love mine with with crushed red pepper flakes for an extra kick!
Try another family favorite: Penne alla vodka recipe
Most pasta shapes work well here. I try to choose ones that have ridges or holes to help the meat and sauce stick to the pasta or hold the sauce in. For this recipe I'm using large elbows. You'll notice the meat isn't drenched in sauce. We enjoy this pasta being a little loose with minimal sauce, so I only add about ⅓ cup of pasta sauce for moisture then freeze the remainder for later use.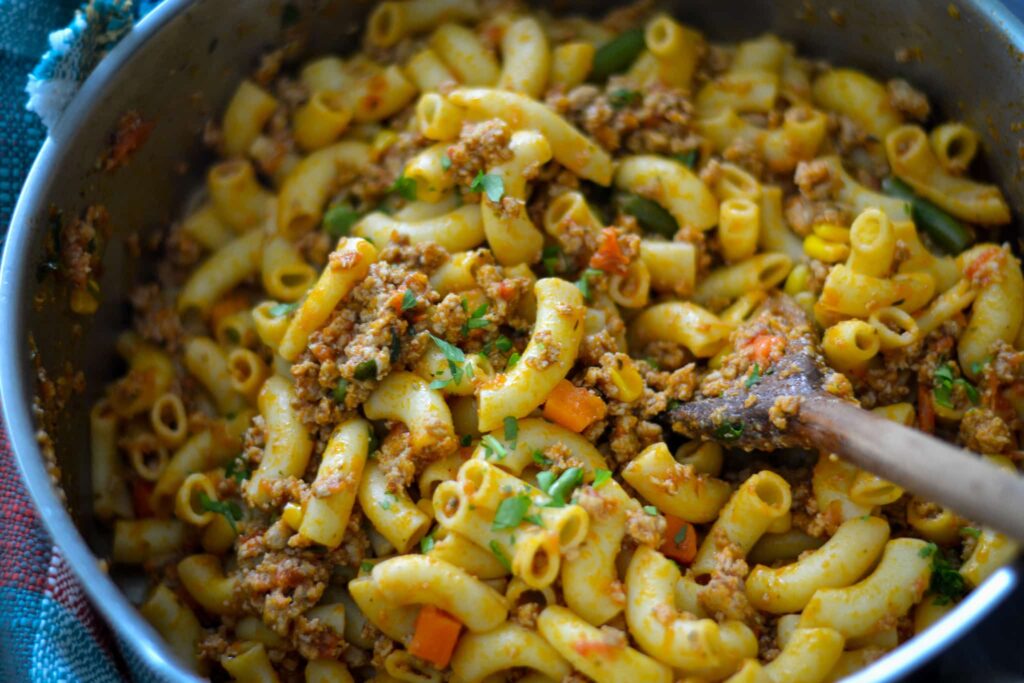 Change it up!
Ground turkey pasta is truly a clean out the freezer, fridge, or pantry meal. You can add any vegetables or seasonings you like in here. I like to add olives and spinach when I have on hand. Here are some other variations I've done in the past:
green or red peppers
kale or leafy green veggie
zucchini
kidney beans
broccoli or diced carrots
season the meat with Mexican seasonings and turn it into a taco pasta
capers and olives
asparagus
replace turkey with meat alternative and use the same seasonings
Use alternative type of pastas
I've cooked this dish so often that I've experimented with different type of pastas. So far gluten-free, rice, lentil, and chickpea pasta have been a win. Our least favorite was black bean pasta. It had a sort of plasticky texture that wasn't as palatable as the others. I've even done this with West Indian chow mein and it is delicious! Just use your favorite brand chow mein and season the meat the same as in this recipe, then toss it all together!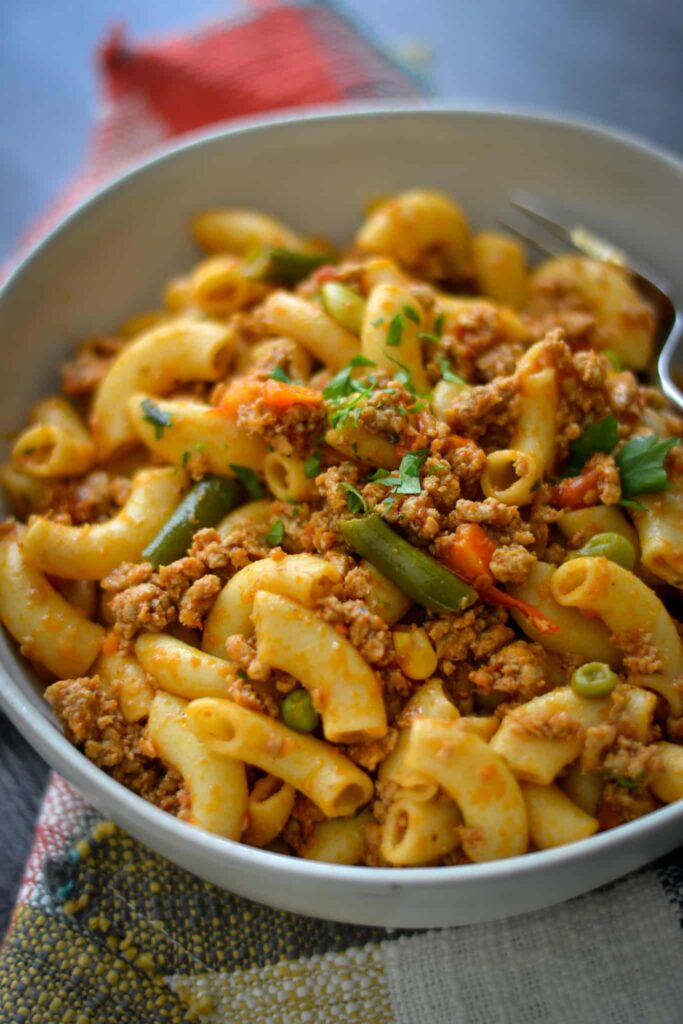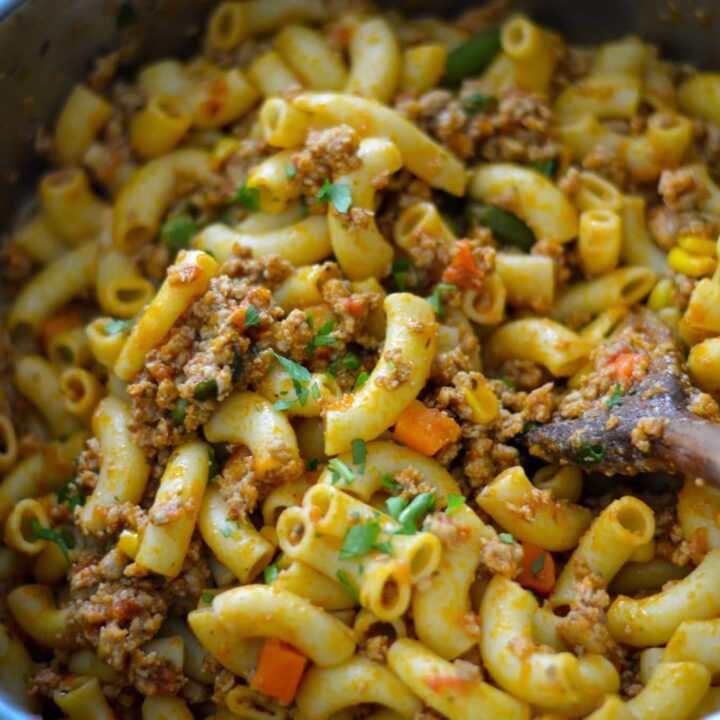 Ground turkey pasta
Ingredients
12oz dried pasta of your choice + water and salt for boiling
3 tbsp cooking oil
1lb ground turkey or chicken
½ of lemon, juiced
4 heaping tbsp green seasoning or 1 medium onion + 4 garlic cloves + 4 thyme sprigs, minced
¼ tsp black pepper
½ tsp paprika
½ tsp garlic powder
½ tsp seasoning salt or adobo (add more to taste)
6-7 dashes Worcestershire sauce
1 large tomato, diced
⅓ cup pasta sauce
handful fresh parsley, chopped
1 cup frozen mixed vegetables
Instructions
Bring a pot of water up to a rolling boil, add salt. Cook pasta according to box directions. Drain and set aside.
Heat skillet with 3 tbsp oil. Add green seasoning or minced onion, garlic, pepper, and thyme. Saute a few minutes until browned. Add meat to the skillet. Squeeze lemon juice over the meat. Cook 3-4 minutes.
Add all dry seasonings and Worcestershire sauce to meat. Mix and cook until no longer pink about 6-7 minutes. Add tomatoes. Cook until tomatoes are tender.
Add frozen vegetables and pasta sauce. Cook 3-4 minutes.
Toss in pasta and mix well. Adjust for any additional seasonings.
Notes
I used 93% lean, 7% fat ground turkey for this recipe. Add any vegetables or seasonings for variety. If you choose to make the green seasoning, the remainder can be frozen in small zip loc bags. I also freeze extra pasta sauce for later use.
Pin it for later!