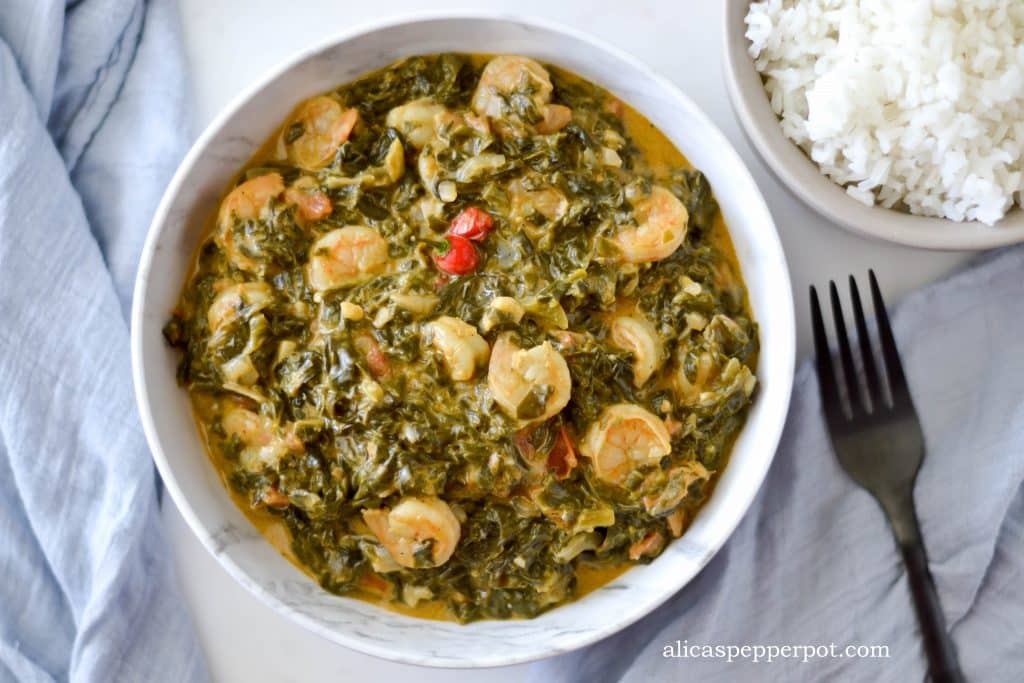 In West Indian cooking, bhaji is known as a sauteed spinach dish. This is not to be confused with the spicy Indian snack called, bhaji. The West Indian version is most similar to Indian saag bhaji, which is a stir-fry spinach. It is essential in our cuisine as it is added to soups, rice dishes, appetizers or served as a main course. Bhaji is also a side of seven curry, an ensemble of 7 different vegetarian dishes commonly served at Hindu religious functions. Growing up, we ate bhaji once a week as a main course. My mom added shrimp in her bhaji or kept it completely vegan; serving alongside dhal and rice (see pic at end of post). She used fresh poi/pui bhaji which we purchased at local Chinese vegetable markets.
My favorite way to eat this dish is with white belly shrimp cooked in a little extra coconut milk. A piece of green mango is also a must as it helps to take away the bitterness of the bhaji. I cook this for my family once a week. My sons love it, and if you know anything about kids, then you know once they like something it stays on the menu.
About the Poi/Pui
Poi bhaji is a thicker type of spinach. It has an earthy taste compared to the American spinach I find at my local grocer or farmers market. This particular type of bhaji is known under various names in other countries. I've heard it referred to as Malabar spinach, Chinese spinach or simply, poi. Read more about other names here.
In Guyanese cuisine, bhaji is referred to as a side dish or main course made with spinach sauteed in onions, garlic, pepper, and simmered down with coconut milk or cream. I prefer fresh poi bhaji, but sometimes it's not always available in the part of Florida where I live. I've used American spinach as a substitute as well as frozen spinach which saves time as I just thaw and rinse before cooking.
Appearance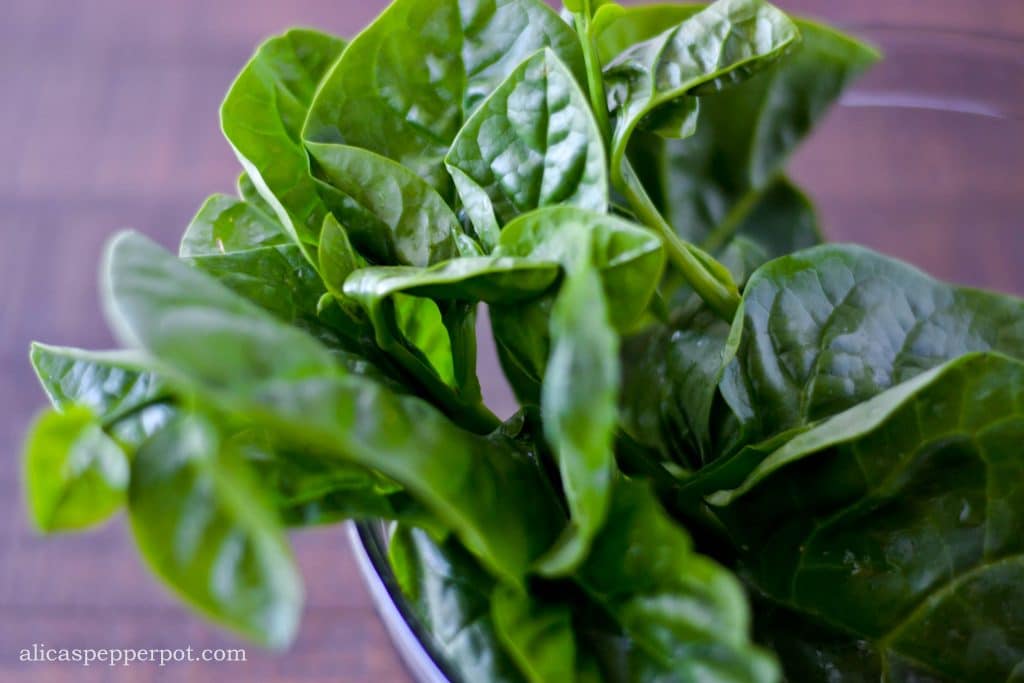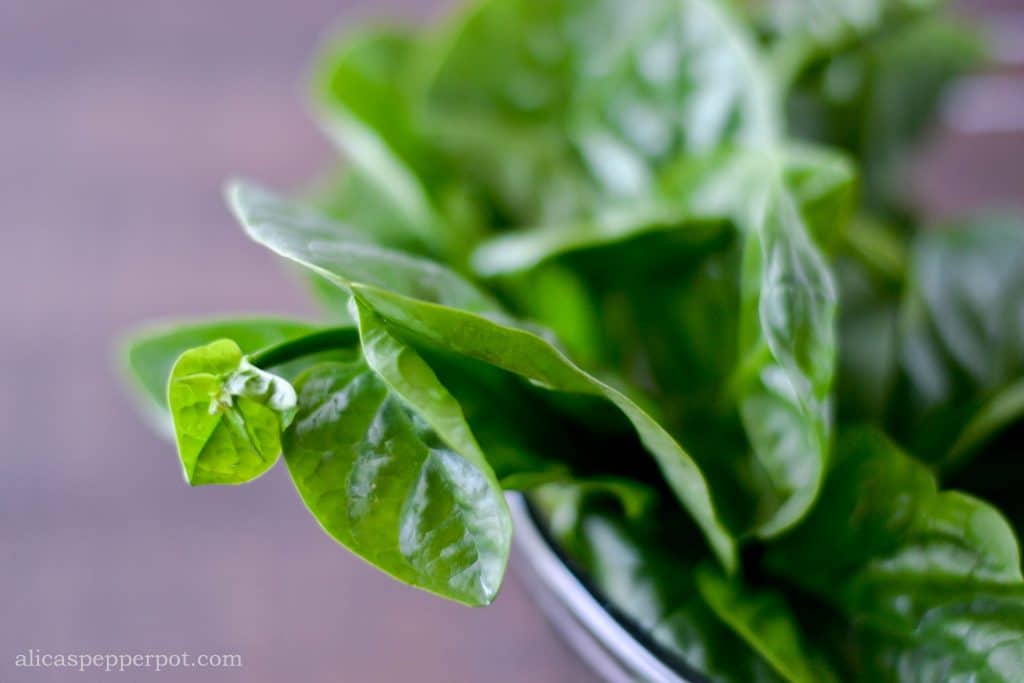 Poi bhaji can be identified by its thick leaves and stems. It feels velvety on the back and has a deep muted green color. You'll know it when you see it.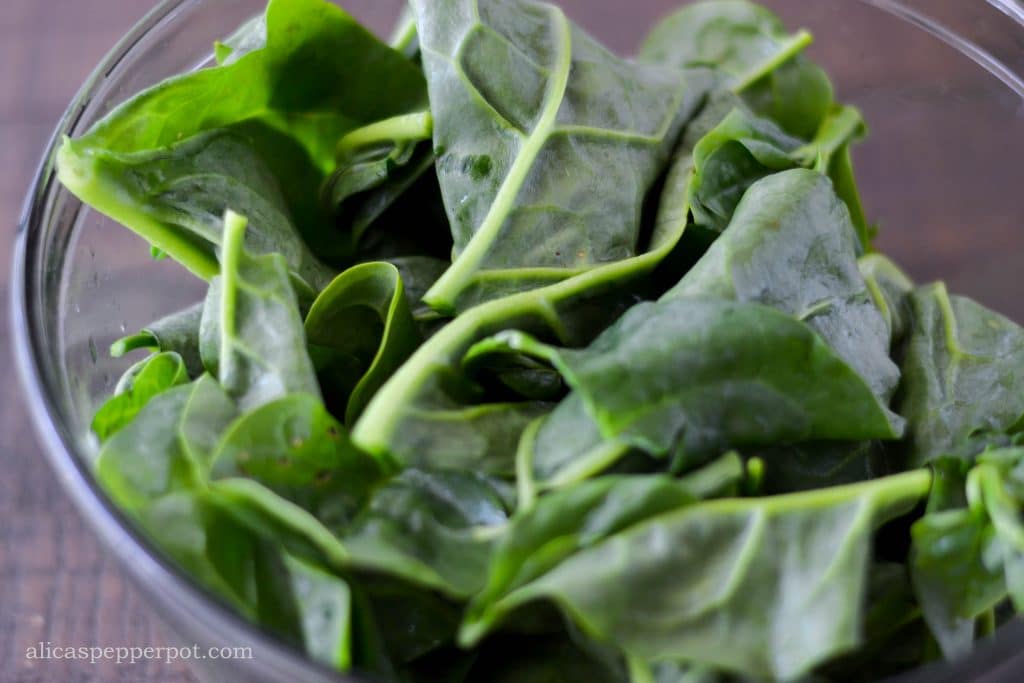 Another way to identify this bhaji is by the little flower buds growing from the stems. I don't cook this part of the bhaji, by the way.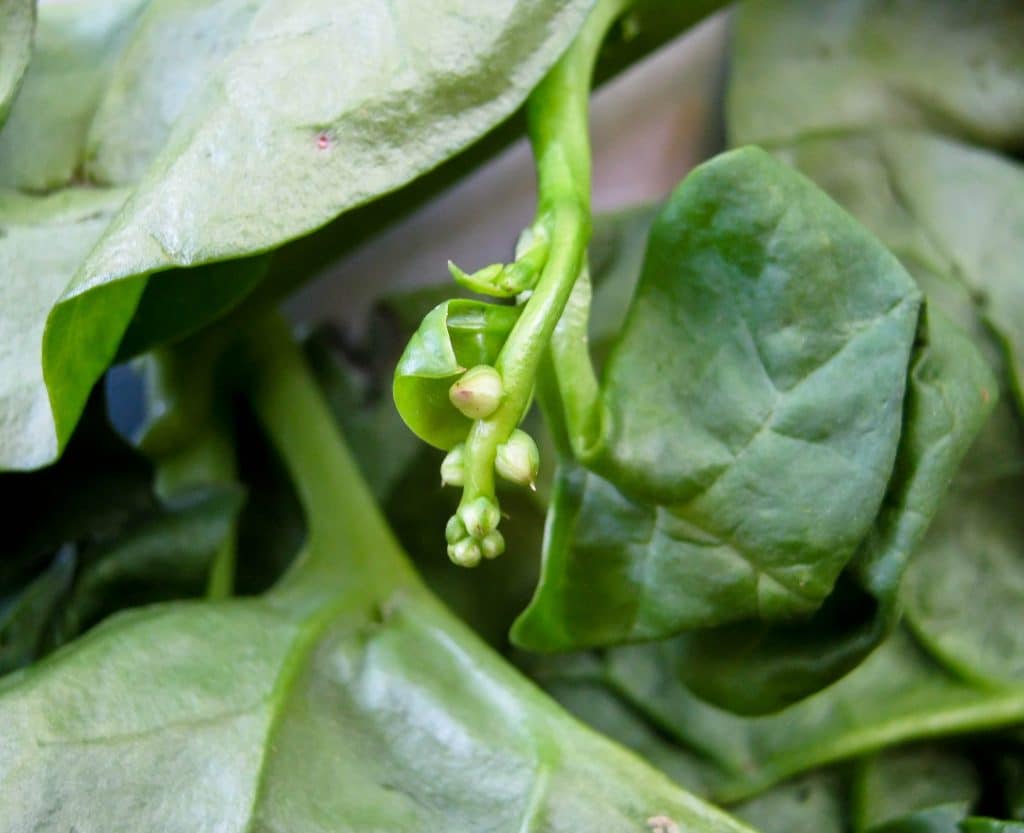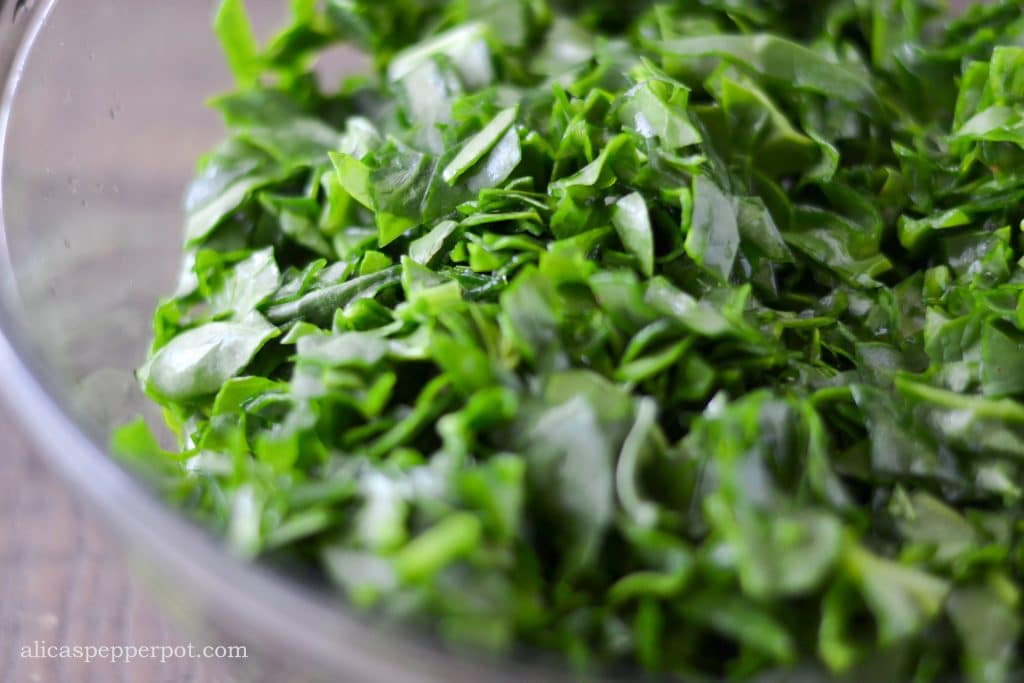 Not much is required to cook this dish. The bhaji has it's own flavor, but onions, garlic, pepper, tomatoes, and a piece of green mango are needed to saute.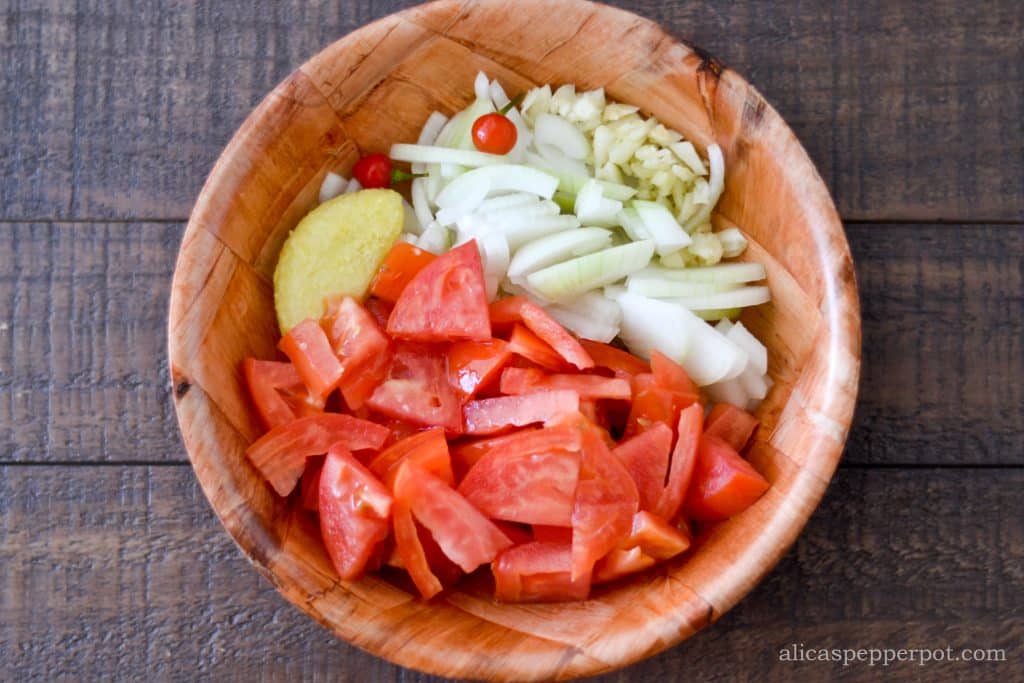 I used small shrimp for this batch of bhaji as white belly shrimp is not available where I live. Cook the shrimp separately then add to cooked bhaji when done.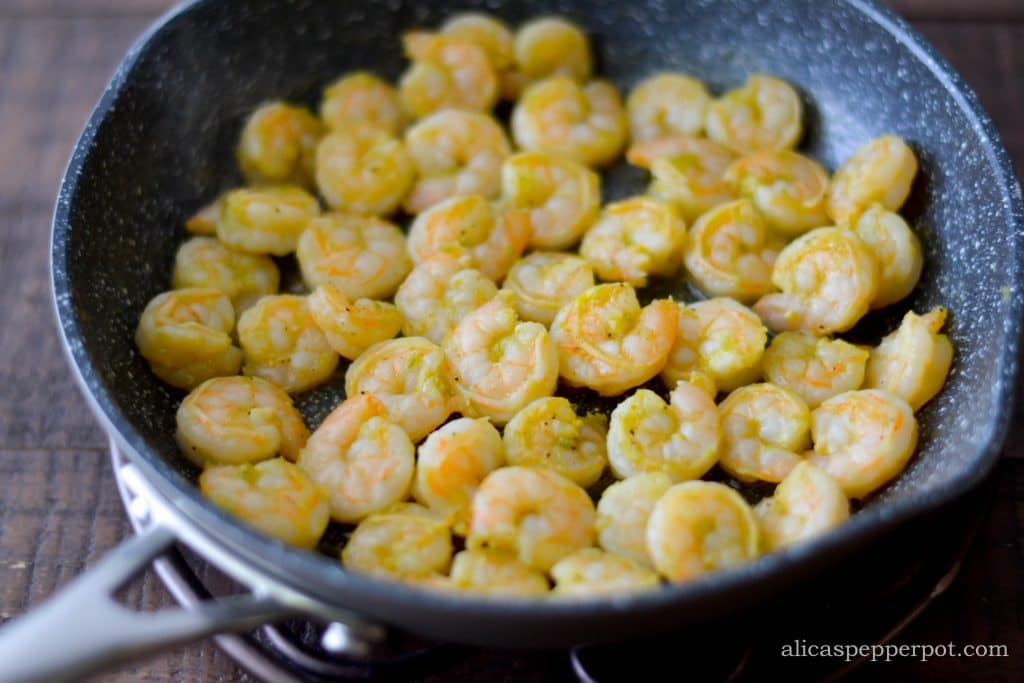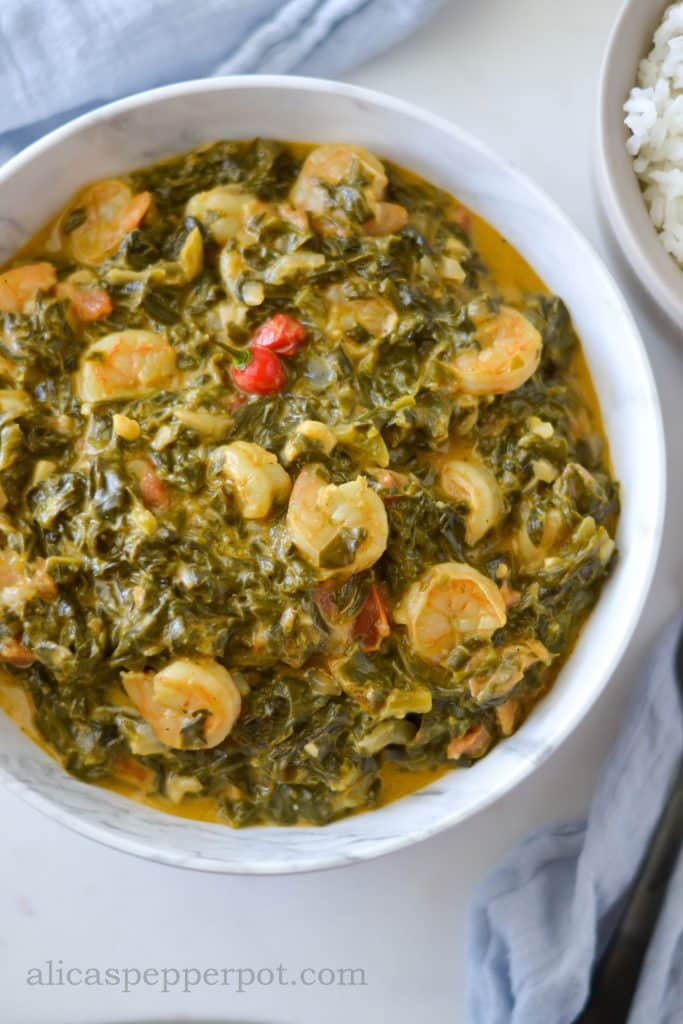 Alternate versions
My favorite version is sauteed with white belly shrimp. Read more about white belly shrimp here.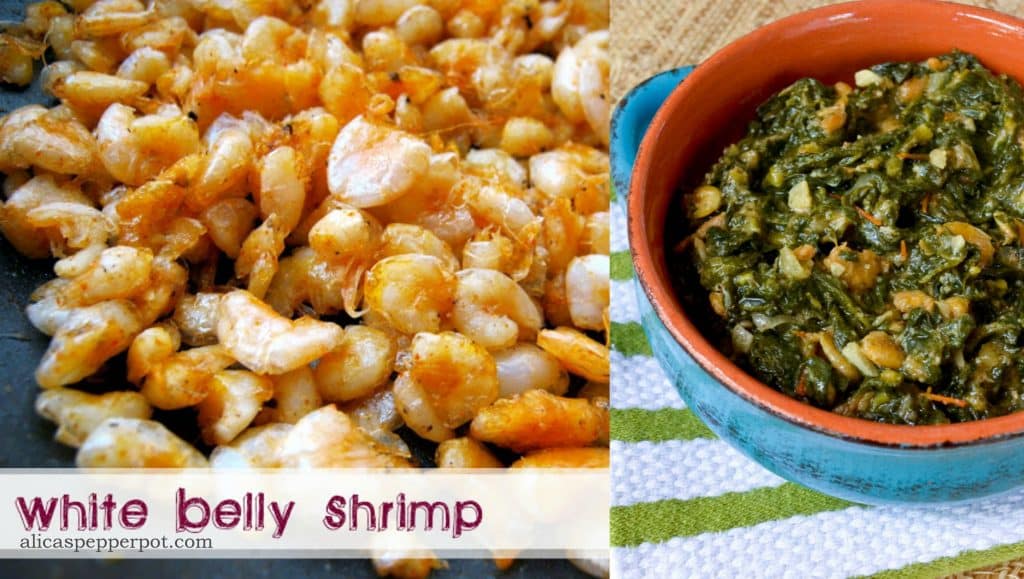 Coconut cream can be used in place of coconut milk. This is what my mom used in her version. For the measurements for this recipe, ⅓ of this block would suffice.

Dhal, rice, and bhaji. A typical Sunday meal in our home.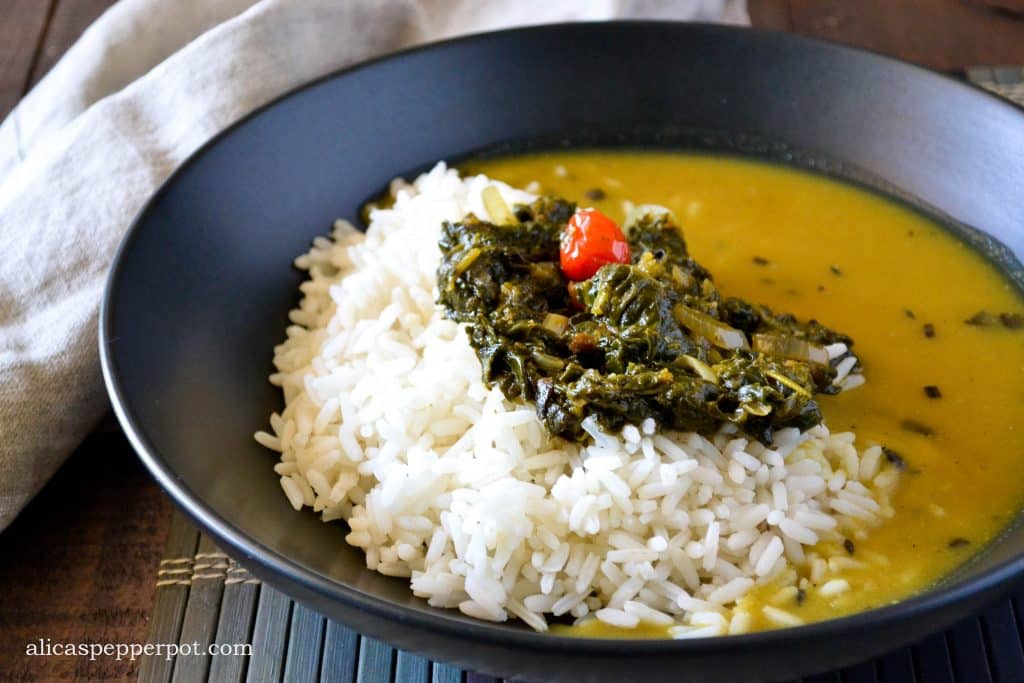 In this version, I used frozen, bagged spinach and added one, 15.5oz tin of chick peas (drained and rinsed). Add chick peas towards the end when spinach has wilted and is almost cooked through. If added too soon, the chickpeas could become mushy and too soft.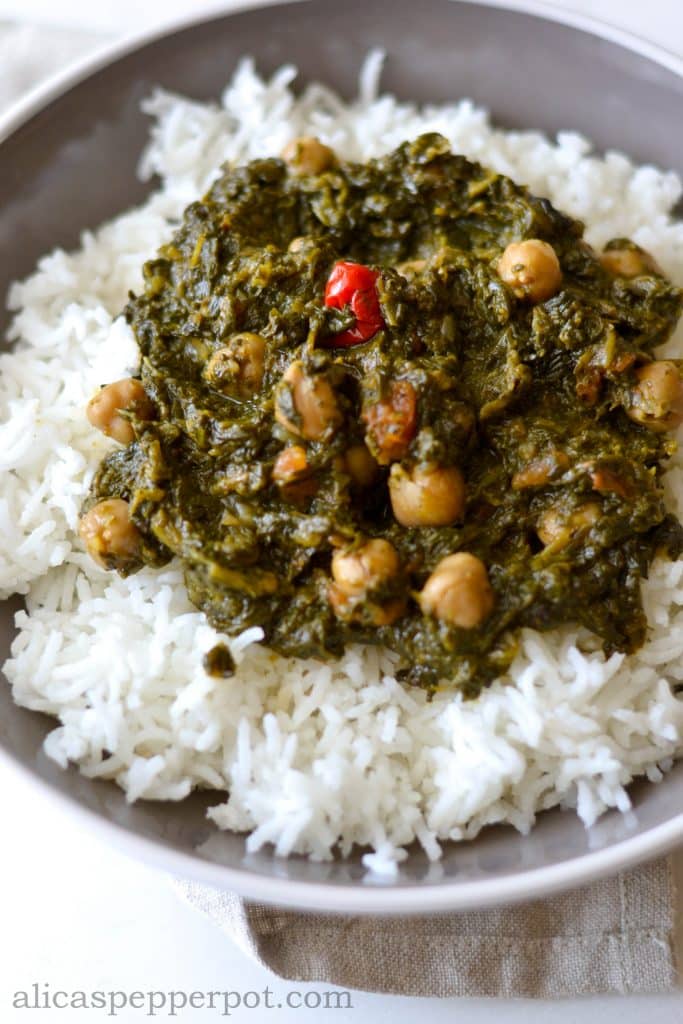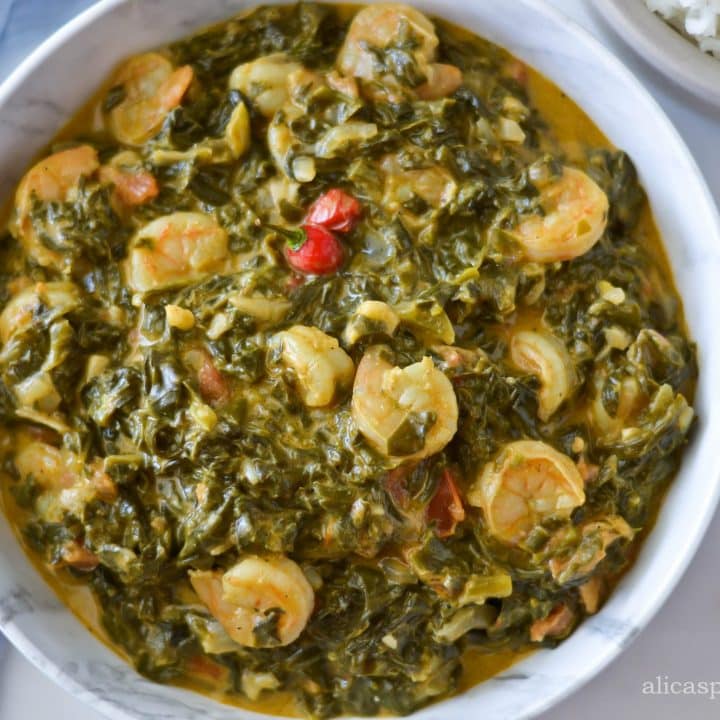 Guyanese-style Bhaji with Shrimp (Sauteed Spinach)
Ingredients
For bhaji
21/2 lbs fresh Poi bhaji or regular spinach
1 medium onion, finely chopped
2-3 garlic cloves, minced
1 wiri wiri pepper or ½ scotch bonnet
1 large tomato, chopped
4 in piece green mango
4oz coconut milk or ⅓ block coconut cream
½ tsp salt
½ tsp paprika
½ tsp black pepper
4-5 tbsp canola oil
For Shrimp
½lb small shrimp (more if desired)
2 tsp green seasoning
1 tbsp olive oil
pinch of salt
Instructions
Remove bhaji leaves from stems. rinse and place in another bowl. Chop bhaji thoroughly and set aside.
Prep ingredients. Chop onions, garlic, tomato, pepper, and mango. Measure out coconut milk, set aside. Wash and clean shrimp, remove tails. Season and set aside.
Heat shallow pot with oil. Add onions, garlic, peppers, and tomato, saute until fragrant.
Add bhaji and cook 10 minutes until wilted. Then add spices, mango, and coconut milk or solid coconut cream if using. Let bhaji cook 20-25 minutes. Bhaji is done cooking when completely wilted and dark green.
Cook shrimp in separate pan. Saute 2-3 minutes until pink. Add shrimp to bhaji and mix to combine.
Notes
If using Frozen spinach, 2 (10oz) bags or blocks can be substituted in this recipe. I prefer using the frozen cut leaf bagged spinach as it takes less time to thaw.