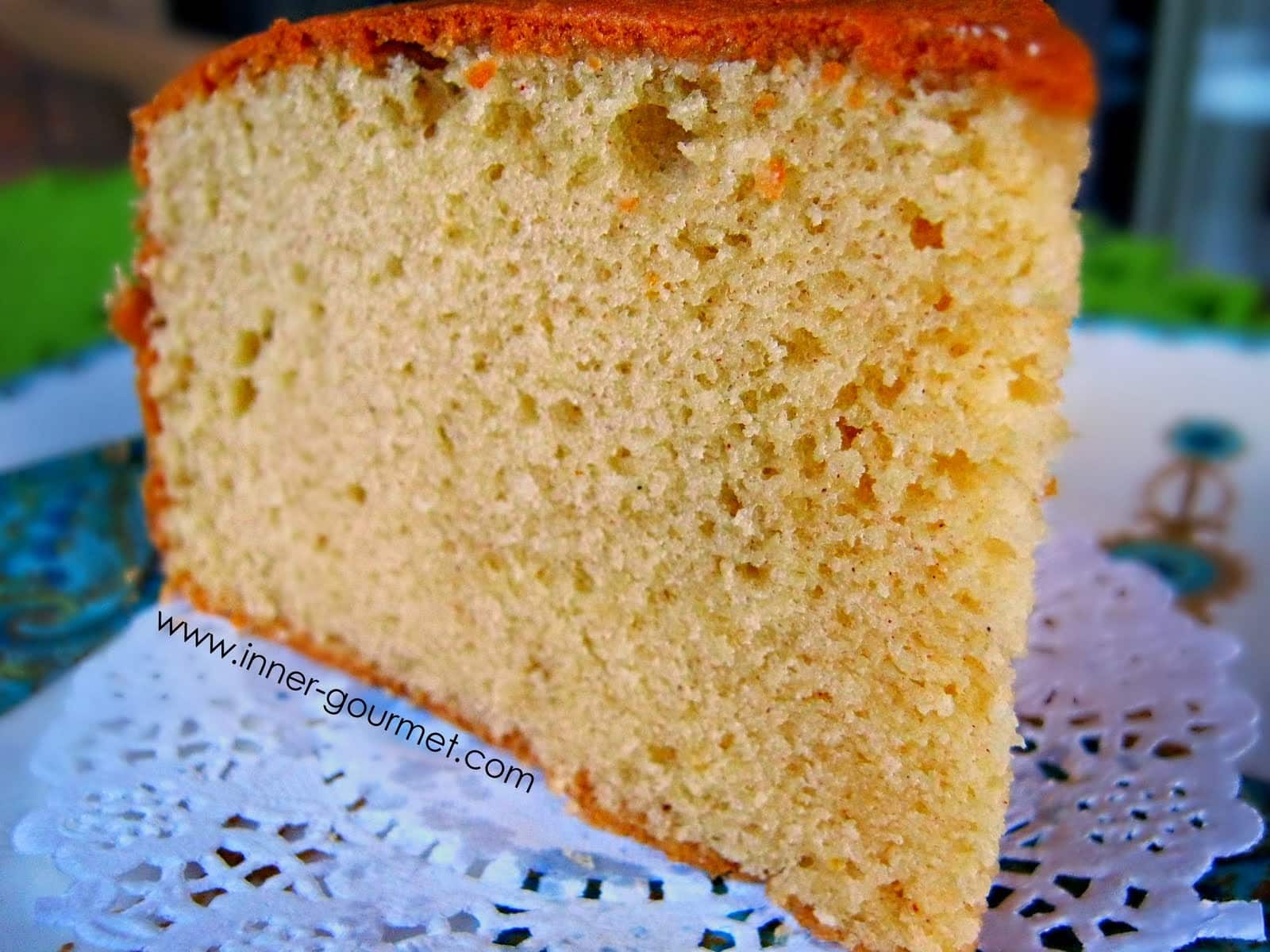 During Christmas time my mom and I would spend hours in the kitchen baking up a storm. We'd bake all sorts of goodies, cheese straws, fruit cakes, black cakes, and sponge cakes. My favorite was always the sponge cake. I must note here that the way sponge cake is made in the Caribbean turns out more like a pound cake rather than a true sponge cake, but I suppose the name "sponge" was used because of the resemblance to the pound cake. Anyhow, my mom uses a recipe from an old Guyanese cookbook she had called, "What's Cooking in Guyana." Some of you might even own the updated version, I believe the one she has is from the 1970's. Click here for the recipe from that particular cookbook. It's a much heavier, denser cake than the recipe I will share with you in a moment.
This particular sponge cake is not made the way a real sponge cake would, where the eggs would be whipped to a very high volume to give the cake its structure and light and "spongy" texture. The recipe I am sharing with you is one that is a cross between a pound cake and a real sponge cake. I have used cake flour and superfine/caster sugar which yields a very tender and light crumb in cakes. Sponge cakes can also be a little bland if not flavored well so I added vanilla extract and mixed essence. If you don't have a mixed essence, then double up on the vanilla and add a little almond essence. I always like to add orange and lemon zests to my cakes; they brighten up the flavors in the cake without overpowering it.
Many of you have emailed asking for a lighter cake to make for the holidays and I think you'll really like this one. I usually make this cake for my mother-in-law; she loves to make a trifle out of it. To make it more festive you can even add some red and green food coloring to some of the batter to give it a holiday feel, my auntie Savi always used to do that to her sponge cakes when she sent us some for Christmas.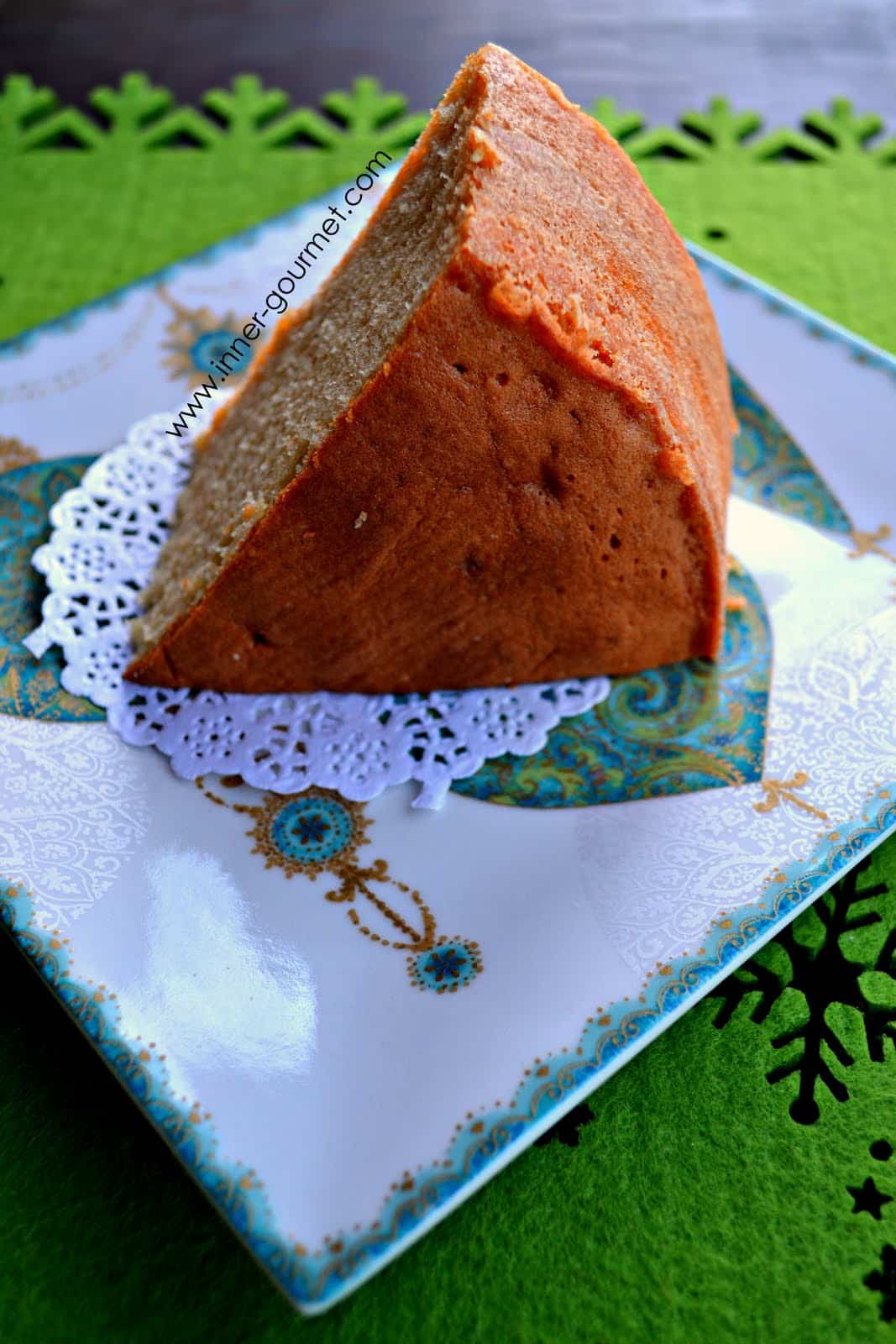 Because I love you all and know you so well, I've decided to answer some of the questions that I know you will email me about after you've finished reading this :)!
Why do I have to use caster sugar/superfine sugar?
Sometimes called "bakers sugar," this sugar is an excellent choice for baking cakes since the granules are very small. Allowing it to dissolve/melt a lot faster than regular granulated white sugar. It also results in lighter baked goods. You can find this sugar in the baking aisle at a larger grocery store chain, it should be something like $1.99 (USD) per box.
Why should I use cake flour? After years of baking during the holidays with my mom, we discovered how much better cake flour is than all-purpose when hoping for a lighter cake or cookie. It all has to do with the gluten and protein content. Cake flour contains somewhere between 7-8% protein content vs. about 10-12% in all-purpose. What all this really means is, the more protein in the flour, the more gluten will develop. More gluten makes your baked goods stiffer, chewier and provides more structure. Bread flour contains the highest at 14-16%. Using cake flour in this particular cake yields a more tender and light crumb. If you don't have cake flour on hand, you can still use all-purpose flour. The general rule of thumb is, for every 1 cup of all-purpose flour, subtract 2 tablespoons, to equal 1 cup of cake flour.
Do I have to bring my butter and eggs down to room temperature? Using room temperature butter and eggs allows for better mixing and blending. The eggs become fluffier when beaten since the proteins in the eggs are more relaxed. Room temp eggs also give a more even crumb in cakes. Cold butter tends to yield lumps and makes the creaming method take a little bit longer. I usually leave my butter and eggs out for a minimum of two hours to come down to room temp before whipping my cake up.
Lastly, the answer is yes, the material and color of your baking pans do matter. I've learned through trial and error over the years that a good baking pan is just as important as the quality of ingredients in your cake. When I first learned how to cook and bake I'd just buy any ole baking pan. I mean it's a baking pan, not much thought should go into it, right? Well after many burned cookies and really browned-bottomed cakes, I started to realize why; I was using the wrong pan for the wrong baked goods!
Light-colored aluminum pans with a little weight, such as the one I used in this cake recipe, are an excellent choice for cakes since they distribute heat evenly and tend not to brown the bottom of your cake. This is the main reason why a standard foil pan (in its many shapes and forms) works well for baking cakes, pastries, and even casseroles. Darker pans usually give cakes a darker bottom and crust. I like to reserve these type pans for baked goods such as brownies where a crust is really desirable. To learn more about the best pans for the job, check out this article. Commercial grade quality pans are also a great choice. They are durable and won't warp in your oven. Although more expensive, I think it's a great one-time investment so you don't continue to end up with inconsistencies in your baking.
One of the first steps in making a good cake is having all the ingredients measured and ready to get whipped up, especially the eggs. Cracking the egg directly into the bowl might allow egg shells to fall in. So, I usually have them ready to go in a separate dish. Place butter and sugar in a large bowl while you get all the other ingredients. You'll need vanilla extract and mixed essence, orange and lemon zests, four large eggs, and your dry ingredients which include, flour, cinnamon, nutmeg, and baking powder. Don't forget to butter and flour your pan and have it ready and waiting.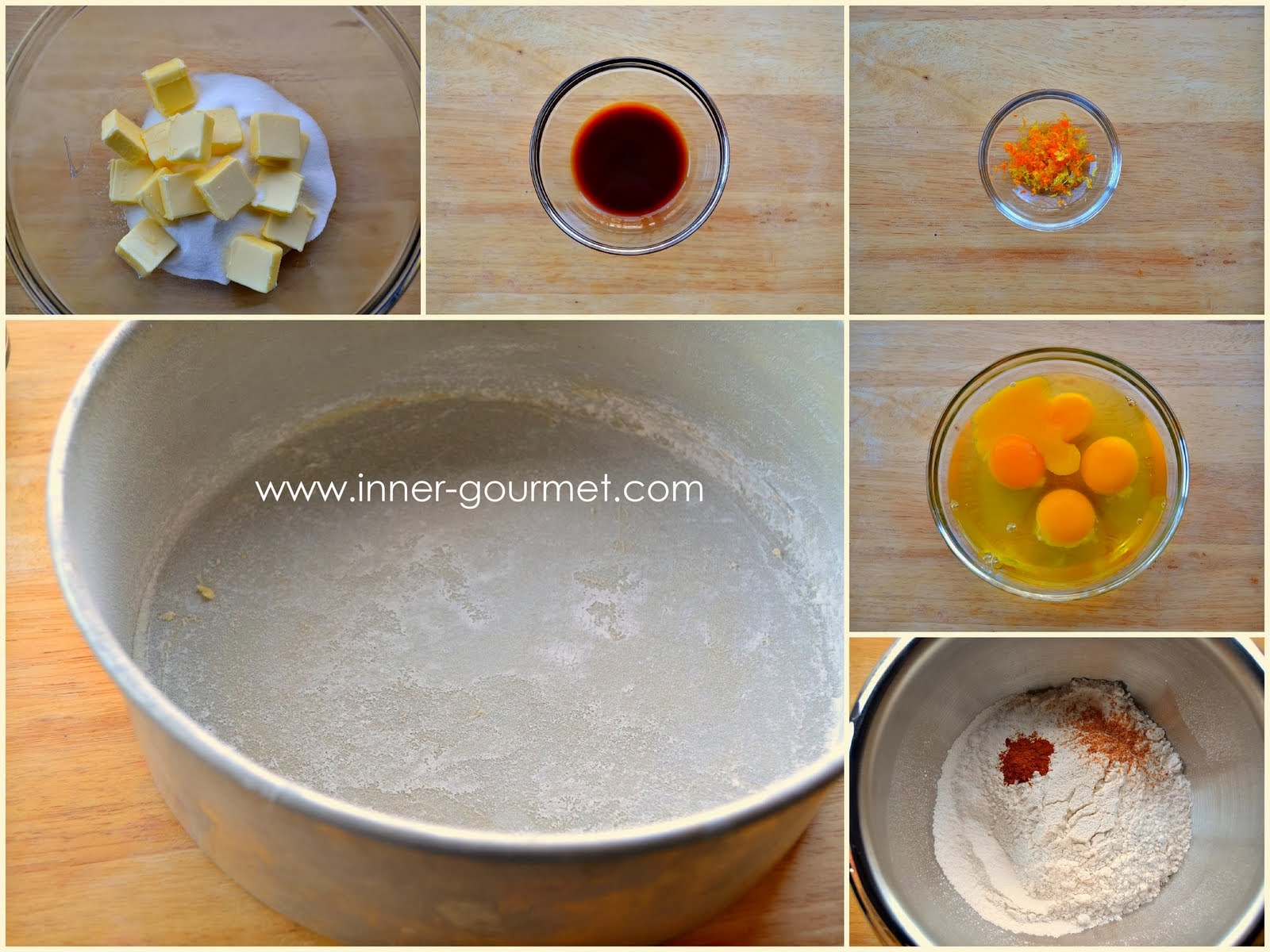 Cream the butter and sugar together until light and fluffy. Smear the mixture with your spatula to ensure it is creamy and no lumps remain.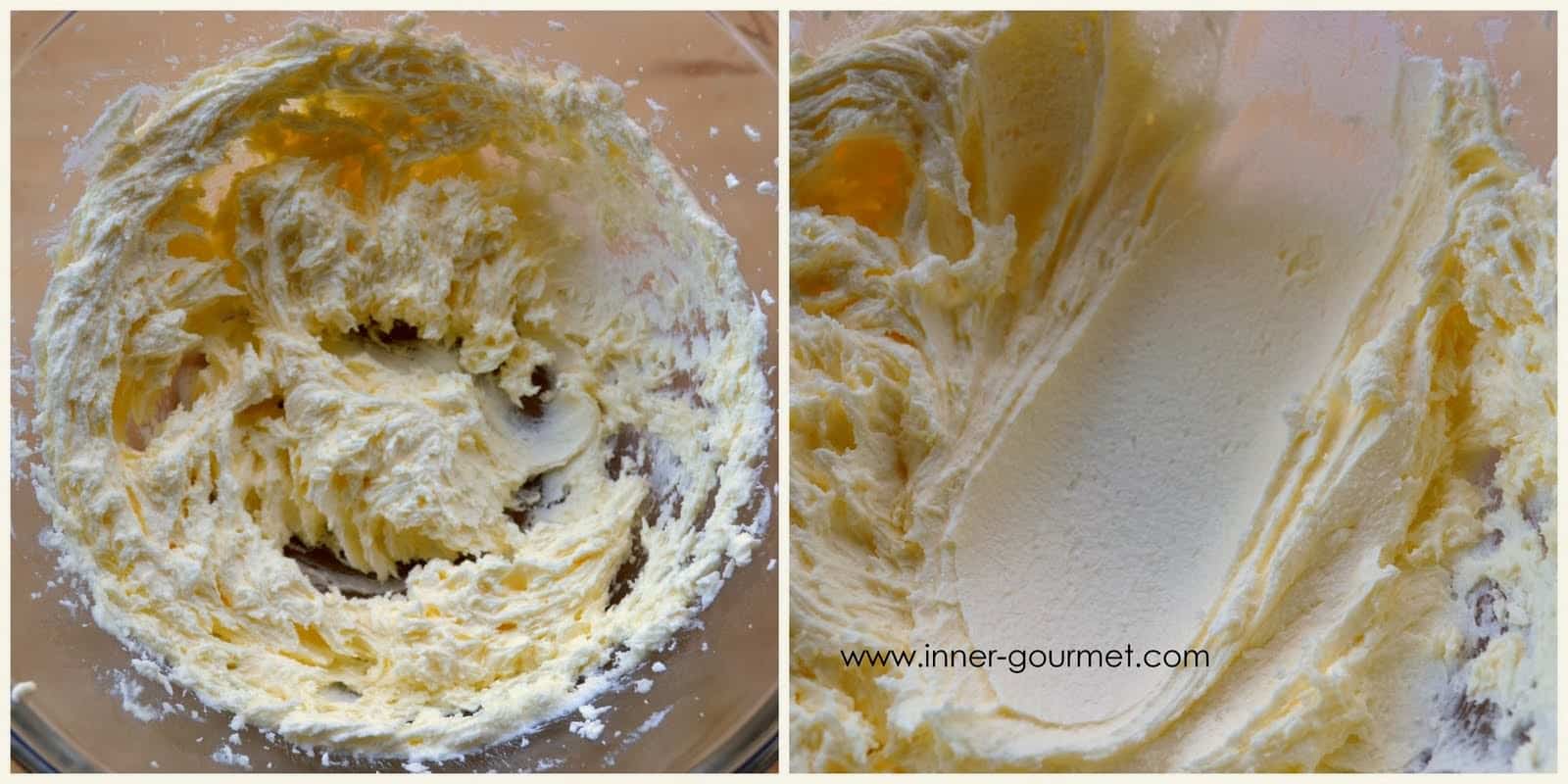 Blend in your extracts and zests then add one egg at a time. Adding too many eggs at once will make the batter curdle. And it will give off that egg-y taste that some cakes can have after baking.

Gently fold in your flour until completely combined. Be careful not to over beat the batter when adding the flour. Once the flour has "disappeared" into the batter, stop mixing, otherwise, the cake will turn out stiff and rubbery. You can use a hand mixer on the lowest speed or just use the folding method with a spatula to incorporate the flour. Stand mixers tend to over mix the batter, so if you are using one, keep it on the first speed.

Spoon batter into prepared pan.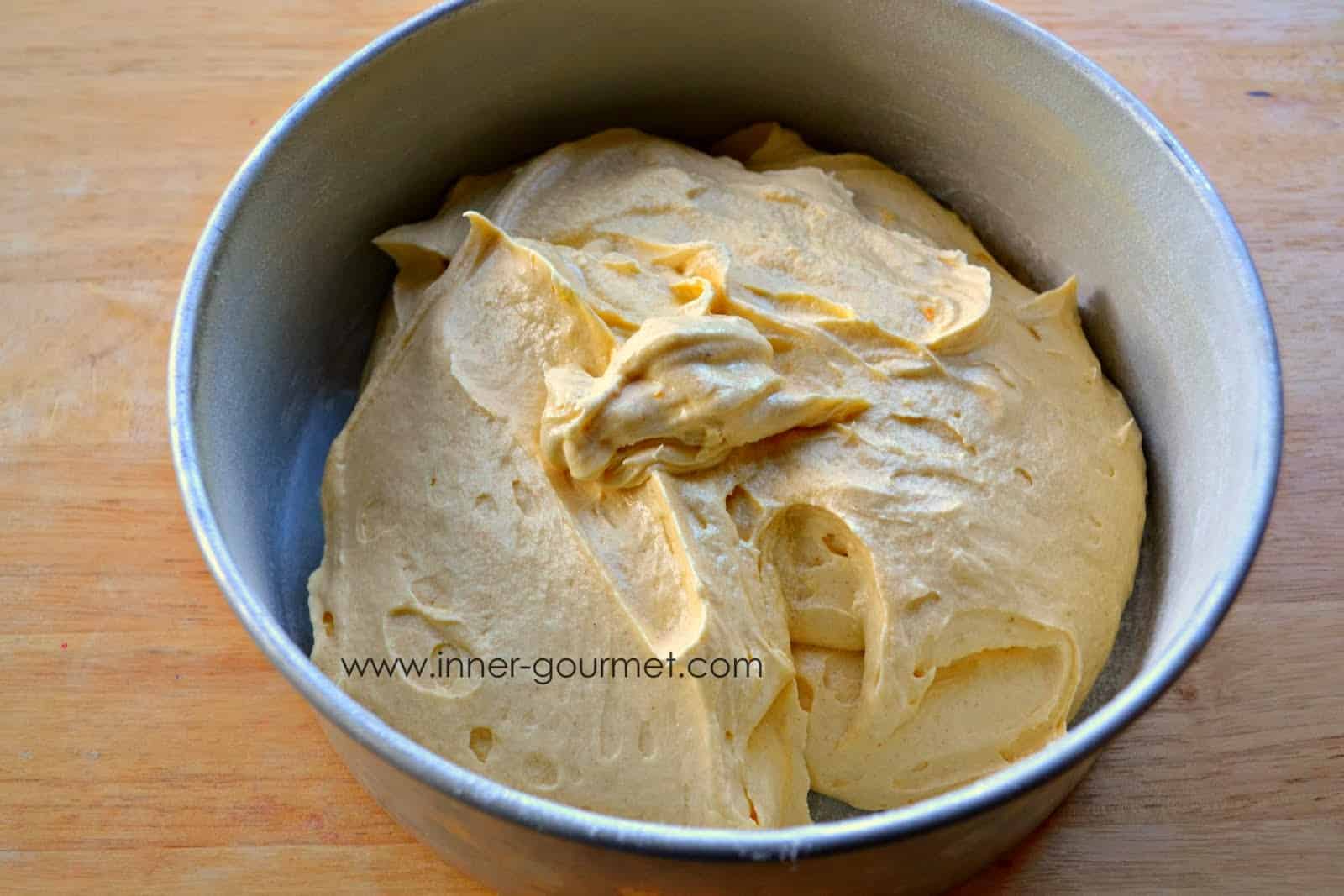 Spread it out with your spatula.
Bake at 350 for 40-45 minutes. If you see bubbles on the top of the cake, I wouldn't worry too much about it. It's just a result from some air pockets that rose to the top while baking. This happens most times when I make this cake and doesn't really bother me. Since I know the cake is cooked completely on the inside. Allow cake to cool for 6-8 minutes while still in pan.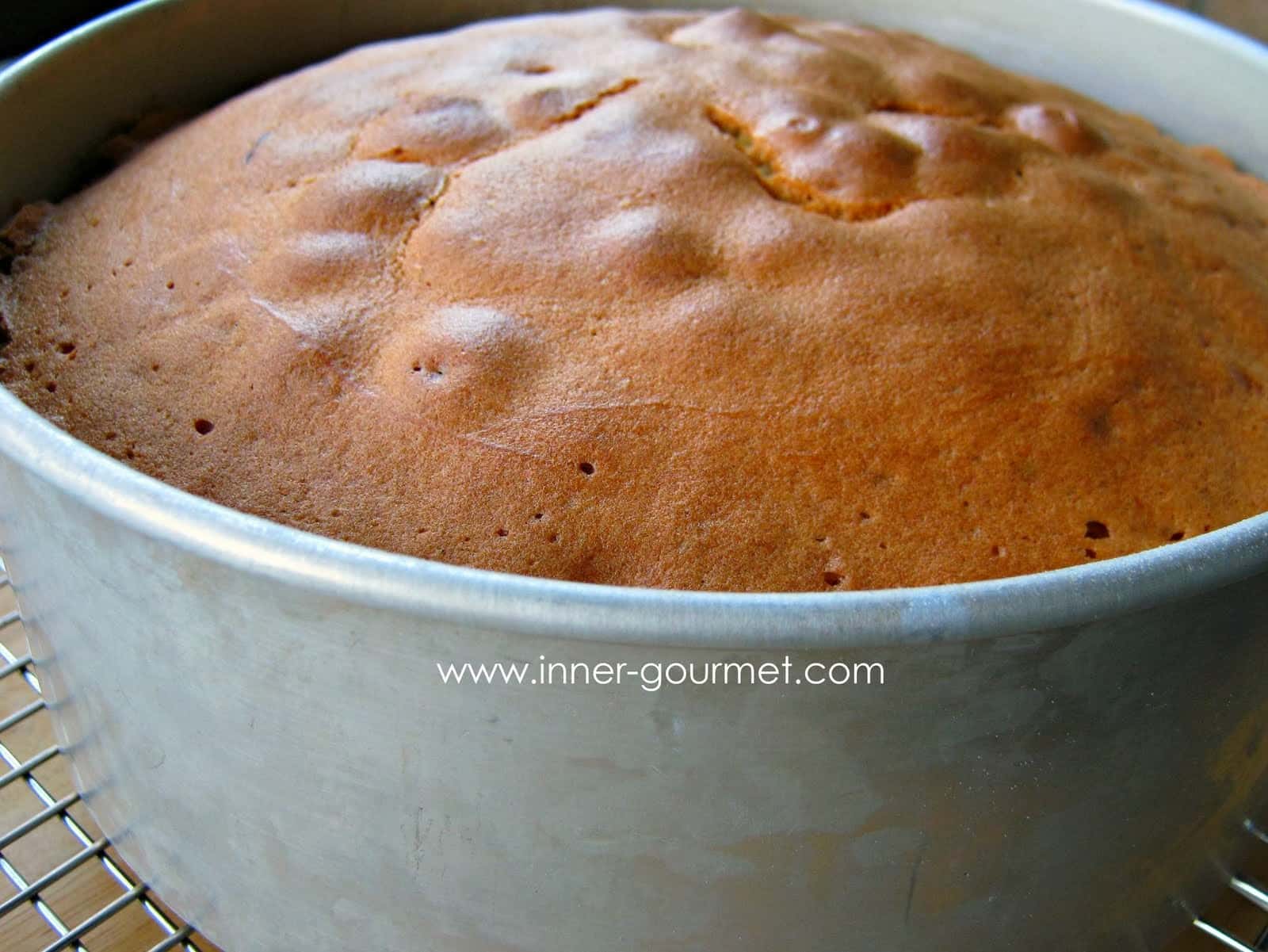 Flip onto another surface and allow to cool completely.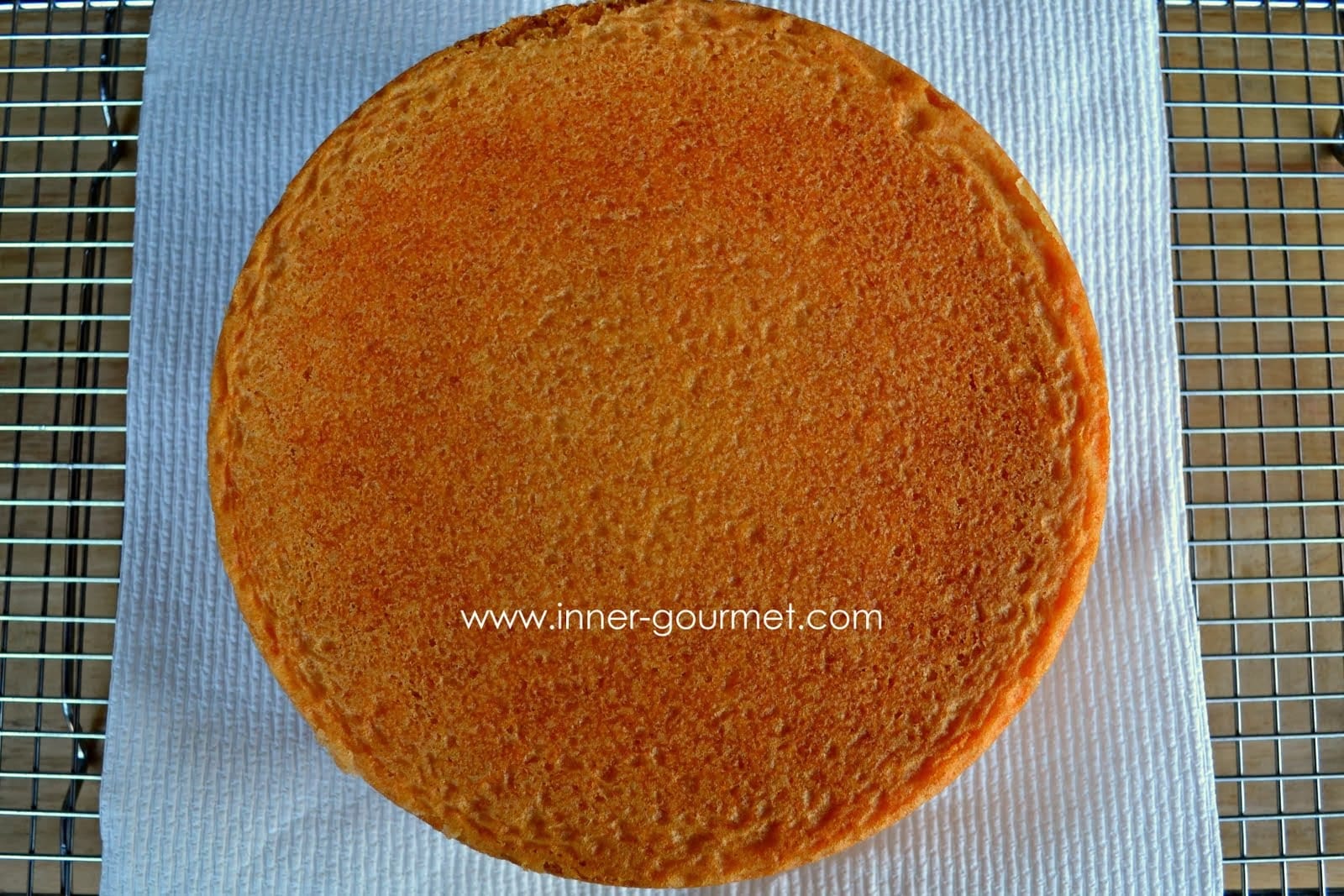 I love to butter and flour my pans, I get a nice clean release every time. You might choose to use parchment paper instead if you like.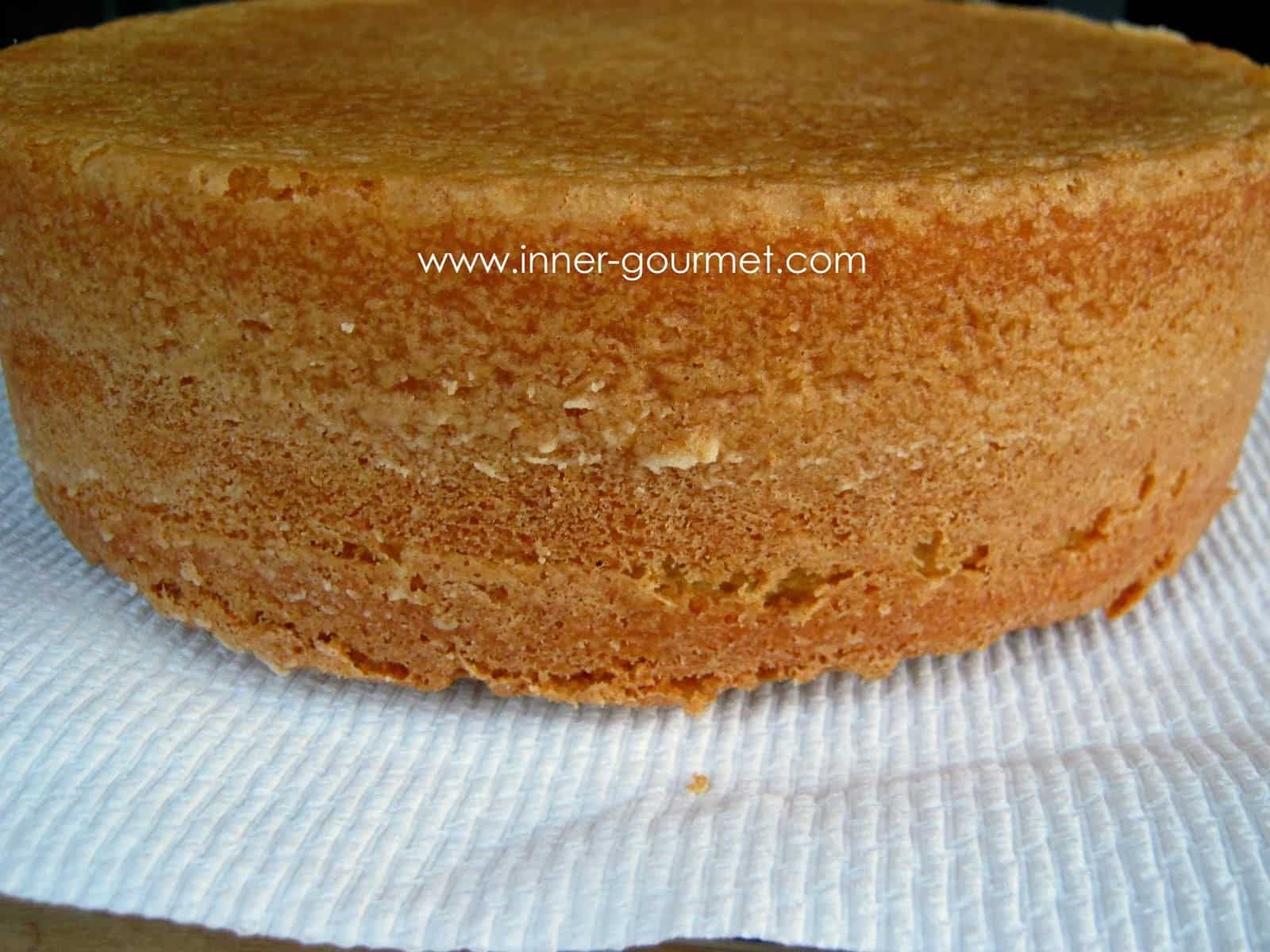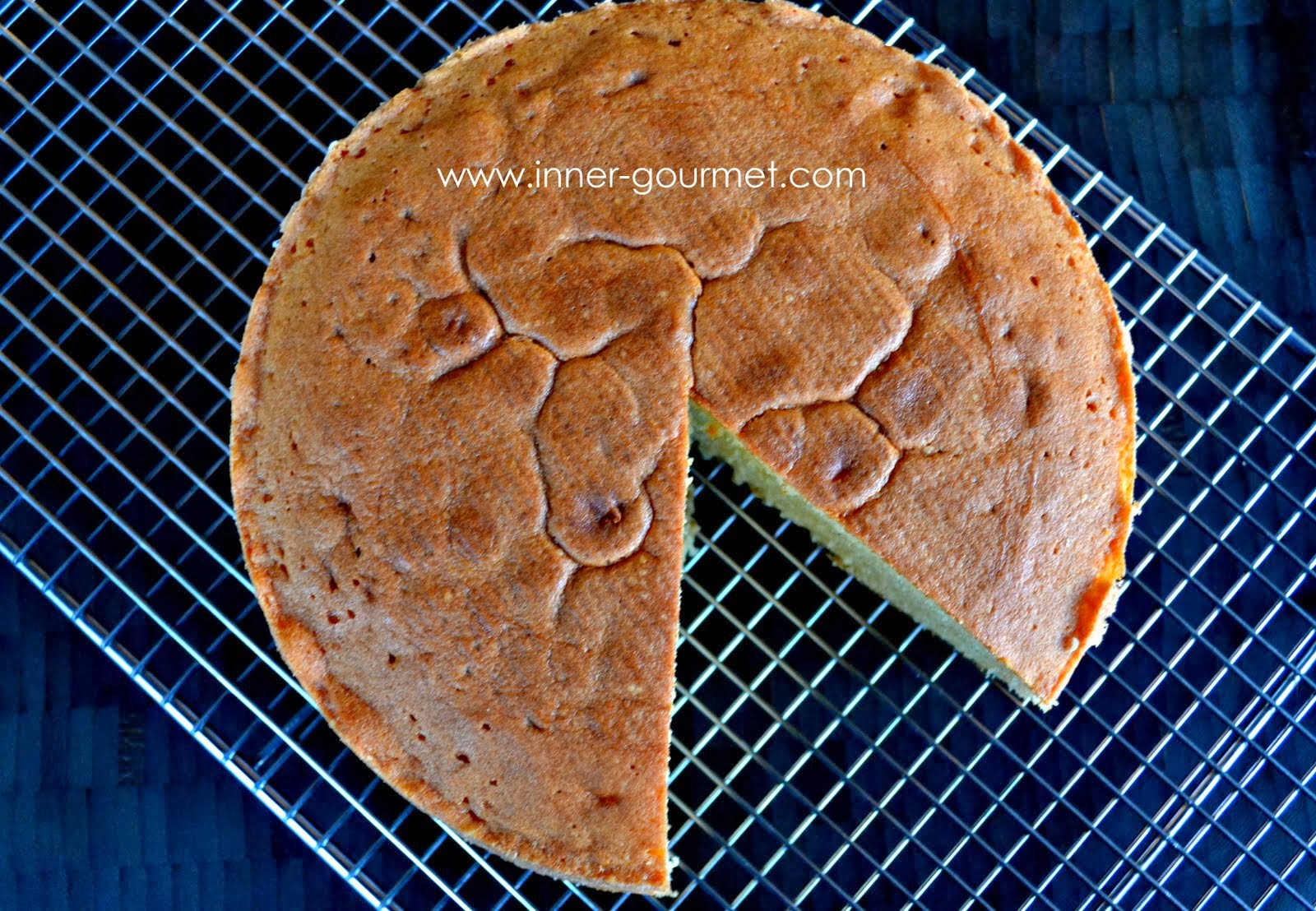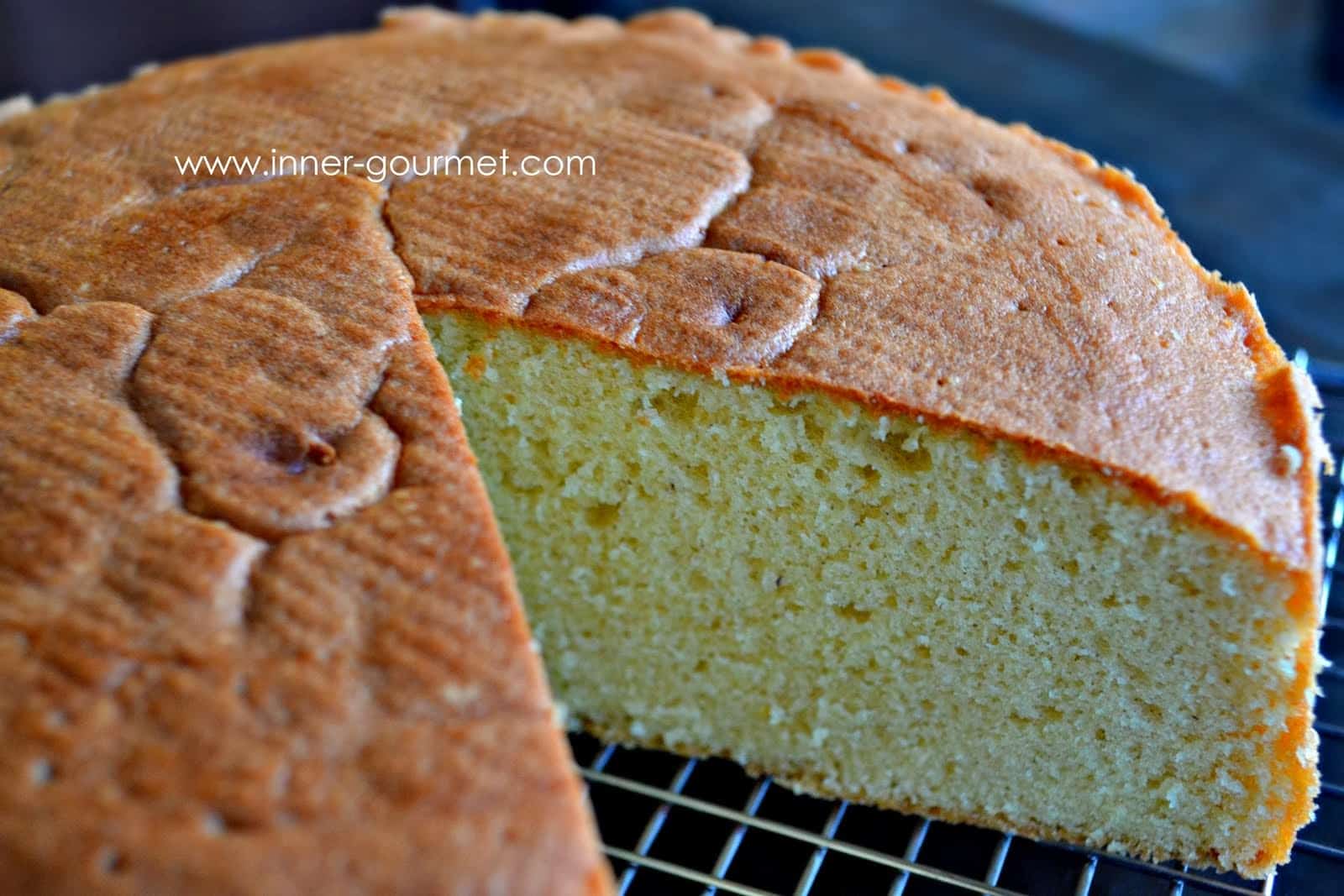 A Light and Fluffy Sponge Cake
Enjoy this soft and light sponge cake during the holidays or any other time. It's delicious with toppings, frosting or all by itself.
Ingredients
14 tbsp unsalted butter, room temperature
1 cup caster sugar/superfine sugar
4 large eggs, room temperature
1 tsp vanilla extract
1 tsp mixed essence
¼ tsp orange zest (optional)
¼ tsp lemon zest (optional)
1 cup cake flour
1 ½ tsp baking powder
½ tsp ground cinnamon
¼ tsp ground nutmeg
If you would like to weigh your ingredients instead:
200g unsalted butter, room temperature
200g white granulated sugar, if using superfine sugar, then 225g
200g eggs, room temperature
0.18oz vanilla
0.18oz mixed essence
100g cake flour
7.50g baking powder
I would use the above tsp measurements for the zests, cinnamon, and nutmeg since they are flavoring agents and can be eyeballed.
Instructions
Bring butter and eggs to room temperature.
Preheat oven to 350 degrees. Grease and flour an 8in round or square baking pan, set aside.
In a separate bowl, combine all dry ingredients, set aside.
Cream butter and sugar until light and fluffy. Add vanilla, mixed essence, and zests, continue to cream.
Add one egg at time to batter, carefully mixing in each one before adding the next.
Slowly add flour mixture until combined. Spoon batter into prepared baking pan.
Bake at 350 degrees for 40-45 minutes until toothpick inserted comes out clean.
Let cake cool in pan for 6-8 minutes, then flip onto another surface to cool completely (let cake cool upside down)
Notes
Be careful not to over beat the batter when adding the flour. Once the flour has "disappeared" into the batter, stop mixing, otherwise, the cake will turn out stiff.
Using a stand mixer can over mix the flour, so keep the setting on low when adding flour. Simply folding the flour in with a spatula works well to keep the cake light and fluffy.
This recipe makes ONE cake, so double the ingredients if making two. I wouldn't triple this recipe to make three cakes because as you triple and quadruple a recipe, the ingredients must be adjusted.
I used unsalted butter to control the taste, but if you enjoy a more buttery tasting cake, use salted butter.
If you don't have mixed essence, add 2 tsp vanilla and ½ tsp almond essence.
Parchment paper may be used in place of greasing and flouring your pan.
For a taller cake, use an 8in pan. A 9in pan will yield a sightly thinner cake.
When adding eggs to batter one at a time, use a high speed to keep batter from curdling. If curdling does occur, add a few tbsp of flour to smooth batter out again and no egg can be seen.