One thing that gets me excited in the kitchen is using familiar Caribbean flavors in a new (to me) way. These jerk chicken meatballs were born out of laziness, to be honest. I wanted jerk chicken for dinner, but was too lazy to prep and clean the chicken legs/thighs. I seasoned the meat using all the same ingredients I would've if using actual chicken legs or thighs and the taste truly resembled that of jerk chicken- spicy and juicy, with background flavors of allspice and scotch bonnet. I glazed the meatballs with pineapple preserves when they were hot to add a layer of sweet to the flavor profile- this part took the meatballs to another level!
I've made different types of meatballs from teriyaki to classic Italian, but never one with Caribbean flavors. They truly were a hit! The first time I made these, my husband requested them again the next week. The meatballs come together rather quickly and is a perfect pairing with your favorite chow mein or fried rice. Double the recipe for a crowd as it is especially fitting for a potluck or holiday appetizer.
About the meat
You may use any ground meat combination you'd like or keep it strictly to chicken or ground turkey. These particular meatballs in my photos are turkey, but I've made them with chicken and they are great! One tip to keep in mind is making sure the meat you buy has a little fat in it. I prefer the Jennie-O ground turkey 93% lean, 7% fat. If using anything less than 7% fat or too lean, your meatballs will be dry. Also if you're afraid to touch the meat with your bare hands, use this handy dandy cookie scoop and get the perfect size every time- https://amzn.to/2CIXKbA.
I know someone will ask where I got these toothpicks, but unfortunately, I couldn't provide a link to these exact ones because I picked them up at Homegoods a couple years ago. I know, boo. However, I did find some similar options that would be wonderful for the holidays or a party! See images below that I've linked from Amazon. I especially love the gold ones!
Roll meat into 1 ½ inch sized balls or use this cookie scoop to get uniformed sizes- https://amzn.to/2CIXKbA. Place in 9x13 dish and refrigerate for 30 minutes. This will help the meatballs keep its shape when baking. In essence of time, I decided to shallow fry my batch of meatballs in avocado oil.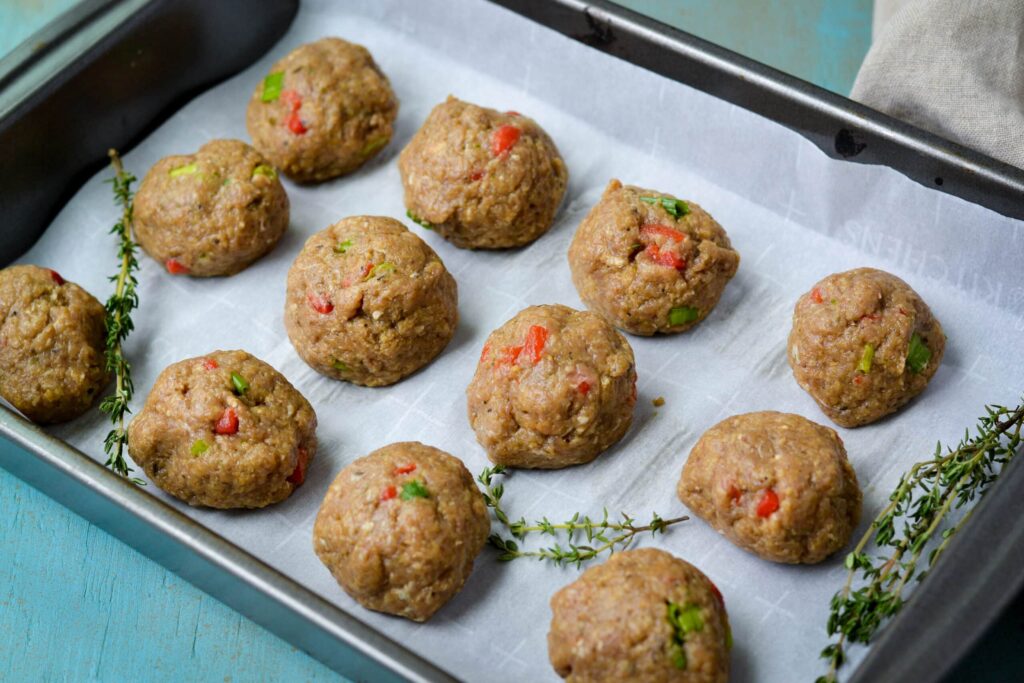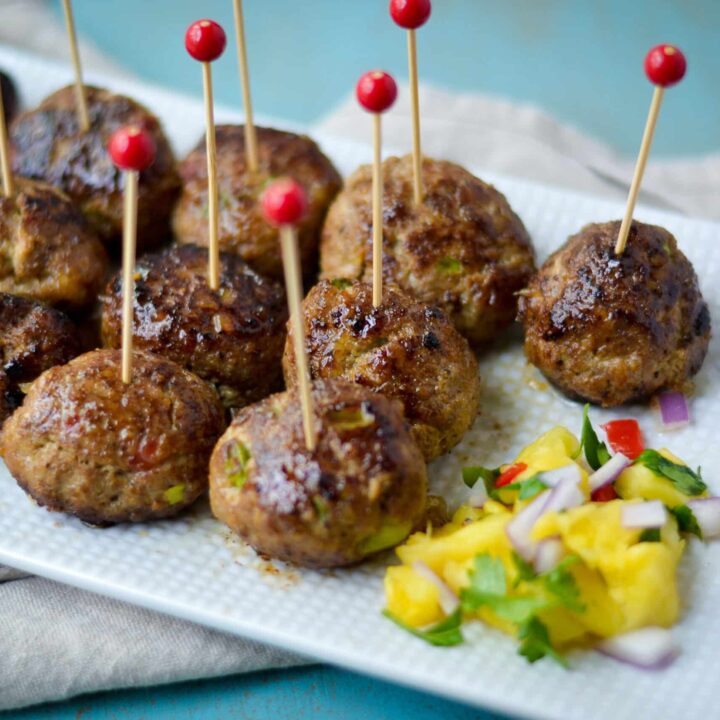 Jerk Chicken Meatballs
Yield:
12-15 medium size meatballs
Total Time:
1 hour
5 minutes
Ingredients
1 lb ground chicken or turkey
1 ¼ tbsp hot jerk seasoning paste (not marinade)
2 stems scallions, finely sliced
3-4 sprigs thyme leaves
2 tbsp pimento peppers (optional)
3 garlic cloves, finely chopped
2 tbsp green seasoning
1 tsp fresh ginger, grated
¼ tsp adobo or all purpose seasoning
1 tsp worcestershire sauce
½ tsp browning sauce (optional)
1 egg, beaten
⅓ cup plain unseasoned breadcrumbs
Juice of 1 lemon
For cooking
¼ cup avocado or other neutral oil (if frying)
Oil spray (if baking)
Glaze
Pineapple or mango preserves, for glaze (optional)
Instructions
In large bowl, mix together all ingredients. Shape mixture into 12-15 (1-1 ½-inch) meatballs. Place on dish lined with foil. Refrigerate about 30 minutes.
If baking meatballs: Line 13x9-inch pan with foil; spray with cooking spray. Place 1 inch apart in pan. Spray each meatball with oil spray. Bake uncovered at 375 degrees F for 20-24 minutes or until temperature reaches 160 degrees internally. Meatballs should be browned.
If shallow frying: Heat oil in pan, fry meatballs in batches cooking 5-6 min per batch. Drain on paper towels.
Place meatballs in glass dish, after removing from oven or stovetop. Brush pineapple/mango preserves on each meatballs. Serve warm.
Notes
Meat -93% lean/7% fat preferred , lean meat will yield drier meatball.
Walkerswood or Grace brand jerk paste is best. Using the marinade is not recommended because it is too watery and not strong enough in flavor.
You could also serve these meatballs up as part of a meal, perhaps with your favorite chow mein or fried rice recipe ;). I call this, West Indian spaghetti and meatballs!