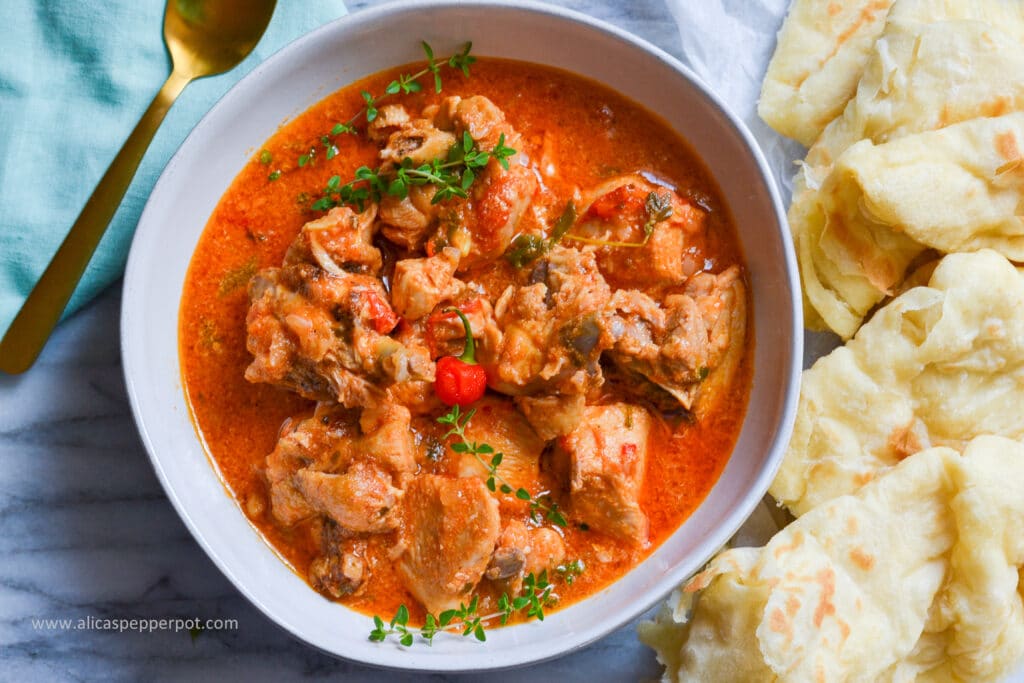 There were two types of stewed chicken I knew growing up; brown stew and red stew. While the more recognized brown stew is based from caramelized (burnt) sugar, this red stew starts with fresh tomatoes and tomato paste. We had the brown stew mostly with rice, but the red stew, always with roti. Tomato paste is used widely in Guyanese cooking and it's also what helps give this stew its beautiful red color.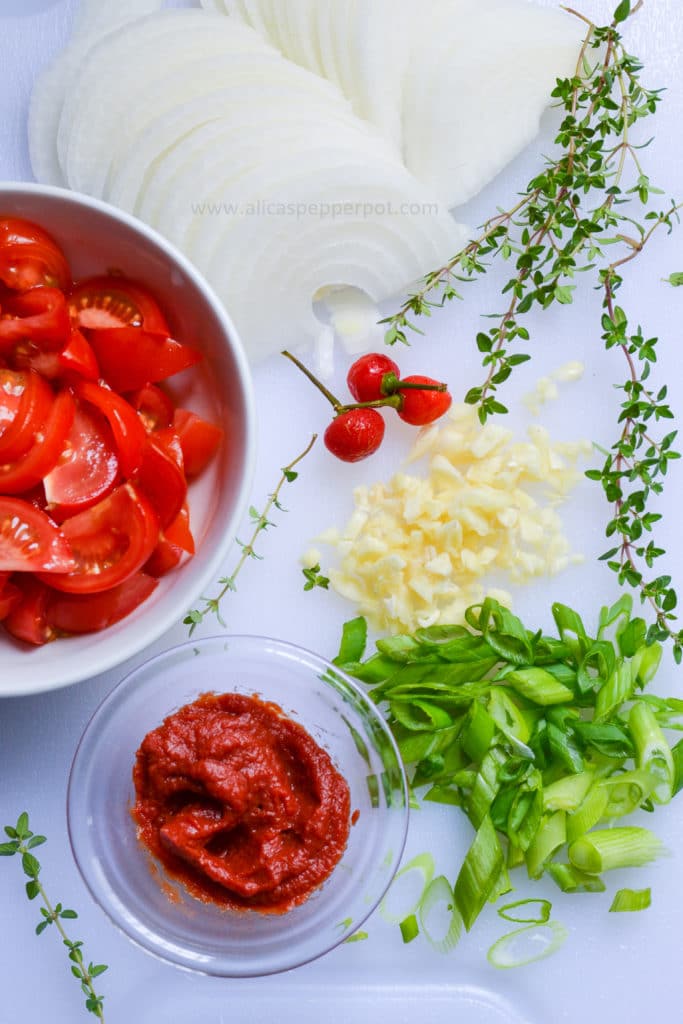 Simple Ingredients
I first learned to make this stew from my father. When we cooked together he would recount memories of how his mother prepared their food. He relayed that while growing up in Guyana, he never saw her cook with pre-mixed powdered seasonings or too many manufactured products. This was due in part to what was accessible to them, but she also came from a mindset of, "fresh is best." She cooked simply and with fresh ingredients. He recalls the food being satisfying and healthy- with tremendous flavor.
I now make this stew the way my paternal grandmother does. There are no bell peppers, potatoes, beans, or vegetables, just chicken and a delicious gravy; served alongside hot paratha roti. The roti is a perfect accompaniment as it serves as doughy shrapnel to sap up the gravy. Always best when a little bit drips off the roti and onto your hands. Makes you lick your fingers.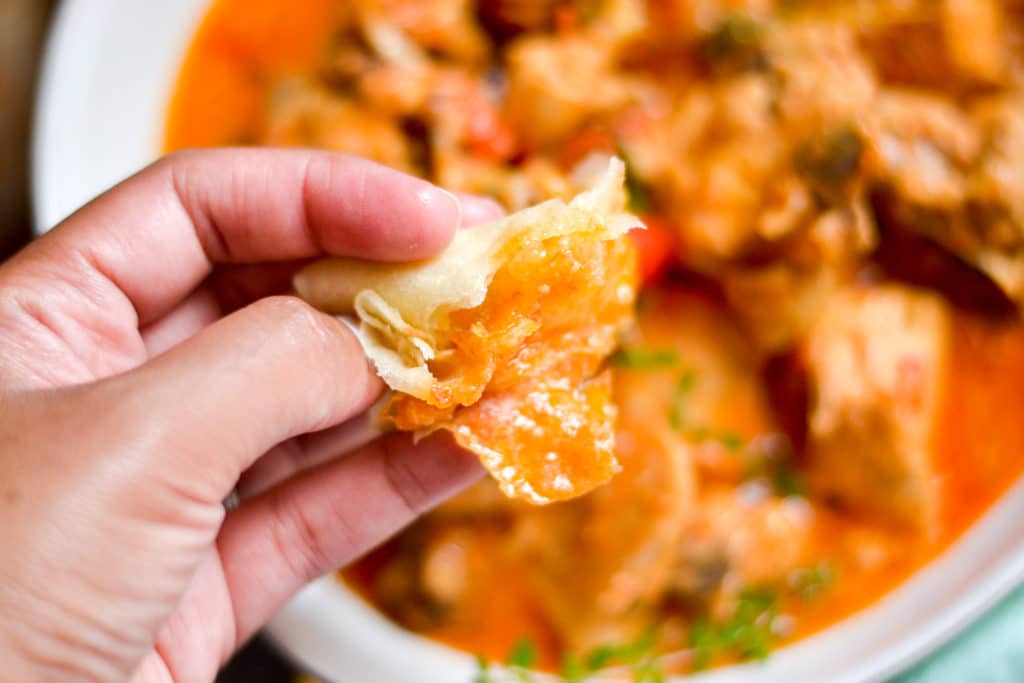 A Note on Washing and Cleaning Meat
In West Indian cooking, it is common to wash or clean meat a certain way. We do not cook meat straight out of the package. The way I learned to clean meat is with a couple of handfuls of flour, 1 tsp salt, juice of 1 lime, and enough water for the meat to soak. Mix the meat with these ingredients and let it sit for ½ hr to 45 minutes, then rinse it off piece by piece. Use a knife to pull off any fibrous strands then rinse again and pat dry. This method of "cleaning" the meat is a way to remove any slime, rank smell, or off taste that the meat might have. This is the way we always cleaned meat in my home, but feel free to use your own way.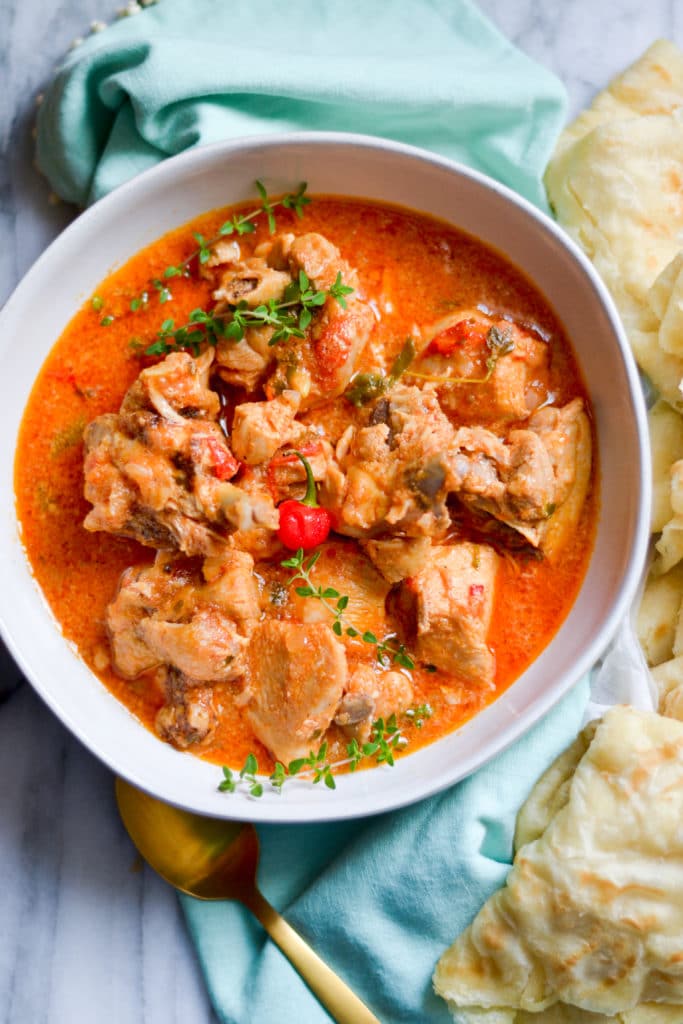 Make it Your Own
Although we didn't add much else to the gravy, that doesn't mean you can't. I think a handful of kidney beans or cauliflower would be delicious here, even some chunks of zucchini. The gravy is rather thin, but not watery. If you'd like something with more texture, potatoes or cassava can help make it slightly thicker. We typically eat this with roti, but I think this would pair wonderfully with jasmine or basmati rice.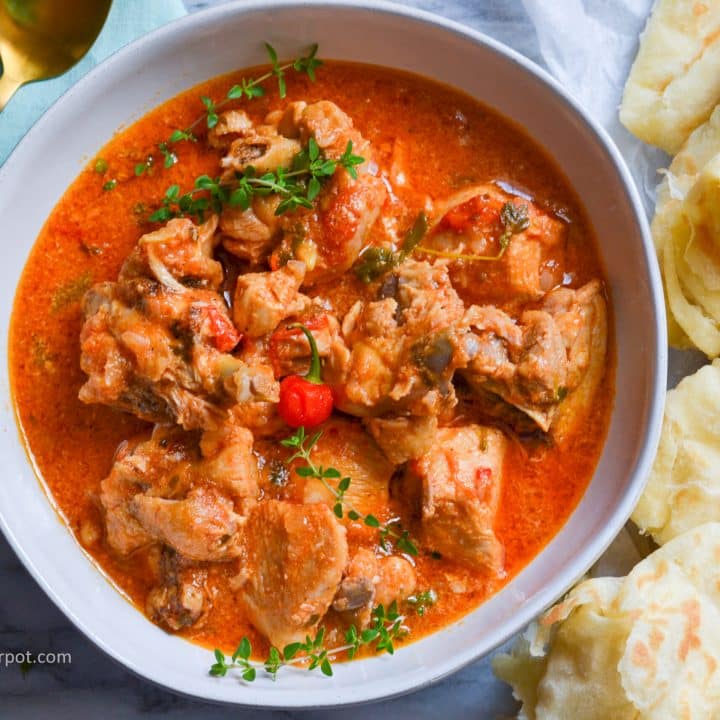 Red Stewed Chicken
Total Time:
1 hour
45 minutes
Ingredients
3lbs chicken (cut up for stew)
Meat Seasoning
3 tbsp green seasoning
1 tsp grated ginger (optional)
1 tsp salt
1 tbsp oil
Gravy
1 large tomato, chopped (about 1 ½ cups)
2-3 tbsp tomato paste
1 medium yellow onion, sliced
3 cloves garlic, crushed
6-7 sprigs fresh thyme leaves
2 stems scallions, sliced
2-3 wiri wiri peppers or desired hot pepper
2-3 small chicken bouillon cubes or 1 large (salt may be substituted)
3-4 tbsp oil for cooking
Boiling water in kettle on reserve (enough to cover the meat)
Salt to taste
Instructions
Wash and dry chicken. Chop into 3-4 inch pieces. Season with green seasoning, ginger, salt, and oil. Let marinate minimum 1 hour.
Add 3-4 tbsp oil to a pot. Saute onions, garlic, pepper until fragrant. Add fresh tomatoes. Saute until tomatoes have wilted. Add tomato paste, thyme, bouillon, and chicken. Let chicken cook 15-20 minutes in it's own juices. Stirring occasionally.
When ¾ of the liquid has evaporated add enough hot water to barely cover the meat. Let meat boil until chicken is cooked and gravy has reduced by ⅓ (about 25 minutes). Add scallions when stew is almost done.
Notes
I used the "quick version" of my green seasoning recipe to season the meat. Refer to green seasoning recipe for instructions. For this recipe I used a whole chicken and had the butcher cut it up into smaller pieces, but a mixture of chicken thighs, legs, and breast can be used. As a variation, this recipe will work well in an instant pot or slow cooker.