I grew up in a practicing Hindu family. We had many religious functions at home and parsad was an integral part of the food offerings and ceremony. Parsad, when referenced as a dish (more on this later), is a sweet semi-solid reduction made from ghee, flour, sugar, and milk. This is essentially what other cultures would call halwa. The term halwa, is used broadly to describe varying types of semi-solid reductions based from either flour, nuts, or grains. There are two version of parsad, flour-based and cream of wheat based; today I'll teach you how to make both.
Parsad is commonly shared with attendees after Hindu prayer ceremonies known as jhandis or pujas or when service at the temple concludes. It is also made during Hindu holidays and festivities such as weddings. Guyanese Muslims make a similar sweet known as sirnee. You can read more about it here. You can make this whenever you feel for it or perhaps try your hand making this recipe for the enjoyment and experience.
What is a jhandi or puja?
Jhandis are Hindu religious ceremonies, where devotees pay adoration to Hindu deities by offering flowers, fruits, homemade sweets and prayers often facilitated by a priest or swami. These ceremonies usually last anywhere from 3-4 hours and attended by family and friends of the person hosting the jhandi. Once the ceremony commences, guests are offered a vegetarian meal and a variety of sweets commonly packaged in paper bags. Most people couldn't wait to have the paper bag because we knew it contained treats that you only ate at these sort of functions.
What was inside the paper bag?
My cousins and I would gather in the kitchen while the ceremony was still in progress and we'd work in an assembly line to fill two separate plastic sandwich bags that was placed inside the paper bag. One was filled with parsad, peera, mithai, and roath; and the other with a variety of fruit. But it was the plastic bag with the parsad that we all yearned for. I know I can't possibly be the only one who felt this way, right?
The mouthfeel of the parsad was smooth, soft, and so satisfying. And the best part was eating the piece of the parsad that was nestled right next to the peera, because it had an extra sweetness to it, IYKYK.
After our jhandis were over and our guests left, my cousins and I would help to clean up our house and always found brown paper bags that were forgotten. Only to look inside and find the bag of fruit sitting alone, untouched.
It's true, no one really wanted the fruit, they were there for the good stuff.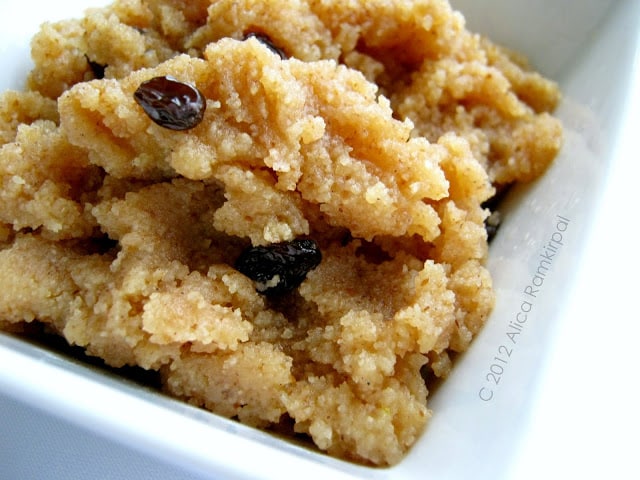 Parsad vs. mohanbhog and what it really means
Parsad, which is a variation of the Sanskrit word prasada is any food that has been offered during a prayer ceremony and then shared afterwards with attendees to enjoy. Mohanbhog is another name I grew using synonymously with parsad, but it has a slightly different meaning. Before making a divine offering of food in a religious ceremony, the food is called mohanbhog, meaning offering for the lord. Mohan, one of Lord Krishna's 108 names and bhog, meaning prasada or food. Only after the food is offered is it now called parsad.
So why is parsad known as a single dish in the way I'm referencing it in this post? Vinay Harrichan from Cutlass Magazine suggests because the semi-solid reduction was a prominent part of the sweets (visually), people began identifying it as a single item. Vinay posted a very thorough explanation on terminology, linguistics, and religious context of parsad and mohanbhog, which you can find here. I encourage you to support Vinay's work by following his account and sharing his page. His voluntary research and translations has helped many Indo-Caribbeans learn about our history.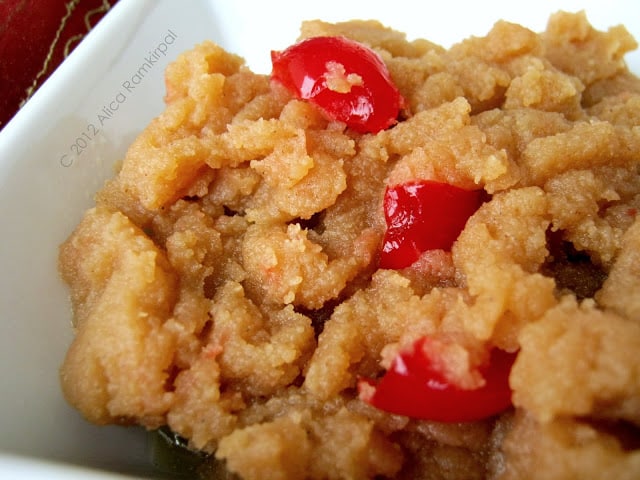 How to make parsad
The way my family makes this is by first parching all-purpose flour in hot ghee or butter until a golden brown paste forms. In other culinary terms, this would be known as a roux. Sweetened milk warmed in a pot is added to the paste and stirred vigorously until a fluffy, smooth, and buttery pudding comes about.
Sounds simple, right? Well believe or not, there is a technique involved here and it comes from learning how to properly parch the flour in the ghee to get that nice golden brown color. Have you ever tasted parsad that looked pale and also had a sort of raw-ish taste? Well that comes from not parching the flour enough. Let's start with the flour-based parsad which most are familiar with.
Various spices are added to the mix, my mom always included cardamom/elaichi, it gave the parsad a really nice flavor. You won't need too much though, just about a ¼ tsp, ground. 
Gather all the spices, place in a small dish.
If adding cherries, chop coarsely, set aside. I used maraschino cherries, pure ghee, and one tin of evaporated milk plus 4oz more. In total 16oz evaporated milk.
Add evaporated milk, ¾ cup granulated sugar, and spices to a pot. Warm milk mixture on stove. Keep warm until ready for use. 
Measure 4oz butter, 4oz ghee, and 1 cup all-purpose flour. Set aside. *You may use all butter or all ghee, this is your preference. Heat butter and ghee on medium heat until melted. Add flour and stir to dissolve.
Continue to stir until mixture thickens and forms a paste. 
This is the part that will take some time and will probably give your arm a little workout. Turn heat to medium-low and stir continuously (parch) until a golden brown color is noticeable. This should take anywhere from 15-20 minutes. I would advise that you do not walk away from the stove, this mixture can burn easily which is why it is important to stir continuously until color is achieved. 
I prefer to use these brands. I also use just a handful or raisins because it's not my preference, but I'll eat it. You can include golden raisins, currants, cherries, or any other addition you like.
Mmm look at those wheat kernels. 
Gather the same spices used for the flour-based parsad.
Add spices and this time, only ½ cup of granulated sugar to 16oz evaporated milk. 
For this type of parsad, you won't need as much ghee or butter. Start with 6oz butter or ghee or 3oz of both. Melt in a pot then add flour, stir to dissolve. Add cream of wheat kernels next. Parch until mixture is golden, but not dark brown.
Add milk mixture and raisins, continue to stir until mixture is thick and pulls away from sides of pot.