If there were ever a dish that brought back young childhood memories of growing up in a Hindu home, it would have to be parsad. We had so many jhandis and poojas in my house that making parsad in the kitchen became a norm. This bread pudding-like dessert is something that is only available at these types of Hindu religious functions; it cannot be found at a local roti shop. Makes it all the more desirable. I remember attending countless numbers of jhandis as a young girl and usually by the end; I was so hungry that I couldn't wait for the brown paper bags to be distributed, because I knew parsad would be inside. I know I can't possibly be the only one who has felt this way, right?
Many of you who have never attended a jhandi might be wondering what the heck I am talking about. Well, in short, jhandis are Hindu religious ceremonies, where devotees pay adoration to Hindu deities by offering mantras (often facilitated by a priest or swami), flowers, fruits, and homemade sweets. These ceremonies usually last anywhere from 2-4 hours and are attended by family and friends of the person hosting the jhandi. Once the ceremony is over, guests are offered a vegetarian meal and a variety of sweets usually packaged in brown paper bags. One of the main sweets in the bag is this glorious parsad I speak of.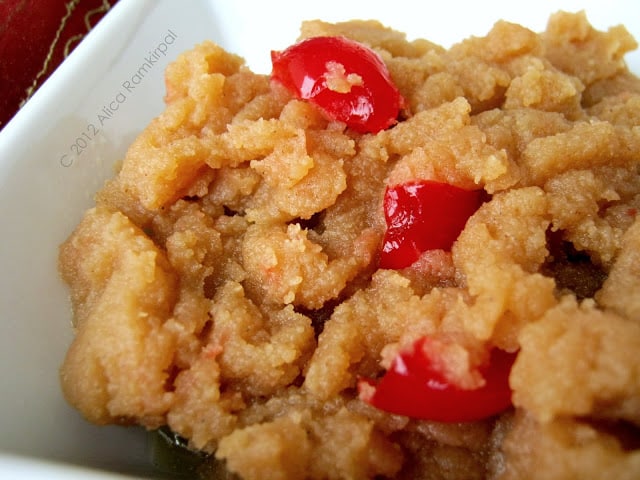 The highlight of the "after-jhandi" for me was the paper-bagged sweets. There were usually two zip-loc bags inside; the ugly stepchild, which was the bag that was filled with small pieces of cut up fruit that people usually never ate, and the other bag contained the good stuff. The good stuff is what I like to call, "jhandi sweets trio"; peera, parsad, mithai. These were the sweets that were all made by hand and required a labor of love; it was the bag that most people looked forward for after these religious functions were over. The best part was eating the piece of the parsad that was sitting right under the peera, because it had an extra sweetness to it - does anyone else know what I am talking about here? It wasn't uncommon either for people to ask to take home a paper bag or two for their cousin's aunty's neighbor. Yea, we know who that second and third paper bag was really for.

These two recipes belong to my mom. I always loved the brown color and taste her parsad had. She always made both versions, the cream of wheat one and the original flour-based one. Since this pudding is highly customizable, feel free to add anything you like, such as golden raisins, cherries, peanuts, pistachios and even cream soda.