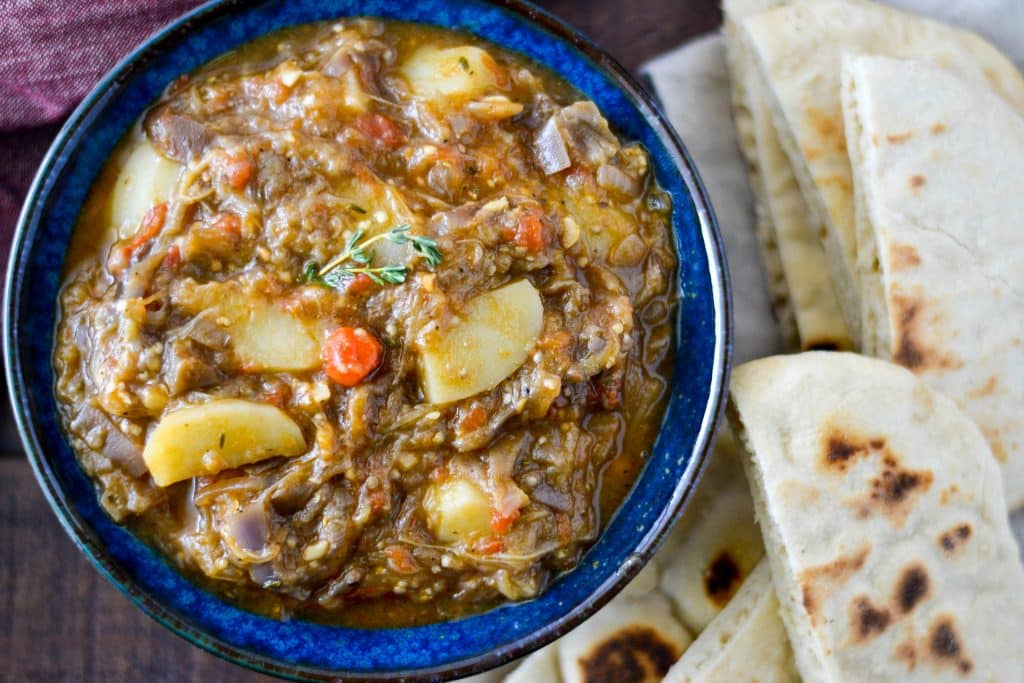 Don't be put off or confused by the word "fry." Nothing in this dish is actually fried. In West Indian cooking, we say fry in reference to the cooking method, but what's actually done is a saute. When my mom used the term "fry baigan" it was also to differentiate from an alternate way she cooked it, which was curried. This fry baigan is a variation of baingan bharta, a South Indian mashed eggplant dish, usually fire-roasted first. Since there are deep Indian influences on West Indian cooking, I can see where the connection is, but naturally with the evolution of fusion cultures and dialects, the culinary terminology also changes.
Oh, just in case you were wondering, we do make a fried eggplant dish. It is served as an appetizer called, baiganee. Another post on that later, but while you're there, hit follow on Instagram, will ya? #shamelesspromotion
Sauteed baigan is one of my favorite ways to eat eggplant. It is usually served warm, as a main course alongside sada roti, but it can be paired with bake or paratha roti as well. It is the most delicious breakfast on a Saturday or Sunday morning for me. The sada roti saps up the juice from the eggplant and makes for a succulent and satisfying bite.
My mom cooked this for us on a weekly basis. It was a quick dish and absolutely tummy-loving good. It is common to find baigan at West Indian roti shops during breakfast hours. Order one up with bake or roti, you won't be disappointed- unless eggplant isn't your thing, of course.
Chinese/Japanese Eggplants
About the baigan (Eggplant)
Eggplant is the English word for this beautiful purple fruit. What? A fruit?! Yes, fruit! I feel like I was lied to my whole life about this one, but, yeah, it's savory fruit; enjoyed as a cooked vegetable. It is known under several other names which include, melongene, brinjal, aubergine, and boulanger, pronounced, balanjay in Guyanese patois. This gorgeous fruit comes in varying teardrop shapes, sizes, and purple colors. Some dark purple; others striped and more lavender.
Growing up, my mom, and other Guyanese family only cooked the Japanese/Chinese type. This is the type of culinary fusion that happens when you come from a place like the West Indies. The name of this dish is derived from Indian influences on our cuisine, but we made it our own by using a fruit from the Chinese contributions to our food. When I moved away from home I started using American eggplant since that's what was mostly available to me, but the texture and taste was different compared to the Chinese eggplants. American eggplants are larger, thicker, tougher, and more spongy according to my palate. Whereas, Chinese eggplants are juicier and tend to be softer and creamier when cooked. It sort of melts away with the other ingredients and becomes its own thing. Clearly, I have a preference.
Cooking method
The way I cook this is simple. The eggplant is sliced into small, thin strips then sauteed. I prefer to have the skin left on the eggplant. The sliced eggplant is added to the karahi or pot after the onions, garlic, peppers, and tomatoes have had a chance to saute and melt. Desired herbs and seasonings are added with salt and pepper then cooked down until soft and juicy. The best way to keep this dish from drying out is to cook it low and slow after the initial saute. Potatoes can be added in the middle of the process or shrimp, towards the end. When buying eggplants, try to choose ones that are firm to the touch. If you see ones that have wrinkles, it means the eggplant is starting to go bad and is drying out. If you're not going to cook it within a day or two, I'd say keep looking.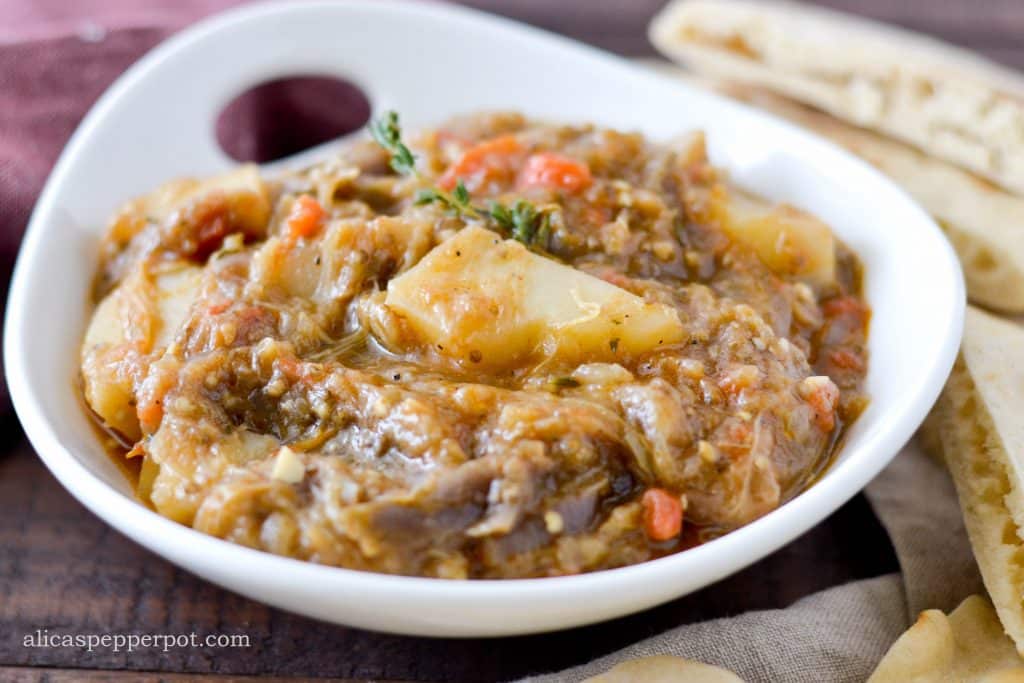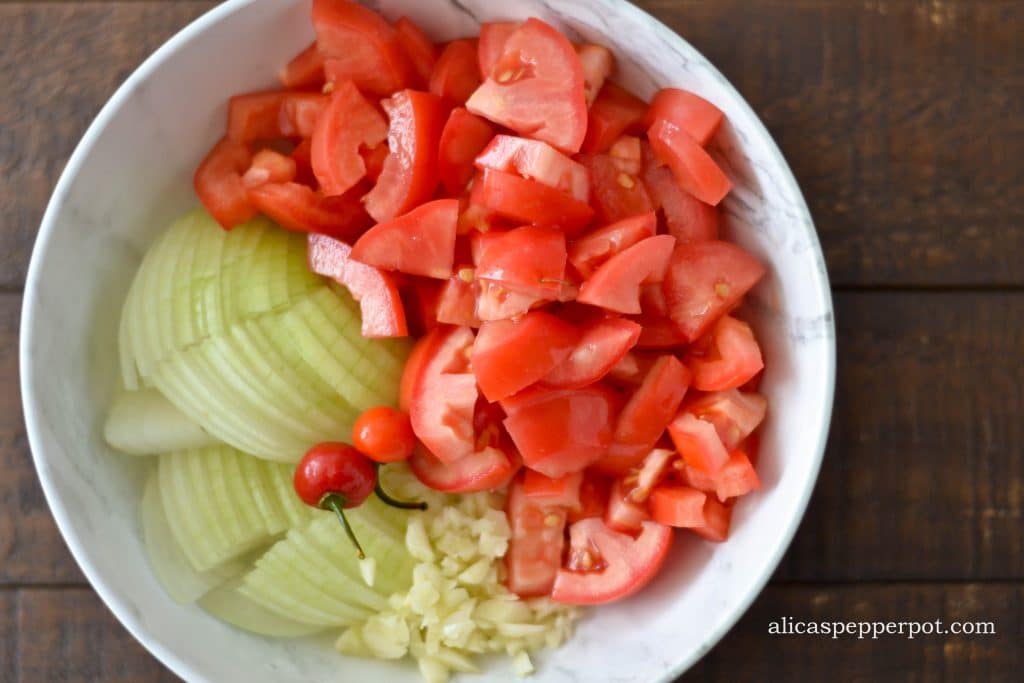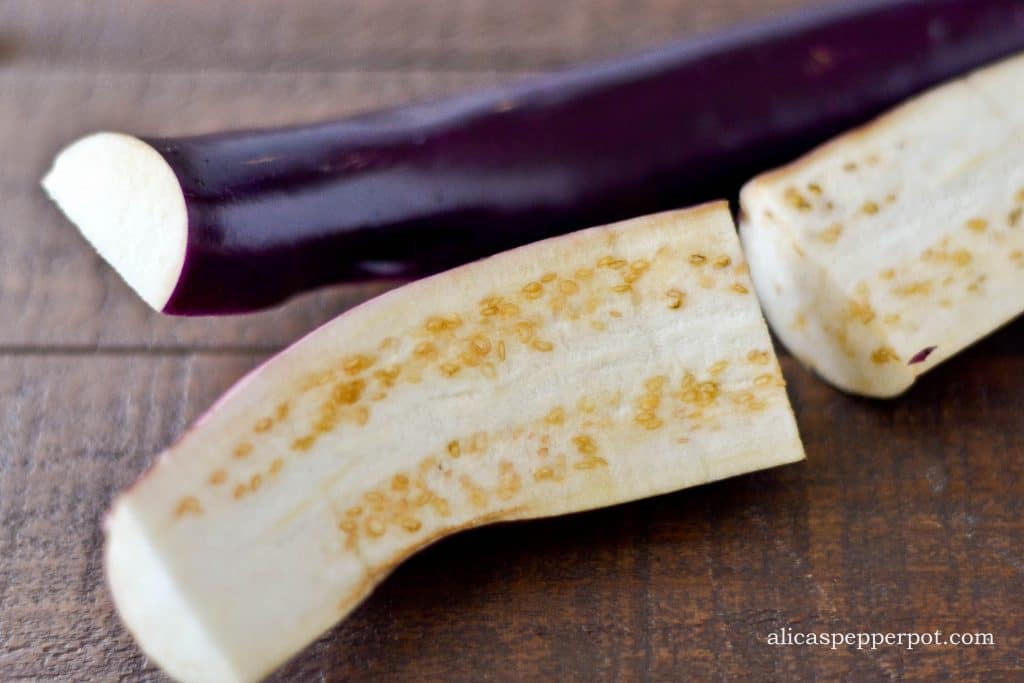 Slice thinly.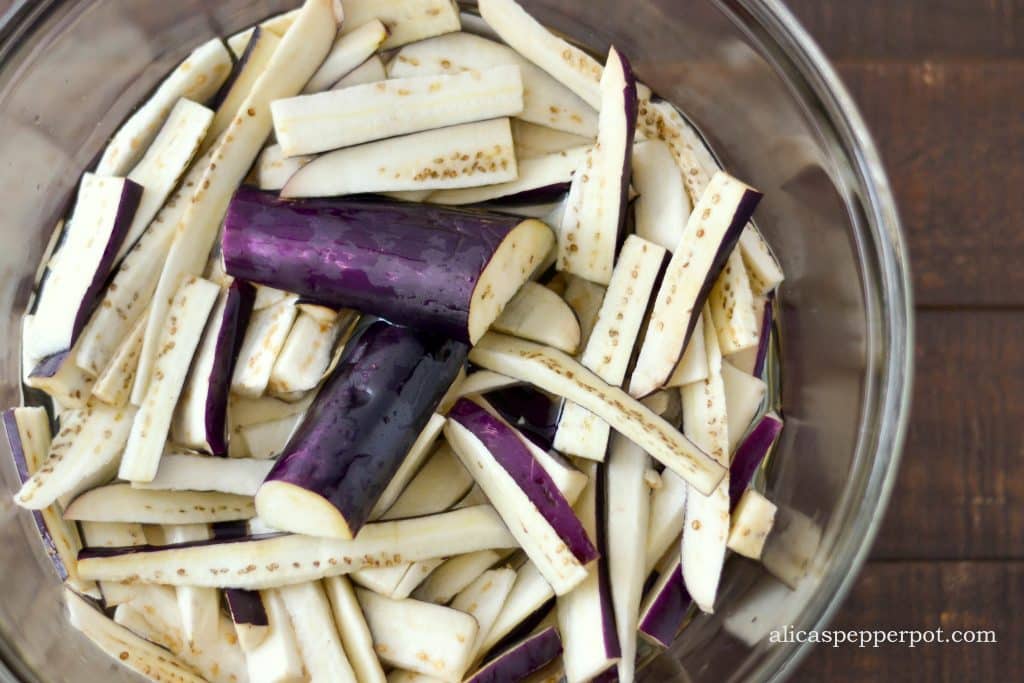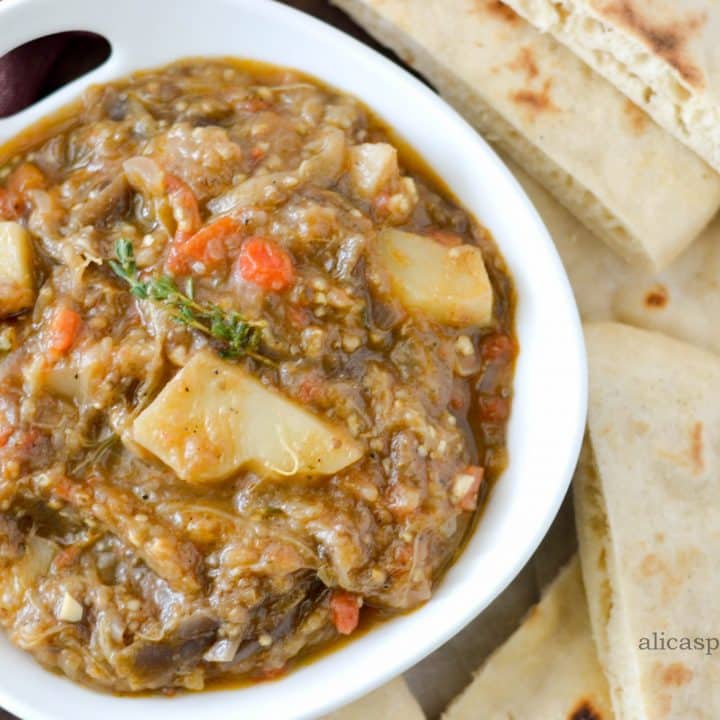 Fry Baigan (Sauteed Eggplant)
Ingredients
2 ½ lbs Chinese or Japanese eggplants
1 large yellow onion, thinly sliced
1 cup fresh tomato, chopped
3 garlic cloves, minced
2 wiri wiri peppers or 1 small scotch bonnet
3-4 tbsp oil for saute
1 large chicken boullion cube, OR 1 tsp salt (more as needed)
½ tsp paprika
2 medium potatoes, chopped into small pieces
Instructions
Chop head off of eggplant, discard. Chop in half by cutting lengthwise from top to bottom. Cut each halve horizontally. Slice thinly. Keep eggplant strips in a bowl filled with cold water. Set aside.
Prep other ingredients. Chop onions, tomatoes, garlic.
Peel and chop potatoes, place in a bowl of cold water. Set aside.
Heat karahi or pot with oil on medium-high heat. Add onions, garlic, pepper, and tomatoes. Cook until tender and fragrant.
Add eggplant and stir to combine. Cook about 20 minutes then add seasonings and potatoes.
Turn heat to low. Let eggplant cook until tender and potatoes are cooked through.
Adjust salt and seasonings to suit your tastes.
Notes
I prefer the Knorr brand of bouillon cube in the large rectangular size. It is soft and smooth. The Maggi brand is crumbly- that's how you'll note the difference.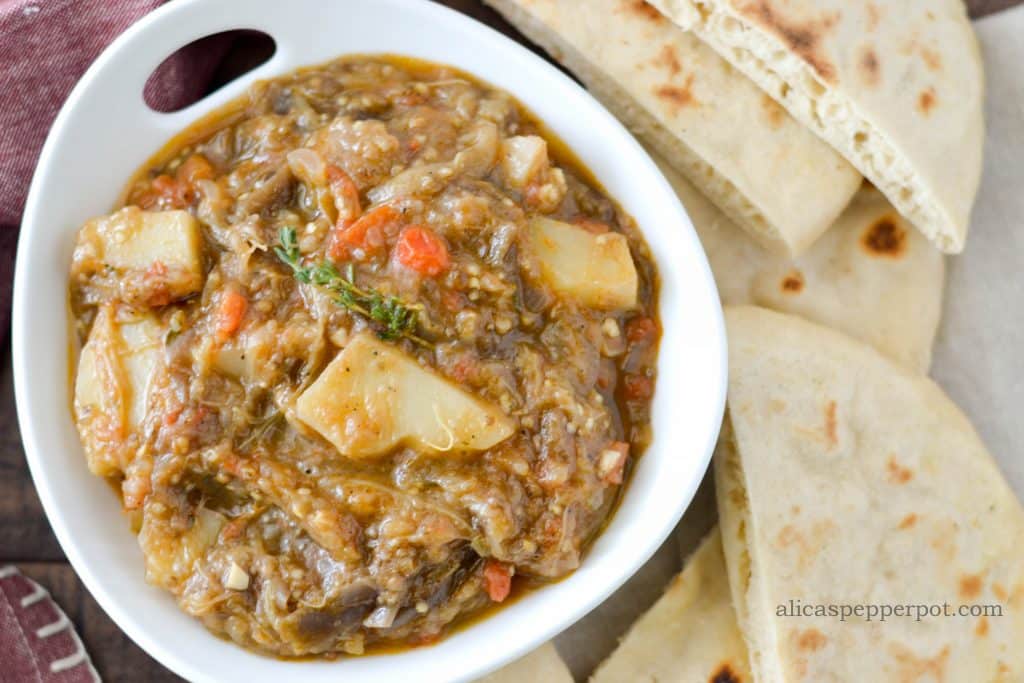 Fry baigan with shrimp served alongside paratha roti.