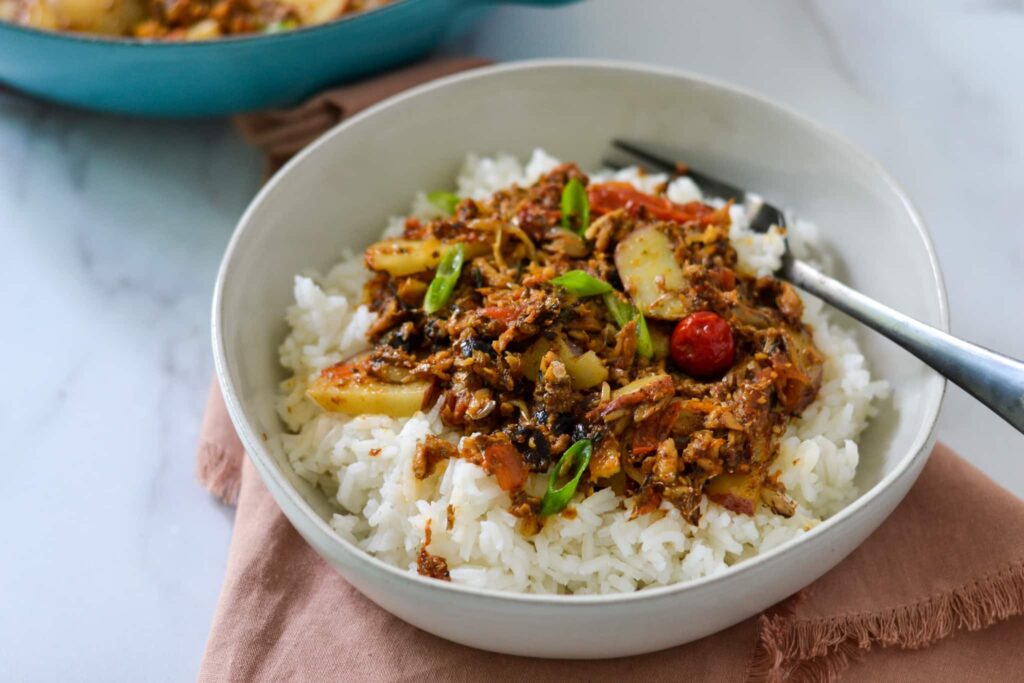 Sardines seem to be one of those canned fish that people either love or hate. When mom would cook this for breakfast, it woke everyone in the house! Such a strong smell from such a small tin, haha! Although an intense taste, when sautéed with onions, garlic and other aromatics, it is really delicious. It also has a ton of health benefits you can read about here. This is an easy and popular breakfast in West Indian cuisine and commonly served with fried bakes, oil roti, sada roti, sliced bread, and rice- for dinner. My dad would add a can of sardines to his cook-up rice sometimes; it gives the rice a nice smoky flavor. Adding potatoes to the sardines helps it "stretch." You can even sauté it up with a can of chickpeas for added protein.
My favorite brand of sardines is King Oscar's. I like the variety of flavors from this brand. The one I've used today is Mediterranean style with olives and peppers. I like how thin the fish is and the skin isn't thick and rubbery like some other brands. My parents love Marshall's brand, but I can only find that at the West Indian stores. You can use any brand of sardines you like, just make sure the size/weight is similar to the one I've used for this recipe. It doesn't have to be exact.
Not much is needed to bring this dish together, just a few aromatics and dry seasonings to have yourself a healthy and satiating meal!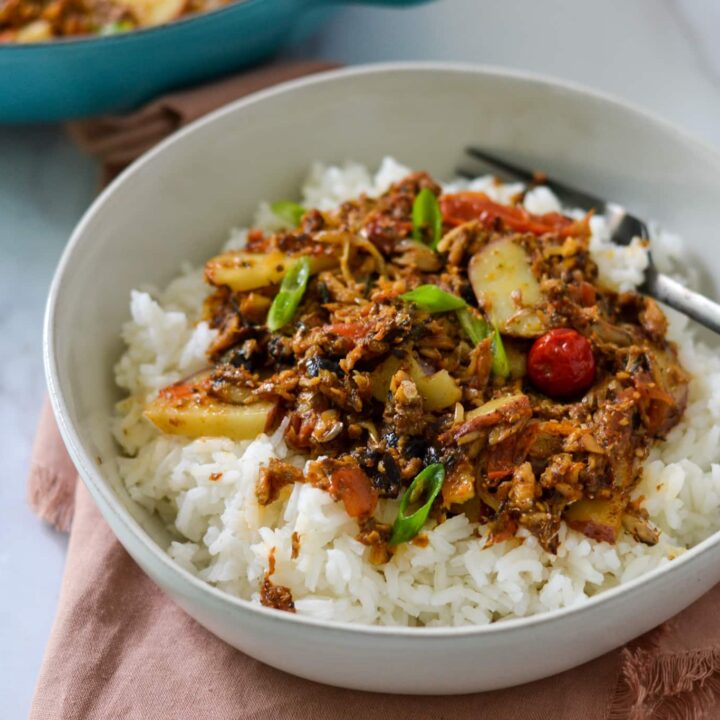 Sautéed sardines and potatoes
Sardines sautéed West Indian style. Delicious and healthy served with rice, bakes, or your favorite roti. Add some potatoes to make it stretch!
Ingredients
2 3.75oz tins sardines
1 small onion
3-4 garlic cloves
1-2 hot peppers (optional)
1 small tomato, diced or (1 tsp tomato paste + 2 tbsp water)
1 medium potato, quartered and thinly sliced
¼ tsp black pepper
½ tsp paprika
2 stems scallions
2-3 sprigs fresh thyme or ½ tsp dried
4 tbsp water
2 tsp oil for cooking
Salt to taste
Instructions
Heat skillet on medium, add oil. Sauté onion, garlic, pepper, and tomato.
Remove sardines from tin, do not add oil in tin. Use a fork to lift sardines out. Add to skillet. Mash with spoon and fry with everything in skillet for 6-8 minutes.
Add dry seasonings, thyme, and potatoes. Add 4 tbsp water and cover with lid to steam potatoes. Set heat to medium-low. Allow potatoes to cook 5-6 minutes or until tender.
Add scallions and mix to combine.
Adjust seasoning to your taste.