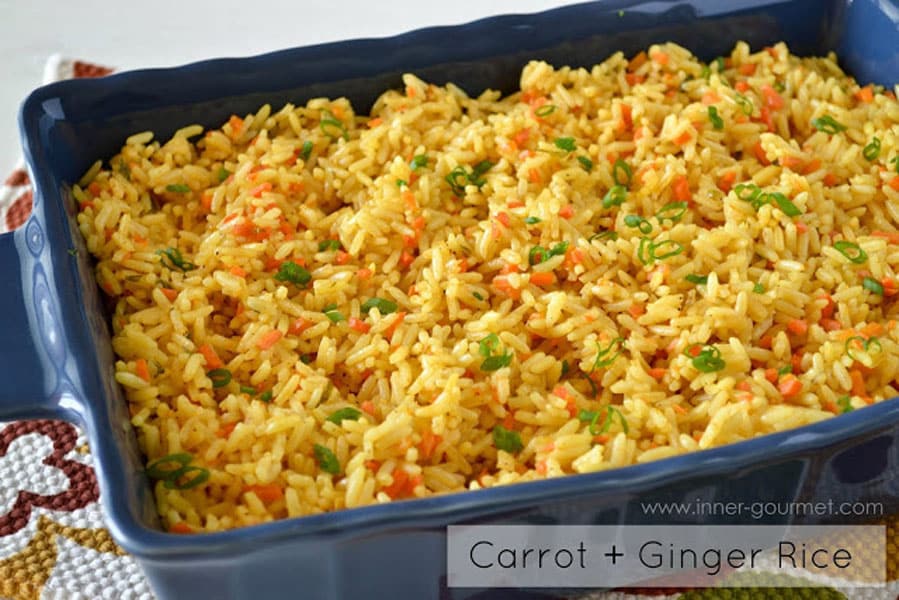 I've always loved food blogs that take you through a pictorial story of how a dish is made. There's a sense of empowerment, like, "yea, I got this. I can do this." The Pioneer Woman did that for me. She was also my inspiration for using this style of blogging. I followed her blog back when she didn't have a TV show or products at Walmart yet and I loved seeing every single post even if it was something that I didn't eat. I'm sure she's had this same influence on many food bloggers. Those of us that apply this "how-to" style used her as inspiration and made it our own. She truly was the pioneer. With all that being said, I've come to you with some good news and bad news. I'll start with the bad news first since I prefer to be let down then built back up.
After much consideration I've decided that I will no longer be moving forward with the step-by-step pictorial instruction that you've come to identify with on my blog. What's not as evident is the amount of work that goes into cooking, taking photos, editing those photos, and writing- for each post. The bulk of that for me is always editing the photos and making collages. Now that I am a mom of two, my time is limited and this method of blogging no longer fits my lifestyle. My life has changed and my blog needs to follow suit.
Now for the good news. Since I won't be shooting as many photos for each recipe, I will be able to post more often. Reading that sentence makes me happy because I have so many great family recipes I want to share with you all and now I see a path to doing so in a timely manner. And while we're on the topic of good news, I guess this would be a great time to tell you all that I am currently in the process of redesigning my blog as well as re-branding. Re-branding meaning changing the name!
Yes, even I can't believe it. I've been virtually known as The Inner Gourmet for seven years now, but the new name is more fitting and representative of my recipes and personality. More to come on that in the months ahead. I am hoping to launch in early 2017. It's been a long time coming and I am finally in a good place to take on this project. I know you all will love it. I can hardly wait for the launch, but in due time.
So how about we finally get to this recipe?
Side Dish: Carrot & Ginger Rice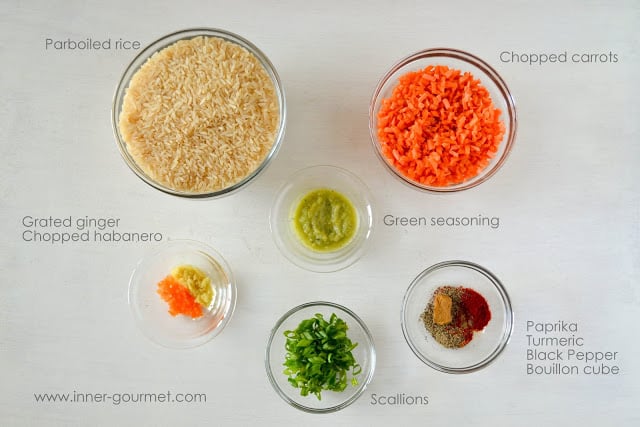 In my household rice is a staple. You wouldn't be able to tell from my recipe list, but I cook all sorts of different rice dishes. White rice can be so boring so I like to jazz things up. My husband always thinks dinner is fancy when white rice is not included. "Chicken curry with carrot-ginger rice? Wow. how gourmet." He cracks me up. This rice dish would be a great addition to your Thanksgiving table. It's bright in color and in flavor. I love the hint of ginger. I think this can be enjoyed on its own or alongside a nice stew or baked fish. Throw in some beans and you've got yourself one tasty side.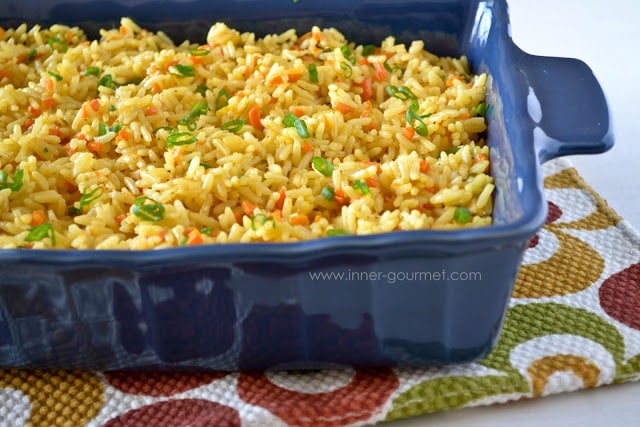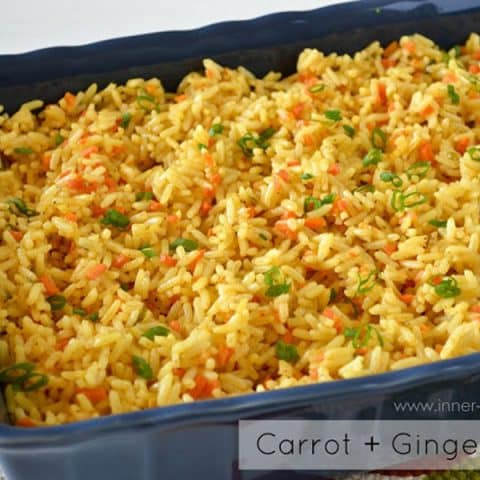 Side Dish: Carrot & Ginger Rice
Ingredients
2 cups parboiled rice
1 heaping cup finely diced carrots
2 tbsp green seasoning
3 tsp freshly grated ginger
1 habanero pepper, finely chopped
2 sprigs scallions
½ tsp black pepper
1 tsp paprika
¼ tsp turmeric
1 large bouillon cube or 3 small
2 tbsp vegetable oil
water to cover
Instructions
Rinse rice until water runs clear. Set aside
Prep carrots, ginger, scallions, and green seasoning.
Heat oil in a wide bottomed pot. Add green seasoning, ginger, and habanero. Saute a minute or two.
Add rice and stir to coat with seasoning. Add black pepper, paprika, turmeric, bouillon cube. Mix until cube has dissolved into rice.
Add enough water to cover rice about ⅓ of the way up. Add scallions.
Cover and simmer on low heat for 30-35 minutes.
When done fluff with a fork to redistribute carrots.
Notes
Additional Tips
There are two sizes of bouillon, large and small cube shaped. I used the large one.
For simmering it's best to use a wide bottomed pot. The rice has room to "breathe" and not be so packed on top of each grain. Simmering simply means to bring to a boil then reduce heat to low. For this technique you need just enough water to come ⅓ of the way up over the rice.
Habanero is what I had on hand, but you can also use red pepper or red chili pepper. Both add a great flavor.
Green seasoning is a puree of onions, garlic, hot pepper, and green herbs. You can buy this in a Caribbean supermarket or make your own. I do a simple version with 1 onion, 1 head of garlic cloves, and a few wiri wiri pepper or 1 scotch bonnet pepper, and fresh thyme leaves. Add a little water, blend until smooth. Use what you need and refrigerate the remainder.