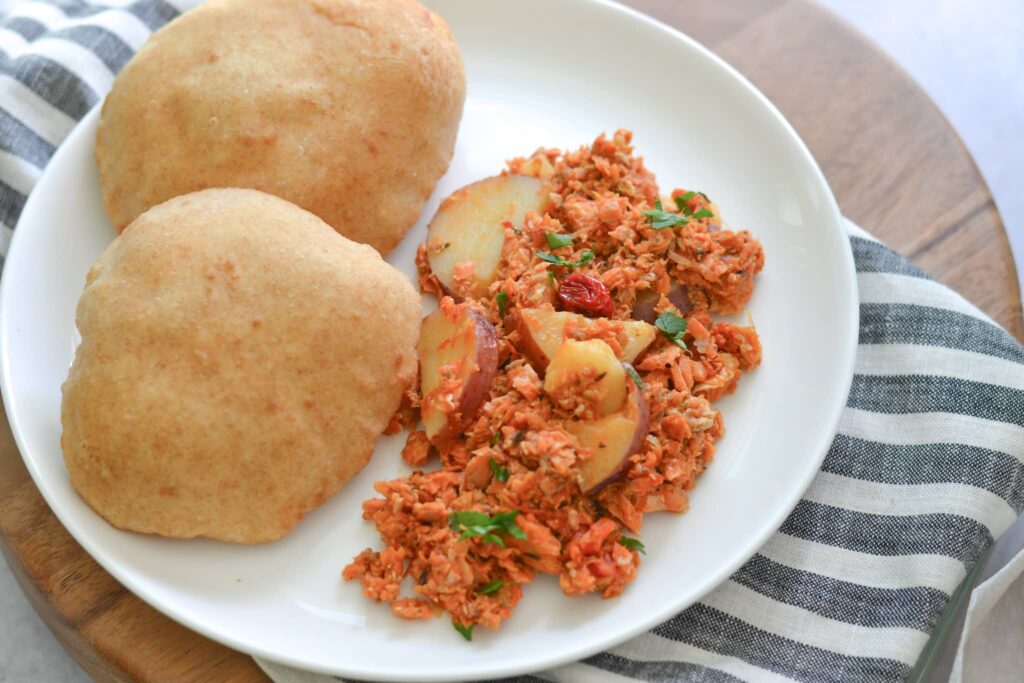 Sautéed or "fry" canned salmon was a dish I grew up eating for breakfast, or anytime really. It's a popular quick-meal in West Indian households and commonly served with bakes, roti, or plain white rice. There are so many different ways to cook canned fish, mom would even use the fish to make salmon cakes which is so delicious with cookup or dhal and rice. But one of my favorite ways to prepare it is a simple fry. Adding potatoes helps to "stretch" this meal, especially if you're feeding a lot of bellies!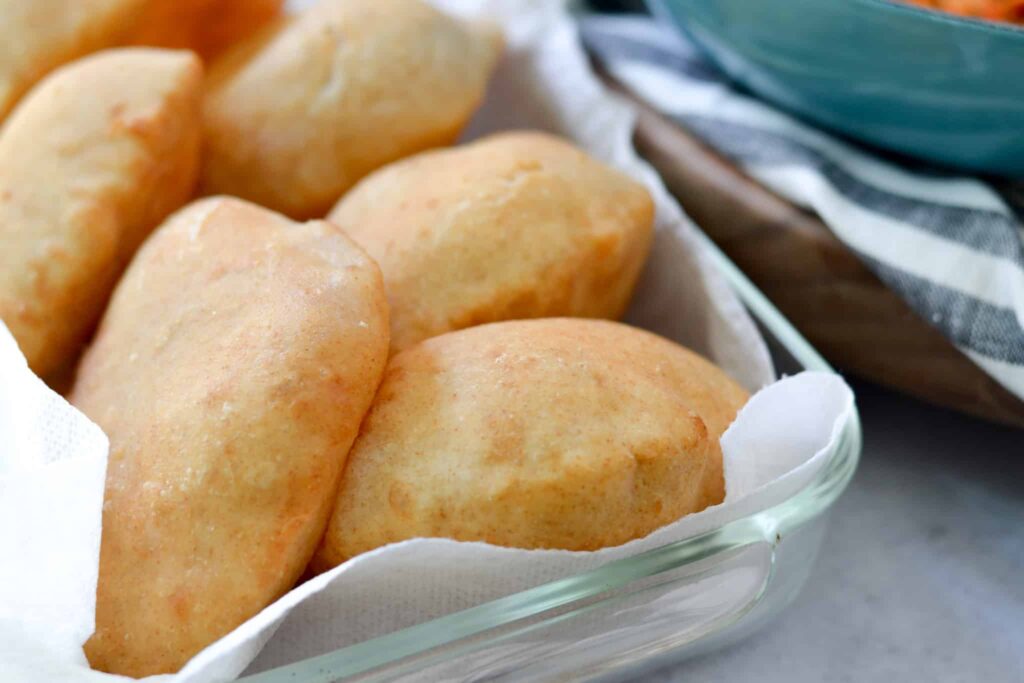 Now as a busy mom of two, getting dinner on the table can sometimes be a challenge, so I'm always searching for a quick and healthy meal to cook. No brainer that canned pink or red salmon has become a staple in my pantry. I know some people are put off by the idea of canned fish, but for many it is economical and versatile and when cooked with good seasoning it can taste really delicious. Simple ingredients is all you need for this recipe. Onions, garlic, pepper and tomatoes along with a few dried seasonings bring it all together.
You can use pink or red salmon for this recipe. Red salmon is a little more expensive so when I see them on sale I grab a few cans to stock up. Here in Florida I pay anywhere from $6-$8/can. It does taste different and because it is sockeye salmon, it's a little more dense.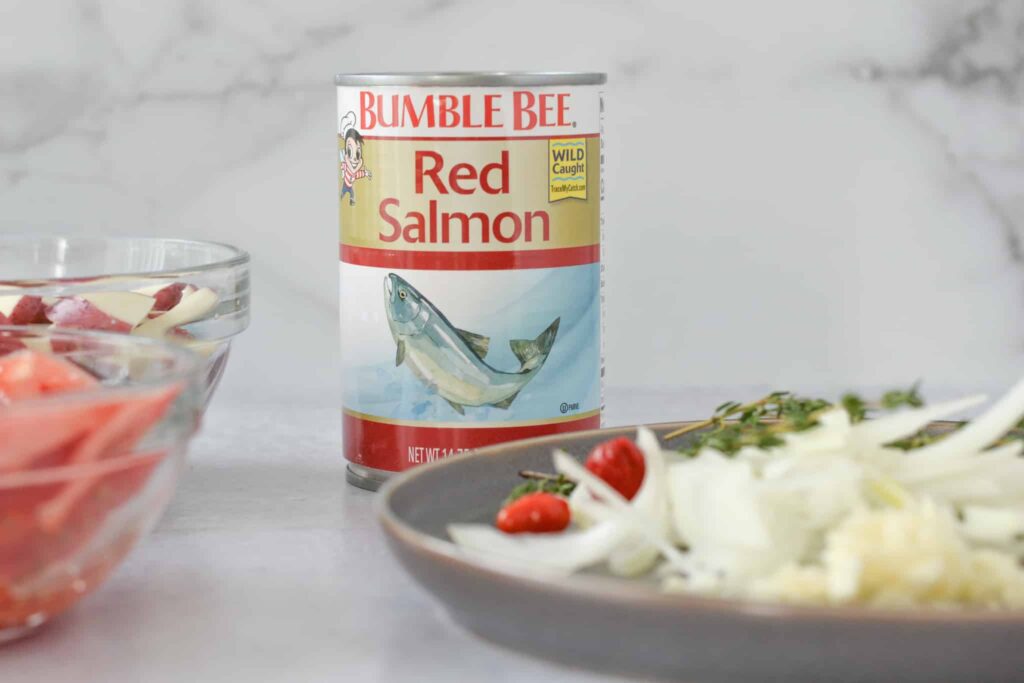 After draining fish from the can, place it in a shallow bowl. You'll see the bone tucked neatly into the fish. I like to remove it, although it's soft and tender. I also scrape the skin off the fish, this is just a personal preference. Use your fork to flake the fish after removing the bone and skin.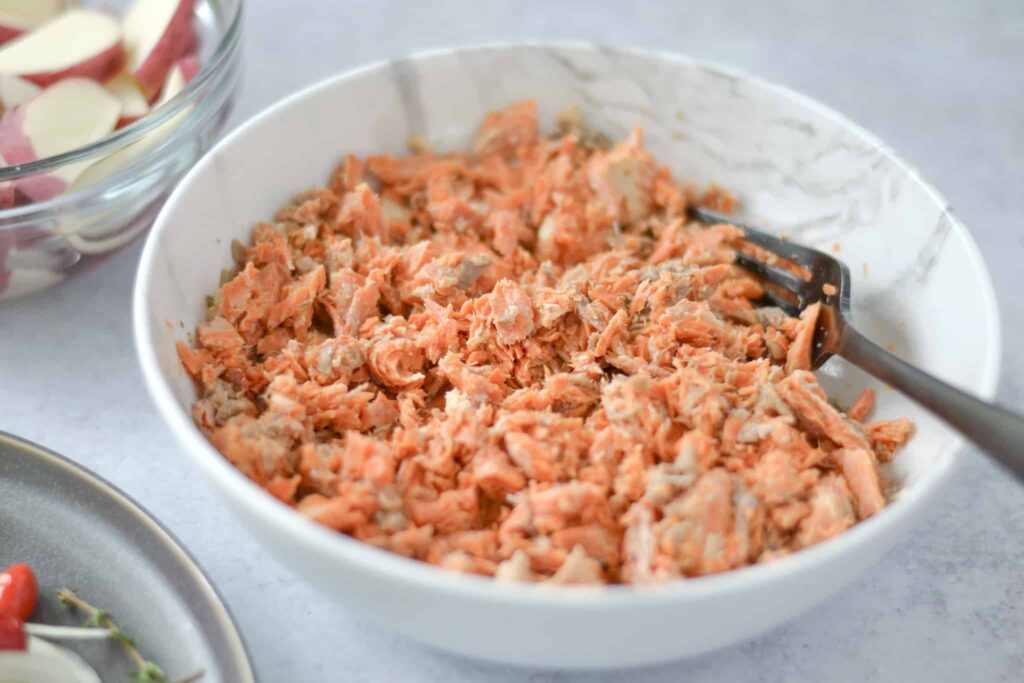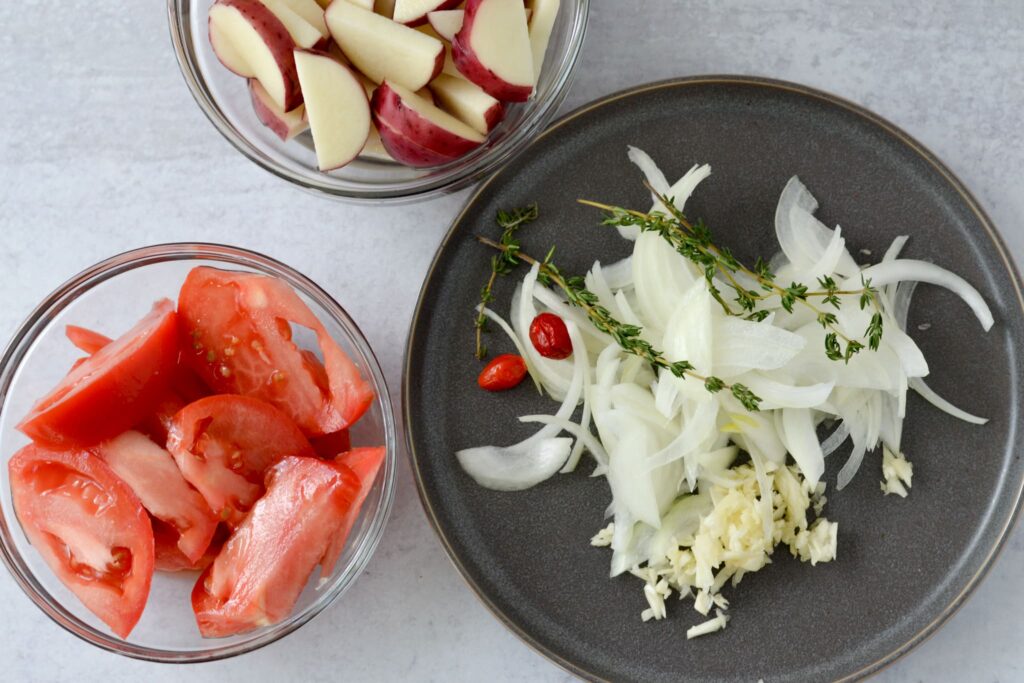 Here are some other ingredients you can throw in to change things up!
Other add-ins
Green, red, or yellow peppers
variety of herbs
olives
capers
cassava or plantain (instead of potato)
kidney beans
chickpeas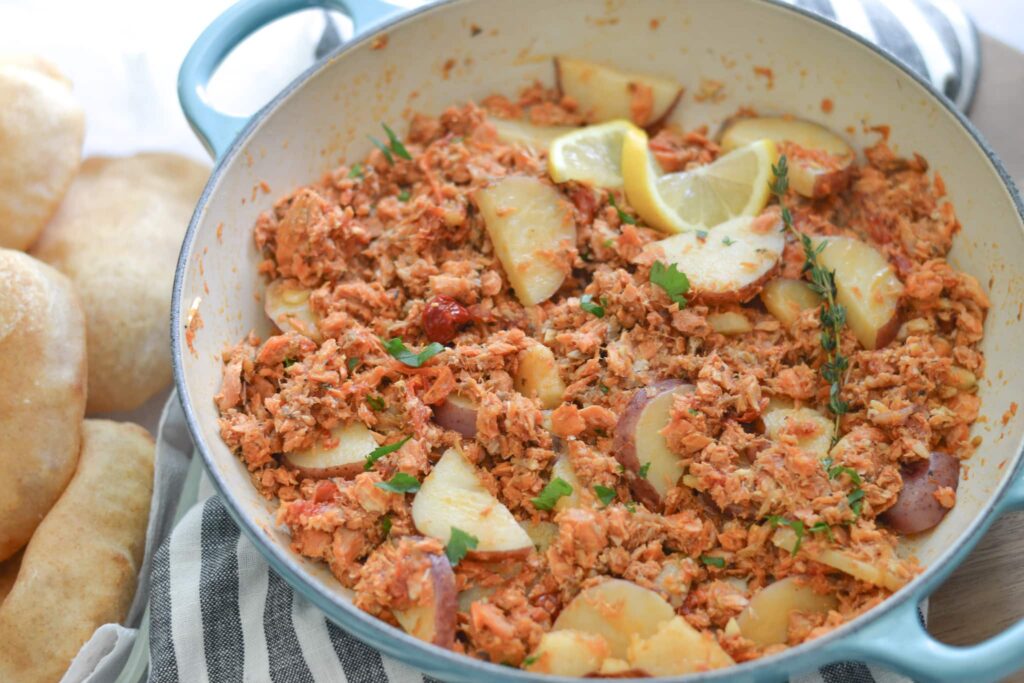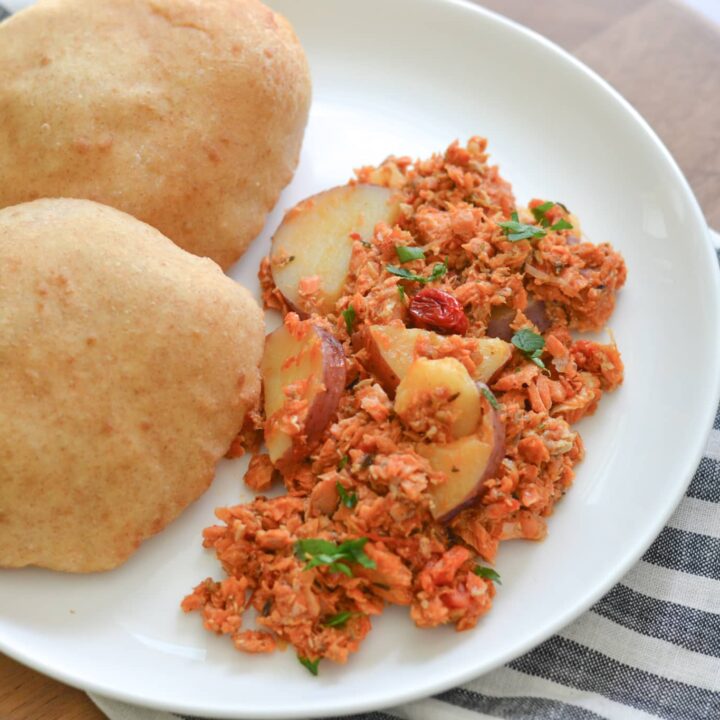 Salmon & potatoes (using canned salmon)
Ingredients
1 14.75oz can of pink or red salmon
½ lemon, juiced
1-2 tbsp oil
1 medium onion, sliced
2-3 garlic cloves, minced
pinch of salt
2 medium red potatoes or 1 russet, chopped thinly
1 large tomato, chopped
2 hot peppers (optional)
few sprigs thyme or ½ tsp dried
¼ tsp paprika
¼ tsp black pepper
1 small bouillon cube or 1 tsp seasoning salt (if using Knorr brand cube, only use half)
½ cup water
1-2 stems scallions, finely sliced
Instructions
Prep ingredients. Drain liquid from salmon, place fish in a shallow bowl. Use a fork to remove the bones. Flake fish with fork. Squeeze lemon juice over it and set aside.
Slice onions, mince garlic, and chop tomatoes. Peel potatoes, cut into halves and thinly slice. Finely slice scallions. Set aside.
Heat skillet on medium. Add oil and sauté onions, garlic, pepper, and thyme. Add a pinch of salt. Let sauté a few minutes until golden. Add tomatoes, cook 3-4 minutes until juices from tomatoes form a sauce.
Add fish, all dry seasonings and bouillon cube. Mix together then add water and potatoes. Let cook 7-8 minutes or until potatoes are cooked through.
Add scallions and toss to combine.
Notes
If using Knorr brand bouillon cube, only use half, they are salty and a whole one will be too much.
If you do not like fish skin, you can scrape it off at the same time when removing the bones and prepping the fish.