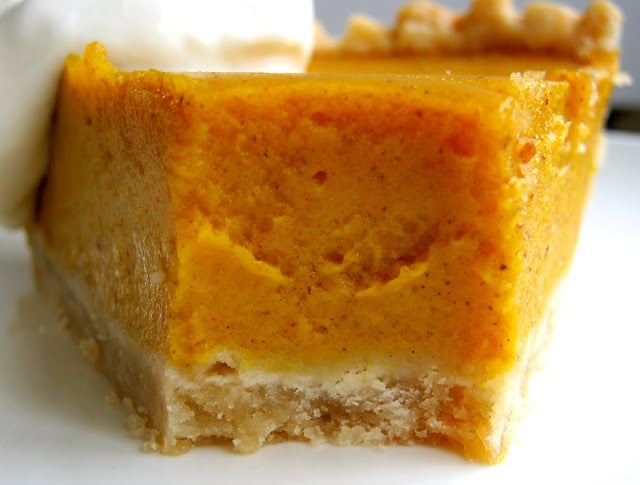 Can we talk about pies for a second? I love the holiday season for the variety in desserts and pastries. I especially love a good pie. I guess that's the American side of me as we don't have many desserts or even pies in our cuisine. Pumpkin is one of my favorites, especially with a scoop of ice cream! This year I wanted to try making a pumpkin pie with fresh pumpkin. It was delicious! The hardest part was actually cutting the stem off, but I guess you could just chop alongside the stem to split the pumpkin open instead of chopping it all off. Once it's in the oven the following steps come together pretty easily.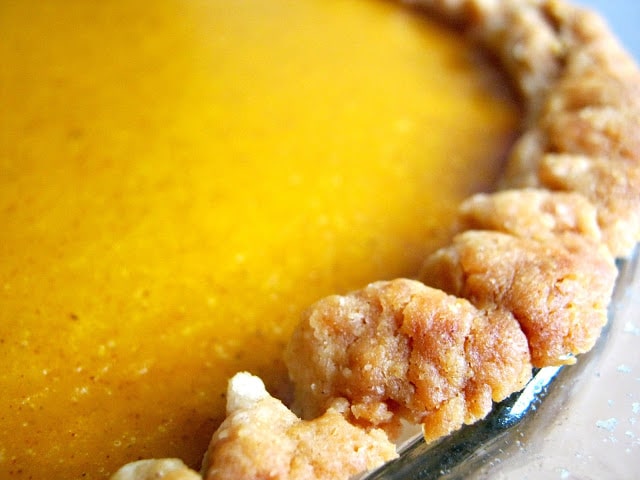 This past weekend, I had an early Thanksgiving celebration with my friends here in Rochester, NY. My friend Anjy and I cooked all the food, which is why you are seeing all these Thanksgiving posts, I mean you really didn't think I was going to make these dishes and then make them all over again on Thursday right?


Method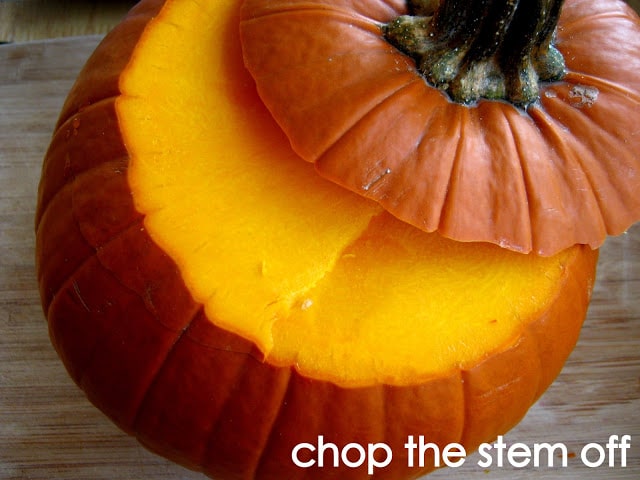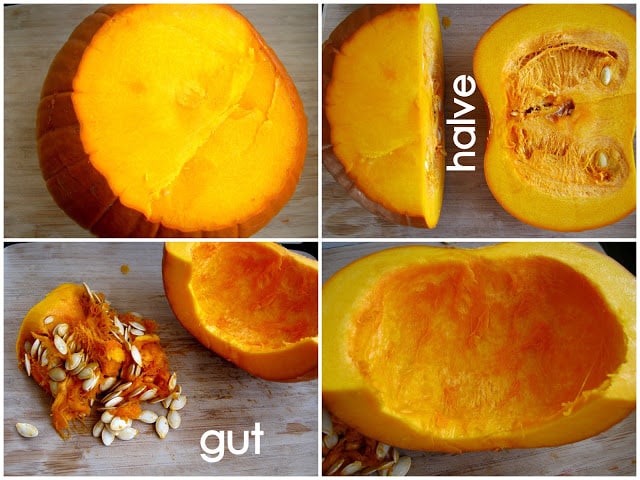 Place the pumpkin flesh down on a baking sheet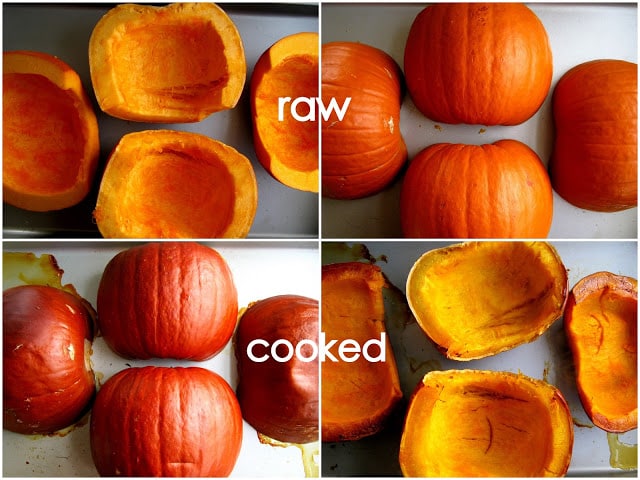 Well anyhow, I decided that this year I wanted to go the extra mile and make a pumpkin pie with real pumpkin instead of the canned stuff. Don't get me wrong, i've used the canned stuff to make pumpkin pie and it absolutely feeds the need. There is nothing wrong with the canned stuff, I just wanted to challenge myself! It took me about an hour and a half to make the puree, but it takes an hour to cook the pumpkin, so really it's only a half hour of chopping and cutting. Once you get past that part, the rest is a breeze.


Bake for 1 hour at 375 degrees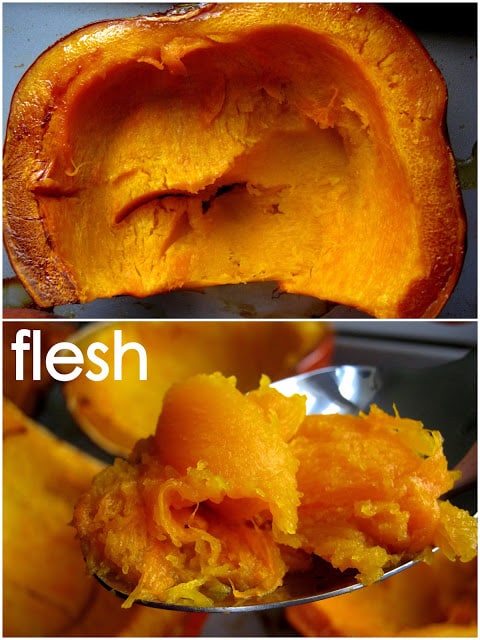 After going through the process of baking and pureeing the pumpkin, here is my verdict on using fresh pumpkin puree: It's absolutely worth it! The pumpkin taste really came through in the pie and it was not over powered by the spices and other ingredients that were mixed in. This pie is sweetened with condensed milk which gives the pie a nice smooth texture and a light sweetness. I know its an extra step to bake and puree the pumpkin, but I would recommend trying fresh pumpkin at least once, just so you can taste the difference.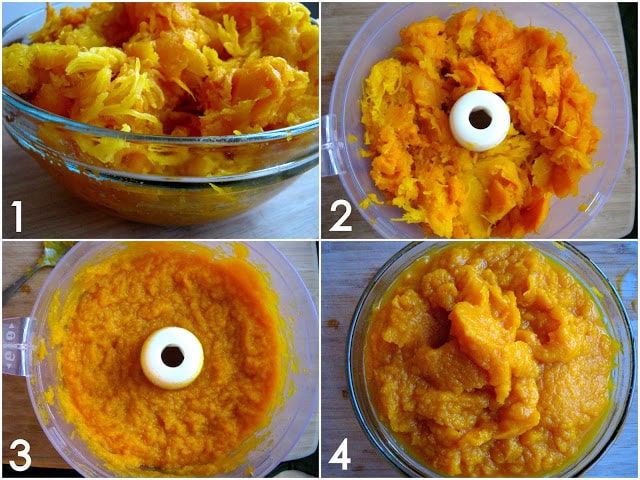 The nice thing is about pureeing fresh pumpkin, is that you can make it days in advance, keep it in the freezer, and thaw right before you are ready to use it. That is actually what I did to save me time. I pureed my pumpkin the day before to make my life a little easier and also because I was excited to see what it would look and taste like before I made the pie.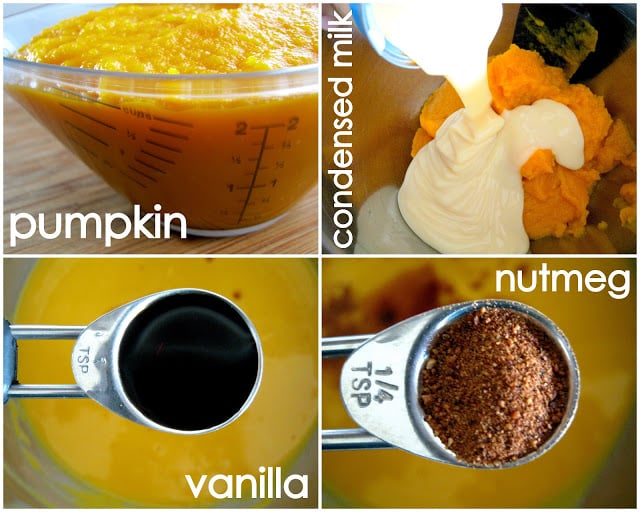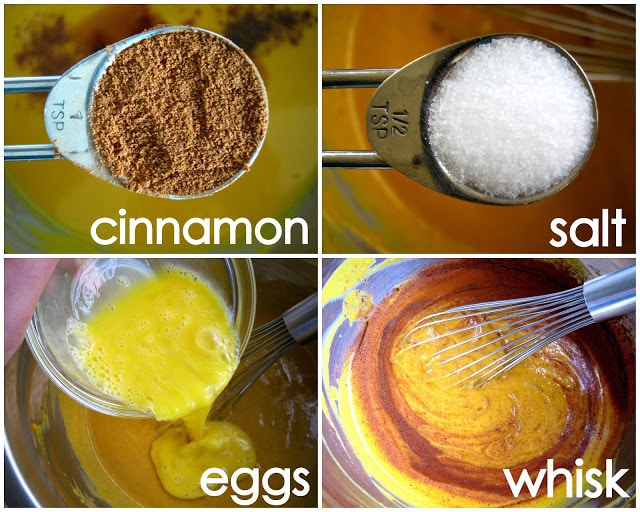 So what type of pumpkin should I use?
To make a pumpkin pie, the best pumpkin to use is a sugar pumpkin. In the grocery stores they may often be tagged as "Pie Pumpkins." These pumpkins are small and dense and they are typically very dark orange/reddish in color. They can weigh anywhere from one pound to six pounds. I bought two pumpkins which in total were 5 ½ pounds. They may look big in the picture but they are about the size of a cantaloupe.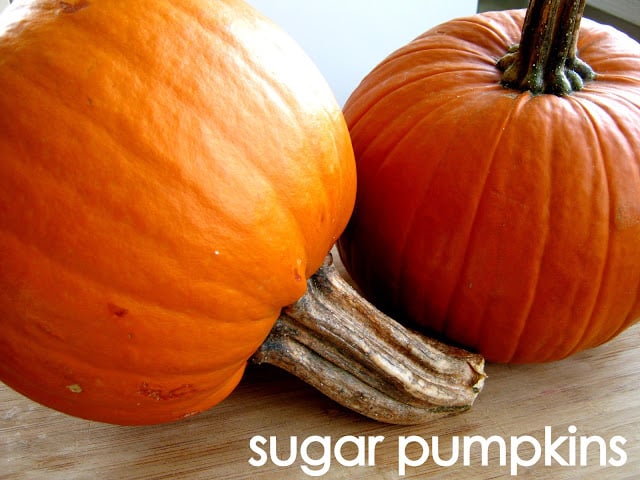 I will tell you that the smaller the pumpkin the easier it is to cut. The skin is slightly softer than a larger pumpkin whose skin is similar in texture to that of a butternut squash. Sugar pumpkins are also known as new england pie, northern pie, winter luxury pie, and golden cushaw pie so if you see these pumpkins labeled this way, just know they are sugar pumpkins and can be used for pumpkin pie!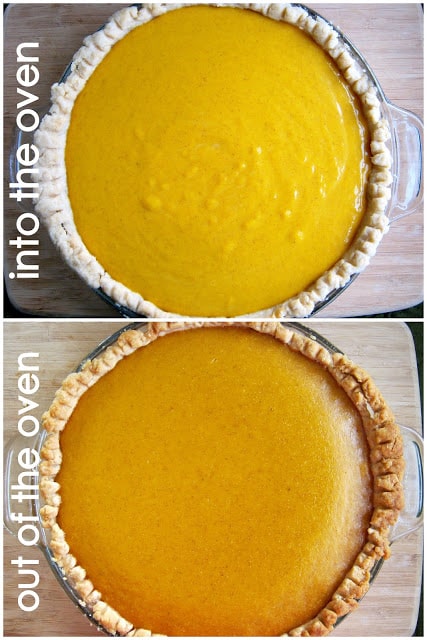 After chopping the stem off, I cut these pumpkins into halves and baked them for 1 hour. The insides were so soft and fragrant, my kitchen smelled just like Thanksgiving I swear! I scooped out the centers and pureed them in my food processor, if you don't have a food processor, you can use a blender and puree just a little at a time. I was able to get 3 cups of puree out of 5 ½ pounds of pumpkin. I only used 2 cups for the pie and kept the rest in my freezer. You could buy maybe a 4 lb pumpkin, but I am not sure exactly how much puree that would yield. It is better to have more puree than not enough, so even 5 lbs of pumpkin would work well here.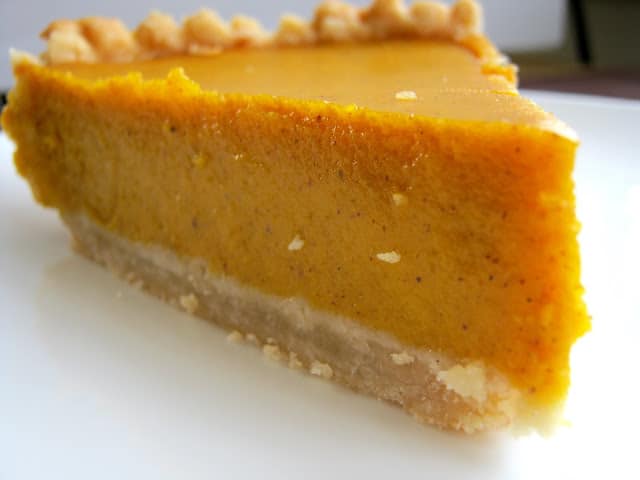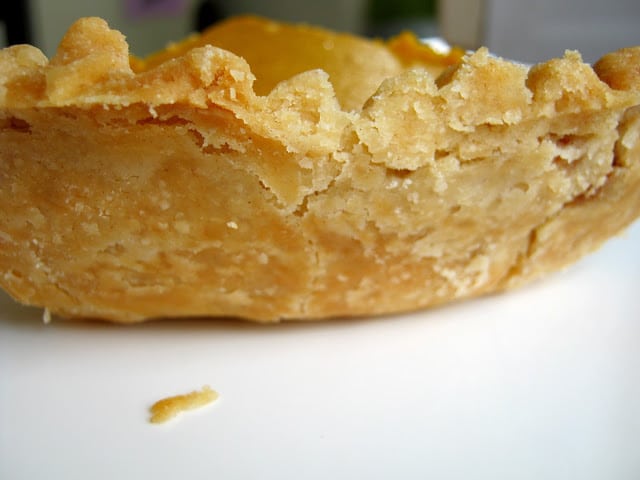 I think you know what to do 😉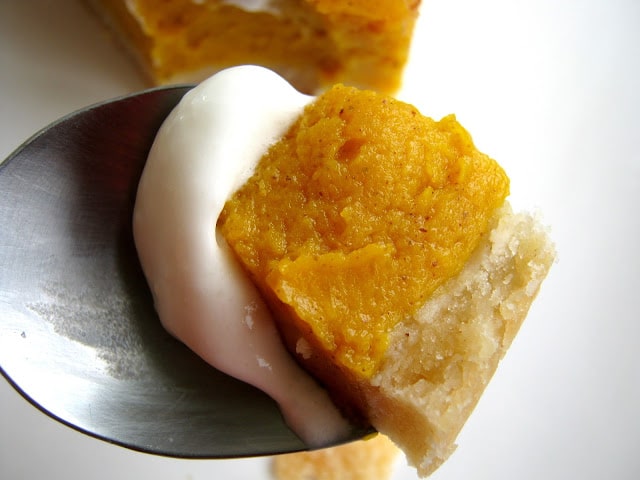 I will let the pictures do the rest of the talking now, but I do hope if you have some extra time, you will feel inspired to make this pumpkin pie from scratch. Everyone should try everything at least once right?
Thanksgiving Dessert: Pumpkin Pie made with fresh Pumpkin
Yield:
one 9.5 deep dish pie
Ingredients
2 cups fresh pumpkin puree or 15 ounces canned pumpkin
1 (14 ounces) can of condensed milk
2 eggs (at room temperature)
1 ¼ tsp ground cinnamon
¼ tsp ground nutmeg
1 tsp vanilla extract
½ tsp salt
1 deep dish (9.5 inches) pie shell (for freshly made click here or use store bought)
Instructions
Making the puree
You will probably need two sugar pumpkins weighing in total, about 5-6lbs to get at least two cups of pumpkin puree. Chop stem off of pumpkin then cut the pumpkin in half vertically. Clean out the seeds and stringy flesh. Give halves a good rinse, dry and place flesh down on a baking sheet. Bake for 1 hour at 375 degrees until the flesh is soft. Scoop out the flesh into a mixing bowl and then transfer to a food processor to puree. If you do not have a food processor, you can use a blender, just puree a little at a time. Measure 1 cup each into zip loc bags if you are not going to use the puree right away. This way you already know the amount that is in the bag.
Making the pie
Preheat oven to 350 degrees.
Place 2 cups pumpkin puree in a mixing bowl. Add condensed milk and mix thoroughly.
Add eggs, vanilla, salt, and rest of spices. Whisk together.
Pour into pie shell and bake for 45 minutes. Gently shake pie while in the oven, if it is jiggly, like the consistency of Jell-O, then it is done.
Let pie come to room temperature and serve with whipped cream.